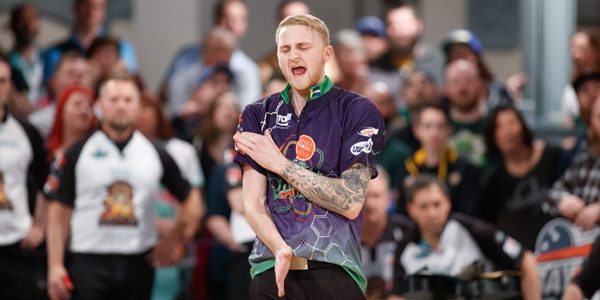 Sudden-death roll-offs continue as field is cut to four
PORTLAND, Maine  –
Portland's rabid bowling fans don't need much to get them started, but they were at their loudest when the L.L.Bean Portland Lumberjacks, along with the two-time Elias Cup champion Live + Work in Maine Silver Lake Atom Splitters, advanced to L.L.Bean PBA League Elias Cup semifinals behind another set of sudden-death victories at Bayside Bowl.
The final two best-of-two-game quarterfinal round matches aired Sunday on ESPN.
The Atom Splitters, the only team to win two previous Elias Cups, got the quarterfinals off to another nerve-wracking start, closing game one of their best-of-two-game match against the MaineQuarterly.com Brooklyn Styles with six strikes for a 235-222 edge. But the Styles forced the roll-off with a 217-216 game two nail-biter. After Brooklyn's Parker Bohn III finished his 10th frame with a strike/nine-spare, Silver Lake's Jesper Svensson had a chance to clinch a two-game sweep with a strike in his 10th frame, but left a 7 pin on his first shot. He got the spare and with another chance to strike to tie the game, he left a 9 pin to send the contest in overtime where he struck for the win when Bohn left a 7 pin on his attempt.
"That was a little more exciting than I wanted it to be," Atom Splitters' manager Mark Baker said. "We went from having it won easily to, oh, my, we could lose this."
After his two close chances to win, Baker wasn't about to give up on his young Swedish two-handed player. "I asked him if he wanted to throw the shot. He said yes, and that's all I wanted to hear," Baker said of Svensson's roll-off strike. "He threw it exactly the way we thought he would."
"The first one I threw in the 10th I thought was quite good," Svensson said. "When I made the spare I should have moved, but I didn't. That got me a little frustrated but when Mark asked if I was ready to go again, I said yes. I moved and threw it really good, and it struck.
"It's a great feeling to play in this  bowling center with this crowd," the 22-year-old Swede said. "They really pump you up. I'm the guy who doesn't show too many emotions when I bowl but around here it's impossible not to. It's really cool."
The already enflamed capacity crowd kept it up as their hometown Lumberjacks rallied in the last three frames of game one to pull out a 227-206 victory over the Barbasol Motown Muscle in the final quarterfinal round match. After starting game two with five strikes, it looked like victory was readily in hand. But "Lumberjill" Liz Johnson failed to convert a 3-10 split, and Kyle Troup, Bryon Smith and anchor Wes Malott spared in three of the next four frames while the Muscle's Dick Allen, EJ Tackett and anchor Anthony Simonsen put together a string of five strikes to win game two, 248-225.
In the roll-off, Malott struck for Portland and Simonsen left a solid 10 pin to send the Lumberjacks into the semifinal round against the Atom Splitters.
Malott noted the lane condition started to get away from the Lumberjacks after their five-strike start in game two, but when it came to the 10th frame and he knew his team was headed to a roll-off, Malott used that opportunity to get lined up for the roll-off.
"Hats off to Anthony; he made a great shot," Malott said of Simonsen's misfortune. "We were fortunate to come away with the win."
"Anthony threw a great shot, but you could see every one of these roll-offs is coming down to a single pin," Portland manager Tim Mack added. "Fortunately today we were on the right side of the break."
Mack said the Lumberjacks were able to pull out the win by remaining under control throughout the match.
"I told our players, even though they've all been in position to make huge shots during their careers, to control their emotions and not get too high because we had the crowd behind us," Mack said. "I told them to just make one good shot in the second half and we'd have a chance to win the game. And they all threw great shots down the stretch.
"In the roll-off, (Malott) had just come off the lane. Every one of our players could have thrown that shot, but (Wes) is bowling fifth in our lineup for a reason."
Next Sunday's 1 p.m. EDT semifinal round telecast will feature the Sysco Philadelphia Hitmen against the defending Elias Cup champion Shipyard Dallas Strikers followed by the Live + Work in Maine Silver Lake Atom Splitters vs the L.L.Bean Portland Lumberjacks in the second "best-of-two-game" Baker format match. The winners will meet in the Elias Cup championship telecast on Sunday, May 14, at 1 p.m. Eastern. The Elias Cup finals will include singles, doubles and trios matches worth one point each, and a five-player Baker format team finale worth three points. In case of a tie, the Elias Cup will be decided in a one-ball sudden-death roll-off.
The ESPN telecast will be simultaneously streamed on ESPN3 and the WatchESPN app.
L.L.BEAN PBA LEAGUE
Bayside Bowl, Portland, Maine (aired Sunday on ESPN) 
Quarterfinal Round Results (best-of-two-game Baker format)
Match Three:
Live + Work in Maine Silver Lake Atom Splitters
(Chris Barnes, Shawn Maldonado, DJ Archer, Tom Daugherty, Jesper Svensson) def. MaineQuarterly.com Brooklyn Styles (Walter Ray Williams Jr., Jason Sterner, Jon Van Hees, Sean Rash, Parker Bohn III), 235-222, 216-217, 10-9 in one-ball sudden-death roll-off.
Match Four:
L.L.Bean Portland Lumberjacks (Liz Johnson, Kyle Troup, Bryon Smith, Ryan Ciminelli, Wes Malott) def. Barbasol Motown Muscle (Francois Lavoie, Josh Blanchard, Dick Allen, E.J. Tackett, Anthony Simonsen), 227-206, 225-248, 10-9 in one-ball sudden-death roll-off.
About the PBA
The Professional Bowlers Association (PBA) is an organization of more than 3,000 of the best bowlers from 27 countries who compete in PBA Tour, PBA International Tour, PBA Regional Tour, PBA Women's Regional and PBA50 Tour events. The PBA is in its 58th consecutive year of nationally-televised competition, reaching bowling fans around the world who follow PBA activities through the PBA Network which includes Xtra Frame, the PBA's exclusive online bowling channel, ESPN and CBS Sports Network, and the PBA on Facebook, Twitter and YouTube. PBA sponsors include Barbasol, Brunswick, Ebonite International, GEICO, Grand Casino Hotel and Resort, HotelPlanner.com, MOTIV, 900 Global, PBA Bowling Challenge Mobile Game, Storm Products and the United States Bowling Congress, among others. For more information, log on to
www.pba.com
.