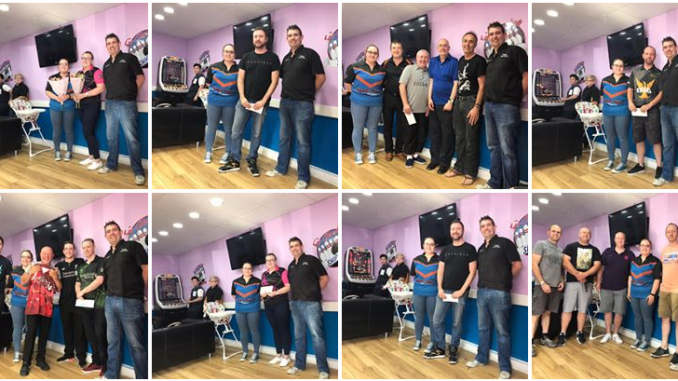 The 1st Annual Shipley Bowlers Club Combination Fours
19th, 20th & 26th, 27th August 2017
This is the first time Go Bowling Shipley has held an event like this and I think it was a great success. I would like to thank Jeff Taylor and his team for supplying us with excellent lane conditions, very minimal stops, great food and a great environment to bowl in. He gave up his centre for 2 whole weekends and gave us it at an amazing lineage rate.
Next I want to thank my tournament management team Terri-Anne Faulconbridge and Charlotte Louise Rathbone for helping me with collecting scores, sorting out any issues and making sure everything ran smoothly especially when I had a sore head the 1st weekend due to drinking with the Wallasey teams & 2nd weekend Power Play Shipley & This is Yorkshire 98.
A special mention goes to Callum Simons for creating the spreadsheet although we do have a little bit to work on to get it better for next year.
The entering average for the whole tournament (88 bowlers – 22 teams) was 185.7. The tournament bowled 1056 games and averaged 190.6 a difference of +4.9 so well done to everyone.
We used our #KegelFlex and put down the recreational pattern Big Ben with the ice conditioner on the forward pass and Fire conditioner on the reverse pass.
Thank you to all the bowlers that participated and to the spectators that turned up to watch this great event. Next year the event will be held on 18th, 19th & 25th, 26th August 2018.
Winners and special announcements
The first section of the tournament was held at 10:00 on the Saturday and was the 6 games masters.
1st place was Spare wars – Michael Bloore with a 1464 including h'cap,
2nd place was Frankie's Boys – Andy Clough with a 1431 including h'cap,
3rd place was 'This is Yorkshire 98' – David Birch with a 1424 including h'cap
The total masters averaged a whopping 194.83
The second section was the trios this started at 11:30 on the Saturday and this was the other 3 bowlers of the team who bowled a 3 game set.
1st place was Power Play Pro shop 1 who had 2167 with their h'cap
2nd place was Frankie's Boys who had 2113 with their h'cap
3rd place was Go Bowling Dunstable 2 AKA 'TARA 2' who had 2099 with h'cap
The trios bowled a 192.07 average
The third section was the singles and the same bowlers who played the trios now played this after a lane dress that only took 30 minutes. This was another 3 game set so all bowlers play 6 games on the Saturday and 6 games on the Sunday. The singles started at 14:00
1st place went to our very own Shipley YBC team, Ryan Smith with a 791 with h'cap and had a personal best game of 213.
2nd place went to the MSL Team Gotham + 1 – Joe Crook who has only just come out of a 2 year retirement and shot 762 with h'cap
3rd went to Loud and proud from Lancashire – @Steve (OZZY) Ostiadel with a 746 h'cap series.
The total average for the singles was 188.81
The Sunday sessions started off with the doubles
1st place went to Strikeline Proshop's – Lewis Purvis & Matty Claytonbowling a 1501 with h'cap and Lewis's PB series of 700
2nd place went to Franky's Boys – Mike 'FROSTY' Halliwell & 'FUNTIME FRANKY' Lindsay with a 1467 h'cap series
3rd place went to Strikline Proshop's @Andy Shrubb & Barry Walker with a 1442 h'cap series.
The doubles averaged 191.98
The Fourth and final part of this year's Tournament was the team event. Week 1 had 12 teams week 2 had ten teams and the atmosphere was amazing.
1st place went to Gotham + 1 with an outstanding 2793
2nd place went to Go Bowling Dunstable 1 (AKA TARA 1) with 2731
3rd place went to This Is Yorkshire 98 with 2722.
The team event averaged 187.36
Overall male went to Joe Crook with 2922 including h'cap (Scratch ave 208.50)
2nd went to Michael Bloore with 2905 including h'cap (Scratch ave 226.08)
Overall Lady went to Charlotte Louise Rathbone with 2863 including h'cap (Scratch ave 210.58)
2nd went to Terri-Anne Faulconbridge with 2731 including h'cap (Scratch ave 191.58)
Overall team 1st place went to Gotham +1 which consisted of Nick Page, Joe Crook, Sean Cunningham & Phil Manning with 11034 including h'cap
Overall team 2nd Place went to Frankies Boys which consisted of Jack Smith, Mike Halliwell, Andy Clough & Frank Lindsay with 11007 including h'cap
Overall team 3rd Place went to Strikline Proshop which consisted of Lewis Purvis, Adam Shrubb, Barry Walker & Matty Clayton with 10943.
Special Mention to the top 5 Scratch Bowlers
Matty Clayton 232.00
Greg Marcus 231.58
Aaron Faulconbridge 228.08
Michael Bloore 226.08
Jeff Taylor 224.33
Thank you again to everyone who made this event take place and I hope to see you all again very soon. If you would like to know more about events taking place at Go Bowling Shipley please search for Go Bowling – Shipley Lanes or Shipley Bowlers Club on Facebook.
Yours In Bowling
Lee Metcalfe
Go Bowling Shipley