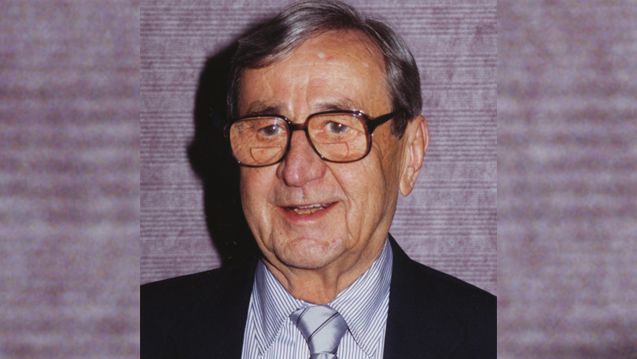 ARLINGTON, Texas – Albert Matzelle of Milwaukee, a United States Bowling Congress Hall of Fame member and a former executive director of the American Bowling Congress, died Tuesday. He was 100.
He was inducted into the USBC Hall of Fame for meritorious service in 1995 after working in the bowling industry for nearly 60 years.
Born April 11, 1917, Matzelle started with ABC in 1938 as a temporary clerk, typing envelopes for the rulebooks. In 1942, he was drafted to serve in a field artillery unit during World War II.
He would return to ABC in 1946 and eventually head the Rules Department. He was an expert in the rules area, and instituted the handicap scoring tables and league schedules that still are in use today.
Matzelle served as assistant executive director to Frank Baker starting in 1953. Upon Baker's retirement in 1972, Matzelle assumed the post where he would serve until his retirement in 1977.
"It was a period of dramatic growth with the introduction of the automatic pinsetters, synthetic coated pins and synthetic lanes," Matzelle told Bowling Magazine prior to his induction into the hall of fame. "The tremendous technological changes in the industry during that time created more space for proprietors and produced a huge surge in membership."
Following his retirement, he continued to work with ABC as a consultant for the next several years before being named executive director for the National Bowling Hall of Fame and Museum in 1980. He moved to St. Louis, taking on the responsibility for the planning and organization of the museum that opened in June 1984. He stayed with museum until 1985, when he returned to Milwaukee.
He would continue to assist the staff at ABC headquarters as a volunteer during his retirement. His mathematical expertise was sought for several projects, including the annual ABC Tournament prize list, and he also would assist with restructuring the ABC Specifications, Rules and Suggested League Rules Book.
He worked with the ABC staff on the History of the American Bowling Congress book, published in 1995, that celebrated 100 years of the organization.
Private funeral services and interment will take place at Holy Cross Cemetery.