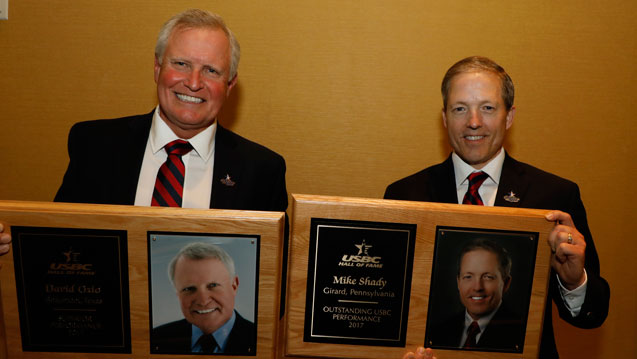 LAS VEGAS – The United States Bowling Congress Hall of Fame welcomed two new members and celebrated their accomplishments Wednesday at The Orleans Hotel and Casino.
The 2017 USBC Hall of Fame Class includes David Ozio of Beaumont, Texas, in the Superior Performance category and Mike Shady of Girard, Pennsylvania, for Outstanding USBC Performance.
Ozio, 63, is an 11-time Professional Bowlers Association Tour titlist, including the 1991 PBA Tournament of Champions, part of a four-win year that ended with PBA Player of the Year honors.
He went on to find success on the PBA50 Tour, earning two victories, the first of which was the 2004 Senior U.S. Open on the way to being named PBA50 Rookie of the Year.
"The honor tonight is beyond measure," said Ozio, who was ranked 34th on the PBA's list of the 50 Greatest Players in PBA History (2009). "When you think back to the dedication and the things it took to get here, was it worth it? By all means. I would've done it again 10 times over."
Shady, 51, has experienced an unprecedented run of success at the USBC Open Championships, which includes two wins on the championship lanes – Team All-Events (2005) and Regular Team (2011) – and 13 additional top-10 finishes.
He also is the tournament's lifetime average leader for competitors with a minimum of 20 years of participation, with a mark of 222.28 in 21 appearances (189 games). He has posted an all-events score of 1,900 or better in 20 of those years.
The right-hander's resume includes first-team All-America honors while competing for Nebraska during the 1986-1987 and 1987-1988 seasons and a win at the 1985 Intercollegiate Team Championships, while bowling for the University of Wisconsin-La Crosse.
Shady went on to claim one PBA Tour title at the 1992 Earl Anthony PBA Open in Dublin, California.
"Tonight, I am truly honored and humbled to be in the same category as everybody who walked through that door earlier," Shady said. "I'm filled with gratitude and just very humbled."
Through 2017, there are 419 members of the USBC Hall of Fame – 218 in Superior Performance, 117 in Meritorious Service, 50 in Veterans, 20 in Pioneers and 14 in Outstanding USBC Performance.
The USBC Hall of Fame was created in 2005 by merging the former American Bowling Congress and Women's International Bowling Congress Halls of Fame.
For more information on the USBC Hall of Fame, visit BOWL.com/HallofFame.
United States Bowling Congress
The United States Bowling Congress serves as the national governing body of bowling as recognized by the United States Olympic Committee (USOC). USBC conducts championship events nationwide including the largest participation sporting events in the world – the USBC Open and Women's Championships – and professional events such as the USBC Masters and USBC Queens.
Founded in 1895, today USBC and its 2,500 state and local associations proudly serve more than a million members. USBC is headquartered in Arlington, Texas, working toward a future for the sport. The online home for USBC is BOWL.com.