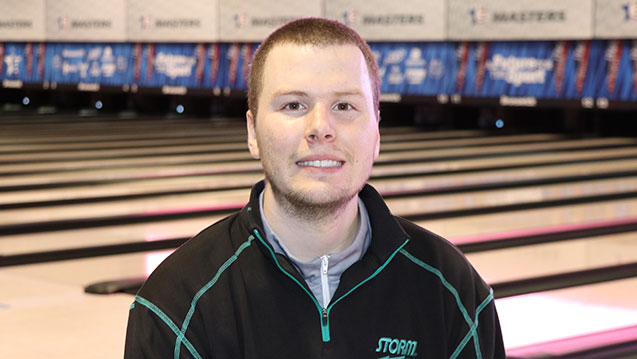 SYRACUSE, N.Y. – Despite a disappointing final round of qualifying at the 2018 United States Bowling Congress Masters, Alex Hoskins of Brigham City, Utah, was able to sneak into this year's double-elimination bracket, and he took advantage of the opportunity by notching two wins Friday at the Oncenter Convention Center.
The 25-year-old right-hander defeated Denmark's Thomas Larsen (696-620) and Nick Pate of Inver Grove Heights, Minnesota (606-585), to remain undefeated in the 64-player bracket.
Also among the 16 unbeaten players are top qualifier Stuart Williams of England, 2007 USBC Masters champion Sean Rash of Montgomery, Illinois, USBC Hall of Famer Steve Kloempken of Pleasant View, Utah, and 2017 U.S. Open winner Rhino Page of Orlando, Florida.
"I definitely felt like I was out after the third round of qualifying," said Hoskins, who only rolled one game over 200 on the way to a 929 five-game set in Thursday's final qualifying round. "When I saw that I'd made it, it was kind of like I was playing with house money. I came out today with nothing to lose, no chip on my shoulder, and threw it pretty well the first two matches to come away with a couple of wins."
Match play at the 2018 Masters will continue Saturday at 9 a.m. Eastern with 16 matches – eight in the winners bracket and eight in the elimination bracket. The 32 competitors are vying for the coveted Masters trophy and $30,000 top prize.
The list of players remaining in the elimination bracket includes defending champion Jason Belmonte of Australia, Professional Bowlers Association Hall of Famer Chris Barnes of Double Oak, Texas, 2009 PBA Player of the Year Wes Malott of Pflugerville, Texas, and Pate, the 2016-2017 National Collegiate Bowling Coaches Association Most Valuable Player.
The five-player stepladder finals will be broadcast live on ESPN on Sunday at 1 p.m. Eastern.
Hoskins is competing in his second Masters and is looking to improve on the third-place finish he registered last year in his tournament debut.
On the way to the No. 2 spot for last year's championship round, Hoskins collected wins against Barnes, 2016 PBA Player of the Year EJ Tackett of Huntington, Indiana, Argentina's Lucas Legnani, USBC and PBA Hall of Famer Pete Weber and Sweden's Martin Larsen, before falling to Belmonte in the match to determine the top seed.
The memorable run through match play did amazing things for the young right-hander's confidence, and he returned this year intent on proving that his success wasn't a fluke.
He also has watched last year's telecast on more than one occasion to see what he did right and what he could do differently. He described bowling on TV as the highest amount of pressure you can feel as a bowler and admits that nerves definitely were a factor.
"Getting through some big names last year really has helped show me that I belong out here, and I can compete with these guys," said Hoskins, who fell to Michael Tang, 227-217, in the semifinal of the 2017 Masters. "I wanted to come show that it wasn't a one-time thing. Even though I don't bowl out here full-time, it's nice to get a week out here to compete."
Hoskins will take on Larsen in Saturday's opening round.
Four left-handers remain in contention at the 2018 Masters, and the group includes a pair of U.S. Open winners – Page and Ryan Ciminelli of Cheektowaga, New York – the 2017 PBA Rookie of the Year (Matt Sanders of Evansville, Indiana) and a former member of Junior Team USA (Kenny Ryan of Farmingdale, New Jersey). Page and Ciminelli are in the winners bracket, and Sanders and Ryan are in the elimination bracket.
Page's U.S. Open victory, the first major title of his career, came just down the street at Flamingo Bowl in Liverpool, New York, and his friends joked that if he's able to also win this week's Masters, he should consider buying a house in Syracuse.
The 34-year-old's success at the Oncenter Convention Center has been well-earned after some recent changes in his game. Even after winning the U.S. Open in November, Page struggled in recent events, necessitating the changes.
"I just made some recent changes in my game, but I'm still fighting the old me a little bit," said Page, a six-time PBA Tour champion. "Confidence-wise, I feel great. When I execute the way I want to, it's very good, but there is a little fighting back and forth that I'm dealing with. I've also struggled in this tournament in the past, so being able to win a couple matches today has me feeling a lot better, and I'm looking forward to the rest of the week."
Page will meet Andrew Suscreba of Clifton, New Jersey, on Saturday morning.
Belmonte, who is seeking his fifth Masters title since 2013 and record-tying 10th career major, will bowl Tim Pfeifer of Oak Dale, Pennsylvania, in his opening match Saturday.
All competitors at the 2018 Masters bowled 15 games of qualifying over three days to determine the 63 players joining Belmonte in match play.
The Masters is a major title on the PBA Tour, and all rounds of qualifying and match play are being livestreamed on Xtra Frame, the PBA's online bowling channel. For subscription information, visit PBA.com.