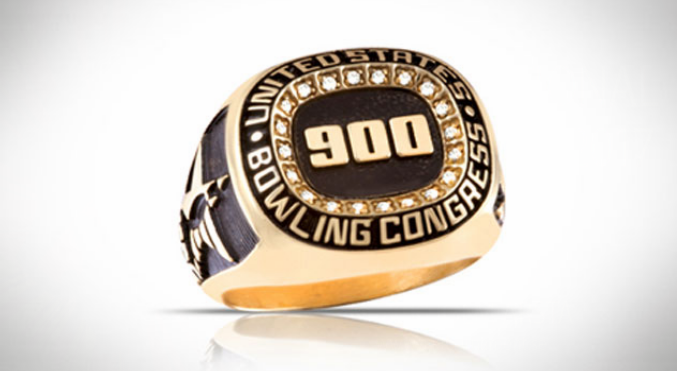 ARLINGTON, Texas – Less than three weeks from his 71st birthday, John Buchanan III of Evansville, Indiana, gave himself an early gift as he connected on 36 consecutive strikes to become the oldest bowler in United States Bowling Congress history to record a 900 series.
The right-hander fired three consecutive 300 games Wednesday during the Woodward Commercial Seniors league at Evansville's Franklin Lanes to become the 30th bowler to achieve the feat, surpassing Dale Gerhard of Mill Hall, Pennsylvania, as the oldest to reach the score. Gerhard was 59 years old when he rolled his 900 series last January.
Buchanan became the second bowler from Indiana to accomplish the score, joining Bob Kammer Jr. of Crown Point, Indiana, who recorded his perfect set in January 2011.
Buchanan laced up on his favorite pair of lanes at the 20-lane facility Wednesday, but he did not find the ball reaction he was looking for early in practice.
"We were on 17 and 18, which is my favorite pair in the house," Buchanan said. "The ball I usually use wasn't reacting quite as well as I wanted it to, so I switched to a stronger ball and played a completely different line. I hardly had to change throughout the set – maybe a board through all three games – since I was alone playing where I was on (the fifth board)."
As the strikes continued to add up and Buchanan approached the final frame, his first goal was to reclaim the Greater Evansville USBC series record, which he previously held after rolling an 858 series during a tournament at Franklin Lanes in May 2003.
"Stepping up in the 10th, I was thinking about the city record," Buchanan said. "I had held the record before at 858, but it has been broken four or five times since then, and I was hoping to get it back. After that, I just tried to stay as calm as possible and make good shots, which I was able to do.
"Holding the record is pretty special," Buchanan said. "A 900 series is an achievement all bowlers strive for, but only a few are able to attain. I feel privileged to be in that group."
Buchanan's achievement is pending approval from USBC and would be the 31st USBC-approved 900.
The first USBC-approved 900 occurred Feb. 2, 1997 when Jeremy Sonnenfeld rolled three consecutive perfect games in Lincoln, Nebraska.
USBC-Approved 900 Series (31)
Jeremy Sonnenfeld (R), Lincoln, Neb., Feb. 2, 1997
Tony Roventini (L), Greenfield, Wis., Nov. 9, 1998
Vince Wood (R), Moreno Valley, Calif., Sept, 29, 1999
Robby Portalatin (L), Jackson, Mich., Dec. 28, 2000
James Hylton (R), Salem, Ore., May 2, 2001
Jeff Campbell II (R), New Castle, Pa., June 12, 2004
Darin Pomije (R), New Prague, Minn., Dec. 9, 2004
Robert Mushtare (R), Fort Drum, N.Y., Dec. 5, 2005 and Feb. 19, 2006
Lonnie Billiter Jr. (R), Fairfield, Ohio, Feb. 13, 2006
Mark Wukoman (R), Greenfield, Wis., April 22, 2006
P.J. Giesfeldt (R), Milwaukee, Dec. 23, 2006
Rich Jerome Jr. (R), Baltimore, Dec. 22, 2008
Chris Aker (L), Winnemucca, Nev., Oct. 30, 2009
Andrew Teall (R), Medford, N.J., Nov. 2, 2009
Andrew Mank (R), Belleville, Ill., March 18, 2010
William Howell III (L), Middletown, N.Y., Oct. 21, 2010
Matt Latarski (R), Medina, Ohio, Nov. 28, 2010
Bob Kammer Jr. (R), Crown Point, Ind., Jan. 8, 2011
John Martorella Sr. (R), Greece, N.Y., April 12, 2012
Jimmy Schmitzer (R), Riverside, Calif., April 20, 2012
James Williams (R), Pawcatuck, Conn., (bowled in Wakefield, R.I.), April 16, 2013
Joe Scarborough (R), Charlotte, N.C., (bowled in The Villages, Fla.), April 21, 2013
Todd James (R), East New Market, Md., (bowled in Laurel, Del.), March 18, 2014
Amos Gordon (R), Colorado Springs, Colo., April 11, 2014
Earon Vollmar (R), Toledo, Ohio, Jan. 19, 2015
Hakim Emmanuel (R), Stoughton, Mass., Feb. 19, 2015
David Sewesky (L), Dearborn, Mich., Jan. 10, 2016
Dale Gerhard (R), Mill Hall, Pa., Jan. 12, 2016
Sean Osbourn (R), Houston, Nov. 21, 2016
John Buchanan III (R), Evansville, Ind., Jan. 11, 2017**
** Pending formal approval by the United States Bowling Congress.
For more information on USBC records, visit BOWL.com/Records.
United States Bowling Congress
The United States Bowling Congress serves as the national governing body of bowling as recognized by the United States Olympic Committee (USOC). USBC conducts championship events nationwide including the largest participation sporting events in the world – the USBC Open and Women's Championships – and professional events such as the USBC Masters and USBC Queens.
Founded in 1895, today USBC and its 2,500 state and local associations proudly serve more than a million members. USBC is headquartered in Arlington, Texas, working toward a future for the sport. The online home for USBC is BOWL.com.