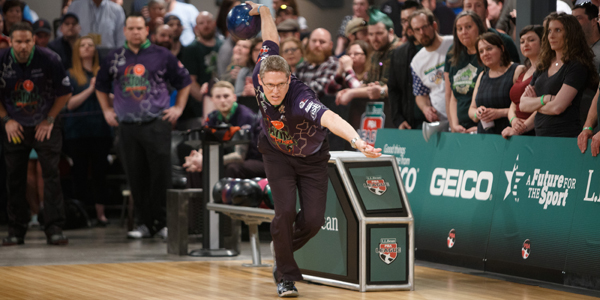 PORTLAND, Maine –
After a two-match dress rehearsal to get their vocal chords loosened up and their chants in order, the rambunctious fans at Bayside Bowl will be in peak form for the final two L.L.Bean PBA League quarterfinal round matches airing Sunday at 1 p.m. Eastern on ESPN.
Sunday's coverage will begin with the
Live + Work in Maine Silver Lake Atom Splitters, the only team to win the PBA League Elias Cup twice, facing off against the MaineQuarterly.com Brooklyn Styles. The second and final quarterfinal match will send the hometown-favorite L.L.Bean Portland Lumberjacks against the Barbasol Motown Muscle.
The Atom Splitters, managed by
Mark Baker and featuring a lineup of Chris Barnes, Tom Daugherty, Jesper Svensson, Shawn Maldonado and DJ Archer, won back-to-back Elias Cups, defeating L.A. X in both 2014 and '15. Standing in the way to a trip to the semifinal round will be the Brooklyn Styles, managed by PBA Hall of Famer Johnny Petraglia and his all-star roster of Sean Rash, PBA Hall of Famers Parker Bohn III and Walter Ray Williams Jr., Jason Sterner and Jon Van Hees.
The quarterfinals will wrap up with the Portland Lumberjacks,
managed by Tim Mack and featuring Wes Malott, Ryan Ciminelli, Kyle Troup, Bryon Smith and "Lumberjill" Liz Johnson taking on manager Del Ballard Jr.'s Barbasol Motown Muscle and its youthful lineup including reigning PBA Player of the Year EJ Tackett, Anthony Simonsen, 2016 Rookie of the Year Francois Lavoie, and PBA Tour veterans Josh Blanchard and Dick Allen. Neither team has ever won the Elias Cup.
In PBA League play, the best-of-two-game Baker matches are decided by a dramatic one-ball sudden-death roll-off if the teams split their two games.
The winning teams will advance to the semifinal round, where they will meet each other in an ESPN-televised match that will air on Sunday, May 7, at 1 p.m. EDT.
Already locked into the semifinal round are the Sysco Philadelphia Hitmen (manager Jason Couch,
Dom Barrett, Tom Smallwood, Chris Loschetter, Ronnie Russell and Dave Wodka) and the defending Elias Cup champion
Shipyard Dallas Strikers (player-manager Norm Duke, Tommy Jones, Bill O'Neill, Rhino Page and B.J. Moore), winners of quarterfinal round matches one and two.
The Elias Cup finals will air on Sunday, May 14, at 1 p.m. All ESPN telecasts also will be streamed simultaneously on ESPN3 and the WatchESPN app.