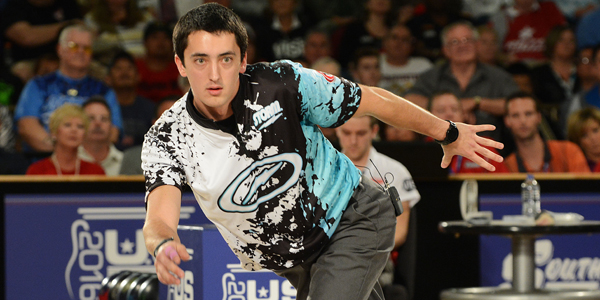 Three-time PBA Tour winner Marshall Kent of Yakima, Wash., and Zulmazran Zulkifli of Malaysia, a relatively recent convert to the two-handed bowling style, averaged 234.8 to tie for the first round lead in the Grand Casino Hotel & Resort PBA Oklahoma Open Tuesday at FireLake Bowling Center.
Kent and Zulfkifli both bowled a 1,879 eight-game pinfall total to lead the 91-player field on the PBA's 32-foot Wolf pattern lane condition.
Kent recovered from games of 166 and 172 to start the round but caught fire with games of 239, 279, 237, 237, 260 and 289. Zulkifli, or ZZ as he is more commonly called, bowled games of 211, 203, 213, 258 287, 266, 226 and 215.
"I tried to make a urethane ball work to start the round but that wasn't going to work," said Kent, who won the PBA Xtra Frame Lubbock Sports Open earlier this month for his third career title. "I changed to a reactive ball in the third game and started striking.
"Past experience on this pattern told me that urethane would be a good choice but there seemed to be too much oil (on the lanes) for what I was trying to do," he added. "I really wasn't comfortable using reactive either but it turned out to be the right change to make."
At a point in his career when he was ready to give up the sport, Zulkifli, a 13-time winner on the Asian Bowling Tour, decided to make the change to a two-handed delivery about 18 months ago because he felt he was no longer competitive using the normal one-handed delivery.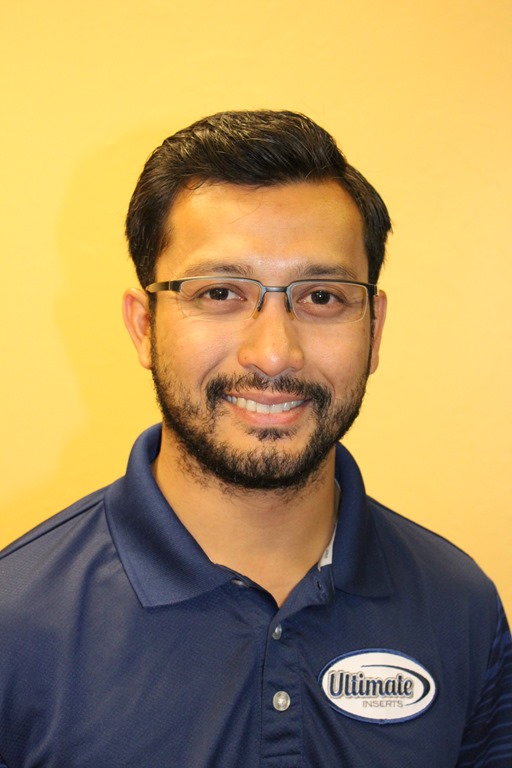 "I was about to quit the game because it just wasn't fun anymore," said the 34-year-old Zulkifli. "I just couldn't get the power I needed using one hand so I thought what do I have to lose, I'll give it a try.
"I tried it once for about 15 minutes and felt I could make it work," he continued. "For me, I need to make the ball hook and using the two-handed delivery was the answer."
Since he started using the two-handed delivery, it's been a lot of practice – up to six hours a day and watching a lot of video of players like other two-handed stars Jason Belmonte and Osku Palermaa.
"I still look at myself as a beginner using this style because it still doesn't feel natural to me," Zulkifli said. "I really have to concentrate hard on every shot. At this point in my career I can't stay home and practice until I'm ready. I have to learn while I'm bowling at the highest level of competition because I'm getting older."
Another two-hander six-time Tour winner Jesper Svensson of Sweden finished the round in third just nine pins back with a 1,870 pinfall.
Rounding out the top five were 16-year-old PBA member Trey Ford III of Bartlesville, Okla., who finished fourth with a 1,834 pinfall and two-time Tour winner Thomas Larsen of Denmark who finished the round in fifth with 1,826.
Oklahoma Open competition continues with eight-game qualifying rounds Wednesday and Thursday on the PBA's Bear and Badger lane conditioning patterns. The top 33 players based on 24-game pinfall totals will advance to another eight-game qualifying round on the Oklahoma Open lane condition Friday which will determine nine players who will compete in the live ESPN stepladder finals Saturday and Sunday at the Grand Casino Hotel Event Center. The leading qualifier will have the right to select which of the four lane conditions will be used for the stepladder finals.
All qualifying rounds are streamed live on PBA's online bowling channel Xtra Frame. For subscription and schedule information click on www.xtraframe.tv.
GRAND CASINO HOTEL & RESORT PBA OKLAHOMA OPEN
FireLake Bowling Center, Shawnee, Okla., Tuesday
First Round (after 8 games)
1, (tie) Marshall Kent, Yakima, Wash., and Zulmazran Zulkifli, Malaysia, 1,879.
3, Jesper Svensson, Sweden, 1,870.
4, Trey Ford III, Bartlesville, Okla., 1,834.
5, Thomas Larsen, Denmark, 1,826.
6, Tom Daugherty, Riverview, Fla., 1,811.
7, EJ Tackett, Huntington, Ind., 1,794.
8, Tommy Jones, Simpsonville, S.C., 1,788.
9, Chris Barnes, Double Oak, Texas, 1,786.
10, Kyle Sherman, O'Fallon, Mo., 1,785.
11, Martin Larsen, Sweden, 1,782.
12, Wes Malott, Pflugerville, Texas, 1,763.
13, Jason Sterner, Rockledge, Fla., 1,756.
14, Ronnie Russell, Marion, Ind., 1,753.
15, Anthony Lavery-Spahr, Pasadena, Texas, 1,749.
16, Ahmed Alawadhi, Bahrain, 1,742.
17, Ryan Shafer, Horseheads, N.Y., 1,739.
18, Brandon Novak, Chillicothe, Ohio, 1,733.
19, Kristopher Prather, Milton, Fla., 1,731.
20, Jason Belmonte, Australia, 1,728.
21, Gary Faulkner Jr., Memphis, Tenn., 1,720.
22, Sam Cooley, Australia, 1,719.
23, Sean Rash, Montgomery, Ill., 1,715.
24, (tie) AJ Chapman, Wichita, Kan., Devin Bidwell, Wichita, Kan., and Rhino Page, Orlando, Fla., 1,708.
27, Jon Van Hees, Charlestown, R.I., 1,701.
28, Dom Barrett, England, 1,700.
29, Francois Louw, South Africa, 1,697.
30, DJ Archer, Friendswood, Texas, 1,687.
31, Richie Teece, England, 1,674.
32, Andrew Anderson, Holly, Mich., 1,672.
33, Bill O'Neill, Langhorne, Pa., 1,671.
34, Brad Angelo, Lockport, N.Y., 1,661.
35, (tie) Nick Kruml, Downers Grove, Ill., and Francois Lavoie, Canada, 1,654.
37, Shawn Maldonado, Houston, 1,651.
38, Kyle Troup, Taylorsville, N.C., 1,646.
39, James Cantere, Oklahoma City, 1,645.
40, Amleto Monacelli, Venezuela, 1,644.
41, Brian LeClair, Athens, N.Y., 1,638.
42, Omar Rashid, Bahrain, 1,637.
43, Dick Allen, Columbia, S.C., 1,632.
44, Walter Ray Williams Jr., Oxford, Fla., 1,628.
45, Zeke Bayt, Westerville, Ohio, 1,625.
46, Ryan Ciminelli, Cheektowaga, N.Y., 1,624.
47, Dylan Burns, Lawrence, Kan., 1,623.
48, Tom Smallwood, Saginaw, Mich., 1,622.
49, J.R. Raymond, Clinton Twp., Mich., 1,619.
50, Craig Nidiffer, Trenton, Mich., 1,611.
51, Isaac Russell, Malaysia, 1,610.
52, Chris Loschetter, Avon, Ohio, 1,609.
53, Stuart Williams, England, 1,608.
54, AJ Johnson, Oswego, Ill., 1,607.
55, Osku Palermaa, Finland, 1,603.
56, Jakob Butturff, Tempe, Ariz., 1,602.
57, Tom Sorce, Blasdell, N.Y., 1,592.
58, John Szczerbinski, N. Tonawanda, N.Y., 1,589.
59, (tie) Gabriel Garcia, Port St. Lucie, Fla., and Kurt Pilon, Warren, Mich., 1,588.
61, Anthony Simonsen, Austin, Texas, 1,585.
62, Dylan Macon, Lubbock, Texas, 1,582.
63, (tie) Osama Hassan, Bahrain, and Matthew Sanders, Evansville, Ind., 1,574.
65, (tie) Isaac Kim, Lebanon, Pa., and Sean Lavery-Spahr, Pasadena, Texas, 1,563.
67, Graham Fach, Canada, 1,558.
68, Jake Peters, Henderson, Nev., 1,556.
69, Shota Kawazoe, Japan, 1,551.
70, Chris Via, Springfield, Ohio, 1,550.
71, Jesse Buss, Belvidere, Ill., 1,543.
72, Dino Castillo, Highland Village, Texas, 1,540.
73, (tie) Patrick Allen, Elmwood Park, N.J., and Christopher Sloan, Ireland, 1,534.
75, Michael Houtz, Myerstown, Pa., 1,532.
76, Brad Miller, Maryland Heights, Mo., 1,528.
77, Jeff Hatt, Oklahoma City, 1,499.
78, Kim Bolleby, Thailand, 1,498.
79, Darren Tang, San Francisco, 1,497.
80, Pontus Andersson, Sweden, 1,488.
81, Ramon Hilferink, Netherlands, 1,461.
82, Armando Santacruz, Ecuador, 1,440.
83, Kenneth Bland Jr., Jacksonville, Texas, 1,433.
84, Paul Brewbaker, Midwest City, Okla., 1,427.
85, Tom Hess, Urbandale, Iowa, 1,408.
86, Tyson Branagan, Fort Worth, Texas, 1,374.
87, William Tarpein, McDonough, Ga., 1,350.
88, Cody Shoemaker, Hanover, Pa., 1,331.
89, Jose Rosero, Ecuador, 1,243.
90, Yebgueni Velez, Ecuador, 1,156.
91, Norm Duke, Clermont, Fla., 531, withdrew.
300 games (2) – Ronnie Russell, Thomas Larsen