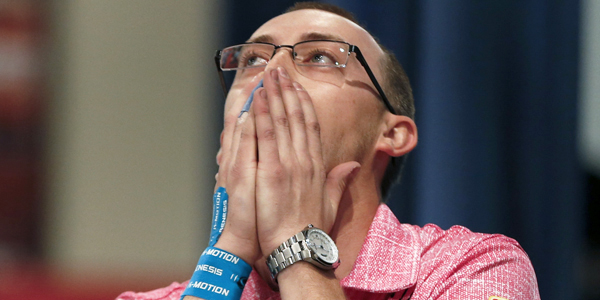 PBA's reigning Player of the Year defeats Australia's Jason Belmonte for third 2017 title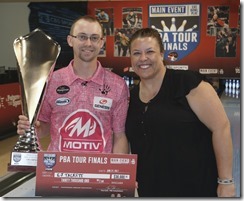 ORLANDO, Fla. –
After winning his first GEICO Chris Schenkel PBA Player of the Year Award in 2016 at age 24, EJ Tackett of Huntington, Ind., has indicated he's not ready to relinquish his role as the Professional Bowlers Association's premier player.
Tackett became the 2017 season's first three-time title winner when he defeated Australia's Jason Belmonte, 666-628, in the three-game total pinfall title match in the inaugural Main Event PBA Tour Finals at Main Event Entertainment.
The finals aired Tuesday on CBS Sports Network. Tackett earned $30,000 (along with his eighth career PBA Tour title) which will go toward his two-year earnings total in his ongoing bid for a return trip to the 2018 Main Event PBA Tour Finals.
Tackett won his berth in the title match as winner of the Group Two preliminary rounds, topping 18-time PBA Tour champion Tommy Jones of Simpsonville, S.C.; Dom Barrett of England, and Ryan Ciminelli of Cheektowaga, N.Y. Belmonte had an uphill battle in his four-player pod, but led Group One over competitors Jesper Svensson of Sweden; Sean Rash of Montgomery, Ill., and Anthony Simonsen of Austin, Texas.
In the title match against Belmonte, who had held the PBA Player of the Year title for three years in a row before Tackett overtook him in 2016, Belmonte took a one-pin lead after the first game, 225-224. Tackett then took charge, winning game two, 222-191, when Belmonte failed to convert two difficult splits. The young Indiana high-rev player kept Belmonte at bay throughout game three, winning again, 220-212, for a 38-pin margin of victory.
"The lanes were a little weird at times," Tackett said of the title match. "I don't know if it was from Tommy (Jones) or Belmo, or a little of both of them moving the oil around. But I threw a couple of shots that I thought were really, really good, and I had a solid 10 pin on one and a stone 9 pin on the other that I didn't see coming at all. I really thought I had struck.
"I also threw a couple of bad shots that shouldn't have struck, and did, so it all evens out," he added. "It was back and forth, not only with pin carry but bad shot making. I missed a couple of spares; he missed a couple. I had chances to take the lead in both 10th frames in the first two games but didn't. In the second game I could have taken a huge lead but left that stone 9 pin. That's stuff you can't control.
"The last game I threw a couple of bad shots, but down the stretch I threw probably my best two shots of the tournament in the eighth and ninth frames," Tackett continued. "I knew getting those two strikes would force (Belmonte) to strike out to force me to spare, so they were very important."
The win was Tackett's first against Belmonte after losses in 2014 title matches in the USBC Masters and the Grand Casino Hotel & Resort Oklahoma Open, so a fledgling rivalry has taken root.
"I beat (Belmonte) in the Detroit King of the Swing, but that doesn't count," Tackett said of the 2016 non-title special event, "so now I'm 1-2 against him. We'll have to meet more and see where the record goes."
In the preliminary match to decide third  and fourth places, Jones started with five strikes, but Svensson started with six and never slowed down in winning 267-224.
Going into the Main Event title match, Tackett had won 2017 titles in the DHC PBA Japan Invitational and the FireLake PBA Tournament of Champions. Belmonte also had won two titles in 2017, both majors – the USBC Masters and the Barbasol PBA Players Championship – setting the stage for an exciting PBA Player of the Year race as the PBA Tour heads into the second half of season.
Next up is the Grand Casino Hotel & Resort Oklahoma Open at FireLake Bowling Center in Shawnee, Okla., which will conclude Saturday and Sunday with a unique nine-player, two-day live ESPN stepladder finals from a special installation in Grand Casino's Event Center. Both telecasts, which will be live streamed simultaneously on ESPN3 and the WatchESPN app, begin Saturday and Sunday at 1 p.m. EDT.
MAIN EVENT PBA TOUR FINALS
Main Event, Orlando, Fla., (aired Tuesday on CBS Sports Network)
Final Standings:
1, EJ Tackett, Huntington, Ind., $30,000.
2, Jason Belmonte, Australia, $18,000
3, Jesper Svensson, Sweden, $10,000.
4, Tommy Jones, Simpsonville, S.C., $5,000.
Stepladder Results:
Third-Place Match:
Svensson def. Jones, 267-224.
Championship (three games, total pinfall):
Tackett (224-222-220) def. Belmonte (225-191-212), 666-628.
About the PBA
The Professional Bowlers Association (PBA) is an organization of more than 3,000 of the best bowlers from 27 countries who compete in PBA Tour, PBA International Tour, PBA Regional Tour, PBA Women's Regional and PBA50 Tour events. The PBA is in its 58th consecutive year of nationally-televised competition, reaching bowling fans around the world who follow PBA activities through the PBA Network which includes Xtra Frame, the PBA's exclusive online bowling channel, ESPN and CBS Sports Network, and the PBA on Facebook, Twitter and YouTube. PBA sponsors include Barbasol, Brunswick, Ebonite International, GEICO, GoBowling.com, Grand Casino Hotel and Resort, HotelPlanner.com, Main Event Entertainment, MOTIV, 900 Global, PBA Bowling Challenge Mobile Game, Storm Products and the United States Bowling Congress, among others. For more information, log on to
www.pba.com
.