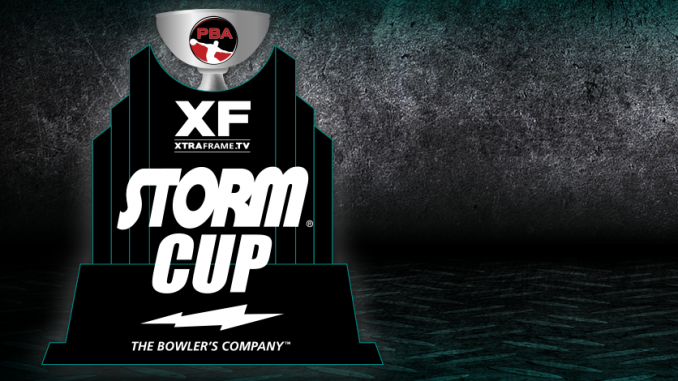 ENGLAND'S DOM BARRETT TAKES LEAD IN XTRA FRAME STORM CUP POINTS RACE
England's Dom Barrett, with a fifth-place finish in the PBA Xtra Frame Wilmington Open after a third-place finish in the Xtra Frame Reality Check Classic in March, has taken the lead in the Xtra Frame Storm Cup points standings after two of seven events.
Barrett, who owns five PBA Tour titles including the 2013 PBA World Championship, earned 18 points in Tamarac, Fla., and 16 points in Wilmington, N.C., for a total of 34 points and a one-point lead over Reality Check Classic winner Josh Blanchard of Mesa, Ariz. Blanchard earned 25 points for his win in Tamarac, Fla., and another eight points for finishing 13th in Wilmington.
In each Xtra Frame Storm Cup event, the top 20 players earn points toward a pool of $50,000 in bonus prize money that will be awarded to the top five players. The winner of each Storm Cup event receives 25 points. Second place is worth 19 points, third 18 points with points diminishing by one through 20th place, which is worth a single point.
Tom Daugherty of Riverview, Fla., is third with 28 points after finishing seventh in both of the first two events. Wilmington winner Anthony Simonsen of Austin, Texas, is tied for fourth place with Venezuela's Ildemaro Ruiz with 25 points, but he didn't bowl in Tamarac.
Rounding out the top 10 are Dick Allen, Columbia, S.C., in sixth place with 20 points; AJ Johnson, Oswego, Ill., and Rhino Page, Orlando, Fla., 19; EJ Tackett, Huntington, Ind., 18; and Jason Sterner, Rockledge, Fla., and Shawn Maldonado, Houston, tied for 10th with 17 points each.
MONGOLIA'S OCHBAYAR MUNKHGEREL MAKES PBA DEBUT IN WILMINGTON
Ochbayar Munkhgerel became the first bowler from Mongolia to bowl in a PBA Tour event when he entered the Xtra Frame Wilmington Open. Mongolia was one of seven countries represented in Wilmington, including England, Venezuela, Japan, Canada, Indonesia and the U.S.
Munkhgerel, 29, is a three-time national champion in his home country, and has been president of the Mongolian Professional Bowling Association since 2006. The married father of one has a college degree in international trade and noted his boyhood bowling hero was Pete Weber. "Och," as he prefers to be called, finished 91st in the field of 96 in his PBA debut.
GRAND CASINO HOTEL & RESORT PBA OKLAHOMA OPEN TICKETS ON SALE
Tickets for the Grand Casino Hotel & Resort PBA Oklahoma Open, which will be conducted June 26-July 2 in Shawnee, are now available by visiting

www.grandboxoffice.com. Daily passes are $20 for competition at the FireLake Bowling Center. VIP weekend passes are $35 for both days of stepladder finals at the Grand Casino Event Center and will allow admittance 30 minutes earlier than day pass holders for priority seating.
A field of 100 PBA Tour players is expected to compete in the inaugural tournament which is the 13th stop of the 2017 PBA Tour season. Among those entered is reigning PBA Player of the Year EJ Tackett who won the FireLake PBA Tournament of Champions in Shawnee in February.
Competition will include qualifying rounds June 27, 28 and 29 at the FireLake Bowling Center. The top 33 players after 24 games will advance to another eight-game qualifying round on June 30 which will determine nine players who will compete in the unique two-day live ESPN stepladder finals which will be televised July 1 and 2 from a specially built two-lane installation in the Grand Casino Event Center. Telecasts will air at 1 p.m. EDT (noon CDT) on both days.
The July 1 telecast will include four stepladder matches which will begin with the no. 9 qualifier bowling the no. 8 qualifier. The July 2 telecast will include the final four matches for the championship.
SENIOR MASTERS, SENIOR U.S. OPEN HIGHLIGHT JUNE'S VIDEO STREAMING SCHEDULE
PBA50 players head into the home stretch of their 2017 season with a pair of major championships in Las Vegas, both of which will be live streamed. USBC's bowl.tv will provide coverage of USBC's Super Senior Classic for players ages 60 and older, June 1-3, followed by the PBA50 Tour's second major of the year, the USBC Senior Masters, June 4-10. Both events will be held at Sam's Town Bowling Center.
PBA's Xtra Frame will then provide start-to-finish coverage of the Suncoast PBA Senior U.S. Open presented by Storm, June 12-16, from Suncoast Bowling Center in Las Vegas, before the PBA50 Tour returns to the Midwest for its final four events of the year.
The PBA Tour will continue its busy summer schedule of Xtra Frame events with the PBA Xtra Frame Greater Jonesboro Open from Jonesboro Bowling Center in Jonesboro, Ark., June 3-4, and the PBA Xtra Frame Lubbock Sports Open presented by Ebonite from South Plains Lanes in Lubbock, Texas, June 10-11. Both are PBA Xtra Frame Storm Cup events and each will be covered live, exclusively on Xtra Frame, from first ball to last.
Upcoming PWBA Tour coverage includes qualifying and match play rounds of the Wichita Open from Northrock Lanes in Wichita, Kan., Friday and Saturday; the Pepsi Lincoln Open from Sun Valley Lanes in Lincoln, Neb., June 9-10; the Greater Detroit Open from Super Bowl in Canton, Mich., June 16-17, and the Go Bowling PWBA Players Championship from The Ashwaubenon Bowling Alley in Green Bay, Wis., June 22-24.
Xtra Frame subscription packages are available for three days, 30 days and a full year. To sign up, visit xtraframe.tv for details.
PBA fans also are reminded they can follow real-time results for PBA50 and PBA Xtra Frame Tour events by visiting the "live scoring" feature on pba.com. PWBA live scoring is available on pwba.com.
THIS WEEK: "PICK THE HAMMER BALL" FOR PBA BOWLING CHALLENGE GAME
Concrete Software's 10-week "pick the ball" survey for PBA Bowling Challenge mobile game concludes this week with players invited to select a new Hammer ball from among three options which have been provided for each PBA-participating brand.
Based on fan voting which begins Thursday (click here: http://bit.ly/Hammer_17 to cast your vote), the "winning" Hammer will be available for play on June 16.
A code to purchase the ball for 50% off (the code will be available on PBA's and the specific companies' social media pages) will be posted. Each company also will have a flashback weekend where all its previous balls will be available for that weekend only.
PBA REGIONAL UPDATE: MICHIGAN'S WILDS TOPS 93-PLAYER CHALLENGE FIELD
Tyler Wilds
of Three Rivers, Mich., defeated amateur
Bob Kammer Jr.
of Crown Point, Ind., 266-195, to win his first PBA title in the Celeste Walker Midwest Challenge at Strike N Spare II in Lockport, Ill., on Saturday.
Wilds, who earned $1,400, topped a field of 93 players in the PBA Challenge event, which was open to bowlers who had not previously won a PBA title. Wilds defeated Jason Miller of Houston, Texas, 216-166, in the semifinal round to advance to the title match while Kammer eliminated amateur Jacob Boresch (the son of PBA50 champion Lennie Boresch Jr.) of Kenosha, Wis., 213-195, in the other semifinal round match.
● Ernie Lukacs Jr. of Manville, N.J., defeated Darren Andretta of New Hyde Park, N.Y., 209-170, to win his first PBA title in the PBA Colony Park Lanes Eastern Challenge on Saturday in York, Pa.
It was the first time either finalist had been in position to win a PBA title. Lukacs, a six-year member, had a best career finish of fifth place prior to this event. Andretta, a seven-year member, had a best career finish of seventh prior to the weekend. Lukacs also earned $1,500 for the win. 
PBA Challenge events are open to any member or non-member who have not won a PBA title.
● PBA Regional activity in June gets underway over the June 9-11 weekend with the Wine Country West/Northwest Open presented by Roto Grip at Double Decker Lanes in Rohnert Park, Calif.
● The June 16-18 PBA Regional calendar includes the Homefield Bowl Eastern Open presented by MOTIV in Yonkers, N.Y.; the Greater Marion Central Open presented by MOTIV at BlueFusion Fun Center in Marion, Ohio; the Glo Bowl Midwest Open presented by Sam Adams and 900 Global in Marengo, Ill., and the Tommy See Memorial South Open presented by MOTIV at Nassau Bowling Center in Yulee, Fla.
● A busy schedule of PBA Regional events is on tap for the June 23-24 weekend, including the Pro Bowl West Central/Midwest Challenge presented by Roto Grip in Fort Wayne, Ind.; the PBA50 Ultimate Inserts Midwest Open presented by Hammer at Lakeside Lanes in Davis, Ill., and the PBA/PBA50 Sands Regency Doubles presented by MOTIV at High Sierra Lanes in Reno, Nev.
● The June PBA Regional calendar closes and July begins with the Grand Casino Hotel & Resort Southwest Doubles at FireLake Bowling Center in Shawnee, Okla., on June 30, preceding the Grand Hotel & Resort PBA Oklahoma Open. Also scheduled for the June 30-July 2 weekend is the PBA and PBA50 Vanessa Brown Homes West Opens, both presented by Columbia 300 at Yosemite Lanes, in Modesto, Calif.
● For complete PBA Regional schedules, rules and entry information, visit pba.com, open the "schedules" tab and click on PBA Regional Tours to find the event(s) in your area.
QUICK NOTES
● Fifteen-time PBA Regional titlist
Tyler Jensen
became Dexter Bowling's new vice president, effective June 1. The company's South Central sales representative since 2012, Jensen will succeed current vice president
Bud Clapsaddle
, who will be retiring at the end of this year. Jensen, a 33-year-old Wichita State University graduate, has been a PBA member since 2002.
●
Walter Ray Williams Jr.
rolled his 105th career 300 game in PBA competition during Tuesday's qualifying in the PBA50 Northern California Classic at Harvest Park Bowl in Brentwood, Calif. He's now within six perfect games of all-time leader
Parker Bohn III
who has rolled 111 300 games in PBA events.
● Zane Hollander of Las Vegas wins a new DV8 ball; Tom Griffin of Piscataway, N.J., will receive a new high-performance Brunswick ball, and Howard Towers of Norwalk, Conn., wins a new high-performance MOTIV ball as May sweepstakes prizes for subscribing to Xtra Frame. The monthly sweepstakes is sponsored by the respective PBA Product Registered partners. Monthly winners are selected from among new Xtra Frame subscribers, who are automatically entered when they enroll as a monthly or Xtra Frame Season Ticket (full year) subscriber.
● Last call:

Applications for the 2017 PBA Billy Welu Scholarship, recognizing exemplary qualities in male or female college students who compete in bowling, are due by June 15. Candidates must be currently attending college and maintaining at least a 2.5/4.0 GPA or equivalent. The two-part application can be retrieved using this link:

http://www.pba.com/Corporate/Scholarships

.