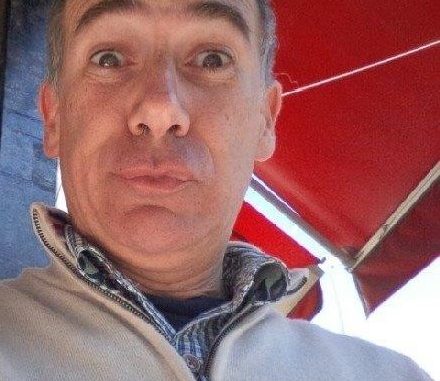 The 26th Malta Open Championship is nearly upon us. Regular bowlers in the event will know Mike Gatt, and this year, he takes the reins as Tournament Director for the first time. We decided to catch up with him about one of the most-loved tournaments on the calendar.
Mike, you're the new "Superman" Tournament Director of the popular Malta Open, but you've been "part of the furniture" at Eden Super Bowl for a long time. How excited were you to take over organisation of the tournament from your predecessor, Neil Dent?
To be honest Helen I was not excited at all but rather worried. There is a lot of work involved and in the past it used to be Neil, Charmaine and myself working as a team together. We all knew each other's duties and thus we had a well oiled machine working towards each tournament. By the time I took over the Seniors Open in October 2016, all in the office were new faces with no bowling background at all. There was minimal hand-over and thus that the Seniors went off with no hitch was a massive relief for me.
What have been your biggest challenges so far with organisation of the tournament?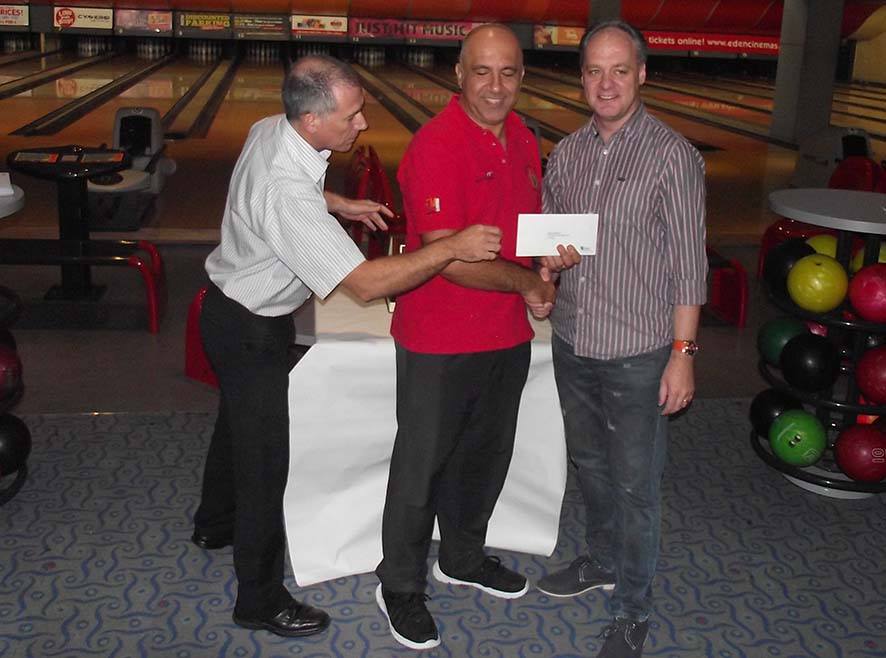 Almost every aspect has been a challenge. As I said above, I only had a very basic handover from Neil and that was mainly in how the scores are processed – I have been involved in all the Malta Opens except the first in 1992 – but my role has always been back-up and lane marshal. So I had absolutely no idea where to start from when preparing for the 2017 tournaments. I failed slightly, if you can say that, on the accommodation front as it took me too long to start negotiations with hotels. The website was also a challenge until I got used to the system. Now, just a month away from the event, I am still discovering things that need to be sorted which means I am being forced into a lot of backtracking. However all loose ends seem to be coming together now and its just a matter of keeping my mind clear and getting the job done. We have 86 entries so far which, considering the change in Director, is not a bad showing.
How do you see the tournament developing in future? Do you envision making changes to the format, or perhaps going for ETBF ranking status?
It is much too early for me to be thinking of the future of the tournament. Once I have this under my belt and have understood all the requirements, organisation & costing I will be in a better condition to consider the future. So no, I haven't considered neither format changes nor ETBF ranking status.
How did you come to be involved with bowling?
Apart from my first attempt when I managed a fantastic score of 62? It all started around 1990 when I and a group of friends decided to play in the leagues. Most of us were new to bowling but it was merely a night of fun and an excuse to meet up and have a beer together. From there on the team moved on until we fought our way up to 1st Division having conquered some big teams on the way up. It wasn't plain sailing and the team had its fair share of ups and downs and many permutations. Being captain of the team from as early as 1993 I was proud of our achievements. In 1992 I joined Eden Super Bowl as a part-time customer service staff member. By 1993 I had joined the management team on a full-time basis working under Roderick Mayl – the creator and envisionary of the tournament. 24 years on and the rest is all history really.
 Do you bowl much yourself?
I used to. Bowling in the leagues and the occasional tournament up to 2009. I had to stop for various reasons, personal and practical, in 2009 and have barely picked up my bowling equipment since.
Who are the bowlers to watch for in this year's Malta Open?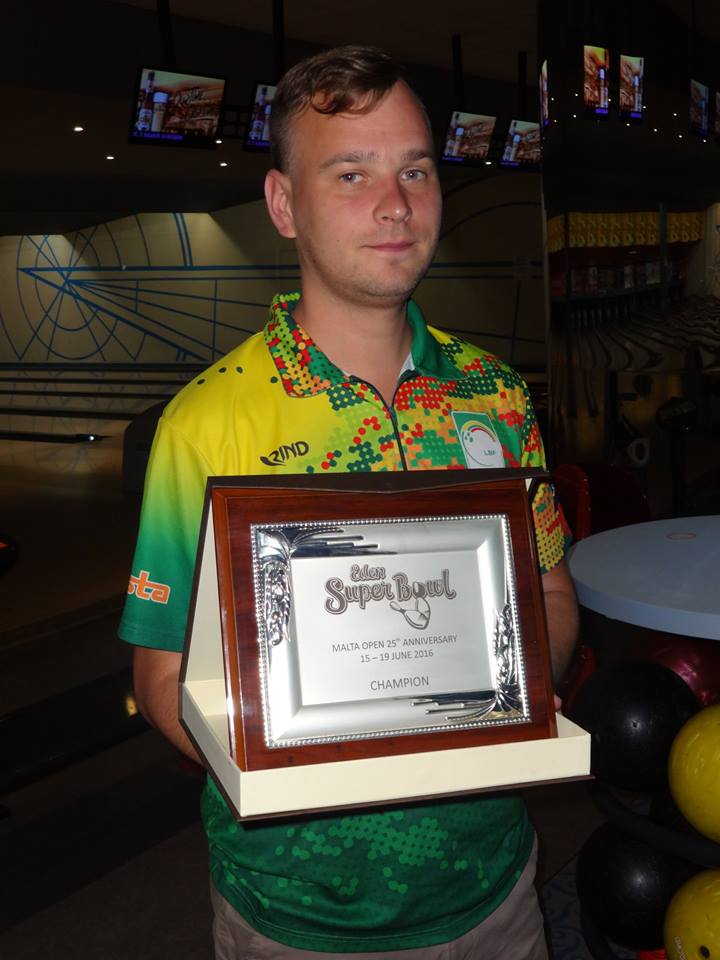 I'm not too well versed with the names but looking at the field we have this year we seem to have an interesting battle on our hands. Aidas Daniunas from Lithuania, last year's champion and also a fantastic bowler, will be back again presumable hoping to retain his title. There is also Bart Van Kerckhoven, Netherlands, and Rob Thurlby, England, who both finished in the top 12 last year among the challengers. On the local front we have Sue Abela, our top and most consistent bowler, who is always up there putting on a strong challenge. There are also a couple of youngsters in the local youth squads who are very promising. Tiziana Carannante, Sara Xuereb, Edward Xuereb are all on the up thanks to the training scheme prepared by the MTBA and their own commitment.
You're handy with a camera and keen on photography. Will you also be trying to do some of the photography for this year's event?
Photography is a hobby and a passion and I have always wanted to try to take some photos during the tournament. The lighting and the action make for very challenging conditions. However I never really had any chance to do so. Now, as Tournament Director, time for photography is going to be impossible.
Lots of bowlers make their trip to Malta part of a holiday. What are the must-see destinations on the island?
One of my passions, also an order from my doctor, is walking. Unfortunately June may be a bit too hot for walks in the countryside – the best time of year for that would be March/April really.
However Malta is a gem of hidden treasures even in small towns like Attard (if architecture is your cookie).
Must sees are definitely Valletta and Mdina – walking along the majestic bastions is awe inspiring in itself.
While in Valletta – St John's Co-Cathedral is top on the list. Valletta is littered with Churches all over the city, so just walking through the streets aimlessly is a fun way to spend the day. There are numerous bars, cafes and restaurants peppered all around so if you need a watering hole to cool off you'll find one soon enough.
The Upper & Lower Barrakka Gardens are pleasant and provide wonderful views of the Grand Harbour and the Three Cities beyond.
Mdina – again majestic architecture at every turn. It is a typical medieval walled city with narrow streets and lovely views. If you have a sweet tooth you may want to stop off at Fontanella Tea Gardens and have a slice of their fantastic cakes. Fontanella is set on the bastions looking towards Valletta  regaling you with wonderful views of almost all Malta
The Three Cities – opposite Valletta – Vittoriosa, Senglea & Cospicua (also known as Birgu, L-Isla & Bormla) – the cities that the Knights of St John had originally fortified (Valletta was built after the siege of 1565 when it became apparent that the three cities were dominated by the high rise of Mount Sciberras (the peninsula on which Valletta is built) putting the Three Cities at a disadvantage during an attack. These are quaint cities and provide an interesting walk. There are a number of interesting Museums in the area also that would  prove interesting.
For natural beauty there is quite a selection. My favourites are Wied Iz-Zurrieq, a lovely walk and also a quaint little community down by the sea, You may also book a boat trip to see the Blue Grotto, caves set into the high limestone cliffs of the area where the sea is crystal clear and all shades of blue & turquoise. Go in the evening to catch beautiful sunsets.
Close by there are two Megalithic Temples, Hagar Qim & Mnajdra, which are must sees.
Also close by though not that well know is another small bay – Ghar Lapsi – which is a rather picturesque bay with Filfla on the horizon as part of the backdrop.
There are the many obvious tourist traps apart from these I have mentioned, such as Marsascala & Marsaxlokk, Mosta Dome, Ghajn Tuffieha & Golden Sands – two wonderful sandy beaches, Bugibba, St Paul's Bay & Mellieha just to name a few.
Comino and the Blue Lagoon would be nice to visit – Blue Lagoon is a lovely bay enclosed by little islets but very popular and recently has become overcrowded over summer.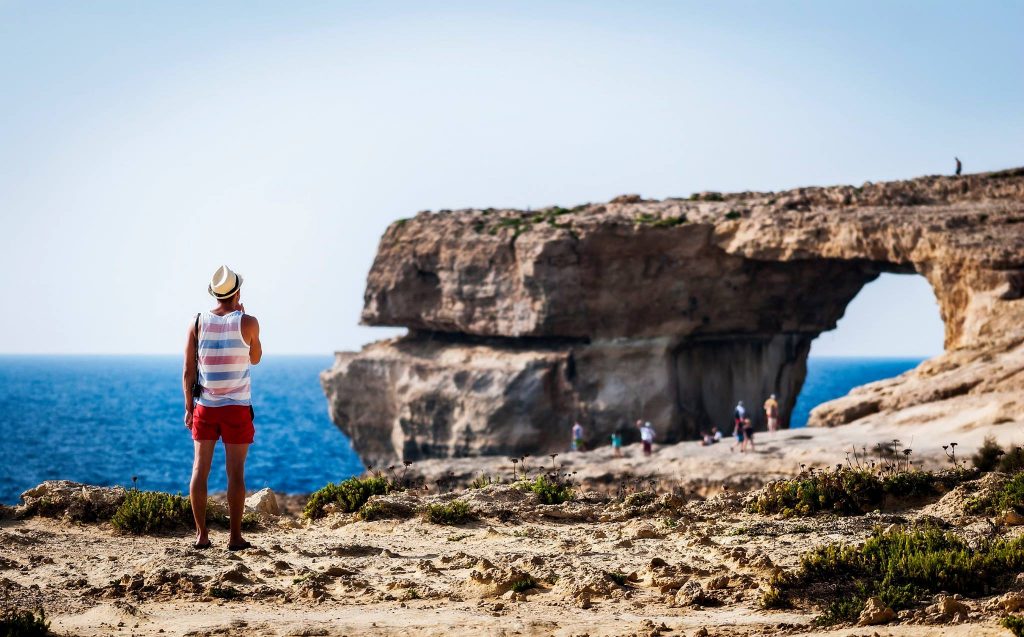 Finally Gozo – I could wax lyrical all day long about Gozo. Unfortunately we lost the Azure Window last March due to a heavy storm and centuries of erosion but the area, with the Inland Sea is still worth a visit.
The Citadel is a must. The work that has been done on it lately is fantastic and the immersive visual/audio show is very well done.
I could fill a whole book with places to visit in Gozo – I am a big fan of the island – you'll need quite a few days to see much of it.
Certainly requires a visit, apart from those mentioned already,  are:
Xlendi – the picturesque fishing village which has now become a hub of restaurants
Marsalforn – a small village in the past which became a favourite summer resort for Maltese who want to take a break from the humdrum.
Mgar Ix-Xini, Hondoq Ir-Rummien, Dahlet Qorrot are all quaint and pretty little bays which demand a visit.
There are many other gems – such as the megalithic temples – Ggantija – which are considered to be one of the oldest free standing monuments in the world dating back to 3600/3200BC.
Ninu's Cave in Xaghra would be an interesting visit if one is into geology. It is a cave – quite large – filled with natural stalagmites and stalactites.
Finally, what makes the Malta Open so special?
Me! Seriously now…. that is due to many things I would say. Sea, sun and fun being part of it. Quite a few bowlers make it a holiday, not just bowling but also exploring and swimming (beware of sunburn here.. Malta's summer sun can be quite unforgiving). But then again, Neil was a fantastic host who ran a smooth tournament and had developed a great relationship with all the bowlers. I have an uphill battle to try to emulate Neil's achievements. And finally, I have to add thanks to my many years being down on the lanes with the bowlers during the tournament, it is the bowlers themselves who come together at Eden Super Bowl very much like an annual extended family meeting that give the tournament that touch of familiarity.
The Malta Open Championship is being held on 14-18 June, with a €10,000 minimum guaranteed prize fund. For further information, please visit their Facebook page or official website.
Thanks for your time, Mike and we can't wait for this year's event! Don't forget to check Talk Tenpin for reports and updates on the Championship.