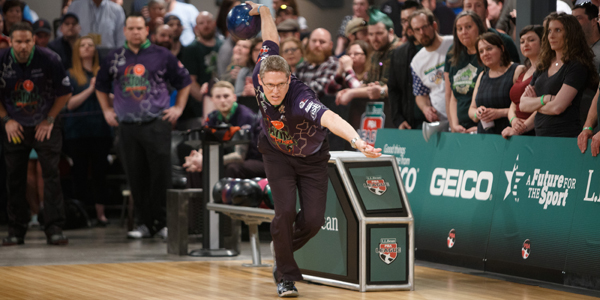 PORTLAND, Maine –
L.L.Bean PBA League competition enters the semifinal round Sunday at 1 p.m. Eastern on ESPN with the Sysco Philadelphia Hitmen, L.L.Bean Portland Lumberjacks and
Live + Work in Maine Silver Lake Atom Splitters hoping to prevent the Shipyard Dallas Strikers from winning back-to-back Elias Cups.
Sunday's coverage will begin with the defending champion Strikers taking on the Hitmen, who have never won an Elias Cup, in a best-of-two-game Baker format team match. Then the
Atom Splitters, the only team to win the PBA League Elias Cup twice, meet the hometown-favorite L.L.Bean Portland Lumberjacks in the second match.
The Philadelphia Hitmen are managed by PBA Hall of Famer Jason Couch and feature a roster of
Dom Barrett, Tom Smallwood, Chris Loschetter, Ronnie Russell and Dave Wodka. The
Strikers are led by player-manager Norm Duke and his team of Tommy Jones, Bill O'Neill, Rhino Page and B.J. Moore.
The Atom Splitters, managed by
Mark Baker, will send Chris Barnes, Tom Daugherty, Jesper Svensson, Shawn Maldonado and DJ Archer against a
Lumberjacks team
managed by Tim Mack and featuring Wes Malott, Ryan Ciminelli, Kyle Troup, Bryon Smith and "Lumberjill" Liz Johnson.
In keeping with PBA League play tradition, the best-of-two-game Baker matches will be decided by a dramatic one-ball sudden-death roll-off if the teams split their two games. All four quarterfinal round matches ended with sudden-death roll-offs.
Sunday's winners will return for the Elias Cup finals on Sunday, May 14, at 1 p.m. The Elias Cup will be decided by a series of singles, doubles and Baker trios matches – worth one point each – along with a five-player Baker team finale worth three points. Again, sudden-death will be the deciding factor if the contest ends in a tie.
All ESPN telecasts also will be streamed simultaneously on ESPN3 and the WatchESPN app.