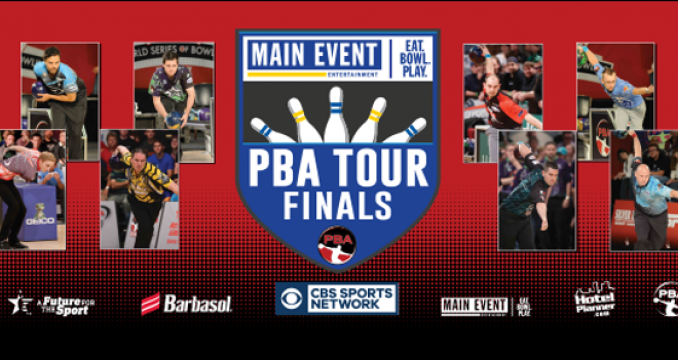 Eight PBA Stars to Compete in Unique Multi-Telecast Special Event; CBS Sports Network to Televise Five, Two-Hour Shows Beginning on May 30
CHICAGO
– The Professional Bowlers Association (PBA) returns to CBS Sports Network for the new Main Event PBA Tour Finals in Orlando, Fla. The Network will televise five consecutive, two-hour shows on Tuesday nights involving eight PBA Tour stars beginning on Tuesday, May 30 at 9:30 P.M, ET.
Players who will compete in the invitational special event include Australia's Jason Belmonte; EJ Tackett of Huntington, Ind.; Dom Barrett of England; Sweden's Jesper Svensson; Anthony Simonsen of Austin, Texas; Ryan Ciminelli of Cheektowaga, N.Y.; Tommy Jones of Simpsonville, S.C., and Sean Rash of Montgomery, Ill.  They are the PBA's top eight in composite earnings over the past three seasons.
Individual career highlights include:
·
Belmonte, a 14-time PBA Tour titlist, is a three-time PBA Player of the Year (and former Rookie of the Year) and winner of the 2017 Barbasol PBA Players Championship and USBC Masters.
·
Tackett, a seven-time PBA Tour champion, is the reigning PBA Player of the Year and winner of the 2016 PBA World Championship and 2017 FireLake PBA Tournament of Champions.
·
Barrett, a five-time PBA Tour winner, was 2013 PBA World Champion.
·
Svensson, the first player to win five PBA Tour titles by age 21, is the 2016 FireLake PBA Tournament of Champions winner.
·
Simonsen, a two-time Tour titlist, won the 2016 USBC Masters to become the youngest player ever to win a major title at age 19.
·
Ciminelli, a seven-time PA Tour winner, won the 2015 U.S. Open.
·
Jones, an 18-time title winner, has won two majors and is one of four players to earn both PBA Rookie of the Year and Player of the Year honors.
·
Rash, an 11-time titlist, has won two majors and was 2012 PBA Player of the Year.
The Main Event PBA Tour finals will utilize a similar format to the tennis ATP Tour, dividing the field into two four-player groups for round-robin match play and award 50 bonus pins for each match win. Group A will include Belmonte, Svensson, Simonsen and Rash. Group B will include Tackett, Barrett, Ciminelli and Jones.
The first round will involve head-to-head matches within each group leading to Group A and Group B stepladder finals. The final two-hour telecast will include a match between the runners-up in each group for third place, and a three-game, total pinfall championship match between the Group A and B stepladder winners.
CBS Sports Network is available across the country through local cable, video and telco providers and via satellite on DirecTV Channel 221 and Dish Network Channel 158. For more information, including a full programming schedule, and how to get CBS Sports Network, go to
www.cbssportsnetwork.com
This will be the second PBA event hosted by Main Event in 2017. Earlier this year, Main Event Entertainment hosted the Main Event Terrell Owens PBA Super Clash in Katy, Texas.
About Main Event Entertainment
Founded in 1998, Dallas-based Main Event Entertainment is rapidly growing, with 31 restaurant and entertainment centers across the United States. Main Event features a unique "Eat. Bowl. Play." experience for groups to let their fun out together. Serving over 20 million guests annually, Main Event offers state-of-the-art bowling, over 100 virtual and interactive games, multi-level laser tag, chef-inspired dining and a high-energy, full-service bar, making it the perfect place for families, young adults and groups of all ages to Head for Fun. Learn more and see our photo gallery at
http://www.mainevent.com/
.
About the PBA
The Professional Bowlers Association (PBA) is an organization of more than 3,000 of the best bowlers from 27 countries who compete in PBA Tour, PBA International Tour, PBA Regional Tour, PBA Women's Regional and PBA50 Tour events. The PBA is in its 58th consecutive year of nationally-televised competition, reaching bowling fans around the world who follow PBA activities through the PBA Network which includes Xtra Frame, the PBA's exclusive online bowling channel, ESPN and CBS Sports Network, and the PBA on Facebook, Twitter and YouTube. PBA sponsors include Barbasol, Brunswick, Ebonite International, GEICO, Grand Casino Hotel and Resort, HotelPlanner.com, MOTIV, 900 Global, PBA Bowling Challenge Mobile Game, Storm Products and the United States Bowling Congress, among others. For more information, log on to
http://www.pba.com
.