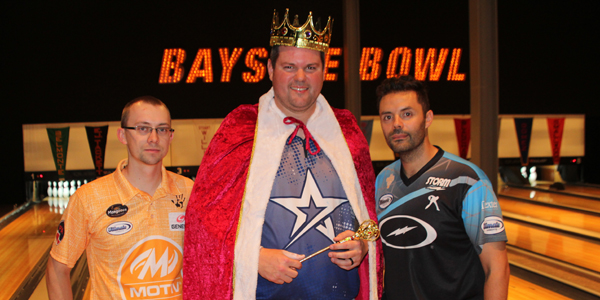 Showdown against today's top players motivates reigning "king" after lengthy delay
PORTLAND, Maine –
Over the past eight years, Wes Malott has undergone knee surgery, added another child to his family and operated a pair of pro shops back in Pflugerville, Texas. But when it came time to defend the Professional Bowlers Association's "King of Bowling" crown after that lengthy delay, Malott was more than up to the challenge.
Malott, now 40 and a 10-time, Hall of Fame-eligible PBA competitor, rolled games of 238, 256 and 227 Wednesday night for a 721 three-game series and a convincing victory over 2016 PBA Player of the Year EJ Tackett of Huntington, Ind., and Jason Belmonte of Australia, who recorded 664 and 640 series, respectively, in the revival of the made-for-television King of Bowling special event.
The Xtra Frame Pay Per View series, which aired exclusively on the PBA's live-streaming service that didn't exist the last time Malott won the crown, was conducted as part of the PBA's return to Bayside Bowl in Portland, Maine, for the MaineQuarterly.com Mark Roth/Marshall Holman PBA Doubles Championship and the L.L. Bean PBA League Elias Cup finals..
Malott dominated the original King of Bowling series at the Kegel Training Center in Lake Wales, Fla., in 2009, winning challenge matches five consecutive weeks against
Parker Bohn III, Chris Barnes, Patrick Allen, Walter Ray Williams Jr. and Rhino Page.
"

I wish we had been able to do something like this sooner, especially after the performance I had at Kegel," Malott said. "Any time you can compete against the hottest players of the time, it's great fun. It might not have meant as much to Jason or EJ as it did to me, but it was something I needed to prove to myself.
"I haven't had the drive I need to have lately, so to be able to bowl against the best and take them down in a somewhat convincing manner was enjoyable. It felt a little like a regular TV show, and I haven't been in that position for a while. But that's the reason you do this. It's a whole lot more than the money, and to do it in front of the fans here in Maine was awesome."
Malott will now turn his attention to the L.L. Bean PBA League competition, which gets underway with an eight-game "seeding" round Thursday when all eight teams will bowl to establish bracket positions for this weekend's competition.
And then it's back home to Texas where the now-father of two boys and a daughter will be taking his kids to softball, baseball, bowling events non-stop.
"My wife and I have something going every day until August 2," Malott grinned. "And then school starts."