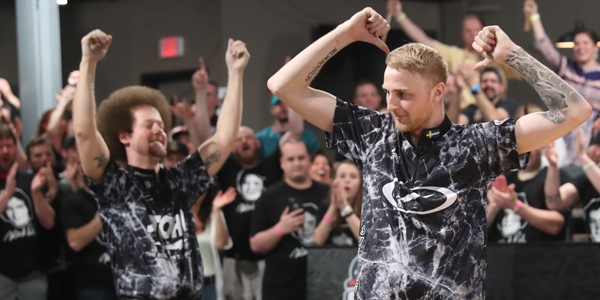 Top qualifiers throw 10 consecutive strikes to become first team of two-handed players to win
PORTLAND, Maine –
Kyle Troup of Taylorsville, N.C., and Sweden's Jesper Svensson became the first team of two-handed players to win the MaineQuarterly.com Mark Roth/Marshall Holman PBA Doubles Championship Sunday at Bayside Bowl, throwing a closing string of 10 consecutive strikes to defeat Marshall Kent of Yakima, Wash., and EJ Tackett of Huntington, Ind., 279-195, in the title match.
Troup, a 25-year-old right-handed two-hander, and Svensson, a 22-year-old who throws from the left side, made the title contest a route after Tackett left a 4-7-10 split in the fourth frame and failed to convert. Troup won his only other PBA Tour title in the 2015 Wolf Open. Svensson, PBA's 2015 Rookie of the Year, won for the sixth time.
The young two-handed players, the top qualifiers coming into the finals, kept the sold out crowd at Bayside Bowl roaring throughout the match. Ironically, they decided to bowl as doubles partners last fall during a tournament in Las Vegas where they were bowling against each other in match play. Despite throwing the ball from opposite sides of the lane, they bowled like fraternal twins in Maine.
"It was fantastic," Svensson said. "The first couple of shots we were a little firm, but we were locked in after that. We've been talking about this day for four months, and now here we are. We got it."
"We worked together great all week," Troup added. "We kept each other in the moment, and that's what really worked for us. We repeated shots, and what's what you have to do in this game.
"I told Jesper before the finals that we had already made history by becoming the first team of two-handers to bowl for a doubles title, so we might as well win it, too."
In the semifinal match, Kent and Tackett, the PBA's 2013 and '14 Rookies of the Year, respectively out-struck first-time television finalist Zeke Bayt of Westerville, Ohio, and PBA Tour veteran Dick Allen of Columbia, S.C., 248-228, to advance to the championship match.
In the opening match, Bayt left a 4 pin on his first shot on television and converted the spare before he and Allen threw 10 consecutive strikes in a 287-194 romp past Texas teammates DJ Archer of Friendswood and Shawn Maldonado of Houston.
Bayt and Allen continued to pound the pocket in match two, throwing strikes on seven of their first eight shots on their way to a 244-211 victory over Australia's Jason Belmonte and Bill O'Neill of Langhorne, Pa. Belmonte struggled to carry on the right lane while O'Neill struck on six of his seven shots in the alternate-frame game, but it was Belmonte's 3-4-6-7-10 split in the seventh frame that ended the team's hopes.
The PBA Tour on ESPN continues the next four Sundays at 1 p.m. ET with quarterfinal, semifinal and championship round coverage of the L.L.Bean PBA League Elias Cup competition. Next Sunday's quarterfinal matches will include best-of-two-game Baker format matches between Pete Weber's

GEICO NYC WTT KingPins and the Sysco Philadelphia Hitmen, led by England's Dom Barrett. The second match features Belmonte's Lee Auto Malls L.A.X team vs. the defending Elias Cup champion Shipyard Dallas Strikers led by player-manager Norm Duke.
MAINEQUARTERLY.COM MARK ROTH/MARSHALL HOLMAN PBA DOUBLES CHAMPIONSHIP
Bayside Bowl, Portland, Maine, April 16
Final Standings:
1, Jesper Svensson, Sweden/Kyle Troup, Taylorsville, N.C., $24,000.
2, EJ Tackett, Huntington, Ind./Marshall Kent, Yakima, Wash., $12,000.
3, Dick Allen, Columbia, S.C./Zeke Bayt, Westerville, Ohio,, $10,000.
4, Bill O'Neill, Langhorne, Pa./Jason Belmonte, Australia, $9,000.
5, DJ Archer, Friendswood, Texas/Shawn Maldonado, Houston, Texas, $8,000.
Stepladder Results:
Match One – Bayt/Allen def. Archer/Maldonado, 287-194.
Match Two – Bayt/Allen def. O'Neill/Belmonte, 244-211.
Semifinal Match – Kent/Tackett def. Bayt/Allen, 248-228.
Championship – Troup/Svensson def. Kent/Tackett, 279-195.