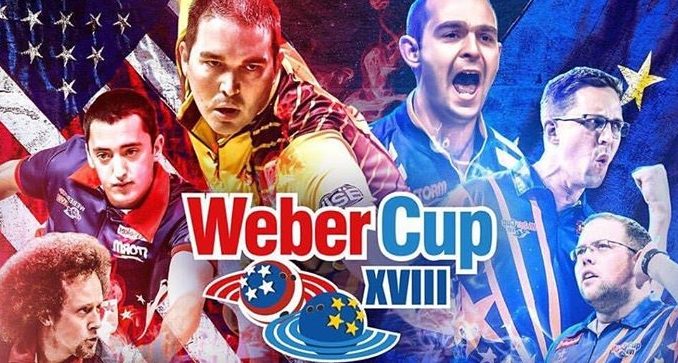 The Webe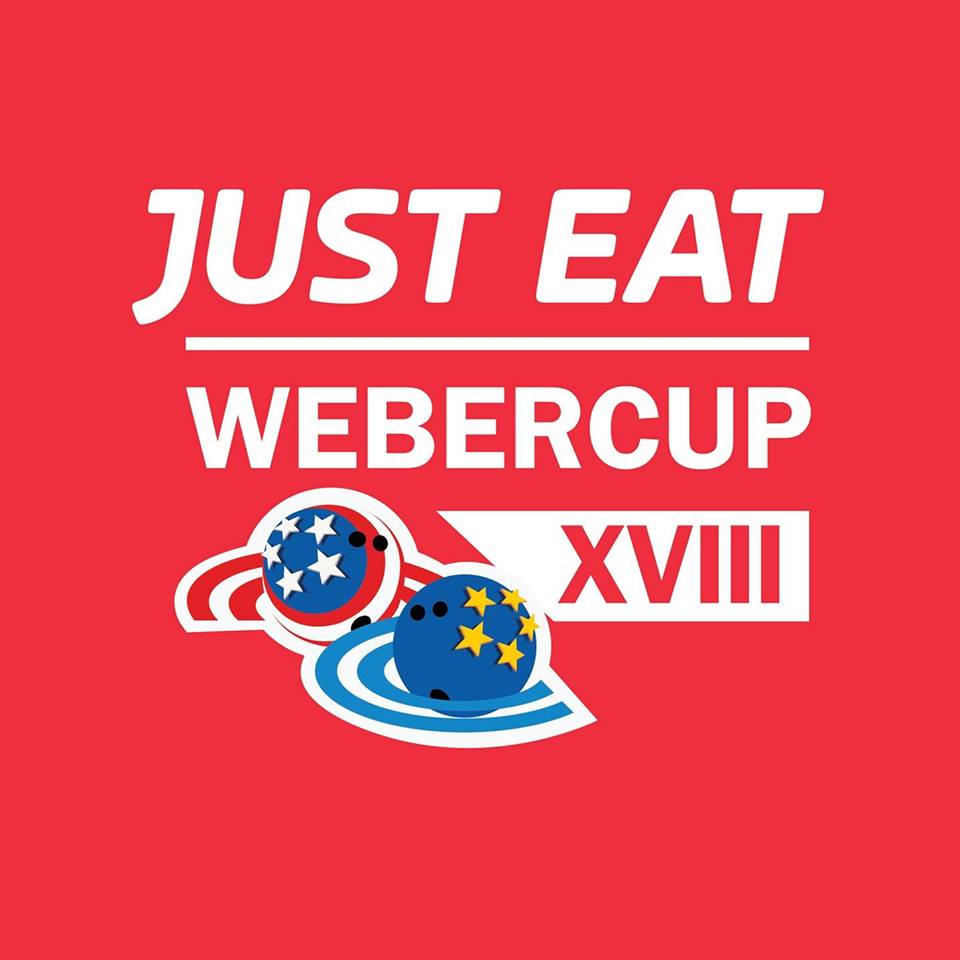 r Cup returns to Barnsley Metrodome as a new-look American side aims to turn the European tide.
The host nation has won each of the last four Weber Cups and will be looking to make it five in a row this September 8-10.
The Weber Cup is the annual transatlantic tenpin tussle which promises high drama as Europe's best taken on their American counterparts.
Watch Just Eat Weber Cup live at www.facebook.com/webercup
Current score
Teams
Europe                                                                                          USA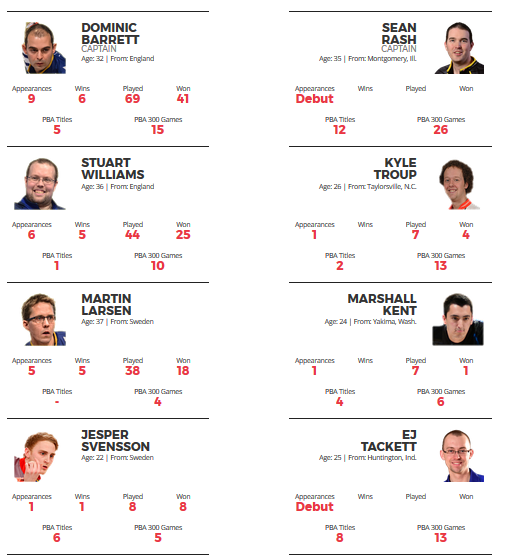 ---
Social Media

You can follow the action from the event and behind the scenes on our facebook page here during the event.
You can also follow the Official Weber Cup social media here
---
Reports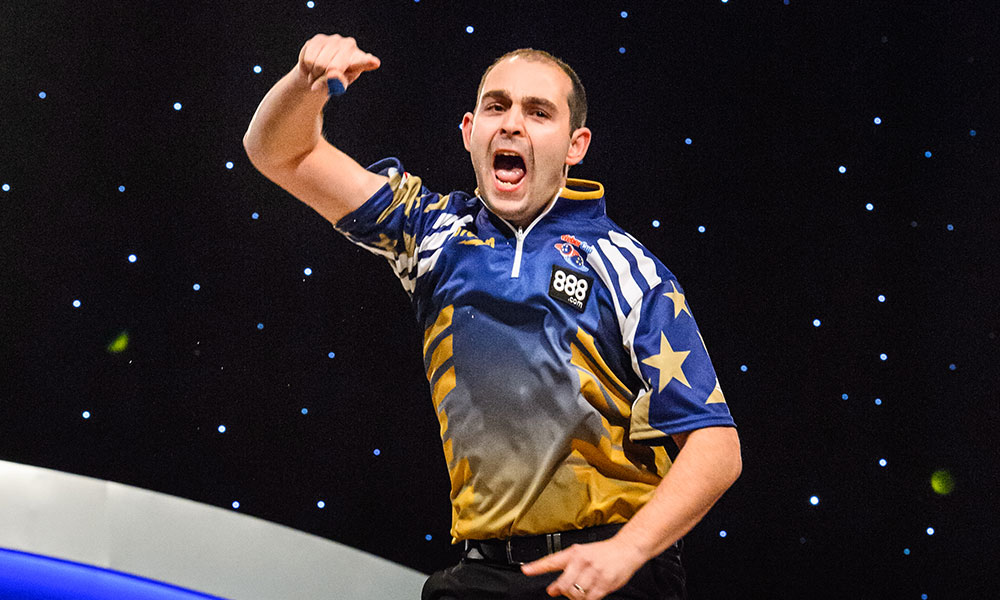 Can the USA match a Strong Europe?
There was once a time when even the strongest European supporter would need to concede that the USA were the strongest bowling continent. Back in the days when it was Team USA and not the Pro's, America proved just how good the amatuer game was stateside and took a 3-0 lead in the first three years. That all changed though as Europe improved and fought back to win the next three. 2006 we saw the PBA players appear for the first time and surprise surprise the USA won the next three. From 2009 to 2012 both team won twice with the USA last winning in 2012. Europe for four years now have been unstoppable. No matter who the USA sent the result was the same.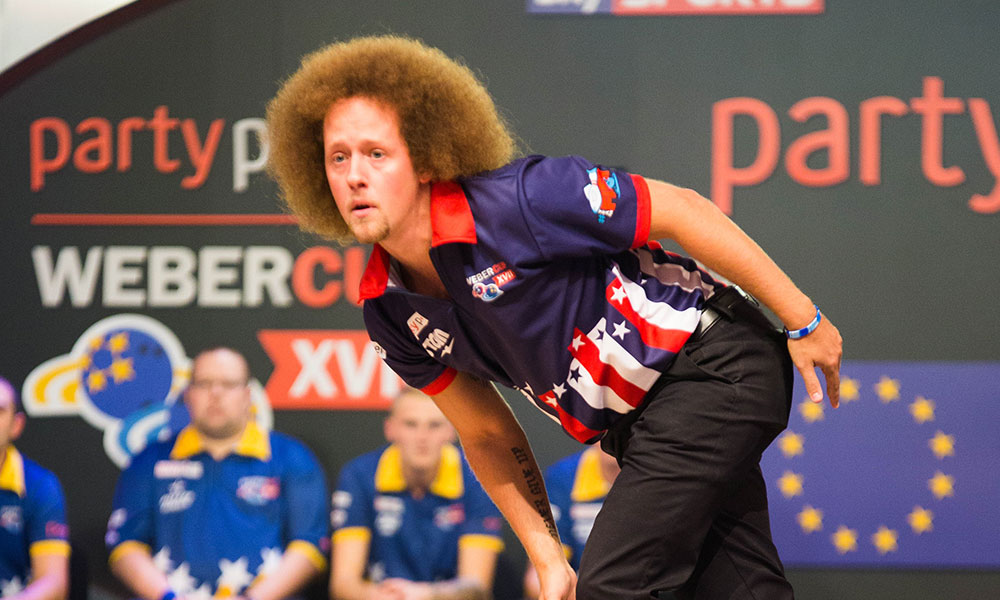 This year we see two new USA players step into the fray and two returning stars. The truth be told, this is probably one of the youngest Team USA lineups for some time yet full of talent and experience. Sean Rash in as captain and with him the showman Kyle Troup, the uber talented Marshall Kent and the PBA World Champion EJ Tackett. Now that is a line up unseen EVER and one that could seriously worry the Europeans in Barnsley this year.
Europe with the ever dependable Dom Barrett as captain and with him probably the best four European bowlers the continent as produced. They think and play like brothers and will be looking to make history with five straight wins.
We cannot call it, can you?
---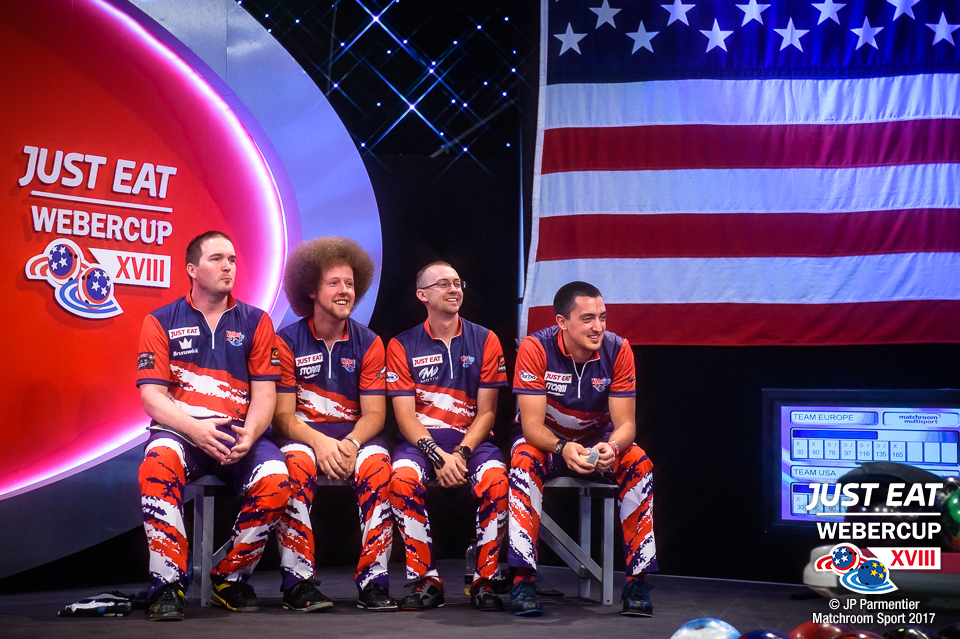 Friday – USA mean business
AFTER LAST year's hiding at the hands of Team Europe, the American side restored some pride as they took the opening session of the 2017 Just Eat Weber Cup at the Barnsley Metrodome. The new look team, captained by debutant Sean Rash, started out strong as they lead 2-0 and then 4-1 but the session ended 4-3 as Jesper Svensson, unbeaten in his debut last year, won his two singles matches to restore European fortunes.
American's Marshall Kent and Kyle Troup had made their debuts last year but Rash and PBA World Champion EJ Tackett were new to the Weber Cup but they slotted in nicely as the Americans won the opening Baker match, accumulating a huge 289 pins.
Kyle Troup with his unique look, capitalised on a weak showing from Euro skipper Dom Barrett, winning by 46 pins to give the USA a two-point lead. Svensson though, dispatched EJ Tackett to pull one back before captain Rash beat Martin Larsen by just three pins.
A slick-looking Marshall Kent restored the two-point lead as he eased past Stu Williams before Svensson once again hammered the pins to record the joint best score of the day – 289 – as he beat Kyle Troup. The final match was 'captain's pick' as each of the skippers chose the other side's man and it ended up being Barrett vs Rash as they both opted for the other.
Barrett picked up the pace from his earlier match as he ran out a 40-pin winner over Rash to see the overall score finish at 4-3. The total pin fall reflected the closeness of the session as the USA had the slight upper hand at 1831-1817 with the averages at 262-260.
Commented defending skipper Dominic Barrett, "We will take 4-3 after that with the way they started. They struck the first 17 out of 20 shots and continued that for the next couple of matches. We had Jesper to come in and make it 2-1 but they kept striking after that. For us, it's about finding our feet a little bit and getting our way into the event, even though we have had fast starts the last couple of years.
"I choose Sean for the final match, it was a little bit of lane play but it was because Kyle had just come off the lane so we didn't want to pick him, Marshall bowled really well the game before Kyle so it wasn't going to be him. Sean probably bowled better than EJ but EJ is Player of the Year.
"I have been through enough Weber Cups to have felt all the emotions session to session and this one doesn't feel too bad. We are only down a point – it felt like it could have been a lot worse but Jesper stepped up and bowled great and we managed to get the point in the Captain's Pick at the end. It could have been 6-1 or 5-2 and though I won't say we are the happier of the two camps we are happy to keep it that close and tomorrow we get to pick the pattern."
Rash was upbeat about his team's success, despite the two late defeats; "It was really disappointing to lose those last two matches but they brought out their lucky charm, Jesper, who is bowling extremely well and then my match with Dom could have gone either way, but he bowled well.
"The momentum is still with us because we are ahead. I told our guys we will be bowling until late on Sunday night so it will be a battle back and forth but we got off to a good start and tomorrow will be more electric and more fun.
"The Europeans didn't seem too nervous for the start but they were a little slow to start and we got our big hits early and took that lead, 4-1. But there is so much bowling to come.
"They get to pick the pattern tomorrow and I have a pretty good idea what they pick; the pattern they dominated on last year. But our guys our bowling extremely well with a lot of fire under us and we're having a good time."
Play continues tomorrow at 12.30 with three doubles and two singles matches.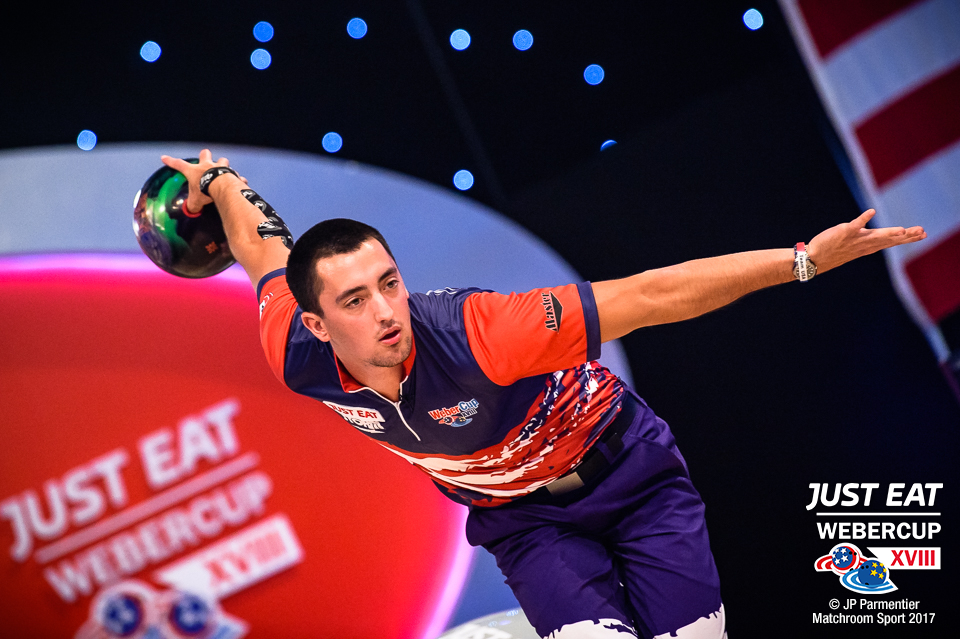 Saturday Afternoon – USA still on track
TEAM USA is on track to regain the Just Eat Weber Cup winning the second session by the same scoreline as last night – 4-3 – to increase their overall lead to 8-6 after two of the five sessions at the Barnsley Metrodome. Captain Sean Rash limited himself to just the one match, but marshalled his troops well as they enjoyed three successive wins in the earlier part of the session.
Player of the afternoon was America's Kyle Troup who helped end Jesper Svensson's unbeaten run in the competition, and then inflicted another defeat on the Swede in singles play by a whopping 53 pins. That took the score to 6-4 in favour of the Americans after Dom Barrett had earlier defeated EJ Tackett to square the match up.
Troup had enjoyed some verbals with Svensson prior to their singles match and was fired up from the start, "I knew I had to bring my A-game against Jesper, he is one of the toughest opponents I have ever seen. I threw some really good shots in that game and kept telling myself to stay aggressive. I was staying in the moment and not really looking at the score, just trying to throw a strike every frame and stay on top. My game feels really good right now and my confidence is really high right now. My team-mates can see my confidence and hopefully that will filter down to them."
The Americans extended their lead to three points as Rash and Kent despatched Larsen and Williams to leave the Europeans looking adrift. It was at this point that Dom Barrett had some strong words with his team which seemed to take effect.
Stu Williams responded with a hard fought albeit scrappy win over Kent before the Swedish pairing of Svensson and Larsen won the penultimate match, to leave themselves one point away from the Americans with one match to play.
Larsen though could never get going against the excellent Marshall Kent who pulled away to restore the United States two-point lead at the close of session two.
Commented Kent, "After a good start, I got a little shaky with my shot making but I spoke to Sean and EJ and came up with a game plan for the last match.
"Winning the last match was huge. If I lose its tied but now we have a two-point lead and we won the session. We have won two out of two sessions now and if we win them all then we win the Cup."
Williams reflected on his team's resurgence, "We were in a pretty awkward situation and we had to win two of the last three games to keep ourselves on track. The lane is starting to break down a little bit more and it is a lot more challenging than the lane USA picked last night. The is usually good for us but we haven't bowled well enough.
"I live in America, trust me, you can never silence an American. I am in the same boat and I will come out fighting. I reminded Marshall after our match that he has a long session and once you start to lose it's pretty easy to keep losing."
Captain Sean Rash summed up his team's game plan; "The goal was to win every session. It got a little tricky towards the end, Marshall struggled in his second and third games but he was a little more determined and more focussed in the last match and made some really good shots.
"I have 100 percent confidence in every guy who is here right now – they know how to bowl, they are big boys and they can fill the frames."
Dom Barrett countered, "I feel like we aren't firing on all cylinders yet but we aren't far away, we a pretty close. In that session, we got through it. Jesper lost his first ever match which means that pressure of being undefeated is out of the way and he can go back to winning again. We have started to figure some stuff out in that session, we weren't far away and in the next couple of sessions you'll see a much better Europe."
---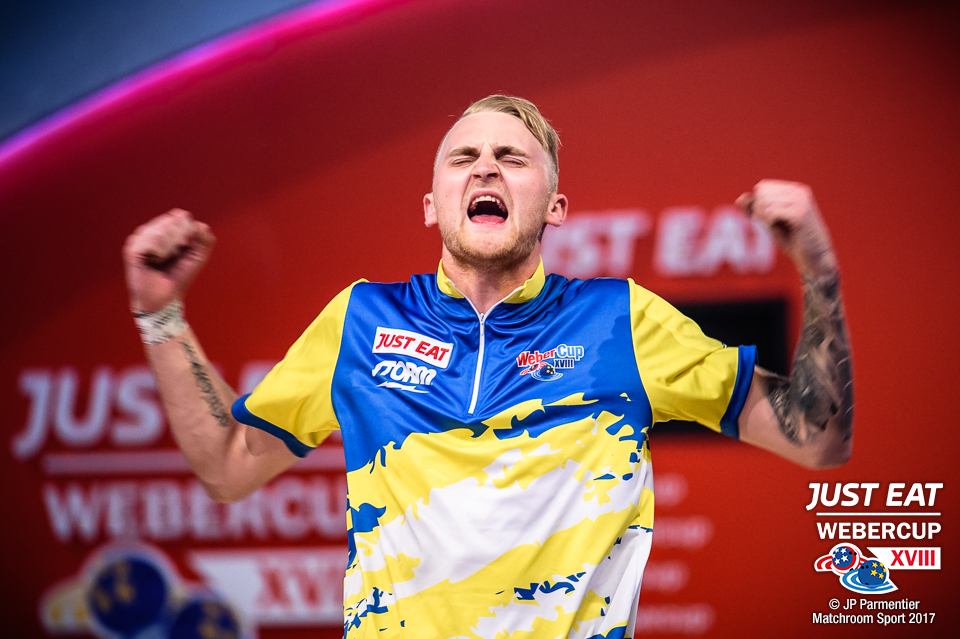 Saturday Evening – Europe Fight Back
TEAM EUROPE fought back to dominate the Saturday evening session as they took the lead for the first time at the 2017 Just Eat Weber Cup. Taking place at the Metrodome Arena in Barnsley, Europe had lost the opening two sessions 4-3 to take a 6-8 deficit into the third session, but they then turned on the power to send the Americans lurching onto the back foot.
Getting off to a fantastic start – recording a huge 286 in the opening Baker – they then sent out Stu Williams who derailed the in-form Kyle Troup to draw things level at eight matches apiece. In the next, EJ Tackett finally got his act together as he beat Jesper Svensson by 17 pins to restore the USA lead, but the next three matches proved disastrous for the USA.
First Dom Barrett hammered Sean Rash – 54 pins being the winning margin – then Martin Larsen got the better of Marshall Kent in a tight match. Finally, Jesper Svensson fell over the line against Tackett in the second lowest scoring round of the tournament.
That opened up a two-point lead for the Europeans with the captains' pick to come. Once again, Dom Barrett opted for his opposing number Sean Rash while Rash picked Martin Larsen despite the Swede delivering a 277 game earlier in the evening,
It all went down to the final roll as Rash need to strike in the tenth frame to take the game. Under real pressure, he did just that and closed the deficit to just one point with all to play for on Sunday.
Commented Rash, "That last point keeps it close. We were up one, up two but then they got some momentum and got some points. It is always nice to win the last match of the session so the guys are happy, I am happy and we move on to tomorrow.
"The one shot in the baker from Marshall really changed things because we could have been up three and it really gave them some life and they went on to win a couple of points after that. It's 11-10, who knows how many matches there will be tomorrow but we are going to have some fun."
Euro skipper Dom Barrett responded, "This is my tenth Weber Cup and everyone has been different. They have all had a different dynamic and a different way it pans out but what I do notice is you need to play yourself into the event and that is exactly what we have done.
"You have seen a bit of our experience in play today. We weren't really quite there in the afternoon session but we only lost the session by one and then in the evening session you saw exactly how well we can bowl.
"This lane is so unique in so many ways and we know what this lane plays like, regardless of the oil patterns on it. We had a good chat about why they were beating us and why weren't playing very well. It was pretty in depth but we figured things out, tried to use what we have learnt in previous years to find a way and to find ball reaction.
"This is the first Saturday night which I felt was already like a Sunday. That's a credit to the US team because they have come out firing and we have felt the pressure."
Play continues at 12.30 UK time with four singles and three doubles matches.
---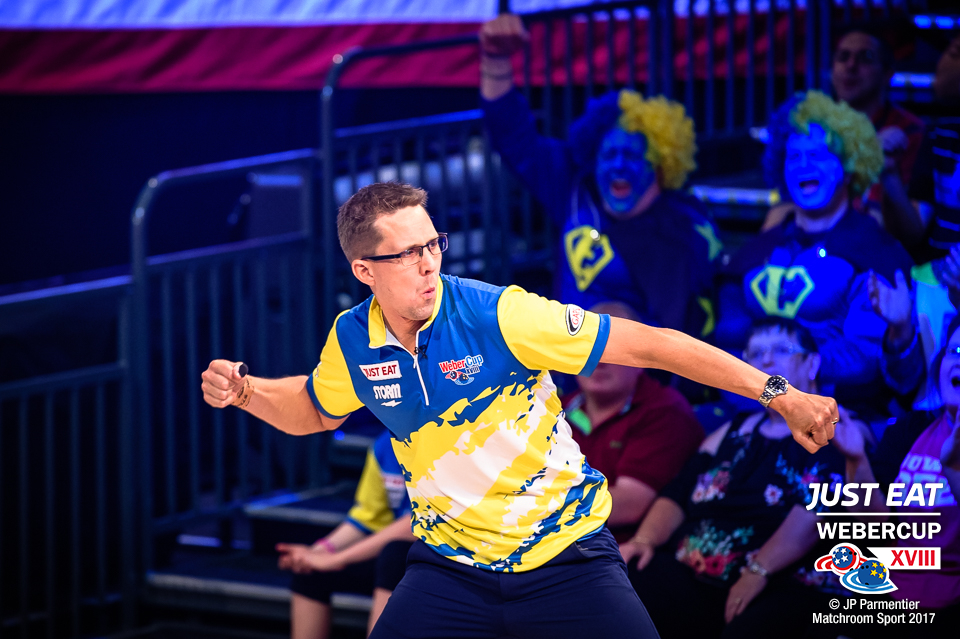 Europe pull away as the USA crumble on Sunday afternoon
TEAM EUROPE look firm favourites to retain the Just Eat Weber Cup as they dominated the Sunday afternoon session to move four points ahead of their American rivals and within three of the winning line. Despite a high scoring win from Kyle Troup in the opening game to level things up at 11-all, it was pretty much one-way traffic from then on as Europe won five of the remaining six matches with Sean Rash the only American winner.
First out, the English pairing of Stu Williams and Dom Barrett recorded a huge 86 pin win over Kyle Troup and Marshall Kent. It was a body blow for the USA and that was compounded in the next match as Williams edged out Kent by five pins in a match that he was favourite to lose at the mid-point.
Barrett was back in the fourth match, this time in the company of Martin Larsen, and they got the better of Rash and Kent to move the score to 14-11. Rash though wasn't done as he enjoyed a comfortable win over Larsen to pull one back and throw his team a life-line.
That unravelled in the final two games as Svensson took two points, the first in the company of Stu Williams, and finally, a 45 pin singles win over the disappointing EJ Tackett. Tonight will see singles matches until a conclusion.
Commented Dom Barrett, "It will probably be me and then Jesper third on the burn, we are not sure on the other guys yet. We won't change anything this evening. We will go out there with the same mentality we have had the whole time and not really look at that number. We are all bowling really well so we will try to keep that up."
His counterpart Sean Rash was optimistic despite the uphill struggle ahead; "I'm guessing Dom will be first out tonight so we will go with Kyle; he did a pretty good number on him earlier. We are still bowling and it won't be any other way until they get to 19.
"We have put on a pretty good show so far, so we will see what happens. I bowled one game and bowled really well. I feel I have Martin's number right now so I am hoping I get to bowl him again."
---
Results
Friday
Europe 255 vs 289 USA
Dom Barrett 232 vs 278 Kyle Troup
Jesper Svensson 278 vs 247 EJ Tackett
Martin Larsen 264 vs 267 Sean Rash
Stu Williams 244 vs 268 Marshall Kent
Jesper Svensson 289 vs 267 Kyle Troup
Dom Barrett 255 vs Sean Rash 215
Saturday Afternoon

Dom Barrett 267 vs 221 EJ Tackett
Barrett/Svensson 243 vs 255 Tackett/Troup
Jesper Svensson 224 vs 277 Kyle Troup
Larsen/Williams 187 vs 255 Kent/Rash
Stu Williams 235 vs 219 Marshall Kent
Larsen/Svensson 244 vs 211 Tackett/Kent
Martin Larsen 212 vs 268 Marshall Kent
Saturday Evening
Europe 286 vs 267 USA
Stu Williams 246 vs 224 Kyle Troup
Jesper Svensson 235 vs 252 EJ Tackett
Dom Barrett 278 vs 224 Sean Rash
Martin Larsen 277 vs 256 Marshall Kent
Jesper Svensson 234 vs 223 EJ Tackett
Martin Larsen 235 vs 245 Sean Rash
Sunday Afternoon
Dom Barrett 221 vs 279 Kyle Troup
Williams/Barrett 278 vs 192 Troup/Kent
Stu Williams 236 vs 231 Marshall Kent
Barrett/Larsen 266 vs 232 Rash/Kent
Martin Larsen 192 vs 256 Sean Rash
Svensson/Williams 245 vs 218 Tackett/Troup
Jesper Svensson 245 vs 200 EJ Tackett
Sunday Evening
Dom Barrett 289 vs 225 Kyle Troup
Stu Williams 279 vs 253 Sean Rash
Jesper Svensson 256 vs 254 Marshall Kent
---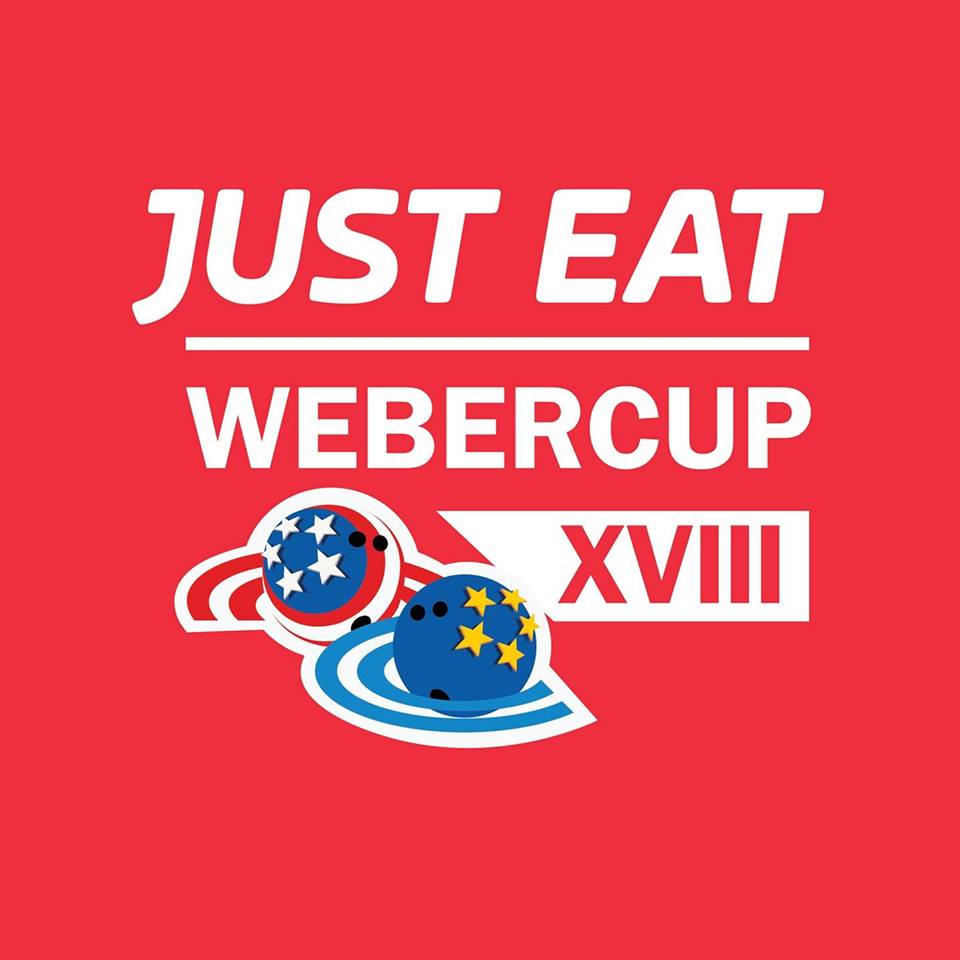 WEBER CUP – Watch Live
The Weber Cup will be broadcast live on Sky Sports in the UK and on networks around the world, details of which will be available here in due course.
Sky Sports UK & Ireland live broadcast details:
Friday 8th
18:30 Sky Sports Action (Sky channel 407)
Saturday 9th
12:30 Sky Sports Mix (Sky channel 121), and Sky Sports Action Red Button
18:00 Sky Sports Arena (Sky channel 408)
Sunday 10th
12:30 Sky Sports Mix, and Sky Sports Action Red Button
18:00 Sky Sports Action moving to red button from 18:45
The following international networks will also be broadcasting Just Eat Weber Cup live:
Eleven Sports Network (USA)
DAZN (Germany, Austria & Switzerland)
DAZN Japan
DAZN Canada
Nova (Czech Republic & Slovakia)
Sport Klub (Poland)
The following international networks will show the Just Eat Weber Cup at a later date:
Viasat (DENMARK, NORWAY, SWEDEN, FINLAND, BULGARIA & BALTIC STATES)
Kwese (Sub Saharan Africa)
I-Cable (Hong Kong)
OSN (Middle East & North Africa)
Sport1 (Germany)
Sky New Zealand
Fox Sports Australia
Viewers in countries not listed above will be able to watch Just Eat Weber Cup live at www.facebook.com/webercup