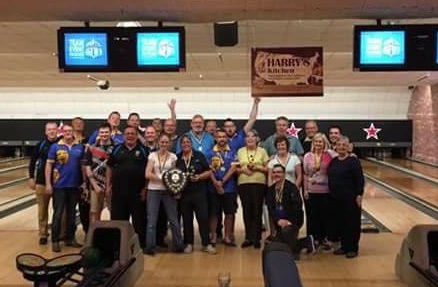 In Shropshire's very own Weber Cup equivalent, teams representing Shrewsbury & Telford met on August 20th at AMF Shrewsbury.
Format This is a point based competition, if you win 110-109 or 300-109 you still earn 1 point for your team. The Team with the most points wins the Salop Shield (in the event of a tie the team with the highest scratch pinfall will win). Each Team consists of 8 men and 4 ladies, 97 games of bowling are played (64 Men, 33 Ladies)


Singles: 1 v 1 Baker Doubles: 2 players per team, players play alternate frames Scotch Doubles: 2 players per team, players take alternate shots Baker Fours: 4 players per team, taking alternate frames Baker Fives: 5 players per team, taking alternate frames
Each bowler plays the equivalent of 8 full games over the days play but takes part in 16 different matches.
On to the Action! Shrewsbury won the inaugural Salop Shield in 2016, although Telford Ladies emerged victorious against their Shrewsbury counterparts.
Shrewsbury Men came out of the blocks firing, shooting a 233 Baker Fives game to Telford's 158, however the Telford Ladies emerged victorious in their Baker Fours 138-124. Two singles matches followed which saw role reversals with Team Telford Reg Barnes defeating Rob Adams (151-122) whilst Team Shrewsbury (Mandy Spearing) defeated June Johnson (157-113), and then Mandy followed this up in the Baker Doubles with Ange Kitson hitting a 180 to team Telford (June Johnson & Annie Harrop) 148, scores all tied after early exchanges.
It was then that Shrewsbury Ladies started working the home advantage, rattling off 7 straight victories to take an 8-2 lead over Telford, even with a relatively tense singles match between Lou Turner & Sue Taylor with the former emerging victorious (92-81) – this last score line highlighting the nerves from both teams and the importance of victory and a crucial point despite the scores! Similarly, in the Men's section, the Shrewsbury Men took 8 of the next 9 points to give them a 9-2 lead.
With Shrewsbury in the ascendency and on home wood, Telford were going to have to show some true grit and dig deep if they were to avoid a Shrewsbury massacre. The Telford ladies answered right back in emphatic fashion, seeing Shrewsbury's 7 wins in a row and raising it with 8 wins on the bounce to take the overall lead 10-8.
Some brilliant bowling by the ladies and really showing what Team bowling is all about. The Telford men also rallied with 3 wins from the next 4 matches, Lloyd Cooper (Shropshire Open 2017 Handicap Champion) & Eric Rawlinson defeating John Plumridge and Paul Williams in the baker Doubles a highlight. The only Shrewsbury victory in this mini resurgence came from Williams who picked up a singles victory against Andy Childs (199-145).
The overall score at this juncture was Shrewsbury 22-17 Telford. The game was well and truly on! This mini resurgence from Telford certainly had Shrewsbury on the rocks, the Shrewsbury Ladies managed to pick up the next point with Mandy Spearing and Anne Waddington defeating Pat Burrows and June Johnson in the Baker Doubles. However, this was only a temporary blip for Telford who managed to win the next 4 matches and really stamp their authority over their Shrewsbury counterparts.
The Shrewsbury Men also took the next point but unlike their female teammates backed this up with a further 16 points for a winning streak of 17 (seventeen) games, a new Salop Shield record and one this writer thinks will never be broken. In truth, this run of games was extremely harsh on Telford with 8 of the 17 wins coming by a margin of 8 pins or less.
Once again highlighting the small margins of victory and how cruel a point based system could be. Small margins of victory included the singles match up; John Plumridge's 157-154 win over Phil Waddington, Baker 5's victory for Shrewsbury (Shaun Broadley, Chris Slawson, Rob Adams, Nils Hoversholm, James Mitchell) 158-156) Team Telford (Josh Hazell, Andy Childs, Reg Barnes, Eric Rawlinson, Phil Waddington) and Baker game Shrewsbury (Darren Milner & Shaun Broadley) 169-168 Team Telford (Josh Hazell & Tony Bond).
The run was ended thanks to Andy Childs & Phil Waddington 173-135 victory in the scotch doubles against Chris Slawson and James Mitchell.
Fine margins finally went Team Telford's way in the Baker Fives (Wally Taylor, Reg Barnes, Josh Hazell, Andy Childs, Tony Bond) 171-170 Shrewsbury (Paul Williams, Rob Adams, Shaun Broadley, Chris Slawson & Darren Milner).
Team Shrewsbury continued to turn the screw and 3 further points followed with a hat-trick of winning 166's across Singles, Scotch Doubles and Baker Doubles. Scores started to creep up in the singles with Darren Milner (Shrewsbury) shooting a 223, Andy Childs (Telford) 224 and Nils Hoversholm (Shrewsbury) 244, all enough to win their respective points.
Team Telford managed to bring home further points in the closing stages winning 6 of the last 8 matches and with Reg Barnes & Josh Hazell hitting the highest Scotch doubles of the day with a 210.
The ladies section continued to see Team Telford assert their dominance, with points regularly going to Telford, punctuated by the occasional point to Team Shrewsbury. Notable victories in the singles for Annie Harrop (159-125) Anne Waddington, Baker doubles Sue Taylor & Pat Burrows 167-104 against Anne Waddington and Lou Turner. The Telford ladies amassed 16 of 18 points in the midsection of play which was a fantastic achievement.
Special mention to Nils Hoversholm & Paul Williams who amassed 7.3 points (14 victories from 16 matches) and to Sue Taylor & Pat Burrows (5.1 points) who were the Most Valuable Players on the day.
The overall scores saw Telford Ladies defeat Shrewsbury Ladies 19-14, Shrewsbury Men came out victorious by 45-19 against their counterparts, resulting in an overall victory to Shrewsbury 64-33 Telford. Suffice to say the score line really did not warrant the closeness of the matches, a turnaround of 16 matches is all Telford required and with margins of victories a spare or less and next year back on Telford territory, Shrewsbury should expect a hard-fought battle in going for the Three-peat!