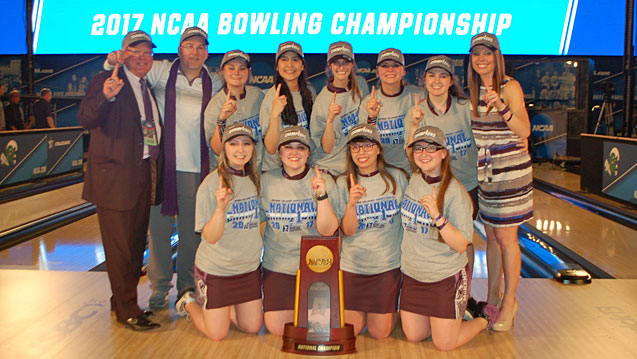 BATON ROUGE, La. – McKendree captured its first National Collegiate Athletic Association (NCAA) Women's Bowling Championship on Saturday at the Raising Cane's River Center.
The Bearcats swept five-time NCAA champion Nebraska in the best-of-seven Baker final, 4-0, to become the first Division II team to win the title. Saturday's championship round was broadcast live on ESPNU.
McKendree came out of the gates with a 182-169 win before settling in under the TV lights, averaging 236 in its final three games on the way to wins of 244-192, 224-212 and 240-223.
"I think once we realized we could get left on the TV pair and play them like we had the rest of the week is what really calmed the nerves," McKendree head coach Shannon O'Keefe said. "After that, we did a great job of staying connected and staying in the moment. I don't know if there are words to describe how proud I am of them. This is the best feeling in the world."
McKendree, the only team to go undefeated in the double-elimination bracket, earned its spot in the final after holding off 2014 champion Sam Houston State in the semifinals, 4-3.
Nebraska made its fifth consecutive trip to the NCAA title match by defeating Maryland Eastern Shore (4.5-3.5) and Vanderbilt twice (4-1 and 4.5-2.5) in the elimination bracket Saturday to advance.
The 2017 event marked the second consecutive year the Cornhuskers finished as the runner-up. They fell to Stephen F. Austin in the title match last year. Nebraska claimed the 2013 and 2015 titles during its current run of championship-round appearances.
"They never let us in this match today, and they did a great job with staying calm, cool and collected, while we had a couple of problems that way," Nebraska head coach Bill Straub said. "I whole heartedly congratulate McKendree on the great job they did."
McKendree freshman Breanna Clemmer was named the tournament's most outstanding player, and she was joined on the all-tournament team by teammate Taylor Bailey, Nebraska's Gazmine Mason, Vanderbilt's Katie Stark and Maryland Eastern Shore's Thashaina Seraus.
"This experience was life-changing in so many ways," said Clemmer, a four-time Junior Team USA member. "I not only learned a lot about myself, but my teammates, too. It feels great to go out on the lanes and feel confident and 100 percent committed to every single shot. This is something I will remember forever, and it feels really amazing. I don't know if that feeling will ever go away."
A total of eight teams qualified for the NCAA Women's Bowling Championship based off their performances during the regular season. After seven qualifying games Thursday and Friday, teams were seeded into the double-elimination bracket based on their win-loss records.
Livestream coverage for all rounds leading up to the televised finals was provided by the NCAA.
For more information on the 2017 NCAA Women's Bowling Championship, visit BOWL.com/NCAABowl.
United States Bowling Congress
The United States Bowling Congress serves as the national governing body of bowling as recognized by the United States Olympic Committee (USOC). USBC conducts championship events nationwide including the largest participation sporting events in the world – the USBC Open and Women's Championships – and professional events such as the USBC Masters and USBC Queens.
Founded in 1895, today USBC and its 2,500 state and local associations proudly serve more than a million members. USBC is headquartered in Arlington, Texas, working toward a future for the sport. The online home for USBC is BOWL.com.
2017 NCAA WOMEN'S BOWLING CHAMPIONSHIP
At Raising Cane's River Center, Baton Rouge, La.
SATURDAY'S RESULTS
MATCH PLAY
(Double elimination, best-of-seven Baker matches)
ROUND 3 – ELIMINATION BRACKET
(Losers eliminated)
(8) Sam Houston State def. (6) Arkansas State, 4-0 (224-179, 192-147, 222-212, 191-182)
(4) Nebraska def. (7) Maryland Eastern Shore, 4.5-3.5 (203-179, 191-204, 246-175, 221-212, 186-190, 168-189, 167-167; Nebraska wins tiebreaker, 100-88)
SEMIFINALS
(If the team from the elimination bracket wins, a second semifinal will be needed.)
(1) McKendree def. Sam Houston State, 4-3 (258-252, 230-212, 200-208, 192-168, 176-207, 202-217, 187-174)
Nebraska def. (2) Vanderbilt, 4-1 (171-259, 189-184, 228-180, 211-204, 204-178)
Nebraska def. Vanderbilt, 4.5-2.5 (165-232, 232-173, 174-175, 205-180, 177-177, 188-187, 212-168)
FINALS
McKendree def. Nebraska, 4-0 (182-169, 244-192, 224-212, 240-223)