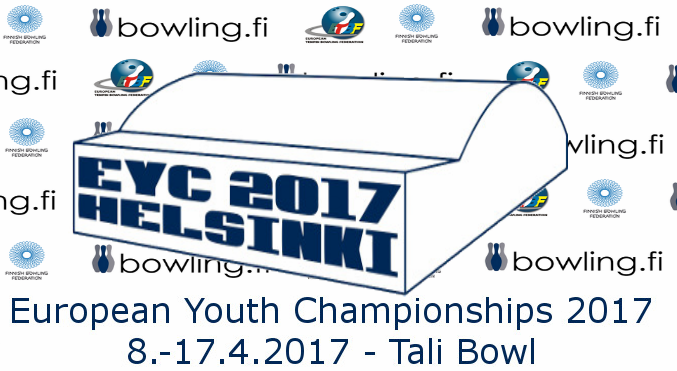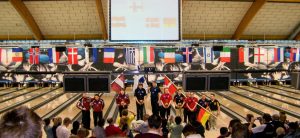 Tali Bowl / Oy Bowling Ab and Finnish Bowling Federation welcome all federations affiliated to the European Tenpin Bowling Federation to Helsinki in April 2017 for the 30th European Youth Championships.
Reports
---
Day 1 – Boys Doubles
It is hard to win in Finland if you are not finnish, a small country with a big reputation in bowling for many years, win in the Tali bowl and you have achieved something special. It would be a shock not to see them in the top four, no shock at all to see them leading.
That is exactly what happened as Jessie Ahokas (1345) and Niko Oksanen (1419) blasted into first place with 2764 and a cool 222 pins ahead of second placed Netherlands pair of Brent De Ruiter (1281) and Ronan van der Loo (1261) on 2542. Making up the top four were France (Quentin Deroo and Maxime Dubois) in third and Ukraine (Oleksandr Nechypaiev and Mykola Sielin).
Home nations news and England's Matthew Terry must have wanted the earth to open up as he started with back to back 132's. The head did not go down as he battled back with 235,209,225 and 194 as team mate Jake Edwards was impressive with 1320. The English pair only 46 pins off the top four at the end.
Elsewhere England's Ki Leighfield (1284) and Austin Taylor (1109) were 14th. Scotland placed 34th and 40th.
Finals

Ukraine went up against Finland as The Netherlnds took on France in the two semi finals. A tight match saw Ukraine's Oleksandr Nechypaiev and Mykola Sielin defeat the top seeds Finland 412-402. A fine 257 from Brent de Ruiter and 179 from Ronan van der Loo was enough to advance beating France 436-399.
A very close final between Ukraine and The Netherlands was decided in the end by a solid team game from Ukraine with Oleksandr Nechypaiev 212 and Mykola Sielin 198 taking the Gold and just pipping The Netherlands' Brent De Ruiter 247 and Ronan van der Loo 159 who took a well earned Silver medal.
---
Day 2 – Girls Doubles
Russia lead the girls into the finals
Day two saw the girls take to the Tali lanes and the Russian pair of Maria Koshel (1269) and Daria Minenko (1198) did enough to place first going into the finals with 2467. Sweden's Mayhilda Tidbeck (1252) and Hanna Engberg (1182) placed second on 2434 with Belgium in third (2284) and Norway in fourth (2272).
England's Mia Bewley (1128) and Lorna Scott (1114) placed highest for the home nation team in 8th with 2242 as Scotland's Eilidh Groden (1019) and Megan Philip (1177) placed 10th. England's Isabel Allen (1057) and Natasja Ailes (1133) placed 11th.
Finals – Belgium take Gold
For the second day in a row the top seeds from qualifying lost in the semi finals. Russia were desperately unlucky to lose to Norway by just one pin (389-388) and in the other semi Belgium brushed past Sweden 388-349.
Come the final, Belgium were settled and ready for more, a solid 404 with 191 from Jolien Thys and a better 213 from Shinya Haest gave the pair gold as Norway manged 345 in reply. Sofia Hulstedt with 200 and Helene J Johnsrud with 145.
---
Day 3&4 – Team event – Boys

Two days and six games later we found our final teams for the main event. Everyone wants a medal but being the best team means a lot and it is a chance to show teamwork at its best. Finland boys dominated again to become top seeds with 5139, could they get a Gold this time? In second was Sweden with 5059 as Slovakia placed third with 4827 and Denmark fourth with 4814.
England placed back in 13th with 4500 and Matthew Terry to scorer with a 197 average. Scotland placed 17th and Chris Thompson tops with a 190 average.
Onto the semi finals and Denmark despite a good 832 and 221 from Jonas H Iversal came up short against top seeds Finland who hit 889 and a 234 from Niko Oksanen. In the other semi, Slovakia bowled well for 817 but got smashed by a massive 948 from Sweden and Emanuel Jonsson top with 249.
The boys final and Sweden put on a masterclass of bowling hitting 937 to Finland's 814.
---
Day 3&4 – Team event – Girls
Two days for the girls and six games also and it was the usual suspects in the final again. Topping the teams were Finland making it a double top seeding for the country, Their 4943 was a good distance ahead of second placed Sweden on 4778. England placed third with 4625 and The Netherlands fourth with 4616.
Finals time and yet again Finland making the final to join the boys, the girls hitting 756 and a high of 224 from Elice Piksilä and easing past The Netherlands who had 729 in reply and a high of 210 from Sharon Rietveld. In the second semi, England did enough to brush past Sweden 755-723 and a 208 from England's Natasja Ailes and 205 from Sweden's Mathilda Tidbeck with 205 the highlights.
The girls final could not have been any closer, needing a mark to lock out Finland, England's Mia Bewley hit a six washout which she almost spared. We were left with a tie on 750 and roll off. Again in the roll off with 9 pins for the win, Mia Bewley hit an 8 count and the roll off continued to another frame. Both teams were close and a point in it. England's Mia Bewley got a third chance to win it for England and nailed it for the Gold.
---
Day 5 – Singles Boys

Some sad news at the beginning of the singles as England expel two players as reported on the official EYC website. On the lanes the scoring is high and topping the list is Ziga Zalar from Slovienia who opened with a perfect game and ended with a fine 1438. In second was Germany's Sidney Schrosck with 1408, third was Sweden's Emanuel Jonsson with 1384 and making up the four for the final was Finland's Niko Oksanen with 1384.
Home nation news and despite the loss of two players the remaining two battled to 37th for Jake Edwards and 54th for Austin Taylor. Scotland placed 52nd, 57th, 70th and 90th.
Finals
Finland's Niko Oksanen made short work of it against top seed Ziga Zalar winning easily 235-164 and Sweden's Emanuel Jonsson dominated the other semi final against Germany's Sidney Schroschk 232-177.
The final was a little closer but Sweden's Jonsson was just too steady to unlodge winning out against the Finn Oksanen 213-180 to claim Gold.
---
Day 6 – Singles Girls
Looking back at the end of the girls singles qualifying it needs to be noted just how well the Russian Maria Koshel bowled. Her 1286 is not a massive series but considering only the top six were over a 200 average her 214 average was a lot. Joining her in the finals were The Czech Republic's Anna Petáková with 1253, Denamrk's Megan Dicay with 1226 and England's Lorna Scott with 1219.
Elsewhere England's other girls ended in 14th (Isabel Allen), 23rd (Mia Bewley) and 25th (Natasja Ailes). Scotland ended in 31st (Megan Philip) and 39th (Ailidh Groden).
Finals
Yet another tie in these championships and again invlving an England player. This time it was Lorna Scott in an all tied 171 game with Russia's Maria Koshel the top seed. It went to a one frame roll roff with the Russian taking it with a nine count to the English girls 8 count. n the other semi final it was almost just as close with Denamrk's Megan Dicay just shading the Czech Republic's Anna Petáková by just one pin 189-188.
The final was not as close at the very end as Demark claimed gold with Dicy hitting 216 to Koshel's 184.
---
Day 7 – Masters
William Svensson capped a great week for Sweden by claiming the boys masters title by beating the Ukraine's Oleksandr Nechypaiev 2-1. Losing the first game 203-22 the Sweden went up a few levels to hit 273 and 258 to win. Earlier he took out Ukraine's Danil Pervukhin, Finland's Jesse Ahokas, Sweden's Filip Thelander and Slovienia's Ziga Zalar to reach the final.
Denise Blankenzee won a fantsic Gold for the Netherlands by also coming from a game down to win 2-1. Losing the first game by two pins 164-166 to Denmark's Megan Dicay the Dutch youngster hot 246 and 214 to Dicay's 203 and 205 sending the Dutch fans into delight.
Results
Results will appear on the official website during the event here
About the Tali Bowl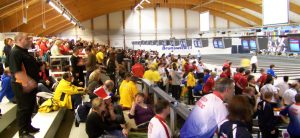 Tali Bowl is one of the most known bowling centres in the world. Tali Bowl was the host for European Youth Championships in 2008. The bowling centre is build in 1973 and last renovation is made in 2009. The centre has Brunswick Pro Anvilane lanes, Brunswick GSX pinsetters and Brunswick Vector Plus scoring. The centre is 10 meters high and there are much more room for audience than normal bowling center.
More information can found in Tali Bowl web page.