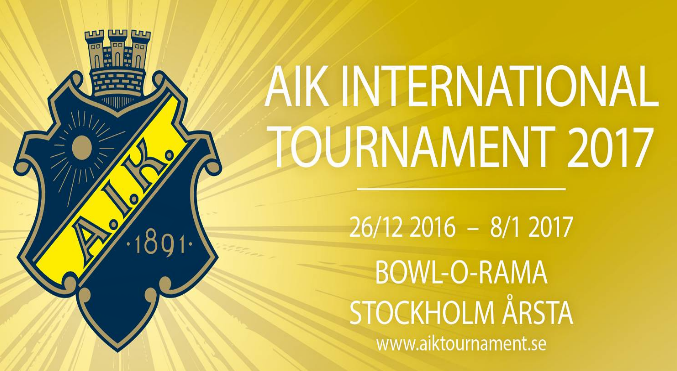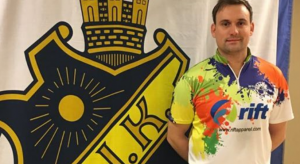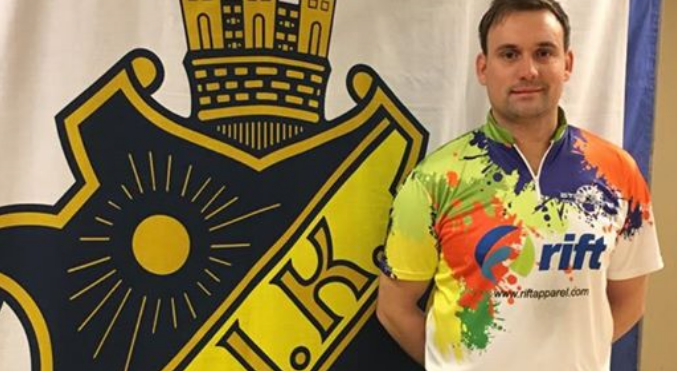 Scoring in this year's AIK has been massive. To be fair though, there are some very good players among the amazing 369 entries.
Dan Balsom from England won qualifying after games of 276, 190, 290, 286, 237 and 269 for a massive 1548. Second was PBA champ Jesper Svensson with 1539 and third was fellow Swede Jesse Kallio with 1533. The cut for the top 8 was 1509 and for the top 38 it was 1422 meaning one thing. Strike or go home.
Into the final stages and World star Sandra Andersson smashed 1499 to take step 1 with perfect games from James Gruffman, Kamron Doyle and Teemu Putkisto. Step 2 and Kim Bolleby lead the way with 1491 with Jenny Wegner in second with 1450 and American Kamron Doyle in third with 1450.
Step 3 saw Jesper Svensson take the lead with 2499 and only just keeping the lead in step 4 as Kim Bolleby tied in first.
Semi final time and Kim Bolleby took out William Svensson 213-175 but could not beat the other Svensson as Jesper won out in the final 249-226.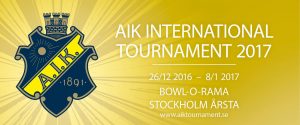 You can follow the action in Sweden on the official website here
http://www.aiktournament.se/dynamic/results.asp
Final Step 6
1.
 L
Svensson, Jesper
Team Pergamon BC
249
249
2.
 L
Bolleby, Kim
Team Pergamon BC
226
226
Final Step 5
NAME

CLUB

1


SCORE

1.
 L
Bolleby, Kim
Team Pergamon BC
213
213
2.
 R
Svensson, William
BK Domino
175
175
Final Step 4
NAME

CLUB

1

2

3

4


SCORE

1.
 L
Svensson, Jesper
Team Pergamon BC
237
202
194
275
3407
2.
 L
Bolleby, Kim
Team Pergamon BC
279
266
225
227
3407
3.
 R
Svensson, William
BK Domino
234
213
187
290
3386
4.
 L
Gruffman, James
Team Alingsås BC
198
215
267
268
3351
5.
 R
Tahvanainen, Santtu
All Stars
243
224
220
288
3321
6.
 R
Tan, Daphne
Singapore Bowling Federation
211
234
219
228
3232
7.
 R
Wegner, Jenny
BK Femtionian
212
180
216
216
3216
8.
 L
Moor, Paul
Easy Bowling
221
193
258
187
3206
Final Step 3
NAME

CLUB

1

2

3

4


SCORE

1.
 L
Svensson, Jesper
Team Pergamon BC
279
213
274
189
2499
2.
 R
Svensson, William
BK Domino
223
234
254
257
2462
3.
 L
Bolleby, Kim
Team Pergamon BC
248
242
203
226
2410
4.
 L
Gruffman, James
Team Alingsås BC
259
245
227
256
2403
5.
 R
Wegner, Jenny
BK Femtionian
221
254
205
262
2392
6.
 L
Moor, Paul
Easy Bowling
238
227
257
235
2347
7.
 R
Tahvanainen, Santtu
All Stars
241
236
219
245
2346
8.
 R
Tan, Daphne
Singapore Bowling Federation
284
217
199
255
2340
9.
 L
Tan, Shi Hua Cherie
Singapore Bowling Federation
263
234
199
219
2330
10.
 R
Sloan, Christopher
Team Clan
201
194
280
223
2301
11.
 R
Andersson, Pontus
Team Clan BK
221
220
212
247
2285
12.
 R
Lindberg, Robert
BK Glam
245
202
210
193
2285
13.
 R
Fransson, Daniel
Team Pergamon BC
267
245
198
179
2285
14.
 R
Doyle, Kamron
PBA
203
244
197
200
2277
15.
 R
Nybom, Cristopher
AIK
190
238
208
199
2210
16.
 L
Kallio, Jesse
TPS
216
206
189
163
2185
Final Step 2
NAME

CLUB

1

2

3

4

5

6


SCORE

1.
 L
Bolleby, Kim
Team Pergamon BC
238
247
278
278
246
204
1491
2.
 R
Wegner, Jenny
BK Femtionian
288
234
243
212
223
250
1450
3.
 R
Doyle, Kamron
PBA
243
233
258
235
223
241
1433
4.
 L
Kallio, Jesse
TPS
268
235
233
246
226
203
1411
5.
 R
Tahvanainen, Santtu
All Stars
232
278
232
215
239
209
1405
6.
 R
Fransson, Daniel
Team Pergamon BC
257
258
257
194
246
184
1396
7.
 L
Moor, Paul
Easy Bowling
233
237
257
214
216
233
1390
8.
 R
Tan, Daphne
Singapore Bowling Federation
287
222
233
198
181
264
1385
9.
 R
Larsen, Martin
Team Pergamon BC
249
234
200
242
214
214
1353
10.
 R
Jonsson, Emanuel
Team Alingsås BC
256
197
196
279
246
176
1350
11.
 R
Jansson, Markus
BK Jösse
258
237
204
205
206
220
1330
12.
 L
Svensson, Jesper
Team Pergamon BC
258
259
245
269
279
1310
13.
 R
Andersson, Sandra
BK Full House
211
236
252
189
154
266
1308
14.
 R
Thelander, Filip
Sundbybergs IK
206
221
183
299
214
178
1301
15.
 R
Putkisto, Teemu
Bay
207
175
266
214
209
216
1287
16.
 R
Lindberg, Robert
BK Glam
279
268
279
204
224
1254
17.
 R
Kiiskinen, Susanna
Västerås SK BK
213
245
187
210
186
208
1249
18.
 R
Karlsson, Joachim
Team Clan BK
215
222
226
202
184
190
1239
19.
 L
Gruffman, James
Team Alingsås BC
268
235
277
249
204
1233
20.
 R
Svensson, William
BK Domino
298
244
222
182
248
1194
21.
 R
Andersson, Pontus
Team Clan BK
222
226
202
246
268
1164
22.
 L
Tan, Shi Hua Cherie
Singapore Bowling Federation
234
247
210
256
215
1162
23.
 L
Olsson, Mattias
Team Pergamon BC
231
236
239
194
255
1155
24.
 R
Nybom, Cristopher
AIK
235
217
175
277
245
1149
25.
 R
Simonsen, Anthony
Usa
257
213
218
224
232
1144
26.
 R
Sloan, Christopher
Team Clan
215
233
225
234
217
1124
27.
 R
Petersson, Christer
BK Joker
222
219
259
207
208
1115
28.
 R
Balsom, Dan
Strike Zone Pro Shop
197
215
184
254
229
1079
29.
 R
Berggren, Alfred
Team Clan BK
230
253
191
186
213
1073
30.
 R
Hultgren, Adam
BK Glam
239
221
201
208
177
1046
31.
 R
Käyhkö, Tomas
Mainarit
253
189
192
227
179
1040
32.
 R
Edvall, Rasmus
IS Göta
176
180
234
182
214
986
Final Step 1
NAME

CLUB

1

2

3

4

5

6


SCORE

1.
 R
Andersson, Sandra
BK Full House
287
235
205
276
253
243
1499
2.
 L
Bolleby, Kim
Team Pergamon BC
238
257
245
289
269
197
1495
3.
 R
Andersson, Pontus
Team Clan BK
247
236
279
233
233
242
1470
4.
 L
Gruffman, James
Team Alingsås BC
235
300
217
238
268
202
1460
5.
 R
Tahvanainen, Santtu
All Stars
237
193
212
244
268
279
1433
6.
 R
Edvall, Rasmus
IS Göta
225
299
289
193
235
189
1430
7.
 R
Jonsson, Emanuel
Team Alingsås BC
222
218
267
211
289
220
1427
8.
 L
Moor, Paul
Easy Bowling
224
269
196
268
258
210
1425
9.
 R
Wegner, Jenny
BK Femtionian
232
255
245
218
218
255
1423
10.
 R
Sloan, Christopher
Team Clan
185
279
220
243
219
276
1422
11.
 R
Tan, Daphne
Singapore Bowling Federation
215
245
214
226
275
247
1422
12.
 R
Putkisto, Teemu
Bay
229
290
236
300
172
190
1417
13.
 R
Doyle, Kamron
PBA
236
300
205
238
190
246
1415
14.
 R
Larsen, Martin
Team Pergamon BC
236
254
229
192
217
278
1406
15.
 R
Karlsson, Joachim
Team Clan BK
248
223
244
206
216
267
1404
16.
 R
Nybom, Cristopher
AIK
235
213
180
237
278
257
1400
17.
 R
Fransson, Daniel
Team Pergamon BC
244
204
245
247
215
243
1398
18.
 R
Petersson, Christer
BK Joker
236
212
207
227
268
241
1391
19.
 R
Lindberg, Robert
BK Glam
233
224
268
161
253
216
1355
20.
 R
Kiiskinen, Susanna
Västerås SK BK
221
251
210
233
220
214
1349
21.
 R
Jansson, Markus
BK Jösse
256
220
204
224
235
198
1337
22.
 R
Hultgren, Adam
BK Glam
238
224
206
227
200
239
1334
23.
 L
Olsson, Mattias
Team Pergamon BC
216
188
236
195
236
256
1327
24.
 R
Berggren, Alfred
Team Clan BK
202
175
259
219
257
213
1325
25.
 R
Roos, Mikael
Team Alingsås BC
268
196
170
236
230
215
1315
26.
 L
Wogel, Jerry
Stureby BK
212
215
212
187
232
256
1314
27.
 R
Wetterberg, Mattias
Team Pergamon BC
256
208
225
203
244
178
1314
28.
 R
Linderholm, Niklas
IFK Borås
256
237
208
147
259
204
1311
29.
 L
Andersson, Adam
Team Pergamon BC
239
194
187
235
216
236
1307
30.
 R
Almroth, Oskar
AIK
234
201
165
202
233
265
1300
31.
 R
Ojala, Kim
Team Pergamon BC
196
210
210
223
266
195
1300
32.
 R
Hiltunen, Eliisa
Bay
208
211
203
232
236
203
1293
33.
 R
Tan, Jazreel
Singapore Bowling Federation
222
168
223
244
173
256
1286
34.
 R
Oksanen, Joni
All Stars
232
218
189
247
196
202
1284
35.
 R
Eklund, Dennis
Stureby BK
193
247
171
223
225
222
1281
36.
 R
Hellström, Peter
Team Clan BK
200
191
226
217
239
191
1264
37.
 L
Lindbladh, Kevin
Tollarps BK
191
235
203
192
219
222
1262
38.
 R
Ekedahl, Sebastian
Stureby BK
210
243
196
231
189
190
1259
39.
 R
Fredriksson, Timmy
BK Full House
180
217
198
228
199
223
1245
40.
 R
Hultin, Isabelle
Wåxnäs BC
231
190
192
204
212
212
1241
41.
 R
Larsen, Rebecka Jr
Team X-Calibur
231
192
241
168
204
205
1241
42.
 R
Carle, Linus
BK Jösse
235
191
191
181
232
207
1237
43.
 R
Gren, Jesper
Sundbybergs IK
198
223
212
210
220
167
1230
44.
 R
Andersson, Ida
BK Högland
250
210
251
176
155
187
1229
45.
 R
Sennevall, Allan
Sigma BK
175
192
193
177
237
222
1196
46.
 R
Persson, Maria
BK Högland
178
191
212
195
167
243
1186
47.
 R
Karlsson, Christian
IKW/Köping BK
0
Qualifying
NAME

CLUB

BEST
SCORE

1.
Balsom, Dan
Strike Zone Pro Shop
1548
 R
2.
Svensson, Jesper
Team Pergamon BC
1539
 L
3.
Kallio, Jesse
TPS
1533
 L
4.
Thelander, Filip
Sundbybergs IK
1530
 R
5.
Simonsen, Anthony
Usa
1525
 R
6.
Tan, Shi Hua Cherie
Singapore Bowling Federation
1524
 L
7.
Käyhkö, Tomas
Mainarit
1513
 R
8.
Svensson, William
BK Domino
1509
 R
9.
Karlsson, Christian
IKW/Köping BK
1508
 R
10.
Andersson, Adam
Team Pergamon BC
1493
 L
11.
Lindberg, Robert
BK Glam
1492
 R
12.
Carle, Linus
BK Jösse
1489
 R
13.
Linderholm, Niklas
IFK Borås
1488
 R
14.
Edvall, Rasmus
IS Göta
1480
 R
15.
Nybom, Cristopher
AIK
1477
 R
16.
Andersson, Sandra
BK Full House
1477
 R
17.
Bolleby, Kim
Team Pergamon BC
1476
 L
18.
Jansson, Markus
BK Jösse
1475
 R
19.
Gruffman, James
Team Alingsås BC
1475
 L
20.
Fredriksson, Timmy
BK Full House
1462
 R
21.
Eklund, Dennis
Stureby BK
1459
 R
22.
Jonsson, Emanuel
Team Alingsås BC
1458
 R
23.
Tan, Daphne
Singapore Bowling Federation
1457
 R
24.
Sloan, Christopher
Team Clan
1457
 R
25.
Roos, Mikael
Team Alingsås BC
1456
 R
26.
Larsen, Martin
Team Pergamon BC
1453
 R
27.
Persson, Maria
BK Högland
1450
 R
28.
Karlsson, Joachim
Team Clan BK
1449
 R
29.
Ojala, Kim
Team Pergamon BC
1446
 R
30.
Kiiskinen, Susanna
Västerås SK BK
1444
 R
31.
Wetterberg, Mattias
Team Pergamon BC
1438
 R
32.
Tan, Jazreel
Singapore Bowling Federation
1438
 R
33.
Wegner, Jenny
BK Femtionian
1438
 R
34.
Larsen, Rebecka Jr
Team X-Calibur
1436
 R
35.
Oksanen, Joni
All Stars
1436
 R
36.
Hellström, Peter
Team Clan BK
1435
 R
37.
Andersson, Pontus
Team Clan BK
1434
 R
38.
Putkisto, Teemu
Bay
1433
 R
39.
Andersson, Ida
BK Högland
1432
 R
40.
Olsson, Mattias
Team Pergamon BC
1431
 L
41.
Sennevall, Allan
Sigma BK
1430
 R
42.
Persson, Robin
IS Göta
1430
 R
43.
Asplund, Sabina
BK Högland
1421
 R
44.
Doyle, Kamron
PBA
1420
 R
45.
Boström, Linus
AIK
1420
 R
46.
Oksanen, Mika
All Stars
1418
 R
47.
Hiltunen, Eliisa
Bay
1417
 R
48.
Tahvanainen, Santtu
All Stars
1416
 R
49.
Moor, Paul
Easy Bowling
1415
 L
50.
Almroth, Oskar
AIK
1415
 R
51.
Palermaa, Osku
Team Pergamon BC
1414
 R
52.
Stål, Pål
AIK
1410
 R
53.
Flack, Nina
Team X-Calibur
1408
 R
54.
Lütz, Magnus
Sigma BK
1407
 R
55.
Fransson, Daniel
Team Pergamon BC
1407
 R
56.
Ingerskog, Ludwig
Bodens BS
1407
 R
57.
Johansson, Victoria
Team X-Calibur
1406
 R
58.
Unander, Daniel
Bodens BS
1406
 R
59.
Wogel, Jimmy
Stureby BK
1400
 R
60.
Ågren, Emil
BK Kaskad
1397
 R
61.
Alexey, Drozhbin
Sambo-70
1396
 R
62.
Tjernes, Fredrik
BK Jösse
1395
 R
63.
Oksanen, Niko
All Stars
1395
 R
64.
Wogel, Jerry
Stureby BK
1395
 L
65.
Gehlin, Anton
AIK
1395
 R
66.
Lindbladh, Kevin
Tollarps BK
1394
 L
67.
Molander, Alida
BK Skrufscha
1393
 R
68.
Ekedahl, Sebastian
Stureby BK
1392
 R
69.
Bergqvist, Johan
Team Mariestad BK
1392
 R
70.
Hellström, Albin
Hammarby IF BF
1391
 R
71.
Gren, Jesper
Sundbybergs IK
1391
 R
72.
Sulkanen, Lena
B-K Eva
1390
 R
73.
Petersson, Christer
BK Joker
1389
 R
74.
Hultin, Isabelle
Wåxnäs BC
1389
 R
75.
Sjöberg, Eric
Wåxnäs BC
1388
 R
76.
Eklund, Tony
IKW/Köping BK
1388
 L
77.
Andersin, Erik
Stureby BK
1384
 R
78.
Persson, Filippa
BK Femtionian
1383
 R
79.
Melin, Michael
AIK
1380
 R
80.
Engblom, Axel
Team Pergamon BC
1378
 R
81.
Tiainen, Juuso
Siniset
1373
 L
82.
Crosby, Elliot
Powerplay
1372
 R
83.
Westman, Mikael
BK Flash
1372
 R
84.
Dahllöf, Richard
IFK Borås
1370
 L
85.
Skans, Robin
Örgryte IS
1370
 R
86.
Hildén, Kai
TPS
1368
 R
87.
Lüttke, Christopher
BK Kaskad
1366
 R
88.
Lindholm, Niclas
BK Glam
1365
 L
89.
Nilsson, Patrik
Stureby BK
1365
 R
90.
Åhlen, Peter
Sundbybergs IK
1361
 L
91.
Jonsson, Arnar
KFR/Lærlingar
1359
 R
92.
Berggren, Alfred
Team Clan BK
1356
 R
93.
Almqvist, Peter
BK Kaskad
1356
 R
94.
Petersen, Tommy
BK Ripan
1355
 R
95.
Danielsson, Johan
IS Göta
1355
 R
96.
Sainio, Peter
Hammarby IF BF
1354
 R
97.
Sjögren, Ingvar
Sigma BK
1351
 L
98.
Jonsson, Caroline
B-K Eva
1350
 R
99.
Pettersson, Mikael
Team Alingsås BC
1349
 R
100.
Landin, Christoffer
Västerås SK BK
1348
 R
101.
Hultgren, Adam
BK Glam
1347
 R
102.
Rynell, Stefan
Vilhelmina IK
1347
 R
103.
Linderoth, Josefine
Spader Dam
1347
 R
104.
Norrvik, Anders
Sundbybergs IK
1345
 R
105.
Persson, Kristoffer
BK Femtionian
1344
 R
106.
Nilsson, Thomas
Team Linköping BC
1344
 R
107.
Jansson, Raymond
BK Jösse
1343
 R
108.
Eriksson, Olle
AIK
1343
 R
109.
Ahlgren, Anton
Team Clan BK
1341
 R
110.
Johansson, Daniel
BK Triss
1341
 R
111.
Adolfsson, Anton
Kvänums BK
1341
 R
112.
Salomaa, Kaaron
Bay
1339
 R
113.
Eklund, Christer
BK Amiki
1338
 R
114.
Fahlström, Katrin
Hammarby IF BF
1337
 R
115.
Holmberg, Emil
Bodens BS
1336
 R
116.
Löfström, Stefan
Stureby BK
1336
 R
117.
Wiklund, Niklas
Kiruna AIF Bowling
1335
 L
118.
Tetri, Sanna
Sundbybergs IK
1335
 R
119.
Wetterberg, Patrick
BK Glam
1335
 R
120.
Jakobsson, Christoffer
Team Pergamon BC
1335
 R
121.
Persson, Anton
Höganäs BC
1334
 R
122.
Tiainen, Samuli
Siniset
1331
 R
123.
Stål, Joakim
Västerås SK BK
1331
 R
124.
Möller, Mattias
Höganäs BC
1330
 R
125.
Persson Planefors, Joline
Team X-Calibur
1330
 R
126.
Jonasson, Kim
Stureby BK
1329
 L
127.
Svantesson, Sandra
IS Göta
1328
 R
128.
Rikkola, Juuso
TPS
1328
 R
129.
Pasanen, Sanna
Giants
1326
 R
130.
Bonell, Stefan
AIK
1326
 R
131.
Hillborg, Patrik
Hammarby IF BF
1325
 R
132.
Sundin, Gert
AIK
1323
 R
133.
Andersson, Mats
Team Clan BK
1322
 R
134.
Gustafsson, Sandra
Varta BK
1321
 R
135.
Karlsson, Jenny
Kvänums BK
1321
 L
136.
Andersson, Andreas
AIK
1321
 R
137.
Hulthén, Marcus
Team Pergamon BC
1320
 R
138.
Larsson, Alexander
Team Mariestad BK
1319
 R
139.
Wahlgren, Karl
IS Göta
1318
 R
140.
Cronholm, Sebastian
AIK
1317
 R
141.
Blomster Kees, Eric
M-P
1317
 R
142.
Engberg, Hanna
BK Cahoot
1316
 R
143.
Pakarinen, Essi
Tps
1315
 L
144.
Nadezda, Korablinova
Sambo-70
1314
 R
145.
Lejman, Emma
BK Högland
1311
 R
146.
Sipilä, Lauri
Bay
1310
 R
147.
Nertling, Fredrik
BKF Falkenberg
1309
 R
148.
Wilhelmsson, Filip
IKW/Köping BK
1308
 R
149.
Jonsson, Benjamin
BK June
1308
 R
150.
Elofsson, Anton
Team Pergamon BC
1307
 R
151.
Persson, Anton
Team Clan BK
1306
 R
152.
Westerberg, Fredrik
IK Sterling
1305
 R
153.
Danielsson, Christer
Eksjö BK/EBOK
1304
 R
154.
Robinson, Ian
AIK
1304
 L
155.
Sandberg, Anton
Vimmerby BK
1304
 R
156.
Green, Rasmus
BK Frigg
1304
 R
157.
Andersson, Jonas
AIK
1301
 R
158.
West, Joakim
Team Alingsås BC
1301
 R
159.
Renvall, Eva
SS Bowlaren
1300
 R
160.
Wirefeldt, Oskar
Eksjö BK/EBOK
1300
 R
161.
Sofkova, Viktoria
BK Högland
1299
 R
162.
Myllymäki, Sofia
Team X-Calibur
1299
 R
163.
Wegner, Cajsa
BK Femtionian
1299
 R
164.
Sevelin, Lukas
AIK
1298
 R
165.
Karlsson, Kevin
BK Full House
1298
 R
166.
Sjöholm, Magnus
Fredrikshofs IF
1297
 R
167.
Eksell, Oscar
Team Alingsås BC
1295
 L
168.
Roos, Tiia-Mari
Tps
1294
 R
169.
Andersson, Dennis
M-P
1294
 R
170.
Ruohtula Svensson, Kristoffer
IKW/Köping BK
1294
 R
171.
Ekstedt, Jesper
AIK
1293
 R
172.
Park Karlsson, Thomas
Västerås SK BK
1292
 R
173.
Lundén, Roosa
GB
1290
 L
174.
Gustavsson, Andreas
BK Glam
1289
 R
175.
Martinsson, Jonathan
Team Clan BK
1289
 R
176.
Hagberg, Anders
BK Brio
1287
 L
177.
Malmberg, Tomas
Örgryte IS
1287
 R
178.
Bernhard, Marcus
BK Kaskad
1286
 R
179.
Kilander, Annika
Sundbybergs IK
1286
 R
180.
Runbom, Jesper
Team Clan BK
1286
 R
181.
Helldén, Johan
BKF Falkenberg
1285
 R
182.
Gustavsson, Sebastian
BK Origo
1285
 R
183.
Eklund, Carl
IKW/Köping BK
1285
 R
184.
Igelström, Johan
BK Nobel
1282
 R
185.
Ovesen, Emil
Sigma BK
1282
 R
186.
Kroner, Peter
AIK
1281
 R
187.
Martinsson, Alexander
BK June
1278
 R
188.
Lönnberg, Jonas
Djurgårdens IF BF
1278
 R
189.
Larsen, Celine
BK Merci
1278
 R
190.
Persson, Sebastian
IS Göta
1277
 R
191.
Hultsten, Robin
Team Linköping BC
1276
 L
192.
Falkhäll, Pontus
BK Örnen
1276
 R
193.
Jacobsen, Jesper
Team Pergamon BC
1275
 L
194.
Piksilä, Elice
GB
1275
 R
195.
Jonsson, Mårten
Team Pergamon BC
1274
 R
196.
Lindbäck, Lars
BK Kaskad
1270
 R
197.
Svahn, Daniel
BK Nobel
1270
 R
198.
Blom, Robert
Bajen Fans BF
1270
 R
199.
Rosdahl, Jesper
Tollarps BK
1269
 R
200.
Ejderling, Björn
Hammarby IF BF
1267
 R
201.
Hagberg, Jesper
BK Brio
1267
 R
202.
Layrisse, Gustavo
Sundbybergs IK
1266
 R
203.
Johansson, Malin
BK Högland
1263
 R
204.
Flink, Fredric
Tingsryd KK
1262
 R
205.
Thorell, Annie
Spader Dam
1261
 R
206.
Thelander, Rickard
Sundbybergs IK
1260
 R
207.
Johansson, Gustaf
Team Alingsås BC
1260
 R
208.
Larsen, Jesper
Team Pergamon BC
1259
 R
209.
Mäkelä, Teea
Tps
1259
 R
210.
Gref, Malin
AIK
1258
 R
211.
Andersson, Kim
BK Full House
1258
 R
212.
Wahlgren, Joakim
IS Göta
1257
 R
213.
Gadd, Amanda
Spader Dam
1257
 R
214.
Björklund, Lisa
Team X-Calibur
1255
 R
215.
Persson, Kristian
BK Jösse
1255
 R
216.
Rundgren, Linnea
B-K Eva
1253
 L
217.
Färnlycke, Daniel
BK Amiki
1252
 R
218.
Andersson, Robban
AIK
1252
 R
219.
Tidbeck, Mathilda
B-K Eva
1251
 L
220.
Neidenmark, Emelie
AIK
1249
 R
221.
Uitto, Minna
BK Dimico
1248
 R
222.
Sundberg, Katarina
Hammarby IF BF
1248
 R
223.
Söderquist, Mikael
Bajen Fans BF
1248
 R
224.
Ahlstrand, Erik
Team Mariestad BK
1248
 R
225.
Yngström, Stefan
Team Enköping BK
1248
 R
226.
Lindius, Maria
Scania IF Södertälje
1247
 R
227.
Pietilä, Mikko
Siniset
1246
 R
228.
Eklund, Christopher
Stureby BK
1245
 R
229.
Bengtsson, Erik
IS Göta
1244
 R
230.
Innergård, Caroline
Hammarby IF BF
1243
 L
231.
Gullberg, Madelene
BK Femtionian
1243
 R
232.
Trossvik, Jens
AIK
1243
 R
233.
Fasth, Håkan
Team Clan BK
1242
 R
234.
Liedholm, Christer
Fredrikshofs IF
1242
 R
235.
Salo, Vilma
R-ABC
1238
 R
236.
Svensson, Felicia
BK Högland
1233
 R
237.
Nyman, Kim
AIK
1233
 R
238.
Åhlen, Thomas
Turebergs IF
1232
 R
239.
Bergqvist, Per
Team Mariestad BK
1232
 R
240.
Hakala, Riikka
Bay
1232
 R
241.
Juntunen, Ani
Giants
1231
 R
242.
Larsen, Janne
Team Clan BK
1231
 R
243.
Söderlund, Stefan
Domsjö IF
1229
 R
244.
Svensson, Erika
B-K Eva
1228
 R
245.
Karlsson, Joakim
Bålsta BC
1227
 R
246.
Suokas, Joni
Siniset
1226
 R
247.
Kilpi, Tuomas
Juvel-team
1224
 R
248.
Johansson, Henrik
Team Clan BK
1224
 R
249.
Behring, Thomas
BK Trol
1222
 R
250.
Ornered, Max
Stureby BK
1220
 R
251.
Manninen, Heidi
Mercur
1218
 R
252.
Blixt, Martin
IS Göta
1218
 R
253.
Jonsson, Lena
Team Vasa BC
1216
 R
254.
Bäcklund, Bengt
Wåxnäs BC
1213
 R
255.
Hallberg, Jonathan
Hammarby IF BF
1213
 R
256.
Karlsson, Wilma
Team X-Calibur
1212
 R
257.
Larsson, Jessica
Sundbybergs IK
1211
 R
258.
Myren, Robert
Sigma BK
1211
 R
259.
Jonsson, Peter
BK Triss
1207
 R
260.
Dew, Stefan
Enköpings IS
1206
 L
261.
Lidman, Matheo
BK Högland
1204
 R
262.
Collinge, Mikael
KK Träff
1204
 R
263.
Ådefjäll, Christian
Stureby BK
1204
 R
264.
Lindberg, Janina
BK Glam
1199
 R
265.
Lagerlöf, Michael
Uppsala BC 90
1199
 L
266.
Ramén, Peter
AIK
1197
 R
267.
Liew, Jonathan
BK Flax
1196
 L
268.
Eng, Malou
AIK
1195
 R
269.
Nilsson, Åke
Hellas
1194
 R
270.
Nordenson, Kristina
Team Vasa BC
1194
 R
271.
Nilsson, Hampus
Olofströms BS
1191
 R
272.
Murto, Janne
All Stars
1191
 R
273.
Storme, Åsa
BK Högland
1188
 R
274.
Staflund Ekström, Moa
BK Högland
1186
 R
275.
Andersson, Peter
Bajen Fans BF
1186
 R
276.
Hultstedt, Sofia
BK Högland
1186
 L
277.
Juthagen, Matts
KK Träff
1182
 R
278.
Persson, Torbjörn
Hammarby IF BF
1180
 R
279.
Isaksson, Kjell
Sigma BK
1179
 R
280.
Hamberg, Lina
Uppsala BC 90
1179
 R
281.
Årup, Mathias
IS Göta
1176
 R
282.
Schell, Peter
Hammarby IF BF
1176
 R
283.
Susiluoto, Simon
All Stars
1173
 L
284.
Salmén, Börje
Stureby BK
1173
 R
285.
Simonsson, Axel
Bodens BS
1173
 R
286.
Staflund, Anna
BK Dimico
1170
 R
287.
Mörkfors, Leif
Domnarvets BS
1167
 R
288.
Yakubov, Utkir
Tashkent
1166
 R
289.
Weywadt, Mats
AIK
1163
 R
290.
Larsson, Hans
BK Amiki
1162
 R
291.
Gassner, Cornell
Hammarby IF BF
1159
 R
292.
Bjelke Larsen, Yvonne
BK Högland
1158
 R
293.
Hermansson, Anders
BK Zenit
1148
 R
294.
Jakobsson, Ove
BK Glam
1147
 R
295.
Eklund, Emil
Västerås SK BK
1144
 R
296.
Lundström, Rickard
Mini Arccus Club
1144
 R
297.
Carlson, John
AIK
1143
 R
298.
Enström, Mats
Bajen Fans BF
1143
 R
299.
Sjöndin-Kahlbom, Annie
BK Högland
1139
 R
300.
Fredblad, Robert
BK Amiki
1136
 R
301.
Björk, Johanna
BS Hässle
1135
 R
302.
Baensaf, Arman
BK Amiki
1134
 R
303.
Näslund, Ola
BK Trol
1133
 R
304.
Pellas, Ove
IFK Mariehamn
1132
 R
305.
Lindberg, Kenneth
AIK
1125
 R
306.
Österholm, Johan
Stureby BK
1124
 R
307.
Palmér, Carl-Oskar
Team Clan BK
1122
 R
308.
Gustafzon, Tina
Hammarby IF BF
1121
 R
309.
Stål, Johanna
BK Högland
1119
 R
310.
Jansson, Per
AIK
1115
 R
311.
Näsman, Sanna
BK Högland
1113
 R
312.
Ekholm, Ellen
Team X-Calibur
1109
 R
313.
Lindblad, Jan-Ove
KK Träff
1108
 R
314.
Stenhols, Marcus
AIK
1108
 R
315.
Mattila, Altti
Hammarby IF BF
1107
 R
316.
Herwig, Linus
AIK
1106
 R
317.
Elfström, Lina
Sundbybergs IK
1104
 R
318.
Mattsson, Karl-Johan
Hammarby IF BF
1099
 L
319.
Bengtsar Håkansson, Zakarias
AIK
1099
 R
320.
Kristensson, Sara
BK Högland
1097
 R
321.
Luiro, Pasi E.
AIK
1097
 R
322.
Berg, Christer
BwK Dax
1096
 R
323.
Larsson, Christian
Vendelsö BK
1096
 R
324.
Ahlquist, Dan
BK Trol
1095
 L
325.
Pettersson, Jonas
BK Brio
1092
 R
326.
Wihlborg, Peter
AIK
1092
 R
327.
Isaksson, Johan
BK Trol
1083
 R
328.
Högberg, Marianne
AIK
1083
 R
329.
Moquist, Gunnar
KK Träff
1078
 L
330.
Persson, Stefan
AIK
1077
 R
331.
Moquist, Bengt
KK Träff
1077
 R
332.
Lindell, Lisa
BK Högland
1076
 R
333.
Gudmundsson, Magnus Sigurjon
Team Clan BK
1076
 R
334.
Snell, Magnus
BK Team Obelix
1076
 R
335.
Mattsson, Kim
BK Käglan
1074
 R
336.
Ohlsson, Magnus
AIK
1071
 R
337.
Asklund, Nathalie
AIK
1071
 R
338.
Johansson, Tomas
BK TT
1068
 R
339.
Näslund, Johan
Värtans IK
1067
 R
340.
Hoffmar, Tomas
Delta 72
1065
 L
341.
Fernberg, Per
Sigma BK
1063
 R
342.
Bergendorff, Göran
BK Amiki
1062
 R
343.
Larsson, Max
Hellas
1059
 R
344.
Berg, Felicia
BwK Dax
1058
 R
345.
Friman, Judith
BK Högland
1056
 R
346.
Olaussen, Pontus
BK Amiki
1055
 L
347.
Dressel, Emil
AIK
1054
 R
348.
Hellberg, Ricard
AIK
1053
 L
349.
Nilsson, David
Sundbybergs IK
1049
 R
350.
Olsson, Eliaz
BK Femtionian
1046
 R
351.
Hellberg, Arne
KK Träff
1042
 R
352.
Ståhl, Maximilian
BK Thule
1035
 R
353.
Siverling, Regina
AIK
1026
 R
354.
Näslund, Clara
Sundbybergs IK
1018
 R
355.
Axberg, Lars
BK Glam
1017
 R
356.
Korn, Michael
Bajen Fans BF
1008
 R
357.
Zeidlitz, Hanna
AIK
1004
 R
358.
Jonsson, Moa
BK Högland
1001
 R
359.
Nyberg, Anders
KK Träff
997
 R
360.
Wibäck, Johan
AIK
989
 R
361.
Freden, Hans
BK Amiki
978
 R
362.
Jern, Tommy
AIK
971
 R
363.
Högberg, Ingemar
AIK
961
 R
364.
Flodin, Jan
Team Enköping BK
912
 R
365.
Östlund, Henrik
M-P
875
 R
366.
Hallgren, Stefan
AIK
866
 R
367.
Pettersson, Carola
AIK
806
 L
368.
Hallgren, Christoffer
AIK
751
 R
369.
Ronström, Henrik
AIK
751
 R