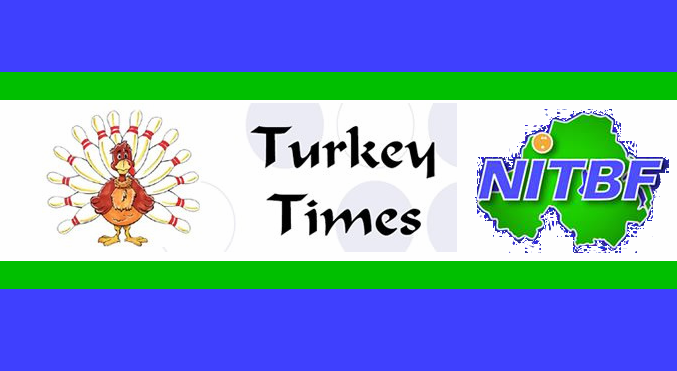 Home Nations Round Up – March – Northern Ireland
By Lauren Dugan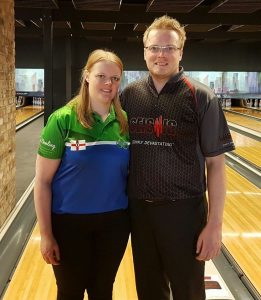 NITBF Ranking Tour
NITBF Ranking Tour Event 6
It was a Dugan Double in Lisburn Bowl for Ranking Event 6 with Grant and Lauren Dugan claiming the wins. Grant took his 2nd win of the season with 1720 (215 ave) ahead of Paul Murray with 1632 (204 ave) and Alan Smith in 3rd (1604, 201 ave). Alan took the Senior male win.
Lauren took her 5th win of the season with 1538 (192 ave), followed by Isobel Smith in 2nd (1466, 183 ave) and Caroline Horan in 3rd (1439, 180 ave). Isobel took the Senior female win.
In the Knockout Finals it was brother versus sister (Grant and Lauren Dugan) and husband versus wife (Alan and Isobel Smith) with Lauren striking out in the Final to defeat Alan.
The next ranking event will take place on the 9th March in Dundonald International Ice Bowl on Kegel's Taj Mahal. Registration 9-9.20am.
---
NITBF Annual General Meeting 2017
Taking place on the 9th April after the conclusion of the ranking event in Dundondald International Ice Bowl, now more than ever its important that voting members turn up and use their vote at the AGM. The AGM will see a new President being elected – a pivotal role for ensuring the success and development of our sport.
We will be covering the news live on the NITBF Facebook page of who is elected to the position of President along with the positions of Vice President, Secretary, Treasurer and Council members.
Condolences
It was with great sadness in March that we learnt about the passing of two of our bowlers and friends – Barbara Fowler and Earl McComb. They will both be greatly missed and our thoughts are with both families at this sad time.
---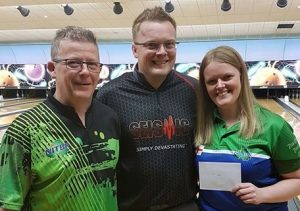 Evolve Bowling
Inception Event 7
On the 26th March Evolve Bowling once again seen increasing numbers participate, with the event made up of ranking tour, league and public bowlers. Inception Events really are a great way to encourage more people into our sport.
For this Inception Event bowlers were competing on Kegel's Dead Man's Curve. After 6 games of qualification it was Grant Dugan and Kenny Donnelly who advanced to the scratch semi finals with Tony O'Hare waiting in the Final. In the Handicap semi finals it was birthday girl Lauren Dugan who took on Scott Horton with David McKeown waiting in the Final.
All the Semi Finals and Finals were won 3 legs to 1 with Tony O'Hare and Lauren Dugan emerging as the Scratch and Handicap winners respectively.
QubicaAMF BesX
Earlier in March, Evolve Bowling were the first to break the news that Dundonald International Ice Bowl was evolving and having QubicaAMF's BesX installed and new furniture fitted. Work is currently underway in the centre. Of course we have plans in the making to ensure that all the features available in BesX are used to their full potential….along with a couple of other plans!
Highlights Video
You can check out Evolve Bowling's Highlight Video here and a teaser of what is to come in 2017: https://www.facebook.com/evolvebowling/
Keep up to-date by following Evolve Bowling on Facebook, Twitter and Instagram and also check out the website www.evolvebowling.com
---
Dundonald International Ice Bowl
Premier Division
David Seay leads the way in both scratch and handicap sections with 138 and 119 points respectively. Followed by Alan Smith with 118 and 107 points (scratch and handicap), and Robert Walkingshaw in 3rd with 113 and 106 points (scratch and handicap).
David Seay holds high average of 233 and high game of 290, while Billy Nimick has the high series of 806. The current league average of the A Division is 211 after 21 weeks.
A Division
Mark White is dominating the A Division with 134 and 122 points in the scratch and handicap sections. Second in the scratch section is Chris Ganacias with 111 points while Malcolm Lilburn is 3rd on 107 points. Second in the handicap section is George Mullan on 106 points and Malcolm Lilburn is 3rd on 103 points.
Mark White holds the high average with 183 while Scott Horton holds the high game and series with 289 and 710 respectively.
B Division
David McKeown is leading the scratch section on 133 points while its Judy Ganacias leading the handicap section with 115 points, who is also sitting second in the scratch section with 119 points. Meanwhile Bob McHenry is sitting 2nd in the handicap section with 108 points. Bob is also 3rd in the scratch section with 110 points, while 3rd in the handicap section is Meriam Baguio.
David McKeown holds the high game of 214 and average of 153 while Bob McHenry holds the high series with 531.
Other League News
The Monday Singles will not be taking place on the 10th, 17th and 24th April due to Dundonald International Ice Bowl getting refurbished to go along with the newly installed QubicaAMF BesX!
---
BRUNSWICK MOVIEBOWL
After 8 weeks of the Monday Singles league in Brunswick Moviebowl it's Lyn Watson leading the way on 48 points, ahead of Caroline Horan and Kev Horton in joint second place with 32 points, followed by Paul McCauley in third with 28 points.
---
Turkey Times
If you have any articles, photos, personal bests etc you wish to include in the next edition of the 'Turkey Times' please send them to Lauren Dugan at media@nitbf.org.uk
---
Facebook 
Why not follow the news via our Facebook Page, all the very latest news posted.
https://www.facebook.com/NITBF/
---
NITBF TWITTER
The NITBF is now on Twitter, follow us: @NITBF1