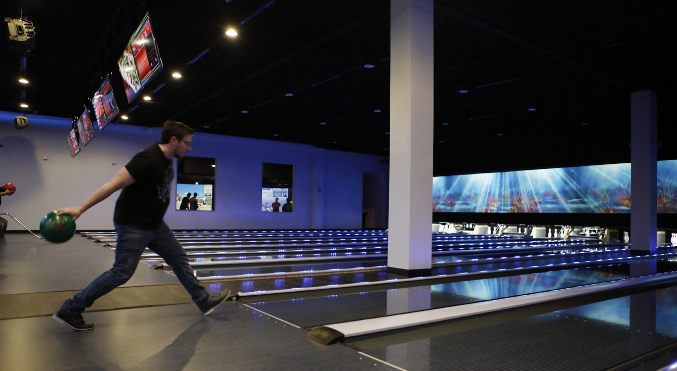 Restauranteurs open new boutique bowling center that stresses an intimate, relaxed,
fun and affordable atmosphere.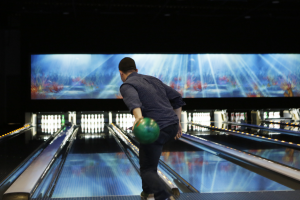 April 4, 2017 (Mechanicsville, Virginia) –
With so many people boasting about traveling to Austin, San Antonio and Houston, owner, Miguel Kamel was looking to put McAllen, Texas on the map.  Moving forward, Kamel decided to develop and build the new $12-million-dollar hangout off Expressway 83 in Texas that is now deemed, Europa Cuisine & Entertainment.  This new boutique facility is something that brings the local community a unique blend of artful culinary selections and the joy of entertainment.  Following the grand opening in November of 2016, now the talk of the town, this location features a chef-inspired restaurant, innovative mixology bar, private dining and party rooms, and 12 full size lanes of QubicaAMF-equipped bowling to round out their entertainment offering.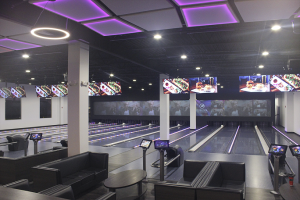 "The bowling we offer is not the bowling you were used to growing up," says Miguel Kamel, Owner, Europa Cuisine & Entertainment.  "We have 12 lanes of bowling that offer state-of-the-art entertainment, and even have private rooms that back up to 4 of the lanes which we can leverage for parties and corporate events."  
When launching this new endeavor, Kamel committed to making every visit memorable to his customers, and making Europa the place to be.  Knowing there was a unique market here in Texas he chose to leverage bowling as the anchor and began searching for how he could turn his vision into a reality.  Thanks to years of experience, he knew the restaurant side of the business would do well, but choosing to add bowling was a new direction.  That is when he discovered QubicaAMF Worldwide.  After seeing different options, Kamel chose to install 12 lanes of Arctic Blue SPL Boutique Bowling Lanes, new XLi EDGE Pinspotters and the BES X Bowler Entertainment System.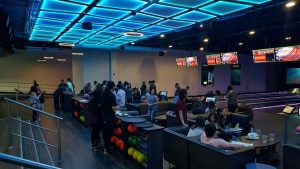 "Boutique Centers that are using bowling as their anchor are popping up around the world, and have proven to be a very profitable attraction," says Wendy Smith, Director of New Business Development, QubicaAMF Worldwide.  "Based on what Miguel was looking to create we were able to find the right mix of products that are helping Europa succeed, and turning Miguel's dream into the reality he hoped for."
Kamel shares, "We developed this boutique entertainment concept three years ago, and we are blessed to see how well it has all turned out."
Reviews from the local community rave that the 26,500 square foot facility blows their mind, and soon will be the entertainment and culinary hub to bring patrons from a 250-mile radius to this area.  Therefore, whether you are looking to have some drinks, have dinner with your family or have a night out bowling with your friends, Europa has everything the new-age customer could want. 

About QubicaAMF Worldwide
QubicaAMF Worldwide is the world's largest and leading manufacturer of bowling and mini bowling products. With U.S. headquarters near Richmond, Virginia and European headquarters in Bologna, Italy, the company offers a complete line of high-quality, innovative solutions for new and existing bowling and entertainment centers.
QubicaAMF has over 75 years of experience, an installed base of more than 10,000 centers worldwide and can provide the perfect combination of bowling equipment, products and services to build a bowling entertainment center, an FEC or entertainment facility to suit any budget. The company has sales offices in 10 countries, a distributor network with worldwide reach and maintains the largest R&D team for electro-mechanical products, software, electronics and entertainment systems in the industry.
QubicaAMF is the organizer of the QubicaAMF Bowling World Cup, the largest annual sporting event in terms of the number of participating countries, which promotes bowling on a global level. The company celebrated the historical 50
th
anniversary of the tournament in 2014.
About Europa Cuisine & Entertainment
Europa is a vision for the future that provides McAllen, Texas with a unique blend of artful culinary selections and the joy of entertainment.  A uniquely designed venue meant to deliver an unforgettable experience through four distinct scenarios: State-of the-art gaming showcased with bowling, chef-inspired restaurant, innovative mixology bar and private dining and party rooms. Europa is located at 5112 W. Expressway 83, McAllen, Texas, 78501. 
www.europacuisine.com