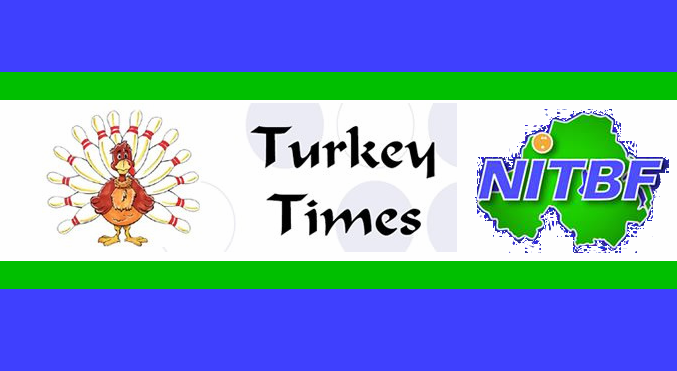 Home Nations Round Up December/January – Northern Ireland
By Lauren Dugan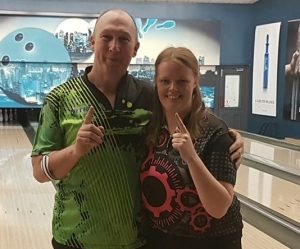 NITBF Ranking Tour
NITBF Ranking Tour Event 5
The Ranking Tour returned to Brunswick Moviebowl in February and it was déjà vu from Ranking Event 1 with both Paul McCauley and Lauren Dugan claiming the wins again. Paul taking his second win of the season and Lauren her fourth.
The men's section was a closely fought affair with only 40 pins separating the Top 7 Men and the lead changing multiple times. Paul claimed the win with 1555 ahead of Alan Smith in 2nd (1551) and David Seay in 3rd (1543). Paul also claimed the Male Senior win.
The ladies was also really close and seen Lauren come from behind to claim the win from Caroline Horan who was leading until the last game. Lauren shot 1375, with Caroline shooting 1342 and Isobel Smith in 3rd with 1324. Isobel claimed the Female Senior win.
In the Handicap Knockout Finals it was Sam Hull who emerged victorious defeating Paul McCauley in the Final.
Ranking Event 6 will take place in Lisburn Bowl on 12th March 2017. Registration 8.30-8.50am.
---
NITBF Annual General Meeting 2017
Northern Ireland has already had one important election this year but the NITBF also have an election on the 9th April with all Executive and Council posts up for re-election. A new President will be elected after Alan Smith regrettably announced in January that he will not be standing for re-election.
If you are a Full or Senior Member of the NITBF and are interested in joining Council please complete and submit a nomination form to Karen Payne by the 23rd March 2017.
Members are encouraged to attend the AGM in Dundonald International Ice Bowl (subject to change) to ensure your voice is heard!
Sports Person of the Year
Congratulations to Lauren Dugan who has been nominated for Sportsperson of the Year at the Ards and North Down Sport Awards.
---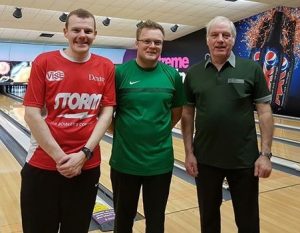 Evolve Bowling
Inception Event 6
On 26th February bowlers competed on Kegel's Taj Mahal at Evolve Bowling's Inception Event 6 in Dundonald International Ice Bowl.
In the Scratch Semi Finals it was Grant Dugan versus David Seay with David defeating Grant 3 legs to 0 to take on Billy Nimick in the Final. David continued his good form into the Final and defeated Billy 3 legs to 0 to claim his first Evolve win.
In the Handicap Semi Finals it was Raymond Chan versus Sam Hull with Sam defeating Raymond 3 legs to 0 to take on Lauren Dugan in the Final. This was the third time in so many weeks that Lauren and Sam met in Finals but this time it was Sam who emerged as the winner, defeating Lauren 3 legs to 0 to take his first Evolve win.
Inception Event 7 will take place in Dundonald International Ice Bowl on 26th March 2017. Registration 9-9.20am. If you are looking for a way to get into competitive bowling or want more competitive events to bowl in with a profit on offer then Evolve Inception Events are for you!
Highlights Video
You can check out Evolve Bowling's Highlight Video here and a teaser of what is to come in 2017: https://www.facebook.com/evolvebowling/
Keep up to-date by following Evolve Bowling on Facebook, Twitter and Instagram and also check out the website www.evolvebowling.com
---
Dundonald International Ice Bowl
Premier Division
Leading the way in both the scratch and handicap section is David Seay with 119 points in the scratch section and 101 in the handicap section, closely followed by Robert Walkingshaw on 104 scratch points and 98 points in the handicap section.
David also holds high average with 233 and high game of 290, while high series belongs to Billy Nimick with 806.
Congratulations to Lauren Dugan and Peter Lilburn who have hit high series personal bests in the past 3 weeks. Lauren with 714 (254, 193, 267) and Peter 805 (278,279,238). Peter's 805 was a fitting tribute to his Granda who sadly passed away a couple of days before.
A Division
Mark White is leading both scratch and handicap sections in the A Division with 120 and 108 points respectively. Followed by Malcolm Lilburn with 105 points in scratch section and 101 points in handicap section.
Scott Horton shot a series and game personal bests on 27th February which also takes the high game and series of the league so far. Scott shot a 710 series with games of 221,289 and 200.
B Division
David McKeown is leading the way in the scratch section with 123 points followed by Judy Ganacias with 106 points. Judy is leading the handicap section with 103 points followed by Bob McHenry on 102 points.
David holds high average of 153 and high game of 214 while Bob McHenry has the high series with 531.
---
BRUNSWICK MOVIEBOWL
League round up by Lynda Watson:
The Brunswick Movie Bowl, Monday Night League, is now back in full swing, which is more than can be said for many of its bowlers! With no less than 8 of our regular bowlers out with illness or injury during the opening weeks, we really are dropping like tenpins.
Leading the way in the opening week was Kevin Horton who eased himself into the Season taking the first week's high game with a 206 scratch (214 handicap). Two of our latest recruits, Steven Bourgaize and Gary Logue took up the challenge with a 216 scratch (248 handicap) and 224 scratch (248 handicap) high games, respectively. Making sure the ladies were not left out, Caroline Horan posted our highest scratch game of the league so far with a 237 (261 handicap) in the latest week of play.
While it's early days, the League Table as it stands at present is, Kevin Horton in first place followed by Caroline Horan in second and Lynda Watson in third.
---
Turkey Times
If you have any articles, photos, personal bests etc you wish to include in the next edition of the 'Turkey Times' please send them to Lauren Dugan at media@nitbf.org.uk
---
Facebook 
Why not follow the news via our Facebook Page, all the very latest news posted.
https://www.facebook.com/NITBF/
---
NITBF TWITTER
The NITBF is now on Twitter, follow us: @NITBF1