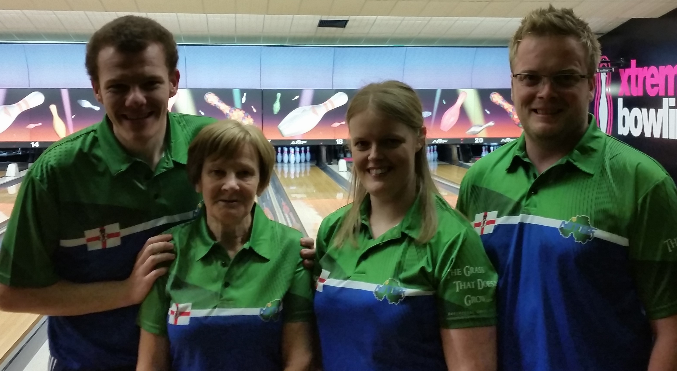 VII Commonwealth Championships
Good luck to Grant Dugan, Lauren Dugan, David Seay and Isobel Smith who will be representing Northern Ireland at the VII Commonwealth Championships in Johannesburg, South Africa from 19th-26th November.
Grant, Lauren and Isobel will be competing in the Championships for the first time while David will be competing for the 2nd time.
We will be providing daily updates on our Facebook and Twitterpages throughout the championships.
---
NITBF Ranking Tour
Ranking Event 2 of the NITBF 2016/2017 Ranking Tour Season took place in Dundonald International Ice Bowl in October and seen defending male ranking tour champion Kev Horton claim the adult and senior male win with 1742 (217.75 ave) ahead of Paul McCauley in 2nd (1675, 209.38 ave) and Alan Smith in 3rd (1631, 203.88 ave).
On the ladies side defending ladies ranking tour champion Lauren Dugan made it two wins from two with 1463 (182.88), followed by Donna Horton (claimed womens senior win) in 2nd (1423, 177.88 ave) and Isobel Smith in 3rd (1405, 175.63 ave). After two events it's Paul McCauley whose leading the men's tour and Lauren Dugan who is leading the women's.  Advancing to the handicap Knockout Finals were Kev Horton, Paul McCauley, Sean Robinson and David Seay, with Sean Robinson claiming the win.
---
52nd QubicaAMF World Cup
Congratulations to Lauren Dugan who finished 29th at the 52nd QubicaAMF World Cup in Shanghai, China, narrowly missing out on a place in the Top 24.
This was Northern Ireland's best female performance at an international event in over 10 years. Congratulations as well to Kev Horton who finished in 44th place. Look out for the full report in the next issue of the 'Turkey Times'.
---
Evolve Bowling
After a successful first Inception Event Evolve Bowling's second Inception Event took place in Dundonald International Ice Bowl in October on Kegel's Turnpike. It was great to see more new faces take the sport at the event and after 6 games of qualifying Lauren Dugan was the top scratch seed for the finals while David McKeown was the top handicap seed.
Battling it out in the scratch semi finals was Raymond Chan vs Grant Dugan with Grant defeating Raymond 3 legs to 1, while on the handicap side it was Trevor McKinney vs Gavan Holly with Trevor advancing 3 legs to 0. In the final Lauren Dugan defeated Grant 3 legs to 0, while David McKeown defeated Trevor in a much closer affair 3 legs to 2.
Exciting things are coming from Evolve Bowling in the next few months, look out for us on the international scene and a few guest appearances! We've received great feedback on the scoring system we've adopted for our finals and we would look forward to evolving it to the next level.
Keep up to-date by following Evolve Bowling on Facebook, Twitter and Instagram and also check out the website www.evolvebowling.com
---
Dundonald International Ice Bowl
Monday Singles League 
We have been overwhelmed with the amount of new bowlers taking part in the Monday Singles League in Dundonald International Ice Bowl, it's great to see our sport growing. Three Divisions within the league have had to be created (Premier/ Intermediate/ Novice) to support the volume of bowlers but also to provide everyone with a chance of competing for something.
Premier bowlers are also drawn on lanes with the Intermediate/ Novice bowlers which enables the Premier Bowler to help and support the development of the others bowlers. Unfortunately due to international commitments we don't have up to-date standings as make up matches are to happen but we will have a full report in next month's round up!

---
BRUNSWICK MOVIEBOWL
The leagues in Brunswick Moviebowl will re-commence in November/ December, please ask in the bowling centre for more details or keep an eye on our NITBF Facebook Page !
---
Turkey Times
If you have any articles you wish to submit in our next newsletter, the 'Turkey Times', due out in February 2017 please contact Lauren Dugan at media@nitbf.org.uk
---
Facebook 
Why not follow the news via our Facebook Page, all the very latest news posted.
https://www.facebook.com/NITBF/
---
NITBF TWITTER
The NITBF is now on Twitter, follow us: @NITBF1
---