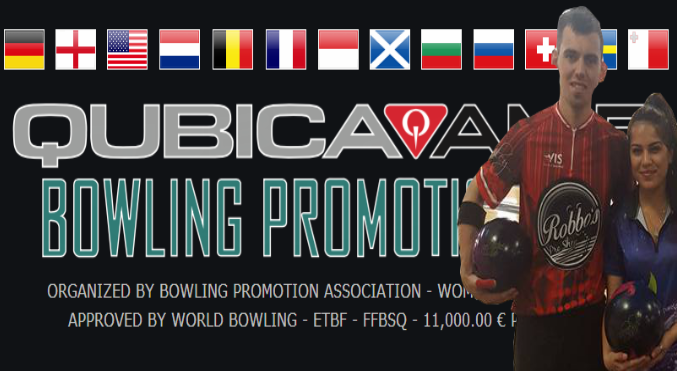 Ever wanted to be on TV? Had that bowlers dream of stepping up under the bright lights of the championship lanes and shooting three strikes to win? Go on admit it, we have all had it.
Young English Bowlers Glen Bailey and Samantha Hannan had a chance at just that in the QubicaAMF Bowling Promotion Cup in France earlier this week. They bowled in three cities and bowling centres with a chance to be seen on TV in France, Europe and beyond on various media outlets. Both had different reasons for trying but a good showing could help their England chances later on was fair to say.
Well a good showing is exactly what happened. In the singles, Glen qualified in 2nd with 1425 then defeated Belgium's Ryan Vanderschueren 217-203 in the semi finals before losing to Frenchman Gaetan Mouveroux in the final 245-223. Samantha qualified in 4th with 1313 but then almost rode the ladder to the final defeating Sarah Essouffi (FRA) 210 -208 in match one, A 228-213 win against Alexandra Lopes D'Andrade (FRA) before falling to Dutch star Nicole Sanders 191-159.
Onto the doubles and a 1444 from Glen saw him top the qualifying as Samantha topped the women with 1366. Teaming up with Belgium's Glenn Vansteenbrugge the pair defeated July Petrov and Jonathon Lefevre 221-200 in with the title. Partnering Wendy Bartare Samantha also won by beating French pair Sarah Essouffi and Alexandra Lopes D'Andrade225-202.
In the All events Glen took 1st with a 239 average and Samantha claimed the womens title with a 225 average.
Going into the masters as number one seeds Sam was first up to try for the overall title. In a final that could have gone either way it was French woman Wendy Bartaire coming out on top with a 237-217 win and 2nd for Samantha.
The mens final between the best two players all week saw Glen go up against second seed Gaetan Mouvweroux. With the Frenchman opening with the front six it all seemed lost but a change in fortunes levelled the high scoring match, with Gaetan on 268 at the end, Bailey had his chance to strike out and win, which he did in some style.
So what was the experience like? We caught up with Glen and Sam as they were travelling home.
Let's start at the beginning, How did you learn about the QubicaAMF Bowling Promotion Cup and what interested you about the event?
Sam – Well basically for me Dom, Bruno Bidone messaged me and asked me if I wanted to play. I didn't know about it before that. You'll probably get a longer answer from Glen lol
Glen – I believe TalkTenpin actually shared the advert on Facebook when they were looking for players for this years roster. I had seen the BPC on YouTube before and it looked like a interesting event, a chance to be on TV so could almost feel what it's like out in the PBA tour under the lights, obviously not on such a big scale, but mainly a chance for some self advertising and to show people what I can do. You were guaranteed minimum 2 tv appearances so that was a good selling point. Also France is one of my favourite countries to visit so that was an added bonus.
Looking back now on that choice to play, how was the experience for you both and what will you take way from the event?
Glen – With the way the TV was set up, there was a lot of travelling and waiting around. The event was held across three centres in western France so we were at a different centre for each event. Then there's breaks between setups for tenth shows. It does take some energy out of you. But it's all worth it in the end. I don't think a single player there didn't enjoy the experience. For me it's a big confidence booster. We played against some outstanding players from across Europe in some very tight competition so to walk away with the results I have feels great.
Sam – I completely agree with Glen, it was a very tiring trip with lots of travelling but it was all worth it in the end. The people over there were so lovely and everyone got on with each other. It was great being able to make the stepladder and doing the tv shows, it's quite nerve-racking but it just shows how you can cope under all the pressure, as well as feeling what the pros feel. I feel a lot confident now as I haven't been bowling that much at the moment, as we were competing with some top bowlers. I would definitely do the event again!
Congratulation to you both of course, you absolutely smashed it, starting with you Glen, Has the 280-268 win sunk in yet and Sam, you came so close but a 7-10 split cost you?
Glen – To be honest I was quite fortunate. The way the lanes broke down made them very open in the final. Gaetan started with the front 8 so I genuinely thought he was gonna shoot 300. He had a sure fire shot. At the point id gone Strike, spare, 6 in a row so I still had the 280 to play with. Then Gaetan left a ring ten which then essentially put me in the lead in terms of max score. Then he left a light 7-pin and struck the fill shot for 268. This still meant I needed a double. The tv atmosphere and the sheer height of the scores made me shake a little with nerves so I just took a little extra time in my pre shot routine to calm the nerves and thought 'one good shot'. When I got the double I couldn't believe it. You'll see how I felt when the to show is uploaded in the next week or so. I've been on the receiving end of shooting a high game like that and losing so I did feel for Gaetan. Sam came up to me at the end, gave me a hug and I just said to her 'did that just happen?' It's still not quite sunk in but it will in time.
Sam – Yeah that it definitely cost me. I did have a greek church in the 4th frame and I had 71. Then i managed to string some strikes until the 9th frame. If i struck out I would have finished with a 251, but unfortunately I had a pocket 7-10 split. If Wendy struck out she would have finished 268, so it was very close indeed. But I'm still happy with winning the doubles and the all events, and coming 2nd is never bad
As two up and coming England players, this has certainly got you noticed and more to come when the TV shows air online. What is next for you both?
Glen – I have Generation Doubles next weekend, English Open two weeks later and that's all planned for the moment. I'd like to play an EBT or two next year but it's just getting the finances together.
Sam – Upcoming tournaments for me is just the english open I think!
So finally after all is done, Would you recommend the QubicaAMF Bowling Promotion Cup to others out there in Europe and the World?*
Sam – For me it was a great tournament. In the beginning I felt a bit strange about it because I wasn't really sure what was going on. Then after the baker team tv event was finished and we started qualifying, I really got into focus and knew what I had to do and I got into the swing of it. Even though the days were really long and we didn't get as much sleep as we wanted, when you actually start bowling and know you're going to be on TV our adrenaline kicked in and woke us all up.
It basically gave me an idea of what it's like to travel and constantly bowl, as we had to travel to 3 different cities in 6 days which was very tiring and be able to bowl well. On top of all the bowling, I met some amazing people and everyone was so lovely to us. I definitely recommend this tournament to bowlers who want some exposure and experience being under the spotlight.
Glen – It's a fantastic tournament. As I say, there is a bit of waiting around when the time came to record the TV shows and play finals, but all in all, it's a great experience and worth all the travelling and stress it took to get there. Bruno Bidone and his team were so welcoming and hospitable, they couldn't do enough for us during the week. If you're looking for an opportunity to promote not only yourself, but the sport of bowling, and potentially win some good prize money, then it's a definite recommendation. It's a gamble with such a high entry fee of €500, but it's 100% prize fund, 18 games qualifying, 2 TV shows guaranteed and not a single player leaves with nothing. Everyone was guaranteed at least €100 minimum. You bowled on tv, you got paid.
I'd probably say if it was on a larger scale, which I believe Bruno was considering, then maybe worldwide players could consider. But at the moment id say it's a perfect little European event. We'd like to see more international players from other continents, but nowadays everybody is looking at making a profit and depending how far you travel, sometimes it's not possible even with a win.