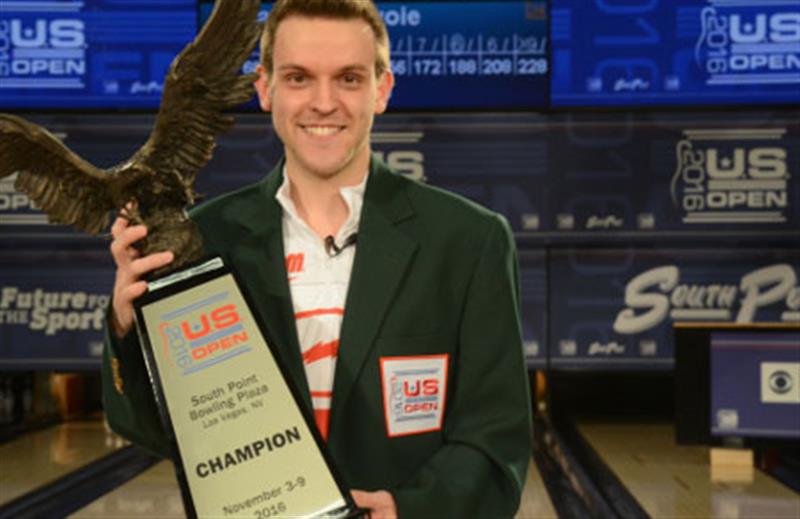 Stepladder Finals | Final Results
LAS VEGAS – Canada's Francois Lavoie put together a historic performance on his way to winning the 2016 U.S. Open at the South Point Bowling Plaza on Wednesday.
The 23-year-old right-hander defeated top seed Marshall Kent of Yakima, Washington, 228-194, in the title match to capture his first career Professional Bowlers Association Tour title and become the second foreign-born player to win the U.S. Open. Finland's Mika Koivuniemi won the 2001 U.S. Open.
Lavoie earned $30,000 and the coveted green jacket for the win, while Kent took home $15,000 for the runner-up finish.
Lavoie also became the first bowler in U.S. Open history to roll a perfect game during the tournament's stepladder finals, defeating Shawn Maldonado of Houston, 300-211, in the semifinal match.
Prior to Lavoie's performance Wednesday, there had been 25 previous televised perfect games during PBA competition.
The 2016 U.S. Open was broadcast live on CBS Sports Network.
In the championship match, Lavoie continued his pace from the semifinals, starting with five consecutive strikes to build a sizeable lead over Kent, who left back-to-back splits on the left lane in the third and fifth frames.
Lavoie lost the pocket during the seventh, eighth and ninth frames, but converted three multiple-pin combinations, including a 3-4-6-10 split in the eighth frame, to remain clean and stay ahead of a charging Kent, who rallied with three consecutive strikes through the eighth frame.
Kent's run came to a halt with a 10 pin in the ninth frame, and Lavoie struck on the first shot of his final frame to secure the win.
"This is something I've dreamed of for a long time," said Lavoie, the No. 2 seed for Wednesday's championship round. "I've made a lot of commitments and life choices for something like this. To see it happen is amazing."
Lavoie played the lanes farther to the right than both Kent and Maldonado, and he was able to find a ball reaction that gave him a wider path to the pocket on the 42-foot oil pattern.
"Looking at the lane graph, it was definitely tricky, but there was some shape to the right," Lavoie said. "When a pattern as hard as this gives you some kind of shape, you need to take advantage of it, so that's where I tried to play until something developed. There was some friction built into the pattern, so I was able to miss right a little bit and get it to hook early, and we had urethane going down the lane to the left, which gave me some hold. It really was the best of both worlds."
Kent, who also was looking for his first major victory and third PBA Tour title, earned the top seed after averaging more than 229 during the 56-game event.
"I felt I did everything I could," said Kent, a five-time Team USA member. "The 7-10 hurt, and if that didn't happen, I probably don't make a move and leave the 2-8-10 in the fifth. I reset after the break and threw four really good shots, and the one I needed didn't carry. Overall, I felt I bowled well but just didn't give the lanes what they wanted. Francois bowled great all week, and I'm happy to see him win."
Lavoie nearly made a ball change during his 300 game to make sure he was ready for the championship match but elected not to do so after talking to one of his ball representatives. He received a $10,000 bonus from Pepsi for the perfect game.
"I actually talked to Tim (Mack) after the eighth frame, because I knew I already had won and wanted to try something else," said Lavoie, who also rolled a perfect game during qualifying. "I still had one more game to go, so I was thinking ahead to that. Tim asked me why I wouldn't want to go for the bonus, which I didn't know about it, so I decided to go for it and see what happened."
Maldonado, the No. 4 seed, won his first two matches, defeating No. 3 Anthony Simonsen of Austin, Texas, 238-217, and No. 5 John Szczerbinski of North Tonawanda, New York, 190-188.
All competitors at the 2016 U.S. Open bowled 24 qualifying games over three days, before the field was cut to the top 57 for eight additional games. The 32-game pinfall totals determined the 24 players for round-robin match play. The top five, determined by total pinfall and bonus pins for 56 games, advanced to the stepladder finals.
Each round of the 2016 U.S. Open leading up to the stepladder finals was broadcast live on Xtra Frame, the exclusive online bowling channel for the Professional Bowlers Association.
The 2016 U.S. Open featured a prize fund of $214,000, which included $100,000 in added money.