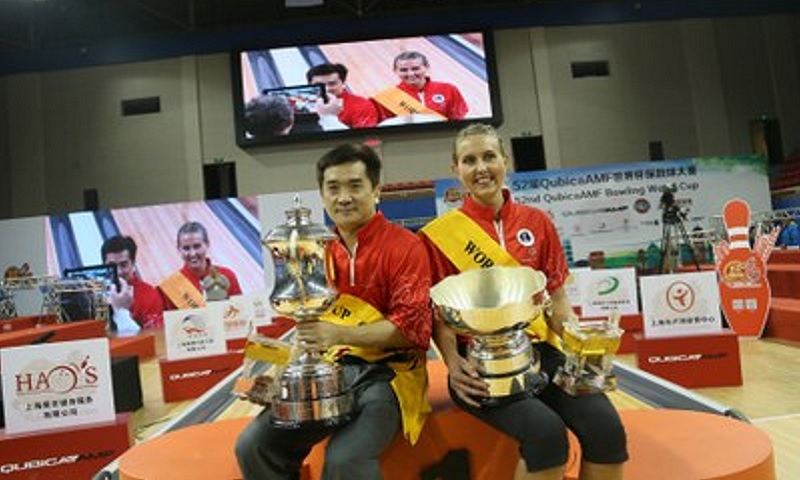 Simply the Best
The finals were held in one of the most impressive arenas ever to stage the QubicaAMF Bowling World Cup. We hope to immerse you in to the moment we experienced, watching the making of champions of the 52nd QubicaAMF Bowling World Cup.
The finals were held in one of the most impressive arenas ever to stage the QubicaAMF Bowling World Cup. Completed in a three-day installation, QubicaAMF was able to accomplish something incredible by having brand new lanes, pinspotters, furniture, ball returns and scoring system all set up prior to the start of the finals.  Two specially installed lanes in a huge hall with 1000 paying spectators and two large screen TVs. Truly awesome.
The women's semi finals started off with Singapore against Sweden in the shape of Bernice Lim, our long time leader, and Jenny Wegner who qualified in fourth. The lead swung back and forth, and with one frame to go it was advantage Sweden, although either girl could have won. Jenny made no mistake, and ran out the winner 224-207.
On came Danielle McEwan of the USA and Syaidatul Afifah of Malaysia. No open frames, and strikes a-plenty for both girls, but Danielle strung six together and won 248-236.
On to the final. Danielle got an early lead when Jenny missed a baby split, but Jenny then strung the strikes together and won by 231 to 204. The Swedish women must like China: the last time a Swedish woman won was 25 years ago, 1991, in Beijing, with Asa Larsen.
Only once in Bowling World Cup history has the same nation won both the men's and women's titles. Could it happen again?
Sweden's Martin Larsen played Chris Sloan , who himself was aiming to become the first Irish man to win the title. It was a low scoring semi final but Chris won by 188 to 165.
The second semi-final pitted Anze Grabrijan of Slovenia against China's Wang Hongbo, which did mean that a new country name would be engraved on the trophy as neither of these countries had won it before.
Wang got off to a wonderful start and Anze simply never caught up, and closed frames from Wang were enough to give him the game 234 – 200.
The final pitted Ireland against China. Wang was covering his face with a fan, unable to watch at one point. Splits abounded but with two frames to go, Wang only needed spares to win. He struck in the ninth and it was all over hitting 225 to take the title to Chris's 180.
This is only the second time that the host nation has won the championship, the last being way back in 1981 when Bob Worrall won for the USA in New York.
So after six days of hectic bowling we welcome Jenny Wegner and Wang Hongbo to the list of winners of the QubicaAMF Bowling World Cup.
We'll see you next year!