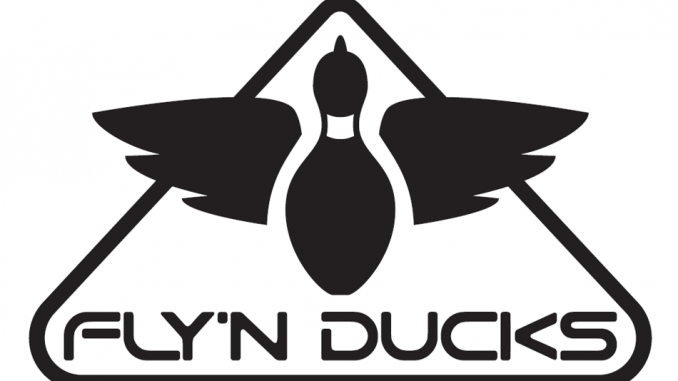 June 29, 2021 (Mechanicsville, VA) – QubicaAMF Worldwide (QubicaAMF), the largest bowling products company in the world, is excited to announce the launch of its new duckpin attraction, Fly'n Ducks. The product will officially launch and be shown in the QubicaAMF booth #472 at the Nightclub & Bar show being held in Las Vegas on June 29 – 30, 2021.
Duckpin is a fun and exciting bowling game traditionally played on a standard tenpin bowling lane using a small bowling ball and unique bowling pins, called duckpins. Dating back to one of its predecessor companies, Mendes Bowling, QubicaAMF has been providing duckpin bowling equipment for over 30 years.  Drawing upon this experience the company has reimagined the duckpin bowling format to better meet the needs of today's consumers and operators with Fly'n Ducks.
Fly'n Ducks utilizes the power of the BES X Bowler Entertainment System, Conqueror X center management system and the revolutionary EDGE String pinspotter to deliver the best duckpin experience and more variety and entertainment for consumers. Fly'n Ducks is the only duckpin product available that offers "pay-at-the-lane" gamecard swipe capability, for stand-alone operation that is aligned with the way many entertainment businesses operate. Additionally, it can be operated from a traditional front desk system.
Fly'n Ducks is available in four lane lengths and can be purchased with or without the traditional bowler approach platform. Investors can choose the right size for the playing challenge they want to offer and the space they have available. The system can also be upgraded to add DuraBowl automatic bumpers, CenterPunch capping lighting along the lanes and BES X Experiences allowing consumers to choose how they want to play.
"We developed Fly'n Ducks to deliver a better duckpin experience. It's now easier and more fun than ever for consumers to enjoy duckpin bowling and for new investors to include duckpin bowling in their projects," says Neil Pennington, Director, Performance Equipment for QubicaAMF. "In addition to the classic three-ball duckpin game, players can choose from an endless variety of fun and skill games available with BES X. And, utilizing the EDGE String pinspotting technology ensures the best reliability at the lowest operating cost possible."
More information can be found on the company's website at qubicaamf.com.
About QubicaAMF Worldwide
QubicaAMF is the largest and most innovative bowling equipment provider in the world with 600 employees worldwide. We build and modernize more bowling entertainment centers than any other company in the industry and have an installed base of more than 13,000 centers in 90 countries. The company has a sales and distribution network with worldwide reach and maintains the largest R&D team for electro-mechanical products, software, electronics and entertainment systems in the industry.
QubicaAMF has over 100 years of experience and can provide the perfect combination of bowling equipment, products and services for new or existing bowling entertainment centers, FECs, Cinemas or any other facility in the hospitality, retail or restaurant industry. Our ongoing mission is Making Bowling Amazing. We are convinced that bowling has so much more potential to attract and entertain even more people. With our products, we will help our customers fully unleash that potential.
The company has U.S. headquarters in Richmond, Virginia and European headquarters in Bologna, Italy. To learn move visit www.qubicaamf.com.