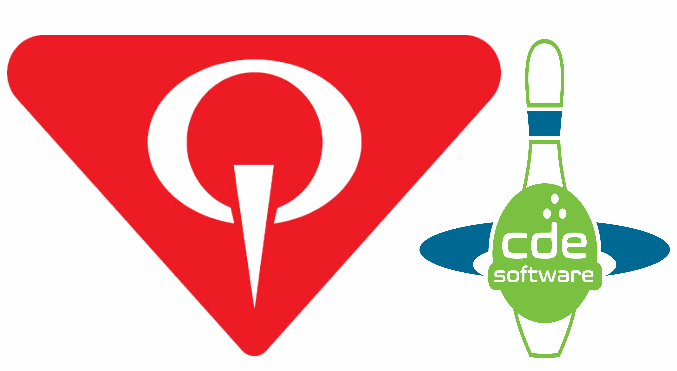 QubicaAMF, together with CDE Software, are eager to bring the company's
innovative power to help grow the industry and competitive bowling.
November 29, 2016 (Mechanicsville, VA) – QubicaAMF Worldwide (QubicaAMF), the world's leader and largest manufacturer of bowling and mini bowling products is pleased to announce that the company has finalized a transaction to acquire full ownership of CDE Software (CDE). CDE was founded by Patrick Lajko, an industry veteran and visionary, and is known worldwide for BLS (Bowling League Secretary), the industry standard in League Software. Over the last four decades CDE, developing and marketing leading applications such as BLS, BTM and T-Brac, has become the undisputed industry leader in competitive bowling software.
QubicaAMF and CDE strongly believe in the future of competitive bowling and are poised to work together for proprietors and the millions of league and tournament bowlers around the world by focusing on product innovation to protect and grow the sport.
"We are extremely excited to welcome Lance Rasmussen, Vice President of Operations for CDE, to the QubicaAMF Family," says Emanuele Govoni, CEO of QubicaAMF. "We have a long running relationship with CDE, going back more than two decades since we first integrated our scoring system with BLS in the mid 90's. Over the last year we have been working closely with Lance to finalize the transaction with Patrick Lajko's family and acquire CDE from their family trust. We are extremely excited about the opportunity this presents to competitive bowling and the industry as a whole."
"QubicaAMF is the product leader in entertainment bowling, now with Lance and the CDE Software team, we will bring that same innovative power to league and tournament bowling," continues Govoni. "There are over 700 centers and 12,000 lanes worldwide running on BES X, and we are averaging bringing a new BES X center online every 46 hours. BES X has redefined the customer experience in so many ways. With over 120 million games bowled on BES X all over the world, the opportunity to reach and expand the competitive and league bowling segments is sizable which is really exciting to see."
CDE will continue to operate out of its Seattle facility with its current employees. Lance has been promoted to President of CDE and is an equity partner with QubicaAMF as a co-owner of CDE. Lance will continue to lead CDE going forward as he does today. Customers can expect business as usual in terms of support and continuity of service. CDE Software will remain the industry standard and continue to support all scoring manufacturers, bowling centers and consumers as it does today.
"I am excited not only to join the QubicaAMF team, but what this investment means to bowling. We will continue to serve and support the CDE legacy and our customer base just as we have for years, but now backed by the power of QubicaAMF," says Lance Rasmussen, President of CDE. "This positions our companies for a very bright future. Together we will focus on league bowling and tournaments, to drive and grow these segments, by addressing the un-met needs of centers and bowlers. CDE's mission will continue to be sport bowling and our commitment and excitement to growing the game after this transaction has increased significantly."
"In working with Lance over many years we have developed a strong relationship and built a lot of trust. We understand each other's commitment to the sport—to protecting, preserving and growing league and tournament bowling," states Pat Ciniello, Chairman of the Board of QubicaAMF. "As both a bowler and a proprietor I am enthusiastic about the future of competitive bowling. Over the years, QubicaAMF has continued to invest in the industry from organizing and hosting the Bowling World Cup for 52 consecutive years, to sponsoring the PBA Regional Tour and tournaments across the world. Today's announcement continues that commitment and is something that I personally am not only very excited about, but also proud of."
QubicaAMF is the organizer of the QubicaAMF Bowling World Cup, the largest annual sporting event in terms of the number of participating countries. This annual event promotes bowling on a global level. Last month the company hosted the 52nd Bowling World Cup in Hao's Bowling Center located in Shanghai, China, and will take the 53rd Bowling World Cup to Hermosillo, Mexico in November 2017.
QubicaAMF is a proud sponsor of the USA's Professional Bowlers Association Regional Tour which includes 150 tournaments conducted in PBA's seven domestic regions (East, South, Central, Midwest, Southwest, West and Northwest) aimed to enhance the professional and competitive experience for high caliber bowlers.
About QubicaAMF Worldwide
QubicaAMF Worldwide is the world's largest and leading manufacturer of bowling and mini bowling products. With U.S. headquarters near Richmond, Virginia and European headquarters in Bologna, Italy, the company offers a complete line of high-quality, innovative solutions for new and existing bowling and entertainment centers.
QubicaAMF has over 75 years of experience, an installed base of more than 10,000 centers worldwide and can provide the perfect combination of bowling equipment, products and services to build a bowling entertainment center, an FEC or entertainment facility to suit any budget. The company has sales offices in 10 countries, a distributor network with worldwide reach and maintains the largest R&D team for electro-mechanical products, software, electronics and entertainment systems in the industry.
Additional information about QubicaAMF is available at www.qubicaamf.com.
About CDE Software
CDE is the undisputed industry leader in competitive bowling software and the developer of BLS.
CDE Software formed in the early 80's in Los Angeles, initially developing a checkbook financial program that was a forerunner to Quicken. In 1989, founders Patrick Lajko and Ray Yokoyama saw a niche, taking Patrick's love of bowling during his youth and expertise in computer software, to develop the BLS Bowling League Software. CDE Software moved its offices to Seattle shortly after launching BLS, where it remains.
Over the years, CDE's Bowling League Secretary (BLS) has evolved into the premier league management tool. In 1994, CDE began integrating with electronic scoring manufacturers, of which QubicaAMF was one of the earliest partners. Other areas of expansion have been tournament and bracket software along with kiosk software and bowling clipart.
Additional information about CDE Software is available at www.cdesoftware.com