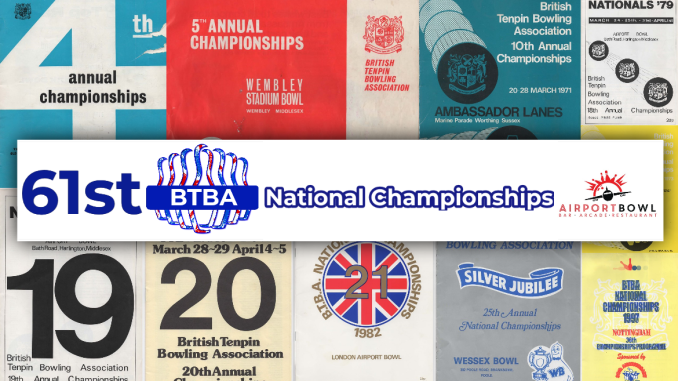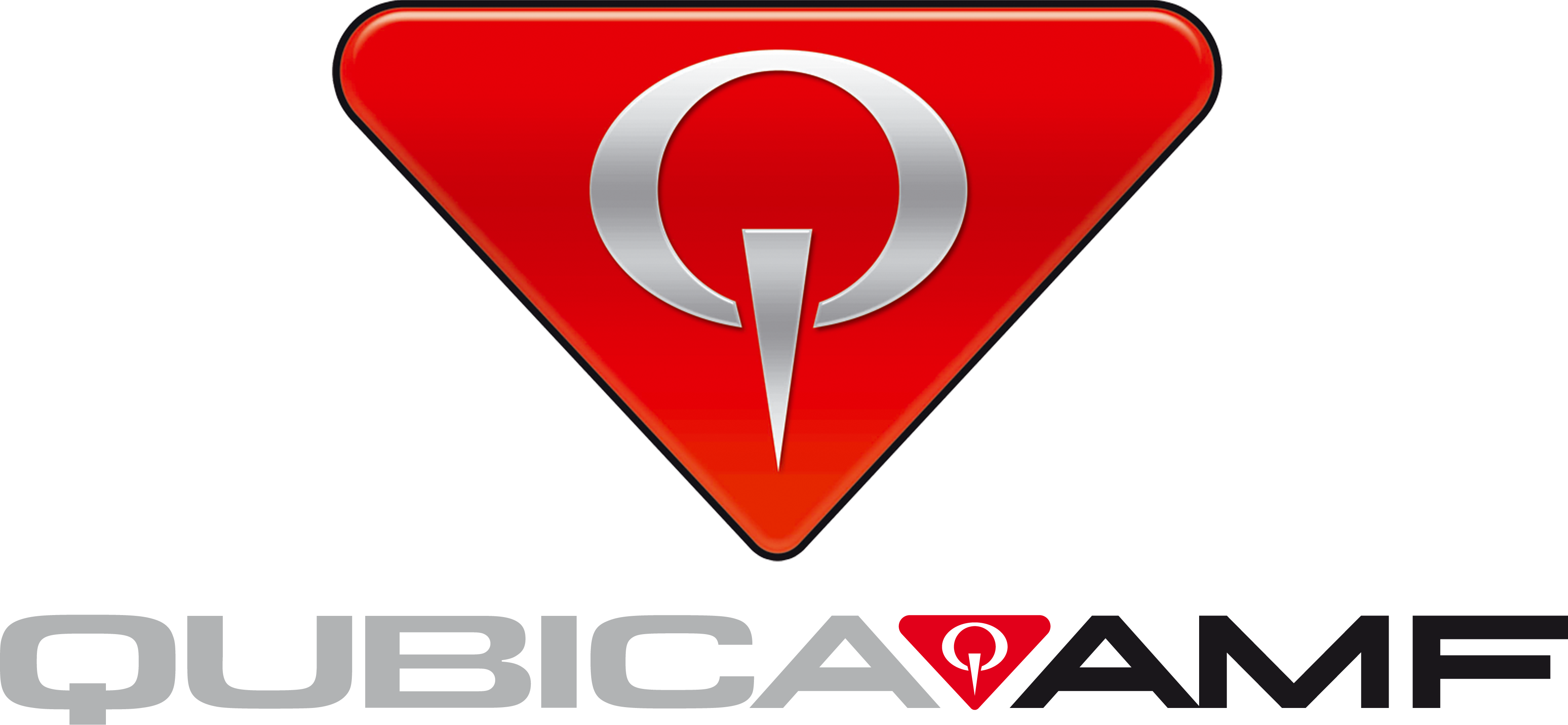 The 2023 BTBA National Championships, sponsored by QubicaAMF,  takes place at Airport Bowl, Harlington on 17/18/24 & 25 June 2023.
You can read more about the Nationals through The BTBA Events portal here..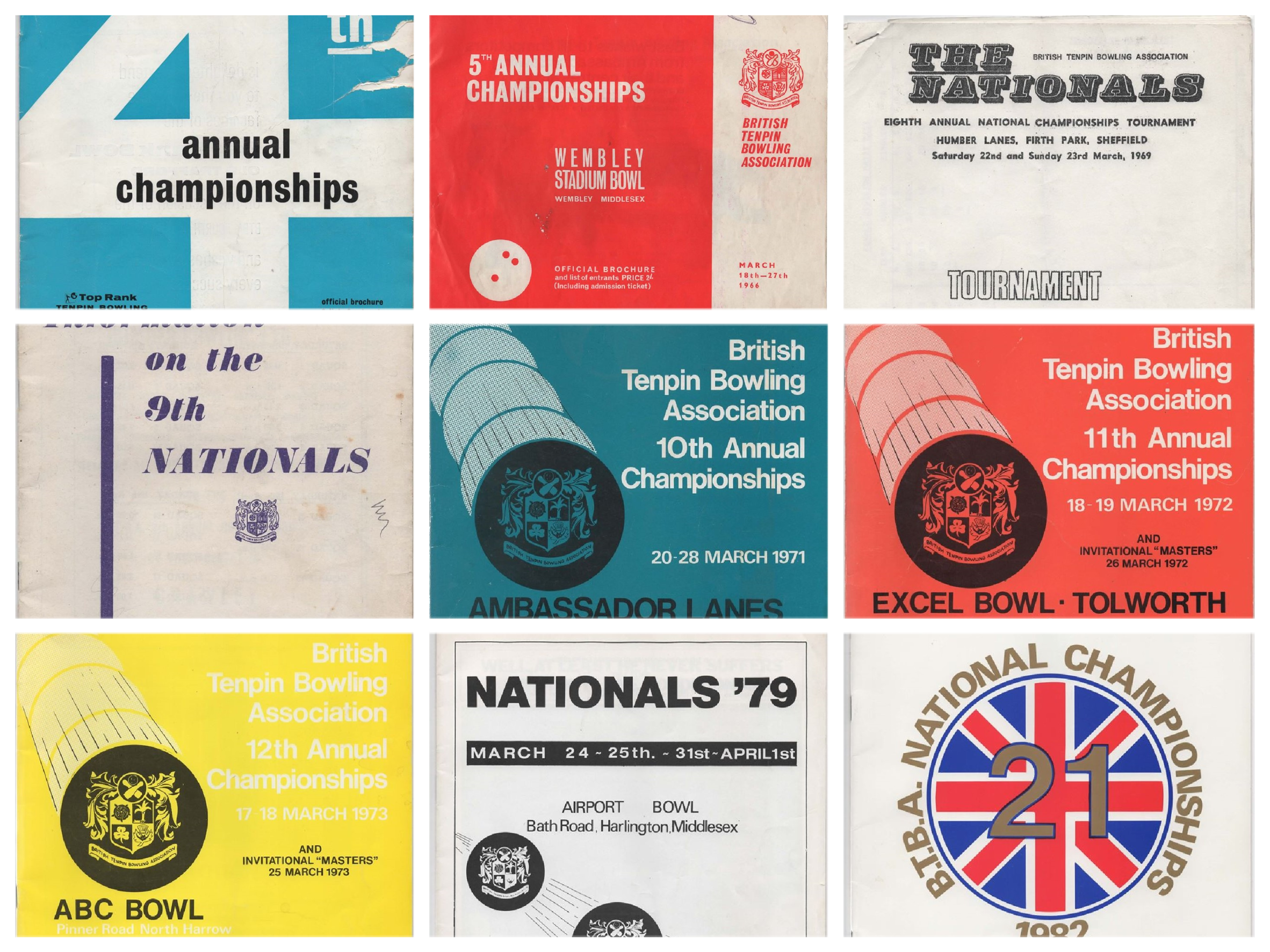 Reports
Sixty years of champions in the UK's longest running event and in one of the longest running centres. Sixty years on freefall machines and the first one on String will make it an interesting event. It's the same sixty foot of slide and glide after all but different pinaction at the end of the lane.
Thanks to QubicaAMF there is more money in the pot this year and as always, whoever wins or places will have earned, their names in history and in the Hall of Fame records.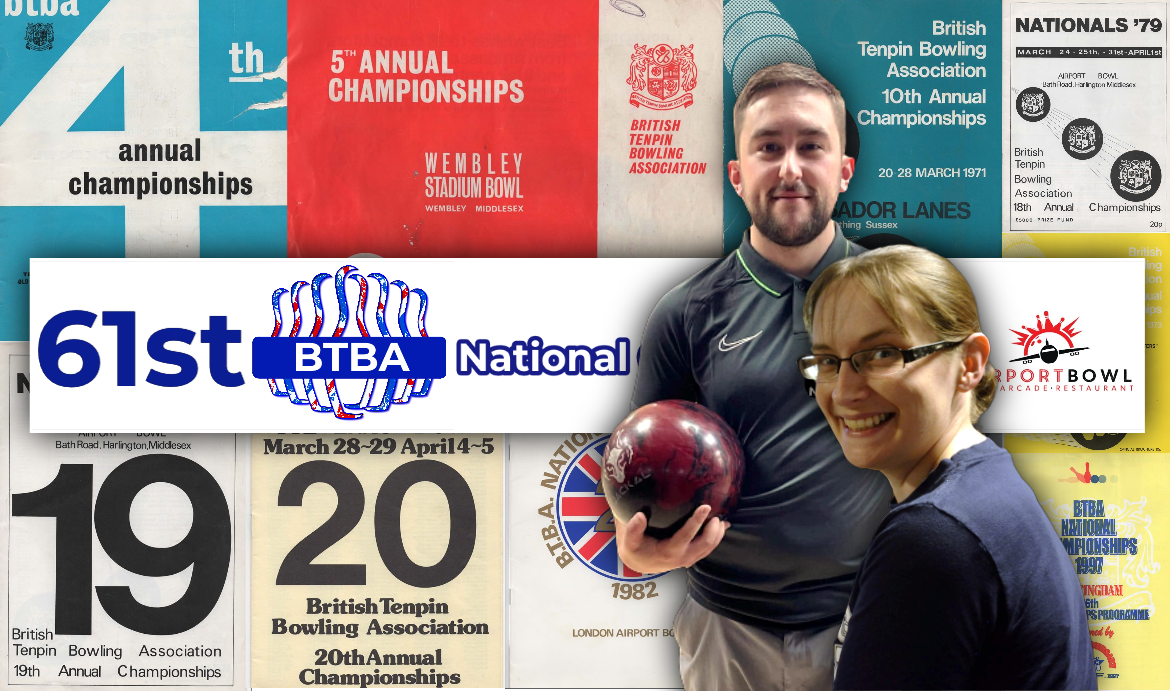 Weekend 1
Pete Stevenson is the first weekend leader in the singles A division after games of 268,269 and 235 for 772 with BTBA Chairman leading the ladies division with 727 after games of 217,245 and 265.
Doubles sees Ben Robinson join the singles leader Stevenson with 1472 to lead. The pair rolling games of 477,491 and 504. Sian Craven and Keir Reay leading the ladies with 1258.
Mint Sports wear lead the men's A team event with 2782 (Adam Cairns, Ben Robinson, Peter Stevenson, Hadley Morgan). Pete rolling a perfect game and 784. Golden Girls lead the ladies A team with 2601 (Jo Cundy, Kimberley Oakley, Rhian Dobinson, Lisa Blann. Lisa with a 277 and 737.
All events sees Pete Stevenson leading with 2260 and Lisa Blann leading the ladies with 2117.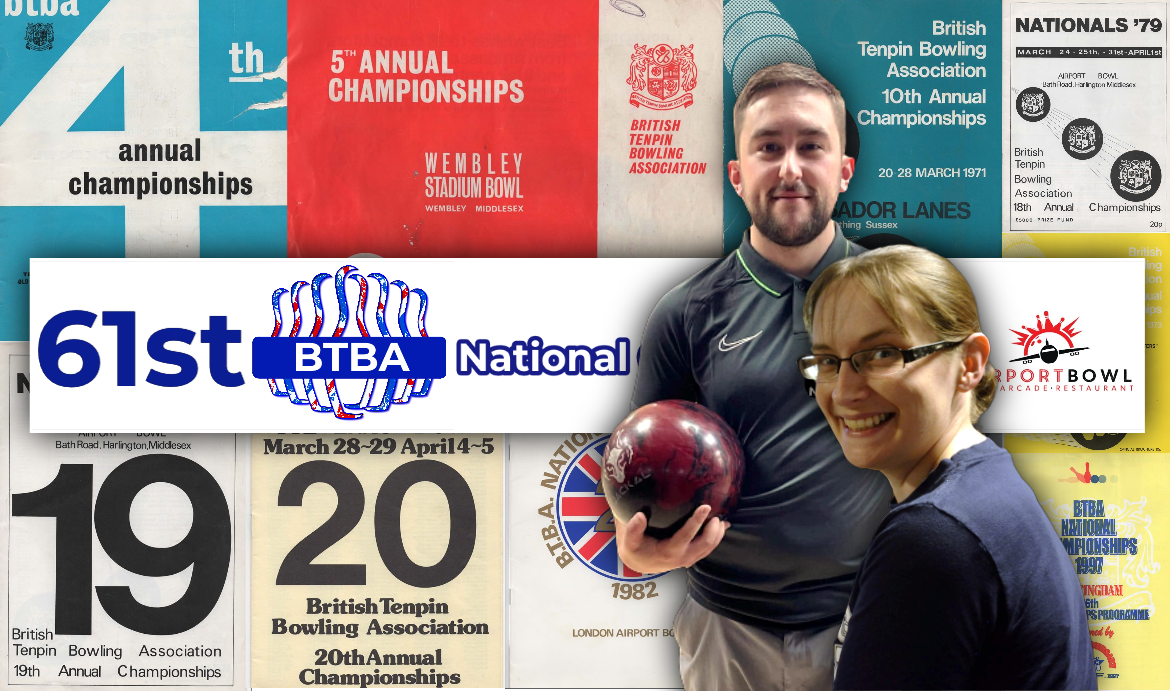 Weekend 2

Pete Stevenson held on to claim the singles title with 772, Adam Purnell in second with 748 and Tom Gardiner third with 741. Division 2 winner was Graham Whitten with 745, Division 3 winner Alex Pace with 626, Division 4 winner Jessica Sillis with 729 and Division 5 winner Gemma Tsappis with 651.
Doubles complete and Ben Robinson with Pete Stevenson took the division 1 win with 1472 as Adam Cairns and Hadley Morgan were second and Lee Cocker with Dom Barrett in third. Nicky Donowski and Phil Manning took the division 2 title. Jason Trulocke and Mark Fiddes claimed the division 3 win, Hannah Ailes and Hayley Russell won in Division 4 and Maddie Scott with Katie Jowsey took division 5.
No one could catch Mint Sportswear after weekend two and their 2782 just keeping out second placed Strikezone Proshop with 2732 and the Hairy Strikers with 2724. Division 2 saw Pork's Kettering winning with Living on a Spare in second and Falcons BC in third. Division 3 had RAF Green on top with Turkey Hunters in second and Bomb Squad in third.
Division 4 saw the Golden Girls hold on to win ahead of 3 Blondes and a Brunet in second and Yorkshire Ladies X in third. Division 5 had the only team entered as the winners and they were Yorkshire Ladies Z.
All events and no change at the end in the Men's Division 1 and Pete Stevenson winning with 2260. Second was James Denvil with 2144 and third was Leon Devlin with 2124. Division 2 had Graham Whitten on top with 2021, Division 3 winner was Alex Pace with 1779. Division 4 champ was Lisa Blann with 2117 and Divison 5 winner was Gemma Tsappis with 1815.
---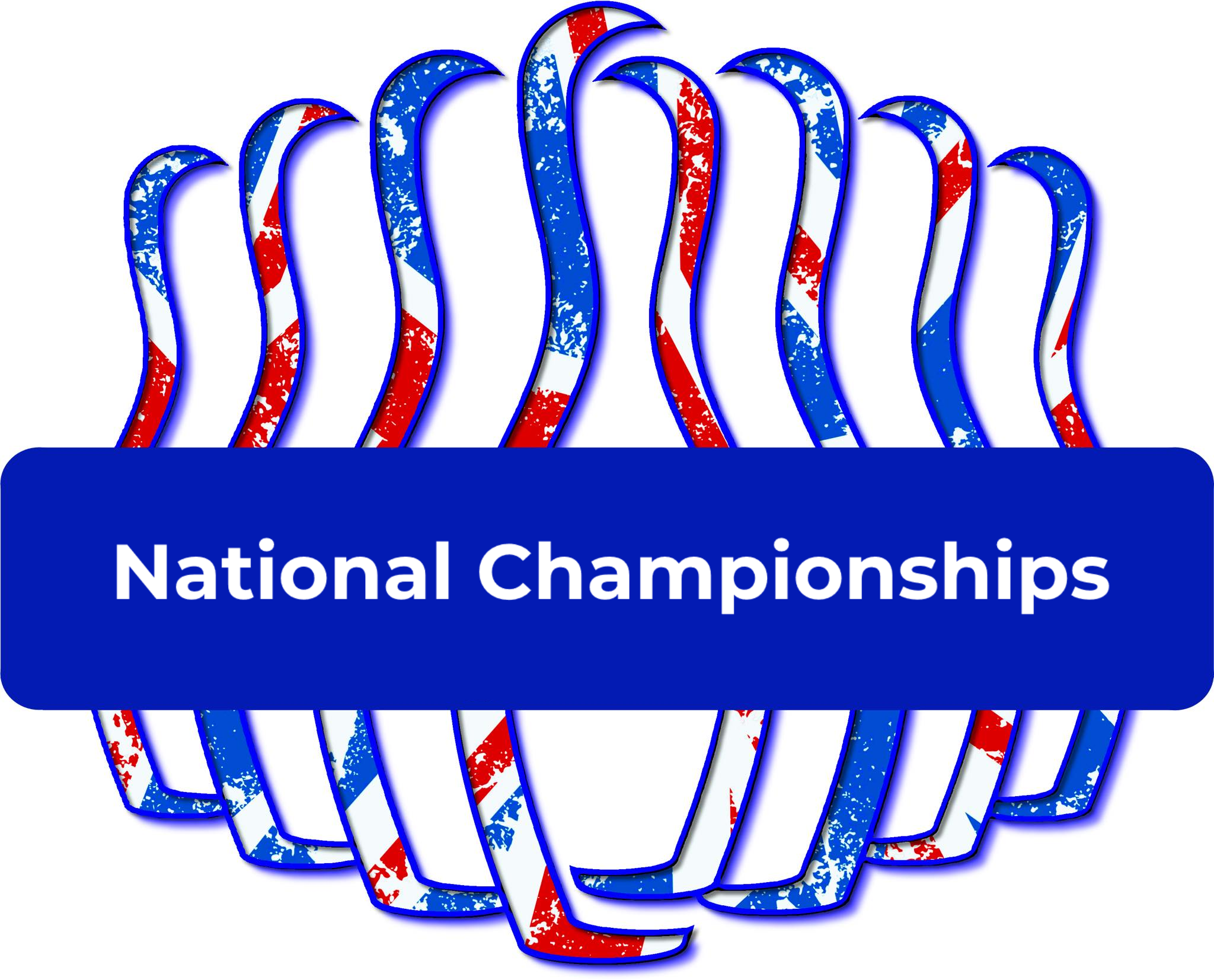 Results
Complete final ratified scores
61st-nationals-Proposed-Pay-out
---