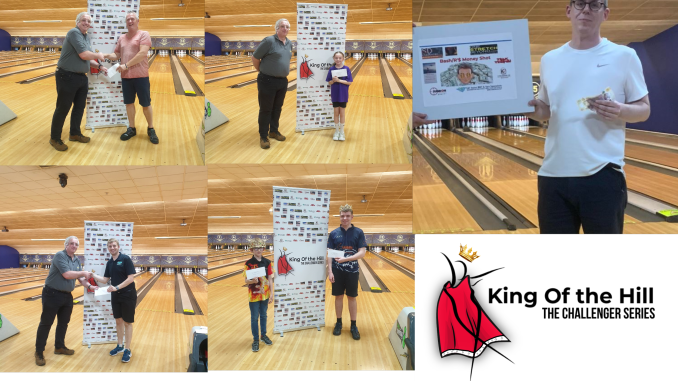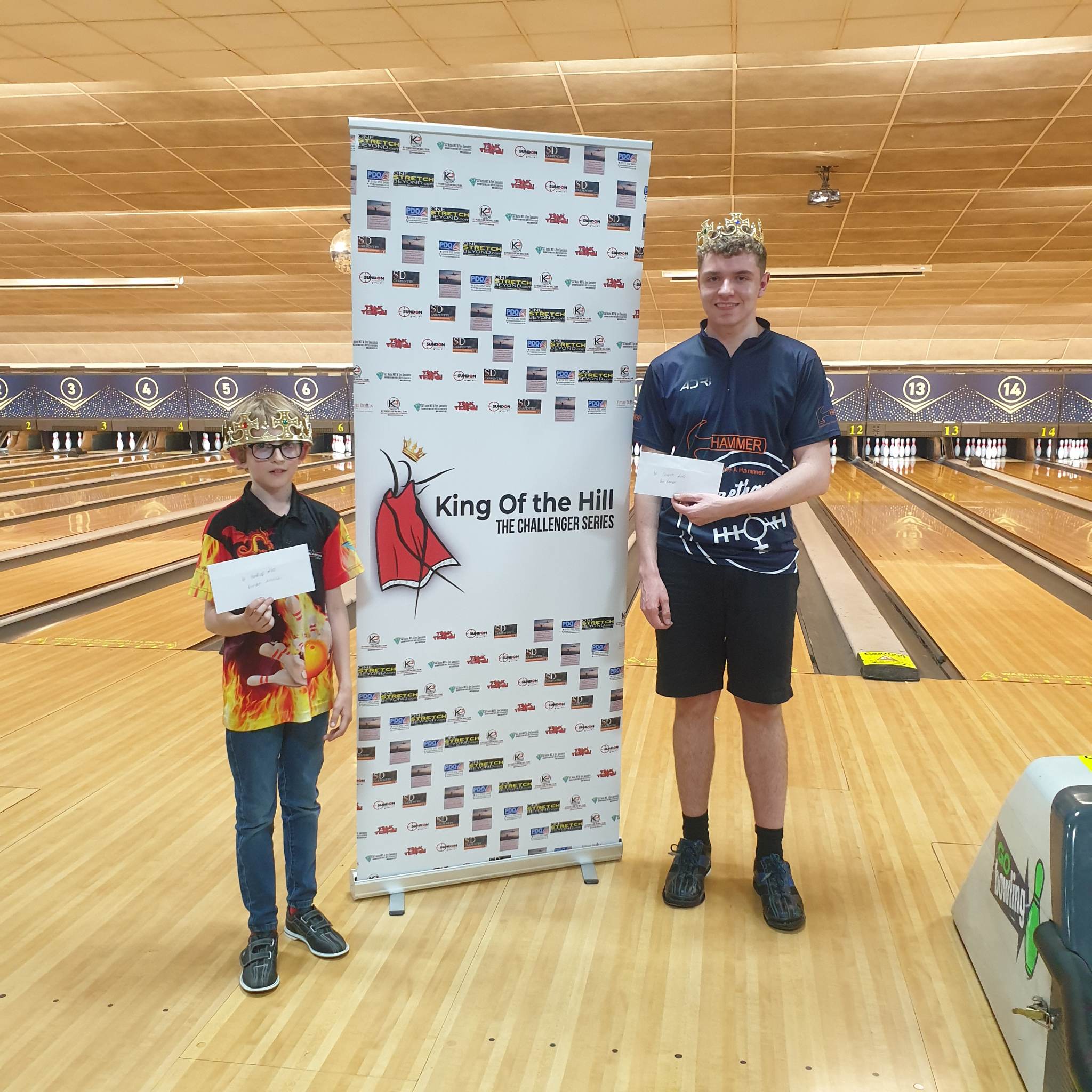 June's King of the hill – the 2nd event out of 5 in the summer series. This year's theme is Landmarks.
The first event was played on Big Ben and the pattern chosen for this event was Chichen Itza. Chichen Itza is a funny looking pyramid in Mexico where they sacrificed small children and ate fajita's and had a good wrestle (probably).
This pattern was considerably harder than BIG BEN and factor in the hottest day of the year so far meant that it was a grind out there – physically and mentally.
A bit about these events – The idea is a friendly tournament that will give the bowlers a chance to bowl in a local event on a Kegel "Landmark" pattern.
I want to give bowlers a chance to bridge the gap between league/house pattern bowling and an elite "Sports Tournament".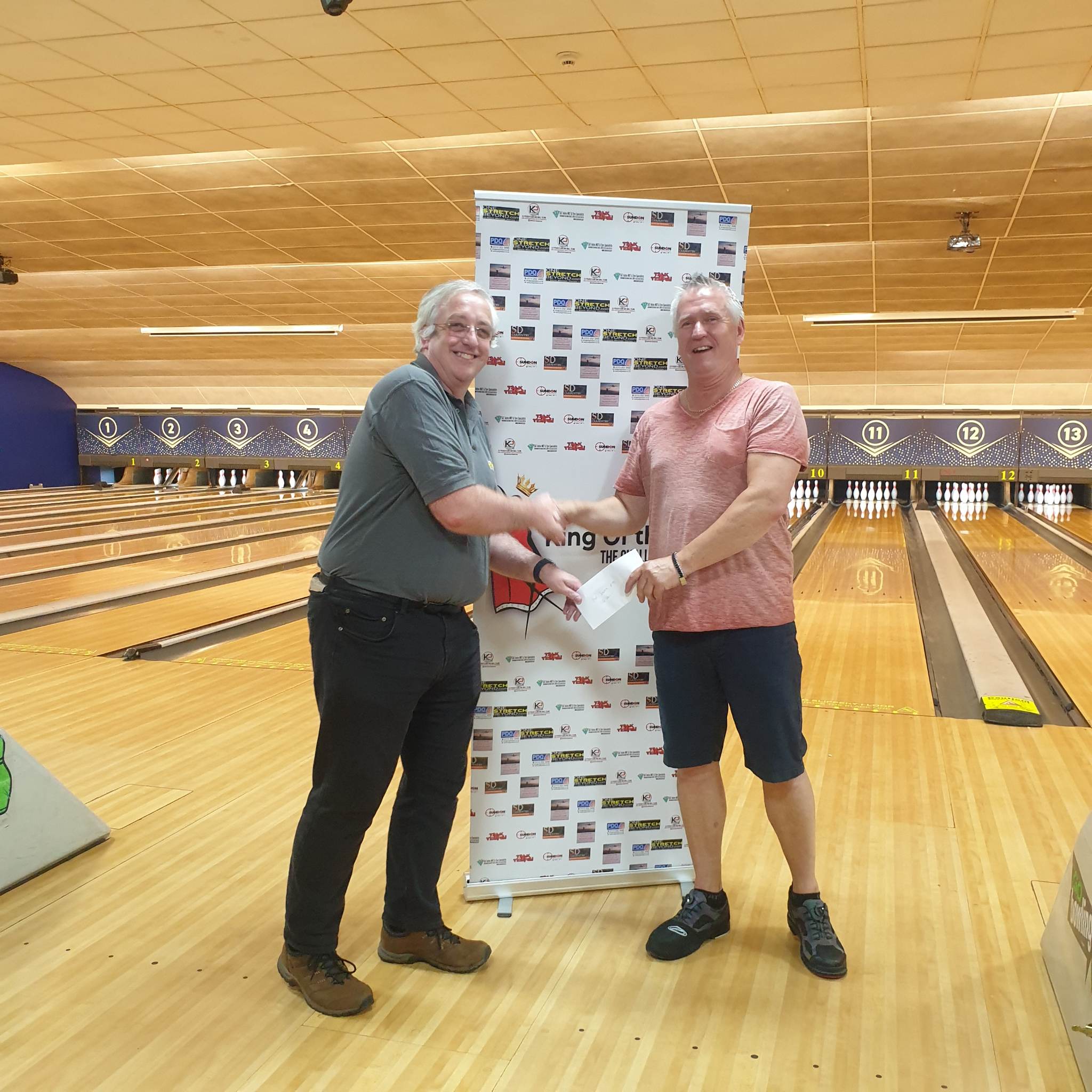 Thanks to our sponsors we are able to keep the price down so it will give you space to learn and grow as a Tournament bowler. I want bowlers to learn and test themselves but at the same time not feel too pressured by the bowling environment – And I hope this series of events will enable you to do that.
Another tournament were I was over subscribed, so changed the format to trios pace and we played 5 games qualifying instead of the 6.
And the field boasted a PBA tour winner ! – Richie Teece – an actual professional bowler !
The top 3 scores Scratch were
Cliff Dew 1111 – a 222 average (old grizzly lefty)
Richard Teece 1109 a 221 average (PRO)
Ben Robinson 1041 a 208 average (lefty purple Hamster abuser)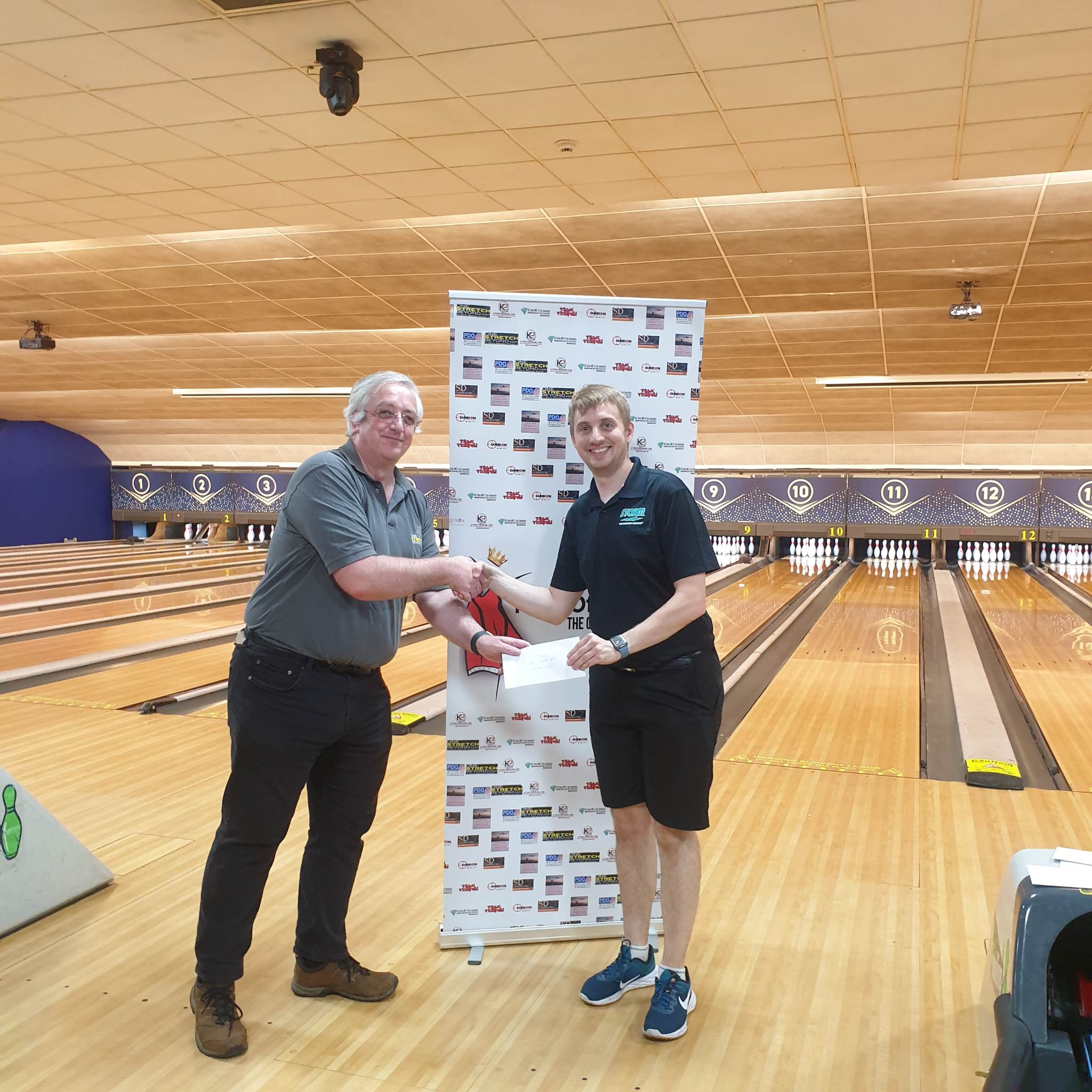 Thanks to the tournament manager securing some sponsorship for the event it meant we had some extra prize money.
We had £10 high game for each of the high game
Game 1 – Cliff Dew 259
Game 2 – Richard Teece 256
Game 3 – Alex Pace 226
Game 4 – Big Purple Ben Robinson 279
Game 5 – Cliff Dew 253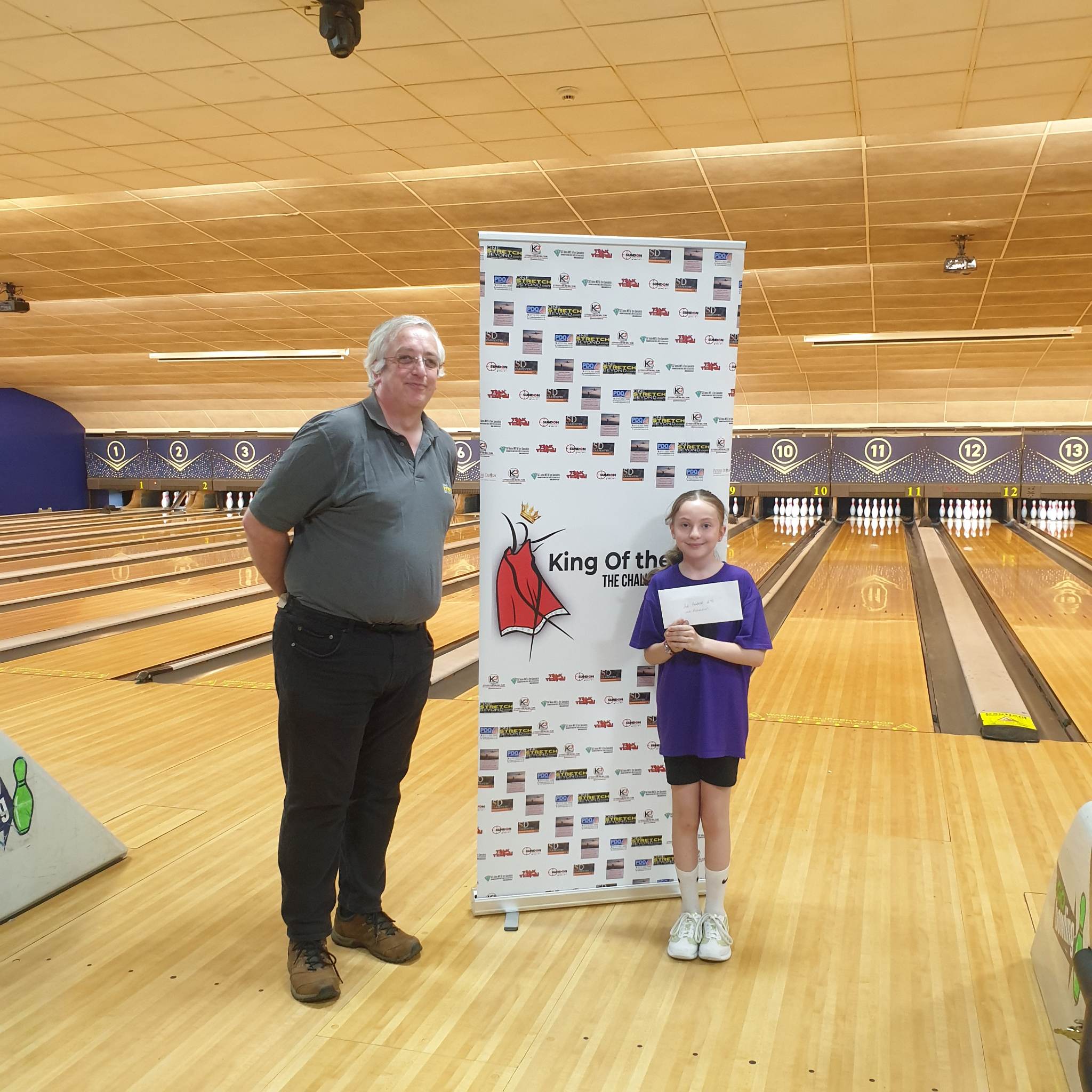 The top 3 in handicap section were
Ava Richardson – 1118 (Two Hander – 10 years old)
Brandon Antoniou 1114 (Two Hander – 10 Years old – and defending champion !
Lee Bradley 1091 (useless no hair, 40something)
So before we got into the finals we had the fun pot games… first up was 'Basher on the 1 and 2s' … a bowler Randomly drawn (using google random number generator) – they would have 1 ball to take the 10 pin clean out… which wins you a £10 – but then you can go "double and a bit more or nothing" and try for the 7 pin clean out to win a total of £30 – several people got drawn out.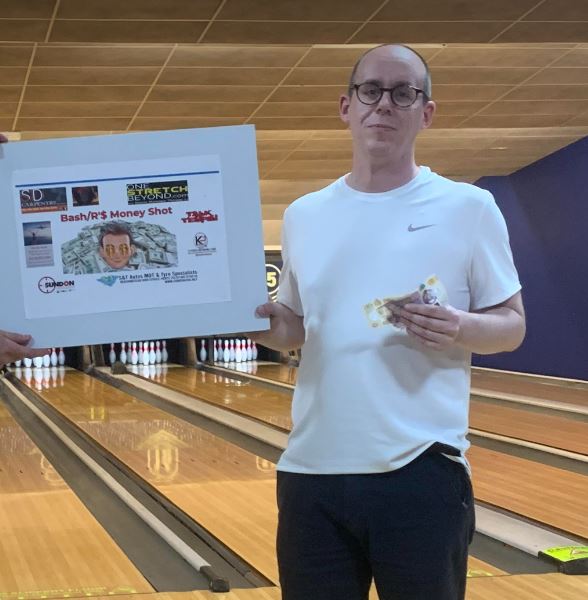 First up was Alex Pace – No good !. Brandon Antoniou had a go and took the 7pin clean out… I gave him a choice he could take a £10 or he could risk it and go for a 10 pin for £30 – smart cookie is Brandon, and he took the tenner ! Sukky Gill had a go and failed… so when it comes to the July event I will offer up £50 to whoever completes the 1s and 2s !
We also had the 'Basher Money shot'… again a bowler chosen at random would get one ball to get a strike and win themselves £30. Jo Green had a go… and failed. Lee Bradley then selected his own number – dubious !! but he stepped up and got a strike and won himself 30 notes !
Step ladder finals
Into Match 1
Handicap
Lee Bradley against the defending champion Brandon Antoniou. Bradders give away a lot in handicap, and then started open, open… not ideal. But he reeled Brandon back in but came up short 199 vs Brandon's 214
Scratch
Big Ben vs Richie Teece… Both started strong… but a split in frame 4 for Richie handed the initiative to Ben who was rattling in the strikes with his deep purple throbbing hammer. But a split in frame 6 gave Richie a sniff… but then Richie opened as well and Ben ran out an easy winner 267vs192
Title Matches
Handicap
So the handicap final was contested between two 10 year olds ! – both members of the Dunstable Dragons Junior Club. The game was literally even going into the 10th frame. Little Ava shot a 209 and Brandon stepped up shot a spare and 7 to win with a 217 and become our first ever back to back King of the Hill winner.
Scratch
Cliff just couldn't string any strikes together. He had a little chance mid game when Ben left a Split, but after Ben then carried on striking and Cliff just get going and Ben won the final 252-177
The next event is July 2nd… quick turn around ! – like the facebook group for these tournaments – https://www.facebook.com/groups/1123770395141402 and get all the tournament news first.
Thanks to all the bowlers – 42 ! brilliant support from the bowling community.
To Alison for doing the scores.
To Sukky and Bradders Jordan and Jo for helping out.
To Andy Penny for ensuring the pattern was all loaded into the machine
And of course to our brilliant sponsors.. whose support allows us to have some fun, and offer a decent prize fund.
Sponsors were
SD Carpentry Ltd – https://www.facebook.com/sdcarpentryltd
Travel with the Smiths – https://www.facebook.com/travelwiththesmiths
S&T Autos – http://sandtautos.net/
Sundon Model Shop – https://www.facebook.com/sundonmodelshop
KPeach Floor and Wall Tilling – https://www.facebook.com/kpeach.wallandfloortiling
One Stretch Beyond – https://onestretchbeyond.com/
The next event is on June 11th – entry will be open soon and the will be posted in the event group page https://www.facebook.com/groups/1123770395141402
We also streamed the event and you can find the video on my twitch channel https://www.twitch.tv/basherback2back
Results