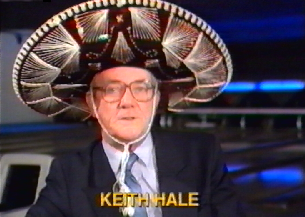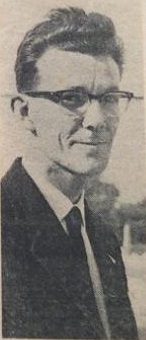 What we now know and love as the QubicaAMF Bowling World Cup was still under the moniker of International Masters when editions three and four proceeded to Paris in 1967 and turned its back on Europe to travel to Guadalajara, Mexico in 1968.
The host centre in the French capital was Bowling de Paris, a 12-lane centre beautifully situated in the Bois de Boulogne. This must have been the world's first elegant five-star bowling centre, boasting a fine restaurant which even had a small glass covered stream running through. All was under the control of a superb director, Michel Chollet, sadly, no longer with us, and neither is the centre. Bowling de Paris was soon on the bowling calendar with the fabled Paris Fives and an annual top-class singles event.
So the 1967 Masters attracted a field of 30 with the British representative being David Pond, the Harlow-based player who had just won two gold medals in the FIQ World Championships in Malmoe, Sweden, taking the doubles with Jes Morley and then going on to the clinch the Masters.   Normally, there was a qualifying round of tournaments to decide the British representative, but in recognition of his triumph in Sweden, David was given the ticket to Paris.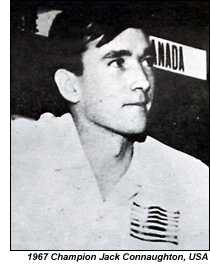 The players were set into three groups of ten with the top four in each group qualifying for the final. Despite rolling a 180 average, David finished seventh in his group and there fore ended his effort for a place in the final rounds.
The 1967 champion was once again an American, Jack Connaughton, this time gaining entry to the Masters through being the Collegiate champion, rather than the previous ABC Championships All Events champion, a kind of get lucky over nine games and win a place on the American team. Kaio Hayashi of Japan ran into second place and third went to Italy's Lino Bragieri. Many Parisians were ecstatic to see local hero Rene Ferrie place fourth, hopeful that he would have made the podium.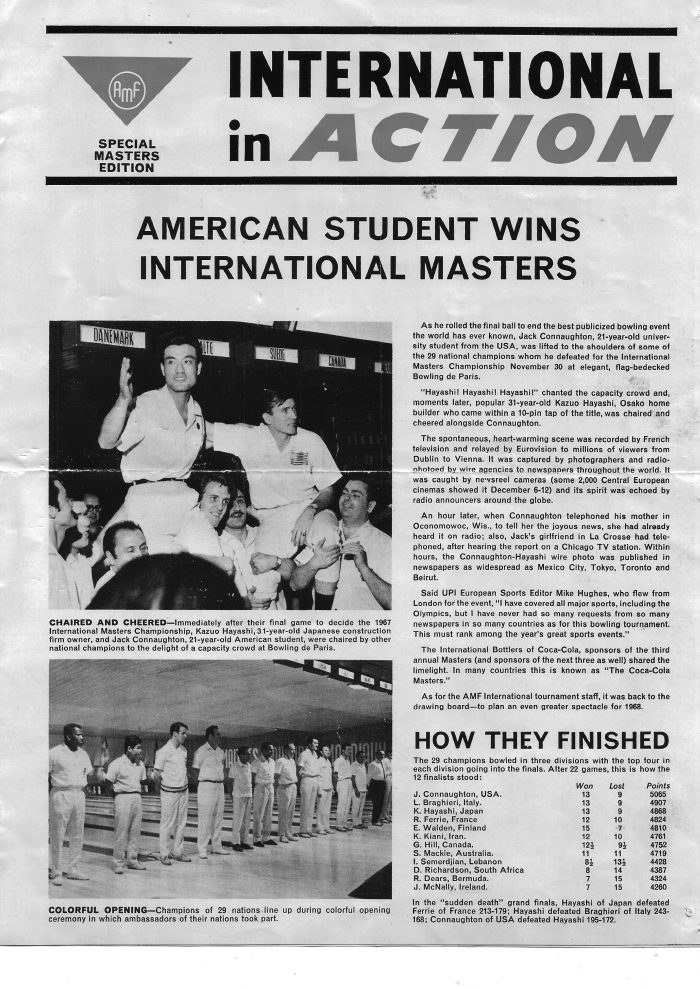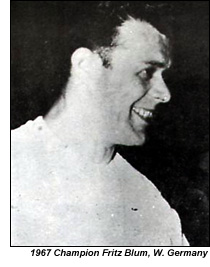 The field rose to 35 for the fourth event at El Bol Guadalajara in 1968 and the gallant Brit was Jon Reeves who, I think, came from the Poole area. He fared well through the qualifying rounds, taking fourth place for a while, but dropping to tenth over the final hurdles. I believe that later in life he also took up lawn bowls and reached county player status.
American hopes of a third consecutive victory rested on the broad shoulders of Collegiate champion Jerry Steele but the land of mariachis and margaritas just did not suit his style and Fritz Blum from the then West Germany took the title from Canada's Jim Kamer and with the irrepressible Mexican Benny Corona in third. Benny became well-known because of his habits of jumping high whenever he scored a spare or a strike.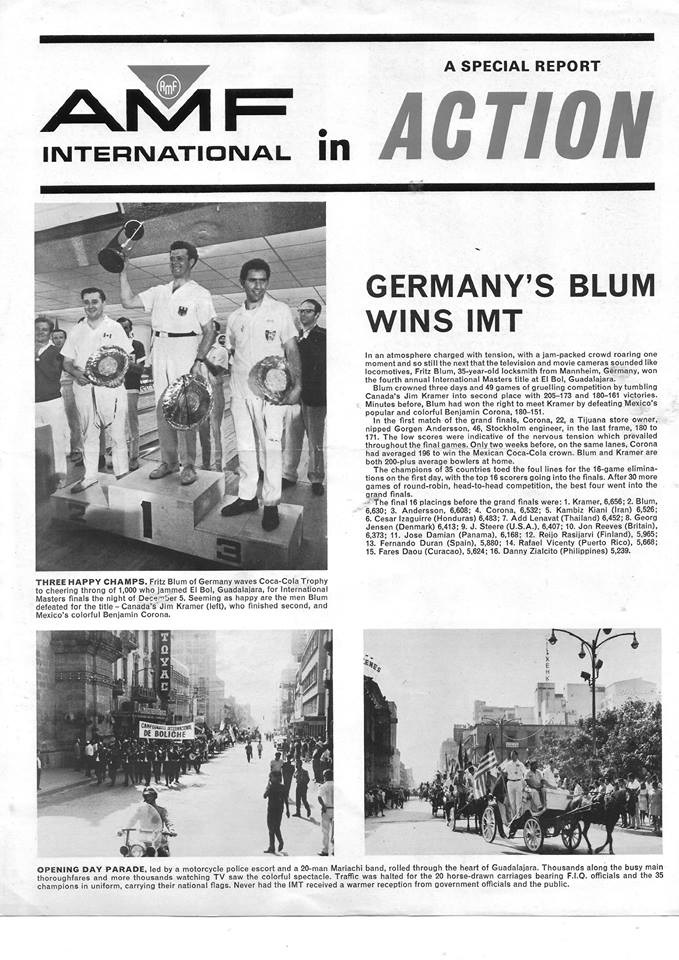 Next stop Tokyo, Japan and a name change from International Masters to AMF Bowling World Cup.