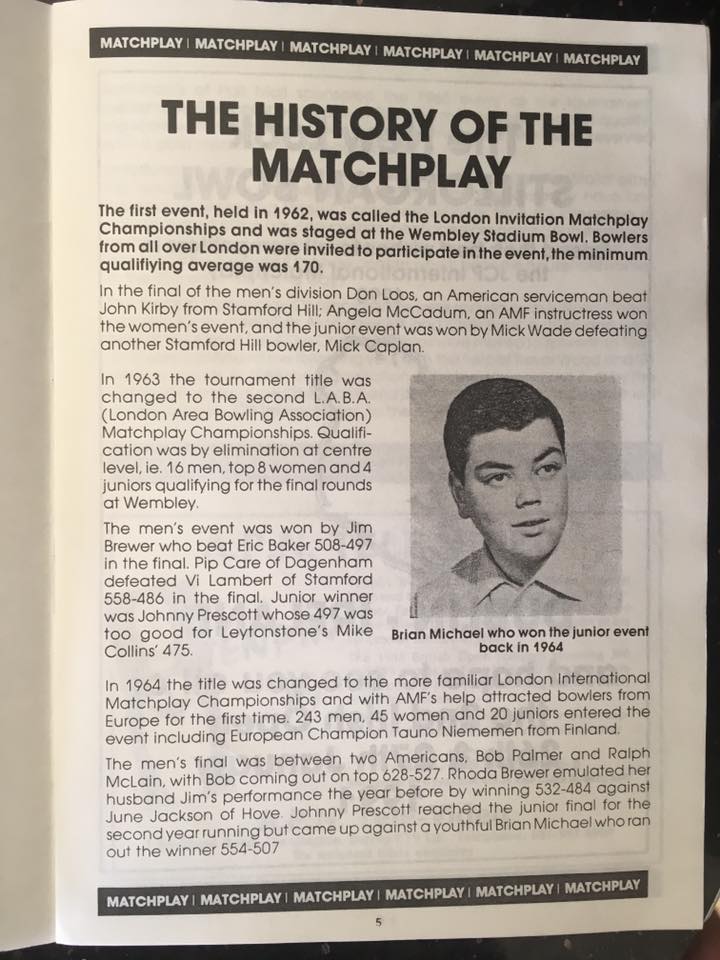 Back in 1962 an event started that now, some 55 years later is still going strong. The London International Matchplay started at the now long closed Wembley Stadium bowl and the 1962 winners were Donald Loos and Angela Macadam with Mick Wade taking the junior title.
Over the years the event moved from Wembley to Airport Bowl then to charrington Bowl Tolworth and finally Back to the Airport where it resides today.
Winners over the years included Jim Brewer, Sam Cimbur, Alan Fawcett, Del Delany, Geoff Buck winning twice in 74 and 78 and Chris Buck who also won the event twice in 82 and 94. International winners include Tore Torgersen who won in 96 and 98, Sami Luoto and Lasse Lintilae from Finland, Al Tone and Tim Mack from the USA, Mexico's Arturo Quintero and The Netherland's Lisanne Breeschoten who beat the men and women in 2008.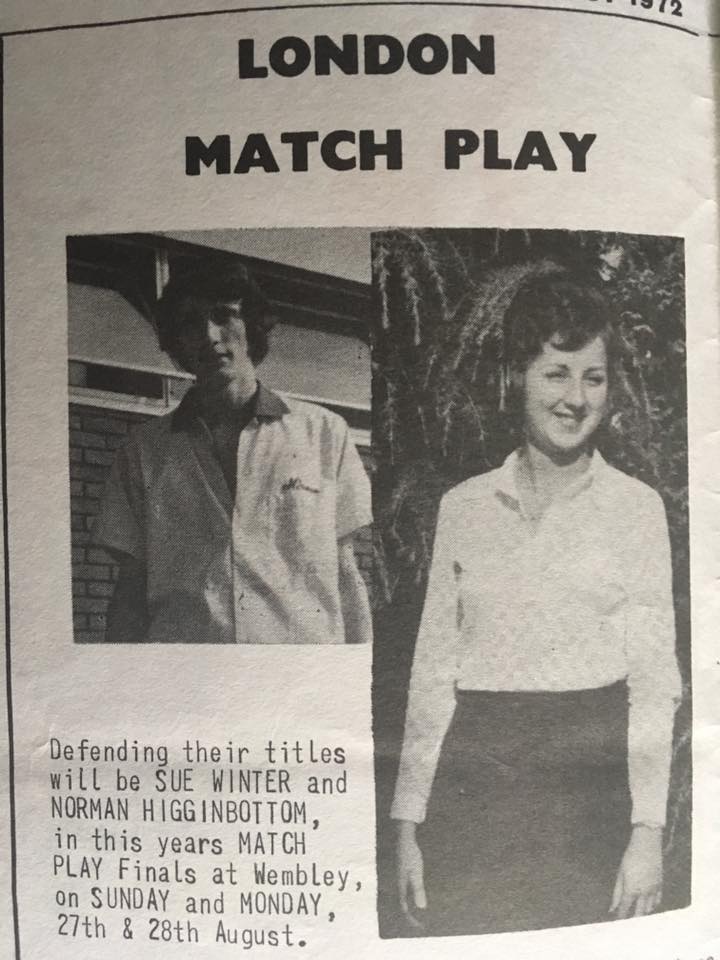 Other female winner include Pip Care, Jess Womack, Edna Love, Sue Winter, Meg Shaw, Gill Beven, Pauline Smith and more recently Jo Allsebrook who also beat all the men too in 2009.
More modern names in the winners list include, Steve Thornton winning in 95 and 99 plus Paul Delany, Paul Moor, Richard Hood, Dom Barrett, Phil Scammell and only the second brothers in over 50 years to win, Richard and Raymond Teece.
A full list of winners can be seen at the bottom of the page.
---

2017 Results
All results will be seen first on the London international Facebook page here
And later on the official website here
---
Alan Fawcett discusses the London International Matchplay

---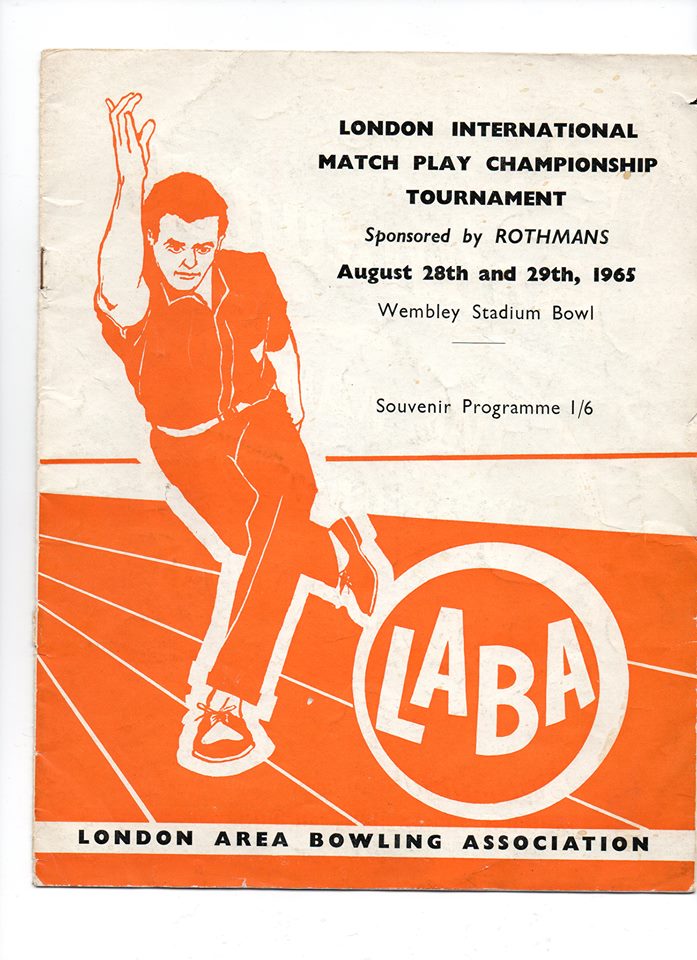 London international winners 1962-2016
We now have a complete list of men with a few women and juniors missing thanks to David Grainger, Sandie Waugh, Brian Michael, Brenda Teece, Andy James and more
LONDON INTERNATIONAL MATCH PLAY WINNERS – WEMBLEY
1962 – Donald Loos – Angela Macadam – Mick Wade
1963 – Jim Brewer – Pip Care – John Prescot
1964 – Bob Palmer – Rhoda Brewer – Brian Michael
1965 – Sam Cimbur – Jess Womack
1966 – Joe Kilian – Ena Grant – Billy Lee
1967 – Brian Wilkins – Edna Love
1968 – Jim Sinclair – Margaret Little – Alan Boston?
1969 – Eric Butcher – Jean Bolton – David Field?
1970 – Tom Wootan – Chris Warman
1971 – Norman Higginbottom – Sue Winter
1972 – Mike Clancy
LONDON INTERNATIONAL WINNERS – AIRPORT BOWL
1973 – Alan Fawcett
1974 – Geoff Buck – Paul Le Manquais
1975 – Cass Edwards
1976 – Kevin Lamb
1977 – Sam Pugh
1978 – Geoff Buck – Meg Shaw – Alan Kirk
1979 – Del Delany – Gill Bevan
1980 – Nev Robinson – Pauline Smith
1981 – Loke Coleman
1982 – Chris Buck
1983 – No Event
1984 – No Event
1985 – Guy Lipscombe
LONDON INTERNATIONAL UNDER BRITISH MATCHPLAY NAME – WINNERS – TOLWORTH
1986 – John Coote
1987 – Tom Hahl
1988 – Peter Cornwall
1989 – Sami Luoto – Tina Darvil – David Gibbons
1990 – Lasse Lintilae – Maria Holmquist – Andrew Tapping
LONDON INTERNATIONAL WINNERS – AIRPORT BOWL
1991 – Kevin Raison
1992 – Al Tone
1993 – Ricky Beck
1994 – Chris Buck
1995 – Steve Thornton
1996 – Tore Torgerson
1997 – Paul Delaney
1998 – Tore Torgerson
1999 – Steve Thornton
2000 – Mathias Arup
2001 – Arturo Quintero
2002 – Tony Staples
2003 – Paul Moor
2004 – Tim Mack
2005 – Damien Gray
2006 – Robert Kendall
2007 – Richard Hood
2008 – Lisanne Breeschoten
2009 – Joanne Allsebrook
2010 – Paul Moor
2011 – Dominic Barrett
2012 – Phil Scammell
2013 – Elliot Crosby
2014 – Richard Teece
2015 – Matt Miller
2016 – Raymond Teece