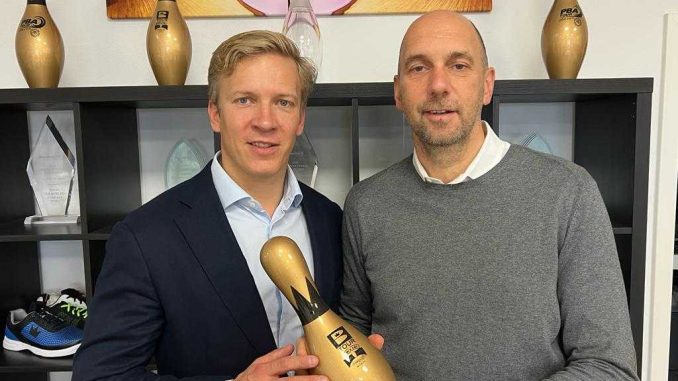 MUSKEGON, Mich., October 11, 2022 – Valcke Bowling, Brunswick Bowling's exclusive distributor in Belgium, France, the Netherlands, Poland, Italy, Slovenia, Croatia, parts of Switzerland, and many African countries, has acquired Hoops-The Bowling Company, which has represented Brunswick in Germany, Austria, Luxemburg, and parts of Switzerland for decades.
"We're excited about this positive development for the Hoops family and Valcke Bowling," said Corey Dykstra, Brunswick Bowling CEO. "With the expansion of Valcke Bowling's European presence, we look forward to further streamlining sales efficiencies in order to best serve the customers in the territory. With this consolidation we can continue to put in place the right resources to maximize our product and service offerings in the region."
Valcke Bowling is a third-generation family-owned business. Bowling centers built by the Valcke Bowling team are considered the gold standard in their markets and have won multiple design awards.
Hoops-The Bowling Company has long been a respected brand in the market, with a business that has grown into one of the biggest customer bases in Europe.
Valcke Bowling CEO Henri Valcke has come to an agreement with Hoops CEO Jan-Oliver Hoops to take over the business on January 1, 2023. Both sides are very enthusiastic about the future.
"Adding the Hoops territory to our existing markets fits our strategy to become a true European company in the distribution of bowling equipment," said Valcke. "Germany, Austria, and Switzerland were the missing link and are key markets in our industry. We will take the time to structure ourselves to best support our customers. We are really looking forward working with the Hoops team and join our best practices. The combined organizations have such a great potential."
"I know I'm leaving my company in good hands," said Hoops, who will remain the company's director through 2023. "The Valcke name is very strong in the bowling industry and Henri has shown that he knows how to lead a company to success. It's a new chapter in our lives and I'm really looking forward what it will bring!"