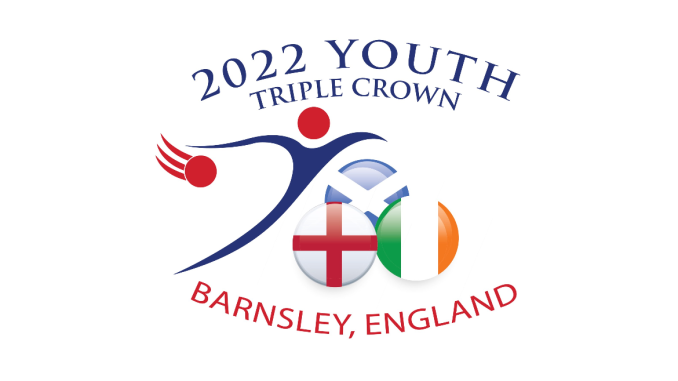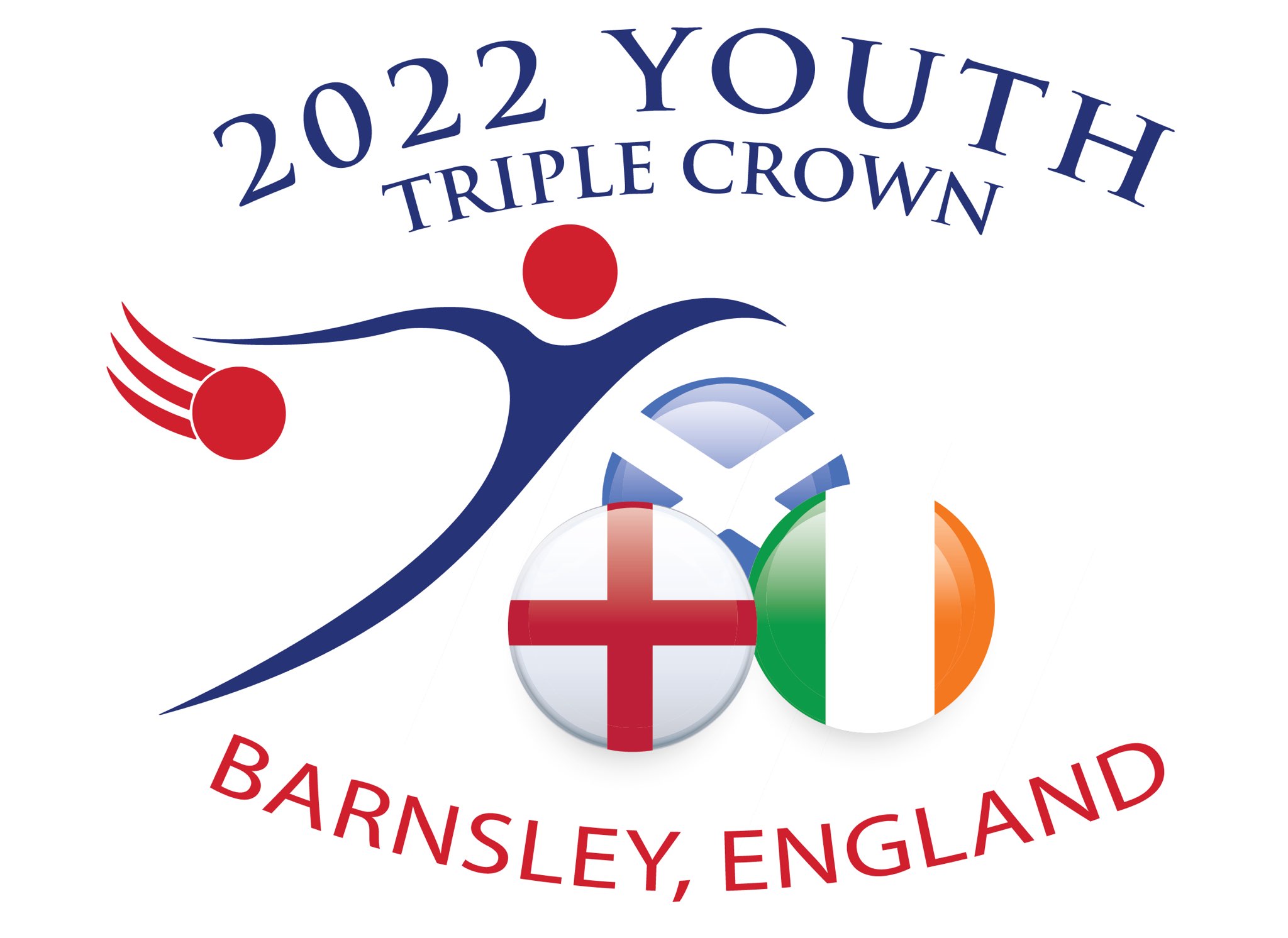 The 2022 Youth Triple Crown 2022 starts at Barnsley Bowl on the 26th-28th August 2022.
Hosts England welcome Scotland and Ireland…
Live streaming available for the final day here
---
Reports

BOYS SINGLES – Big Ben
After three games, we had already seen a perfect game as England's Ben Robinson fired 12 strikes and leading the U19's with a fine 715. A great start and lead for Ireland's Colm Staines in the U16's and Scotland's Chris Thompson-Nairne giving Scotland the lead in the U21's with 694.
After six games there were one or two changes as England's Alex Cook overtook the earlier leader from Ireland to claim the Gold with 1177 and team mate Charlie Upton in Silver after a massive final game of 290 and ending with 1159. Early leader Colm Staines in Bronze with 1150.
Ben Robinson completed the job in the U18's for England with a second set of 692 for 1407 and Gold, Jack Blyth taking Silver weith 1284 and Dan Harding making it a 1-2-3 clean sweep in Bronze with 1272.
Scotland claimed their first Gold as Chris Thompson-Naire stayed firm at the top in the U22's with 1273 and Silver to team mate Marc Shields with 1227. England's Declan Simons grabbing the Bronze with 1155.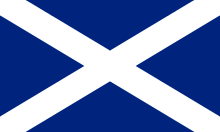 GIRLS SINGLES – Sillis and Masterson claim Gold

Halfway through the Girls singles England's Jessica Sillis leads the U19 girls with 562 with team mates Millie Upton in second with 530 and Izzy Fletcher in third with 522. In the U16's Hannah Masterson from Ireland has a good with 551 as England's Olivia McCarthy (496) and Ireland's Laura Grant chase down the leader.

As we came to the end of the singles there were one or two changes but not with the leaders as Hannah Masterson won Gold for Ireland with 1115 ahead of England's Olivia McCarthy in SIlver with 1051 and Bronze to England's Jasmine Snowball with 1009.
In the U18 England made it a 1-2-3 as Jessica Sillis ending with a 234 and 1131 and claimed Gold with team mates Millie Upton in Silver with 1113 and Izzy Fletcher in Bronze with 1103.

GIRLS DOUBLES

Gold and Silver in both the U16 and U19 for England as Ava Adrade (513) and Abbie Rhodes (529) took U16 Gold with 1042 as team mates Olivia McCarthy (489) and Jasmine Snowball (541) hit 1030. Bronze to Ireland's Hannah Masterson (518) and Laura Grant (503) with 1021.
Millie Upton (607) and Jessica SIllis (592) took U19 Gold with 1199 ahead of team mates Izzy Fletcher (644) and Kara Zucca (543) with 1187 and Bronze to Ireland's Abby McKeever (545) and Anna Farren (501) with 1046.

BOYS DOUBLES

Next up were the boys on the Barnsley Lanes and Gold and Silver again for the U16's for England as Alex Cook (530) and Charlie Upton (654) claimed the top prize with 1184 and just four pins ahead of team mates Louise Dawson (571) and Frank Stephenson (609) with 1180 and Silver. Scotland's Ben Wallace (498) and Conor Davidson (436) and 934 taking Bronze.
In the U19's it was yet more Gold for England as Thomas Cummings (560) and Jack Blyth (658) fired 1218 to claim the top spot. Ireland's Sean Staines (574) and Taylor Williams (642) taking Silver with 1216 and Bronze to England's Ben Robinson (564) and Dan Harding (549) and 1113.
Last up were the U22 Boys and yet another Gold for England as Casper MacLeod (689) and Joshua Streak (581) rolled 1270 to win ahead of Scotland's Mark Shields and Chris Thompson-Nairne on 1214 and Scotland's Jason Smith and Euan Coote in Bronze with 1213.

GIRLS TRIOS

Ireland claimed the u16 Gold in the trios as Laura Grant, Faye Colton and Hannah Masterson hit 1577 with Scotland in silver with 1541 and England in Bronze with 1464. In the U19's it was England's Kara Zucca, Jessica SIllis and Izzy Fletcher in the Gold position with 1657 ahead of Scotland in Silver with 1479 and Ireland in Bronze with 1409.

BOYS TRIOS

U16 boys saw Frank Stephenson, Alex Cook and Charlie Upton of England racing to Gold with 1807and miles ahead of Ireland in Silver with 1420 and Scotland in Bronze with 1348. Ireland's Sean Staines, Andrew Grant and Taylor Williams took Gold with 1848 and just 10 pins in front of England in Silver with 1838 and Scotland in Bronze with 1443. Finally in the U22 it was the combined team of Joshua Stream England, Donal Colley Ireland and Marc Shields Scotland taking Gold with 1691 ahead of England in Silver with 1666 and Scotland in Bronze with 1636.

MIXED DOUBLES
Scotland took a fine U16 Mixed Doubles Gold as Conor Davidson and Sarah Scott rolled 1056 with England's Louie Dawson and Ava Andrade in Silver with 972 and Bobby Cornerfort and Anna Lawlor in Bronze with 818.
In the U16 it was England on top as Jack Blyth and Millie Upton took Gold with 1188 and a good dstance from Ireland in Silver with 1076 and Scotland in Bronze with 866.

TEAM
The all important team event on Sunday after saw some fantastic bowling for all the players as they tred to win for their country. In the U16's it was Ireland going home happy in the Girls section with Gold and 2029 as Scotland took SIlver with 1956 and Bronze to England with 1954. England claimed the U16 boys Gold with 2360 and a distance ahead of Scotland in Silver with 1987 and Ireland in Bronze with 1852.
England claimed the U19 boys Gold with 2655 quite a set from Jack Blyth on 733 and Thomas Cummings with 693 and also a distance ahead of Ireland in Silver with 2410 and Ireland in Bronze with 2140. England made it a double in the U19 Girls by winning Gold with 2140 as Ireland took Silver with 1877 and Bronze to Ireland with 1723.
Finally in the U22 it was Scotland dancing tonight with Gold on 2348 as England claimed SIlver with 2293 and Ireland in Bronze with 1942.

GIRLS MASTERS
The big winner in the U19 masters was Jessica Sillis taking the Gold medal as England on a guaranteed 1-2-3-4 as Izzy Fletcher was in Second and Kara Zucca third and Millie Upton fourth.
In the U16's it was Ireland's Hannah Masterson winning the masters title with England's Abbie Rhodes second and Olivia McCarthy third.

BOYS MASTERS
Charlie Upton from England claimed the U16 Masters with with 754 including bonus as team mates Louie Dawson was second, Alex Cook Third and Frank Stephenson in fourth.
In the U19's it was Jack Blyth on top with 768 scratch and 828 with bonus as Ireland's Taylor Williams was second with 756 and third to England's Ben Robinson with 692. Fourth to England's Dan Harding with 565.
In the U22's it was Scotland's Chris Thompson-Nairne with 745 scratch and 805 with bonus, Second was England's Declan Simons with 690, third to England's Casper MacLeod with 654 and fourth was Scotland's Marc Shields with 481.
---
Results
Overall






Masters
Girls

Boys



All Events
Girls


Boys



Team
Girls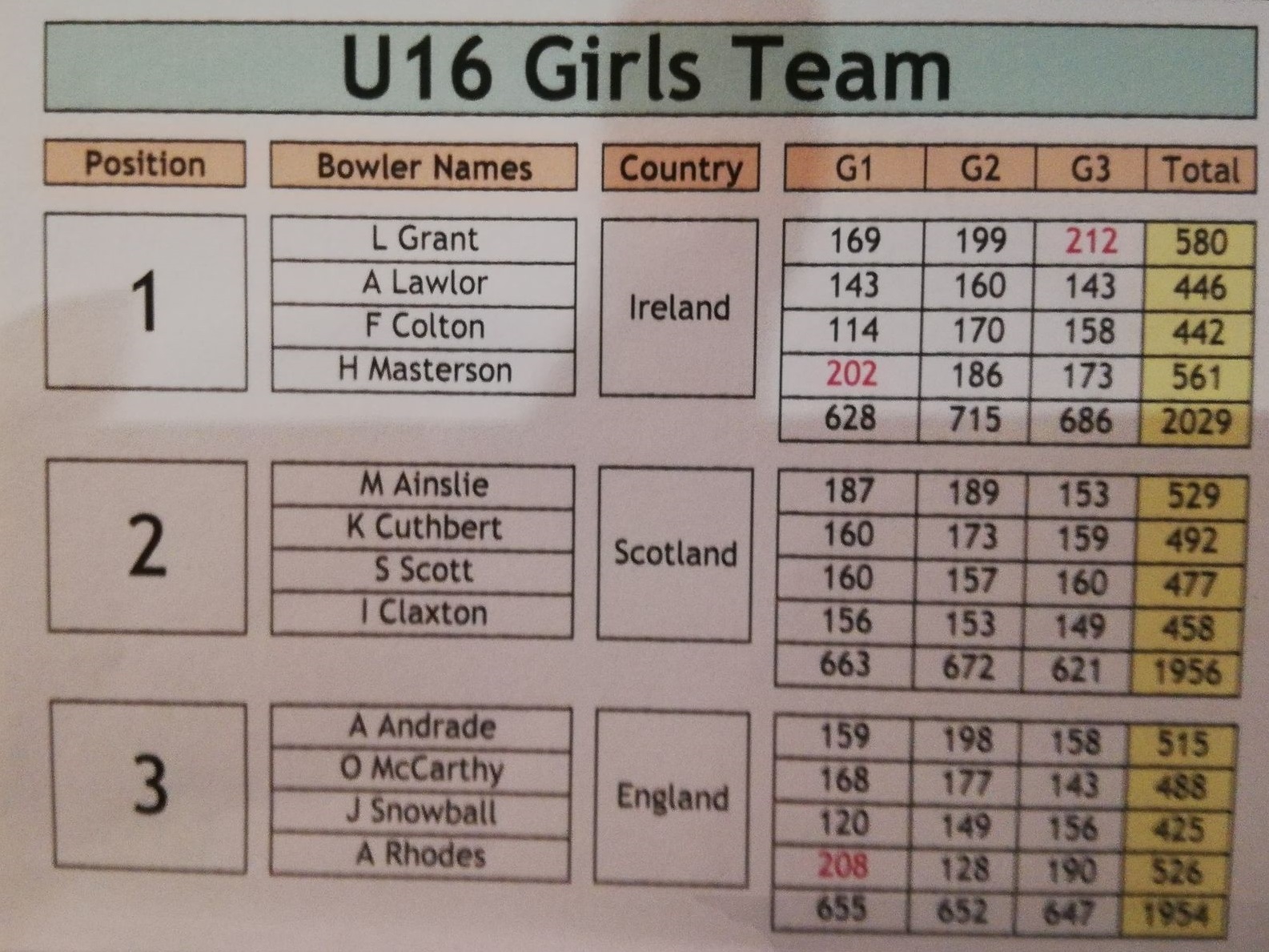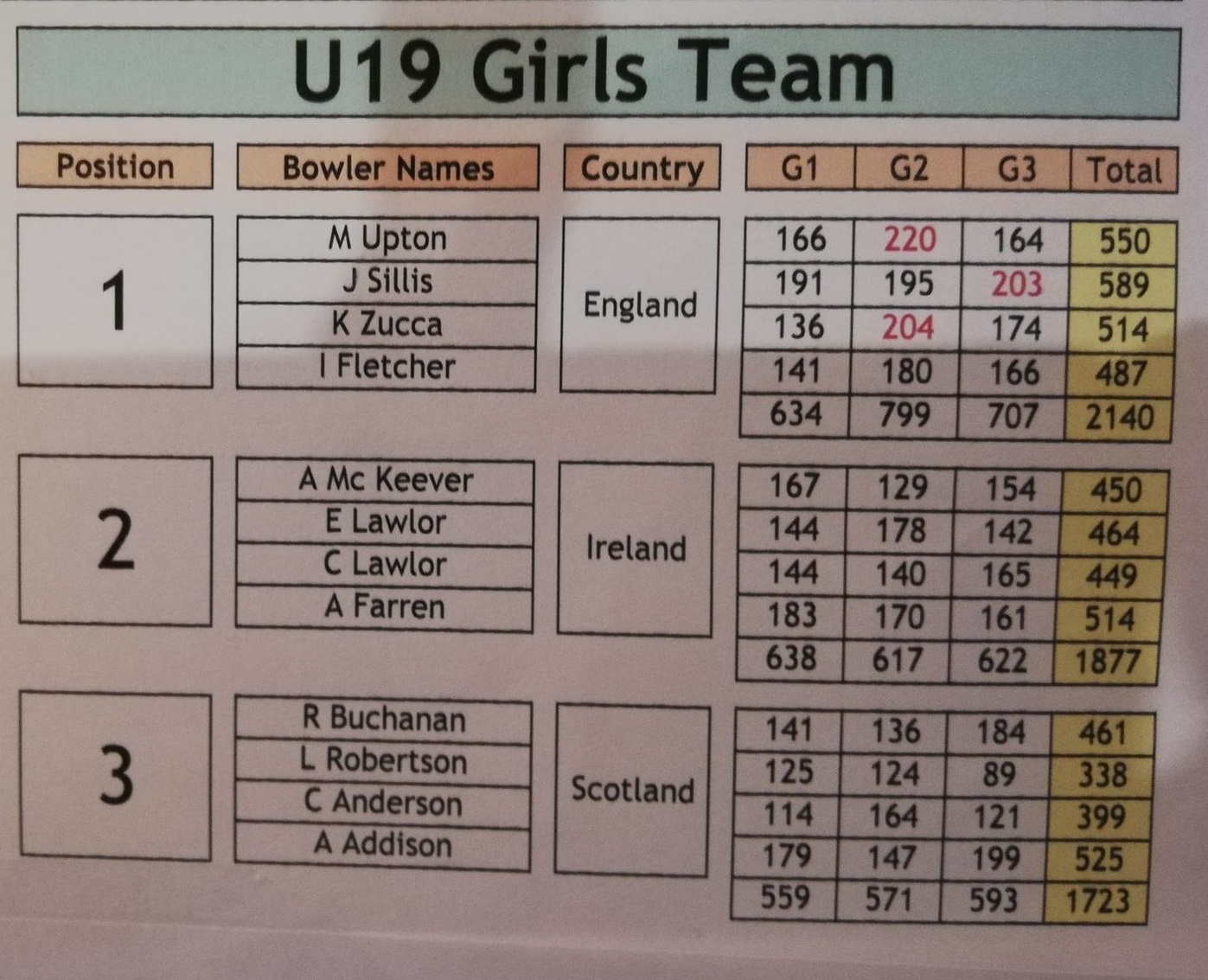 Boys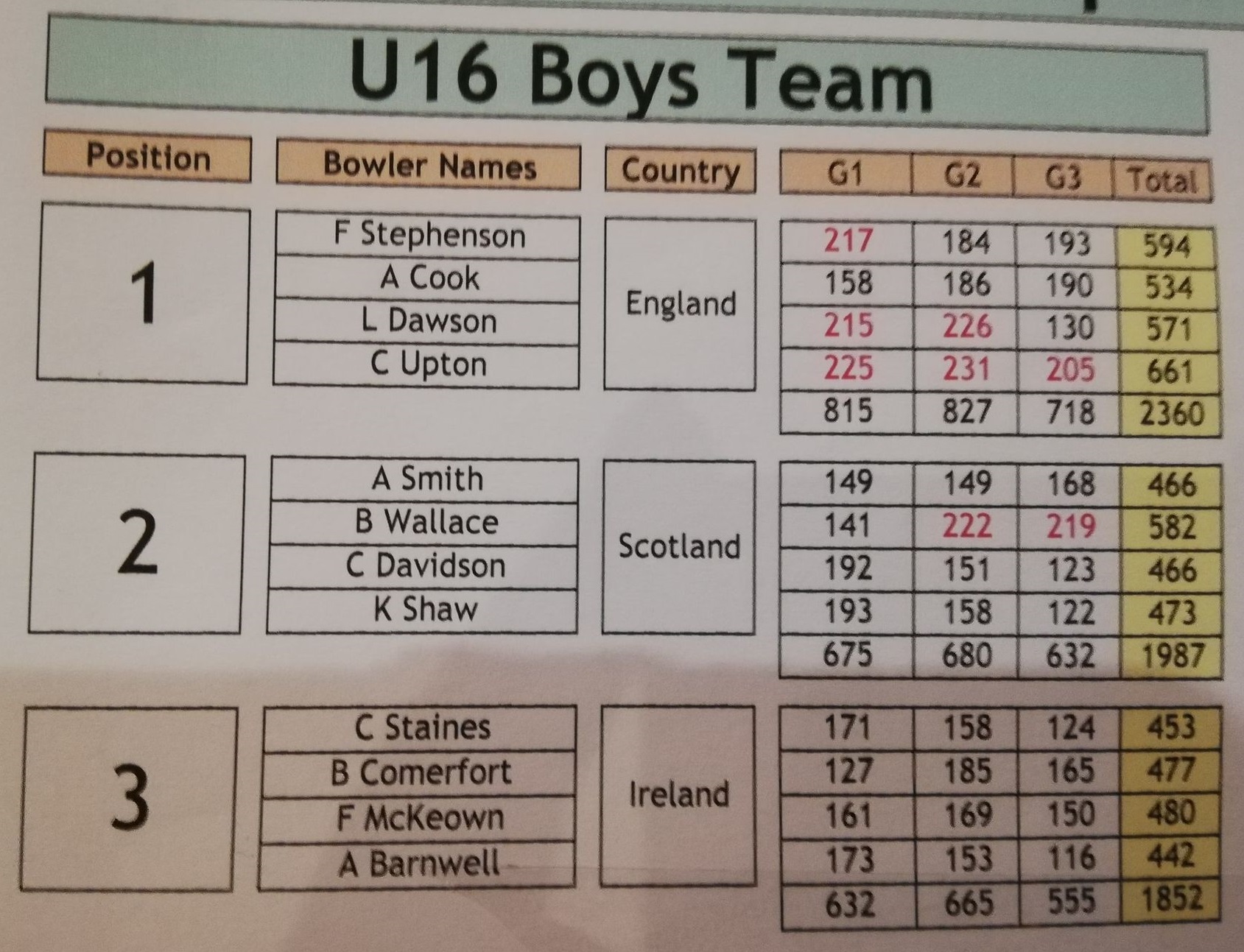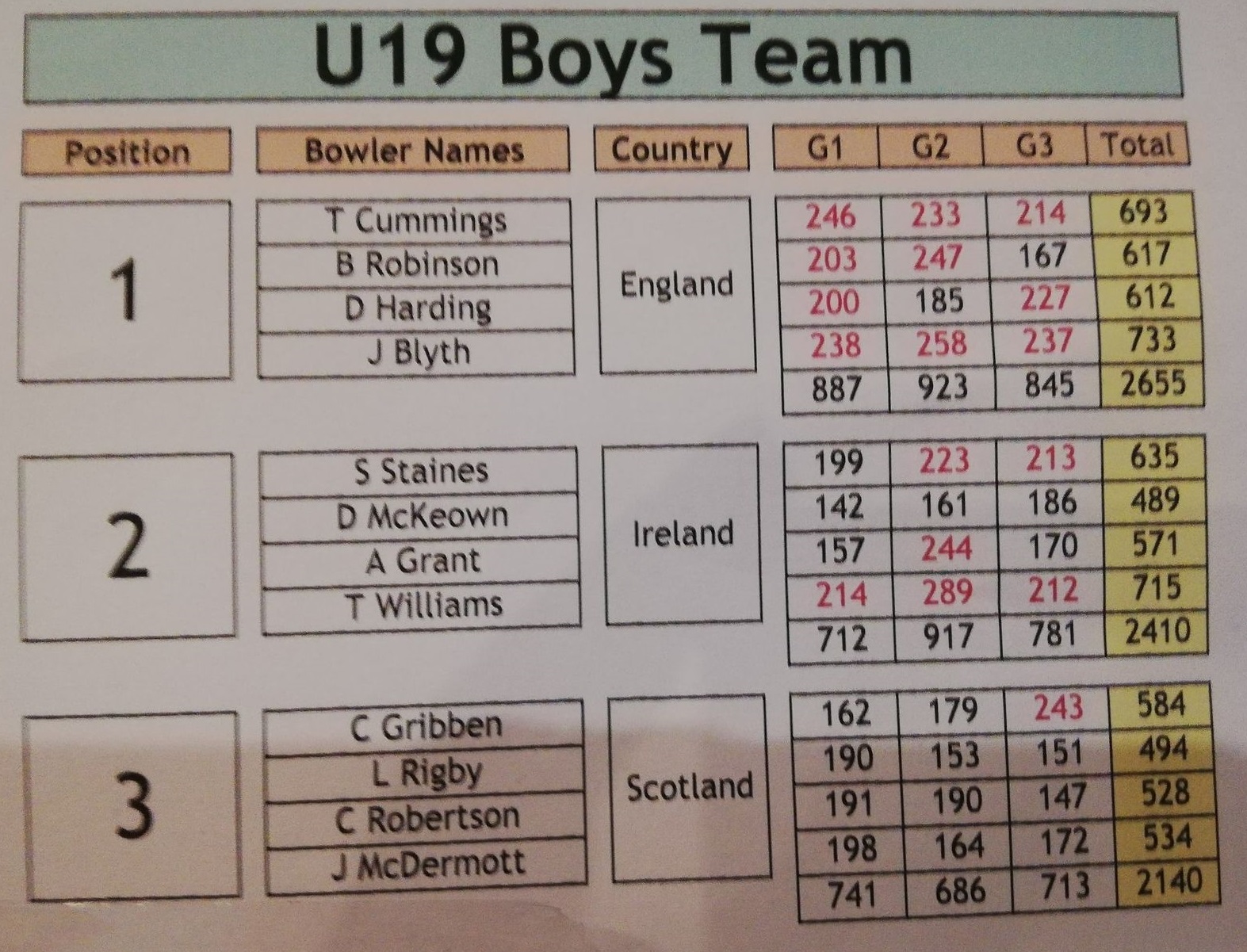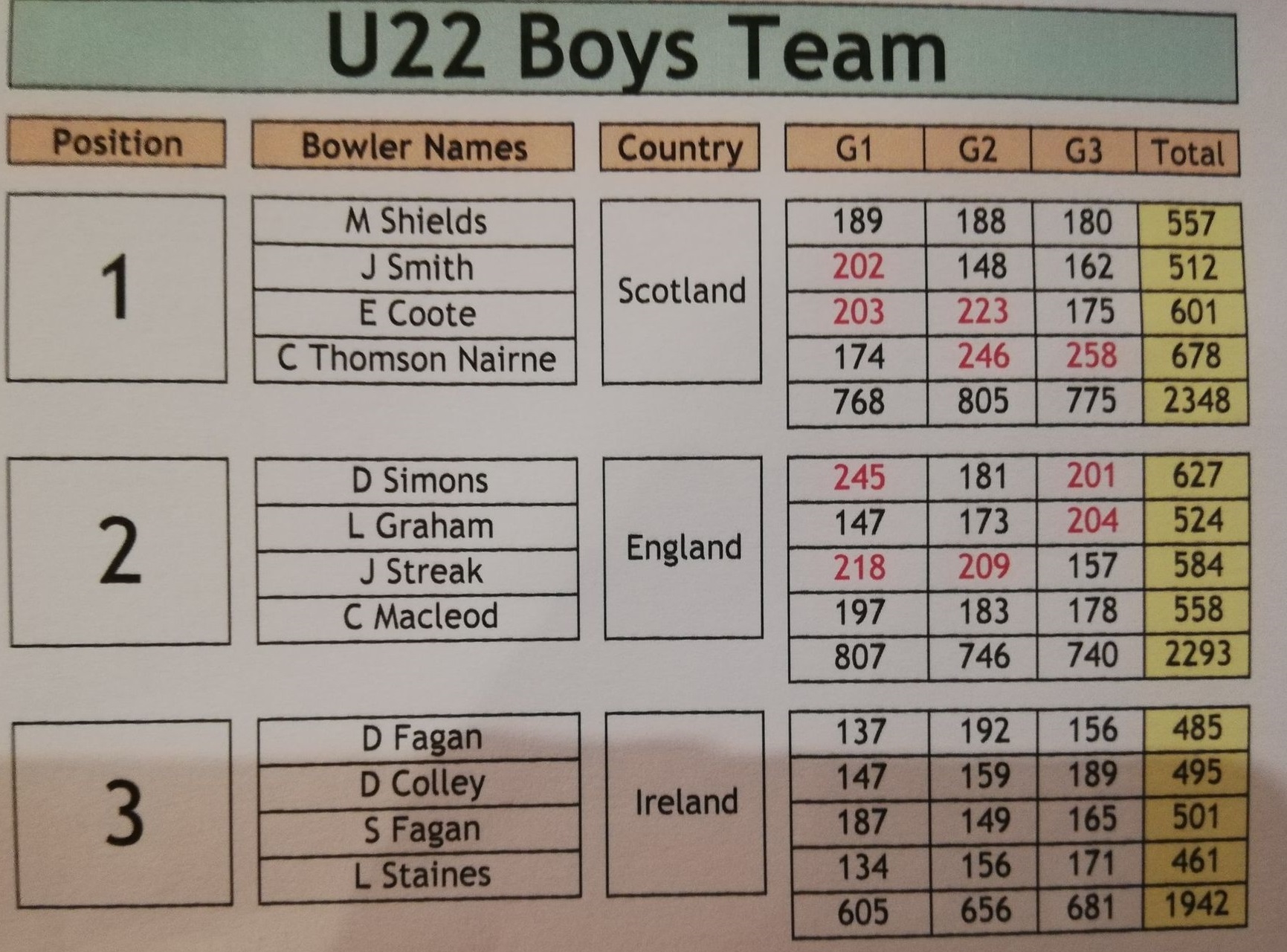 Mixed Doubles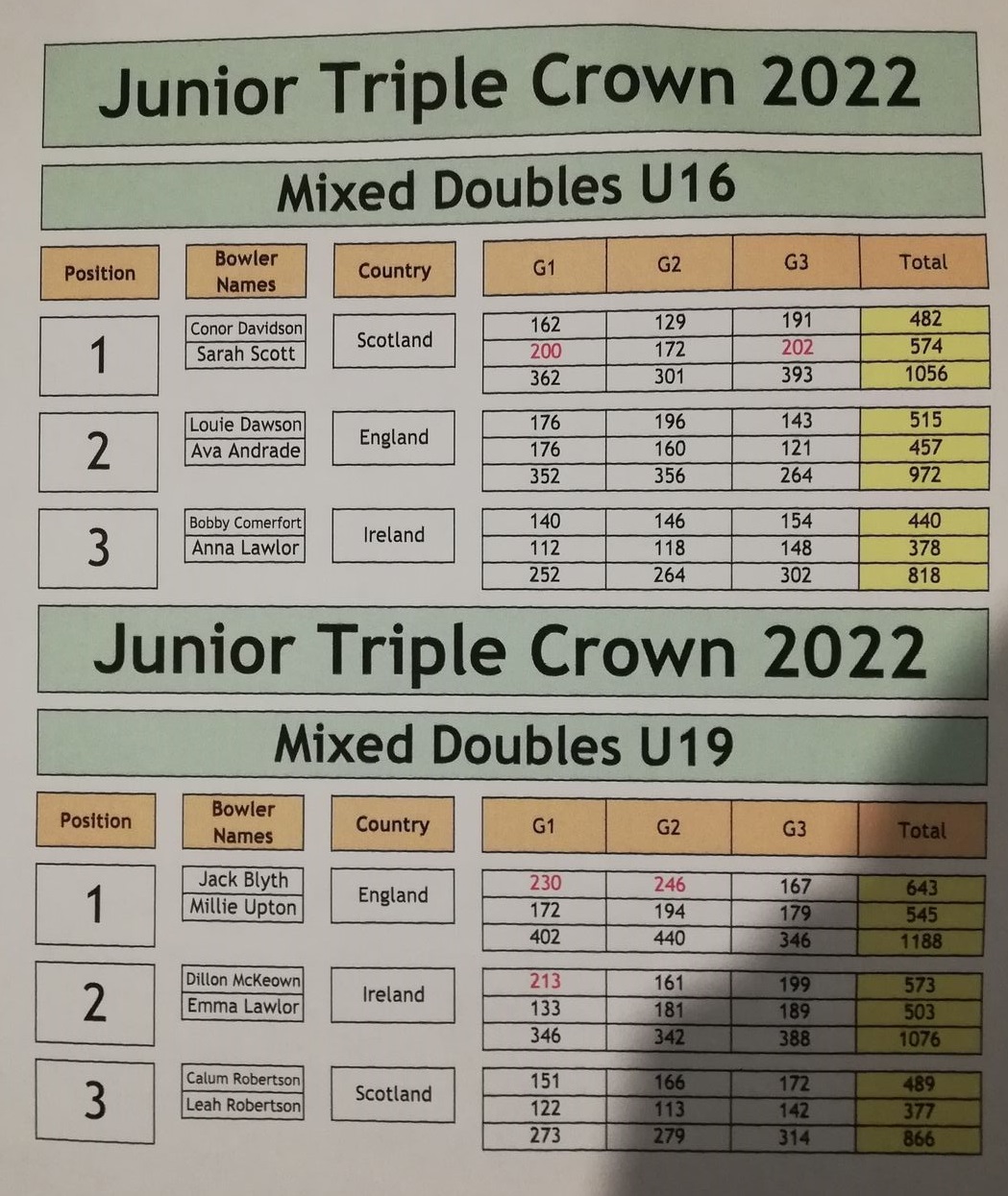 Girls Trios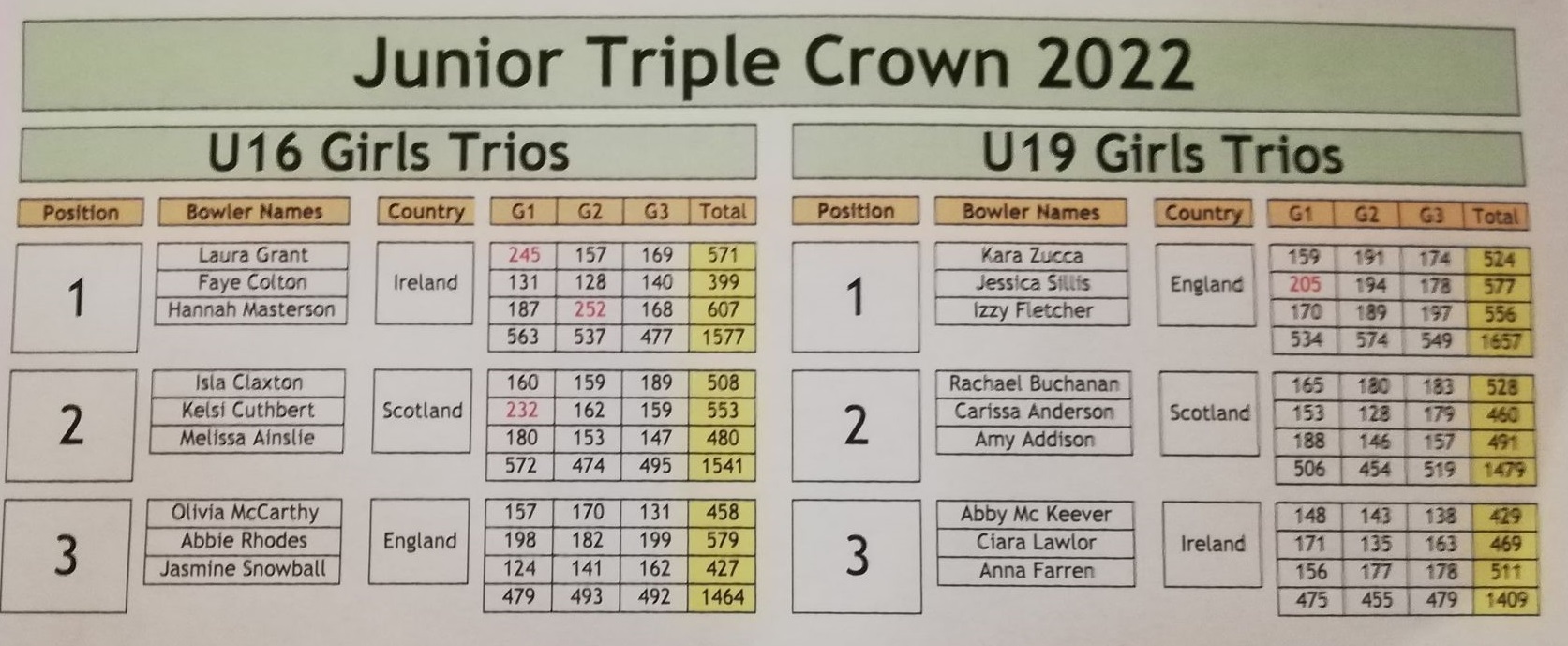 Boys Trios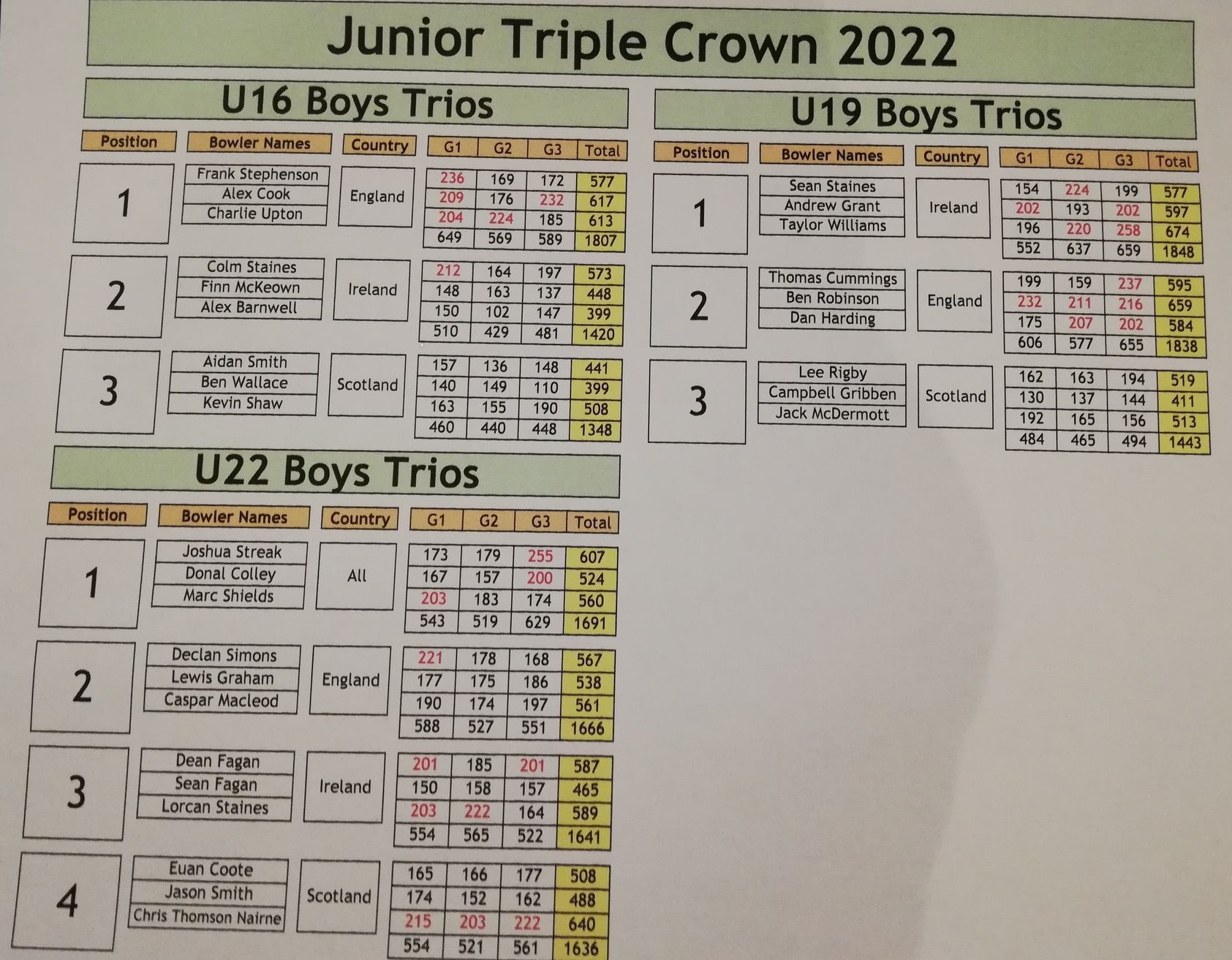 Boys Doubles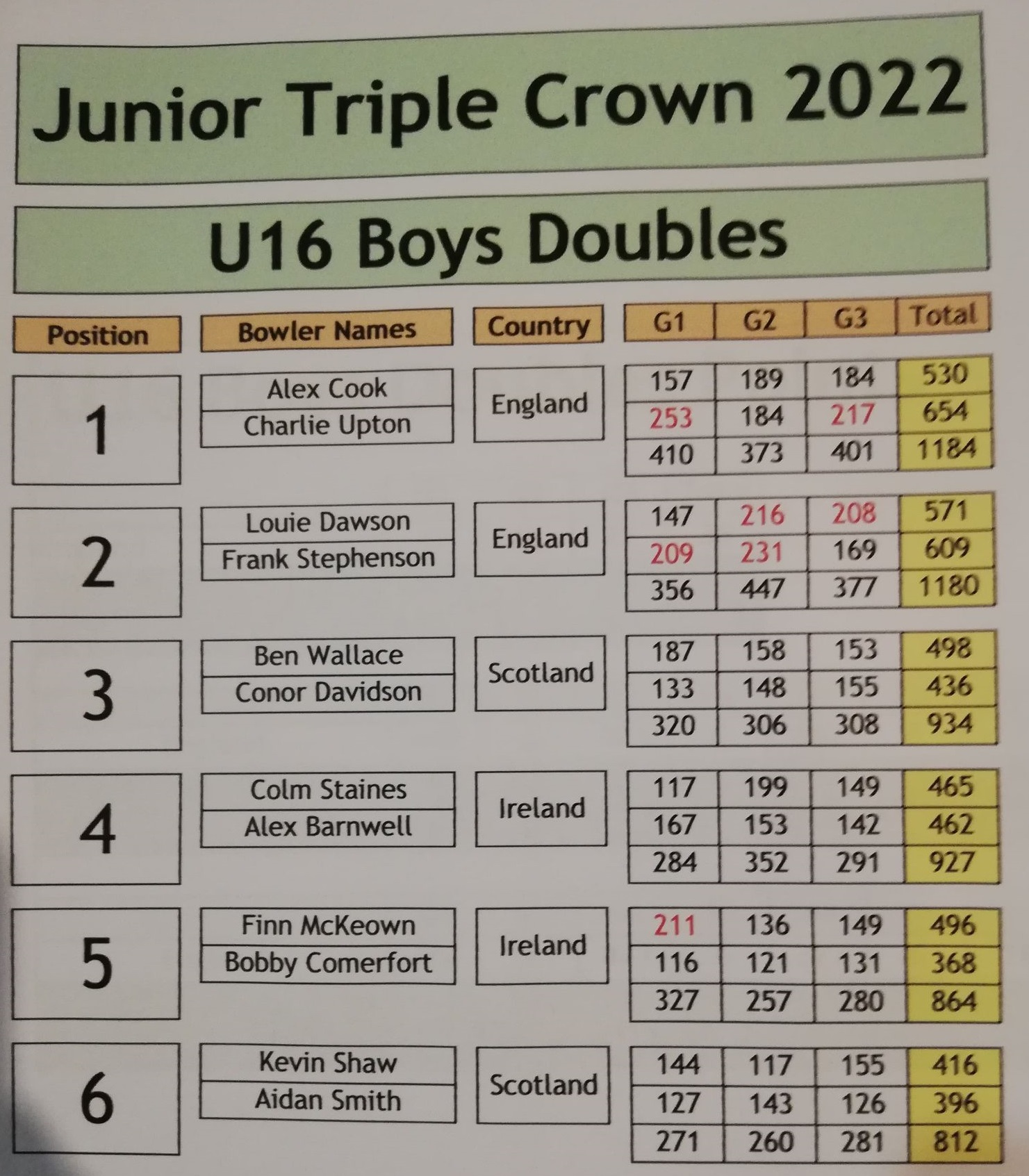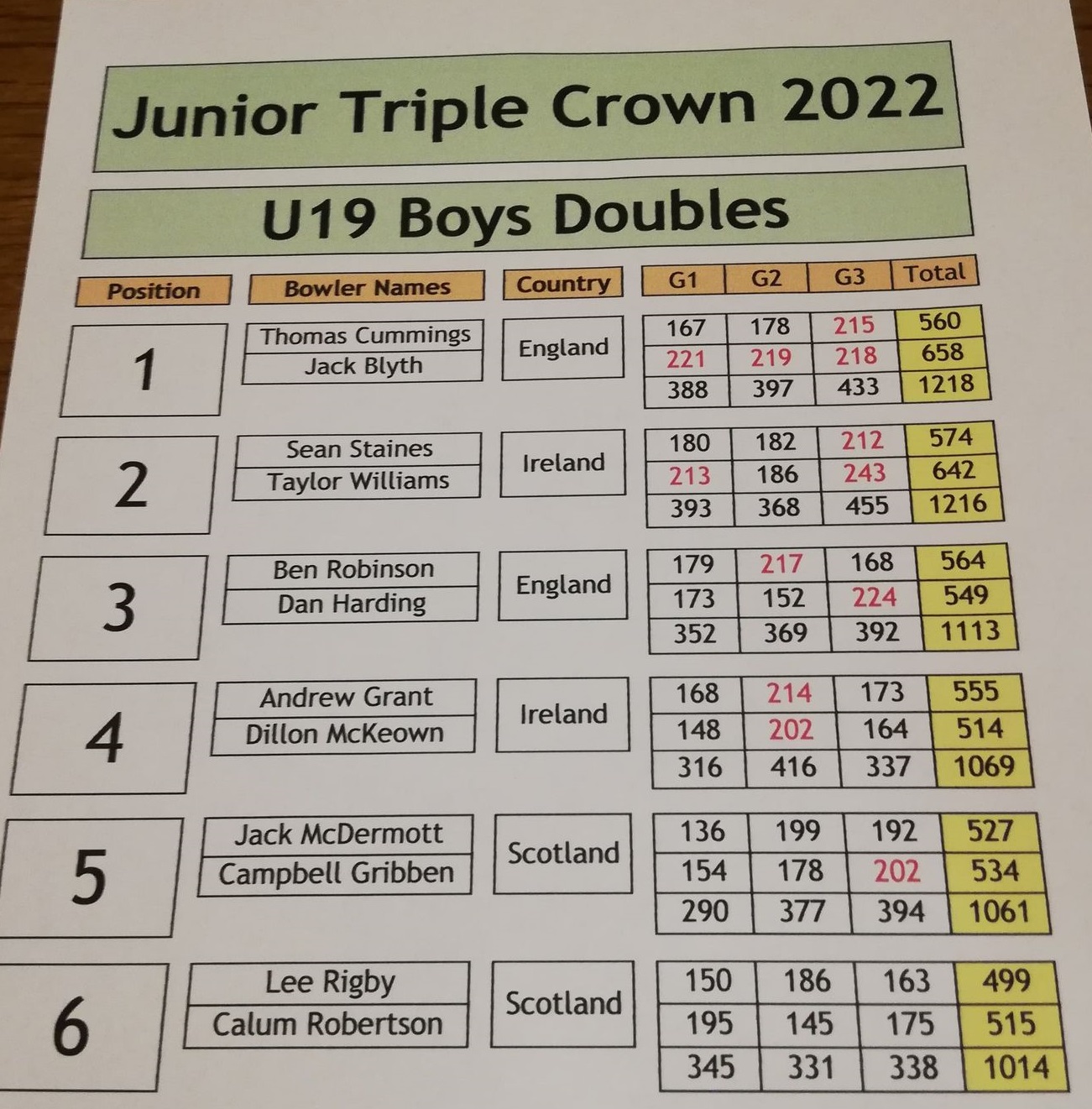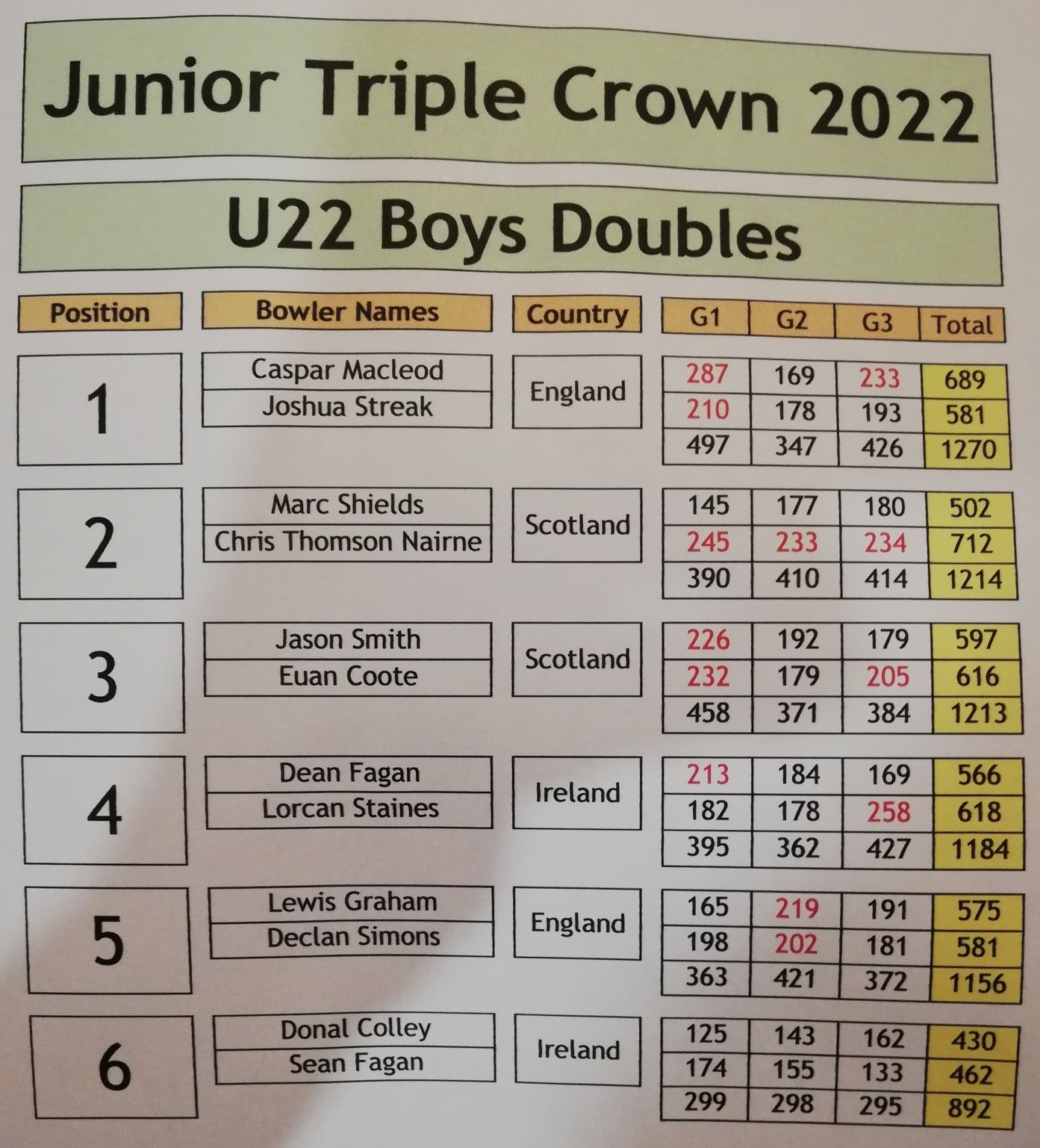 Girls Doubles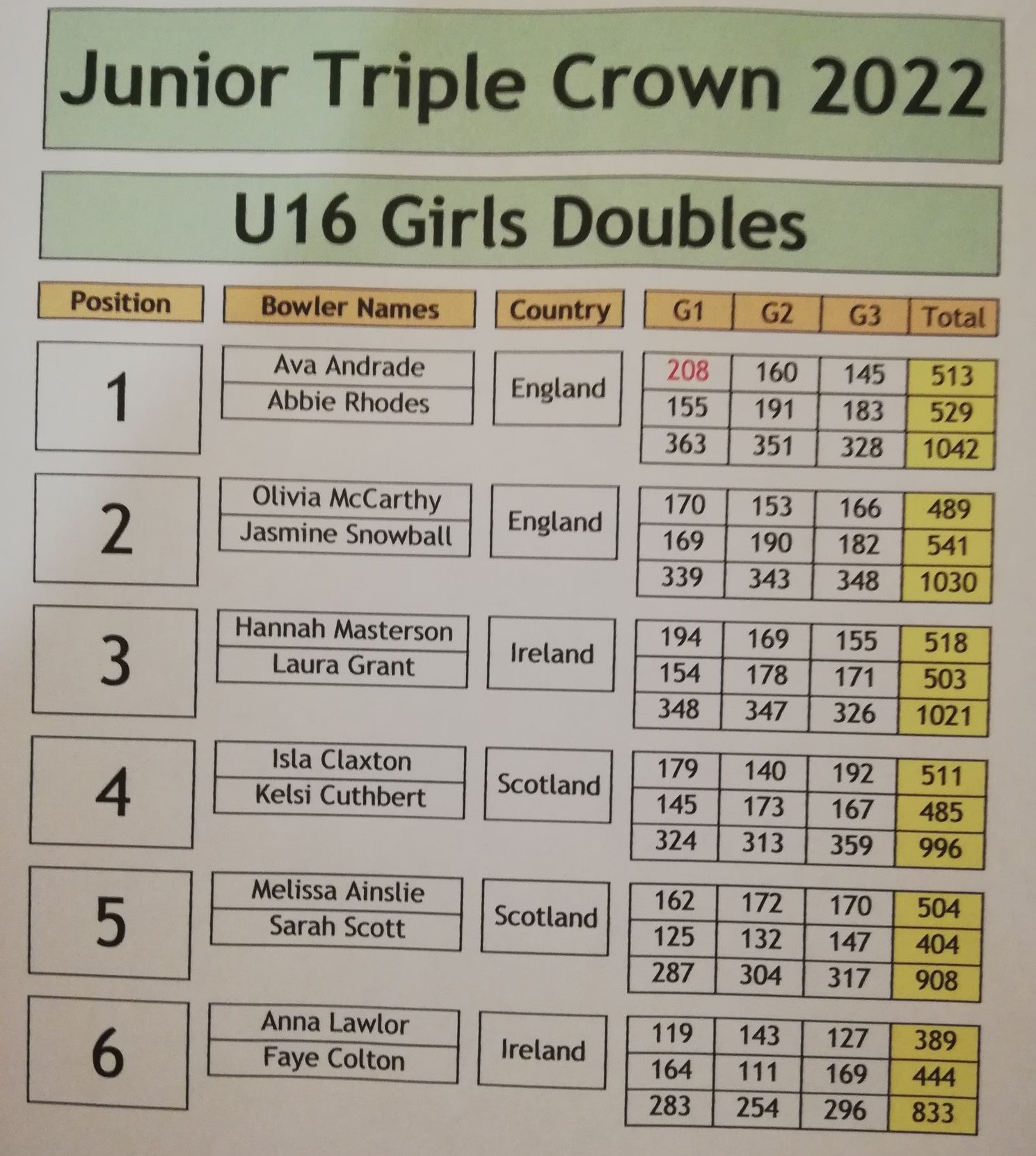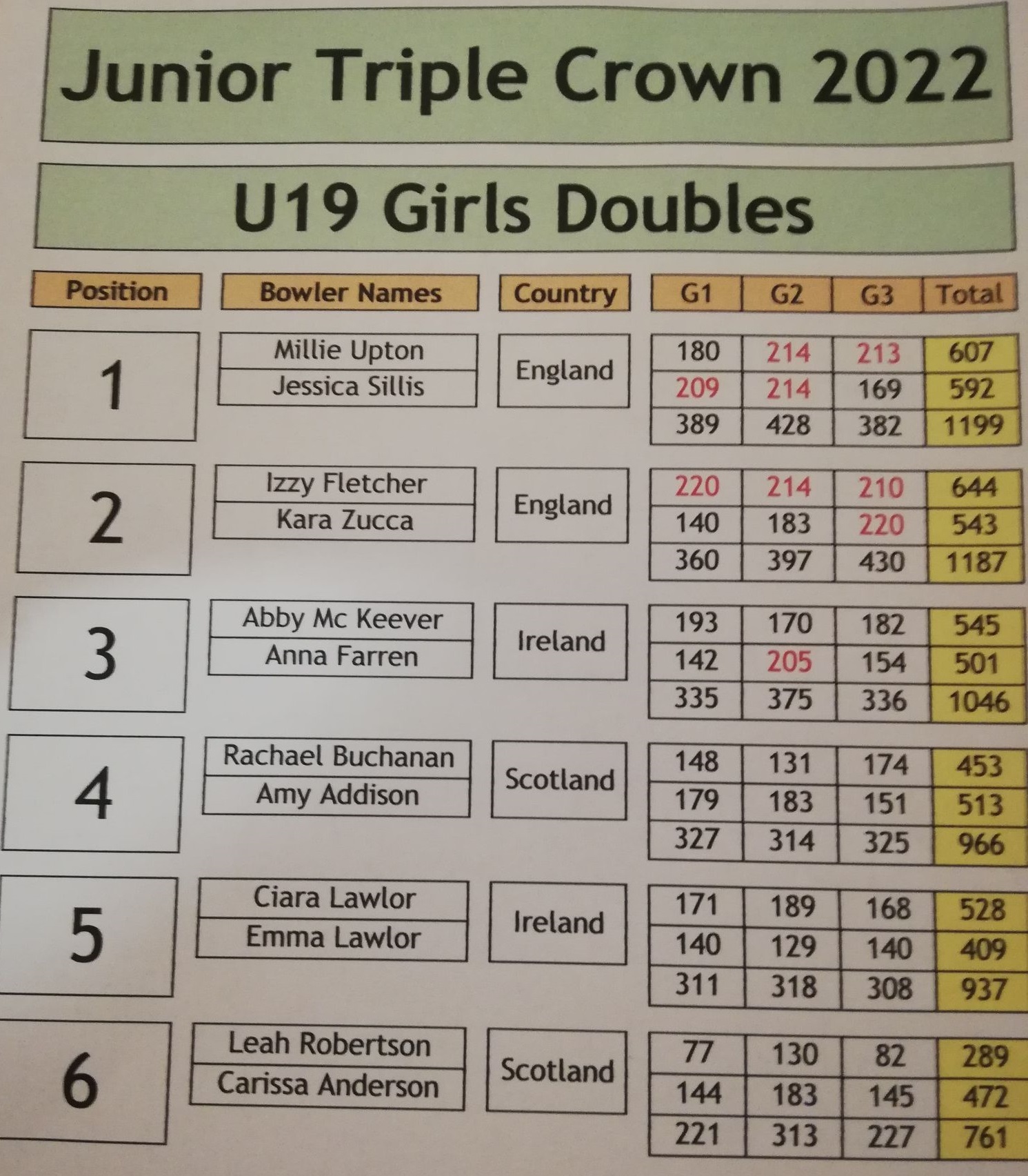 Boys Singles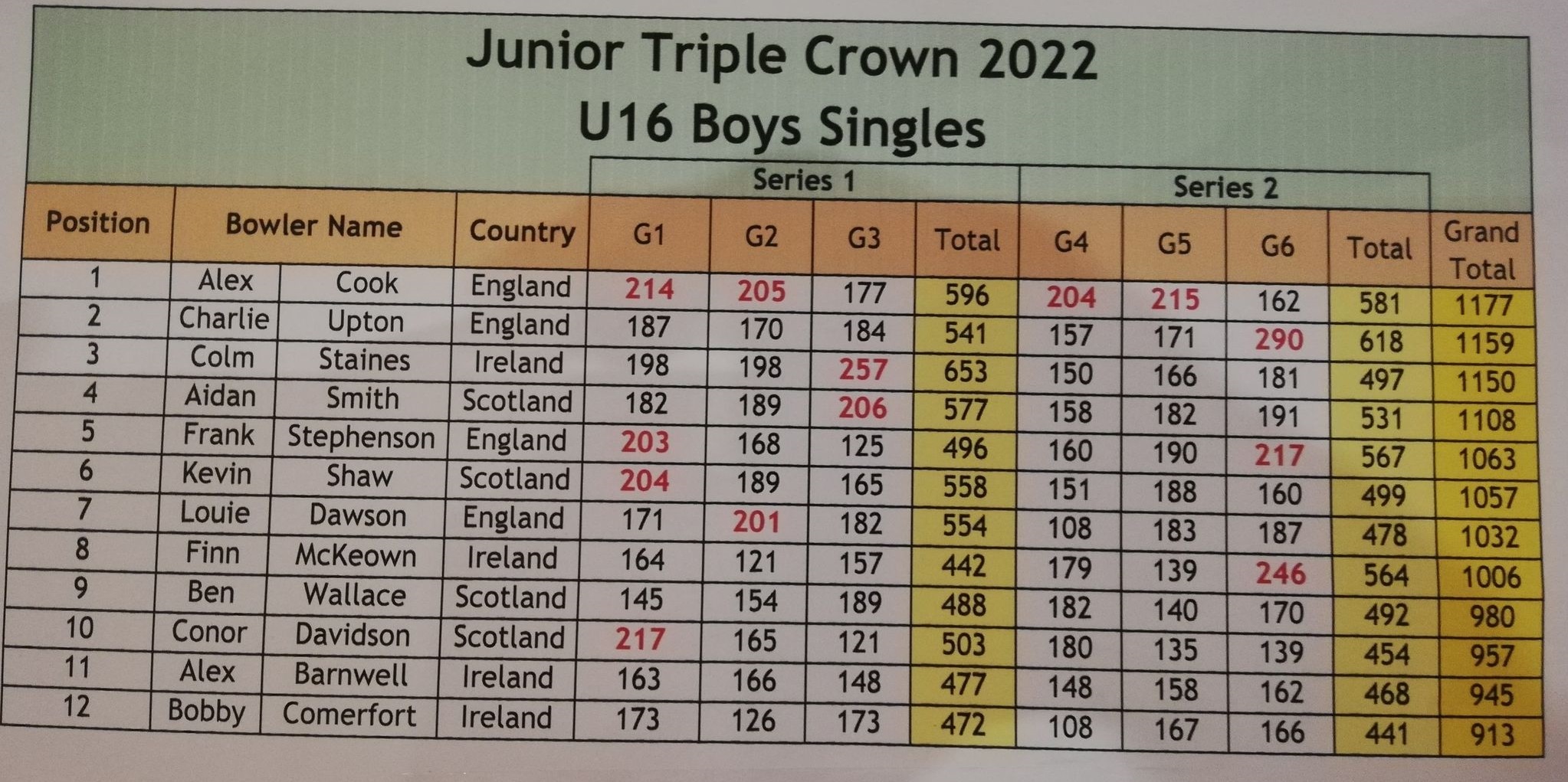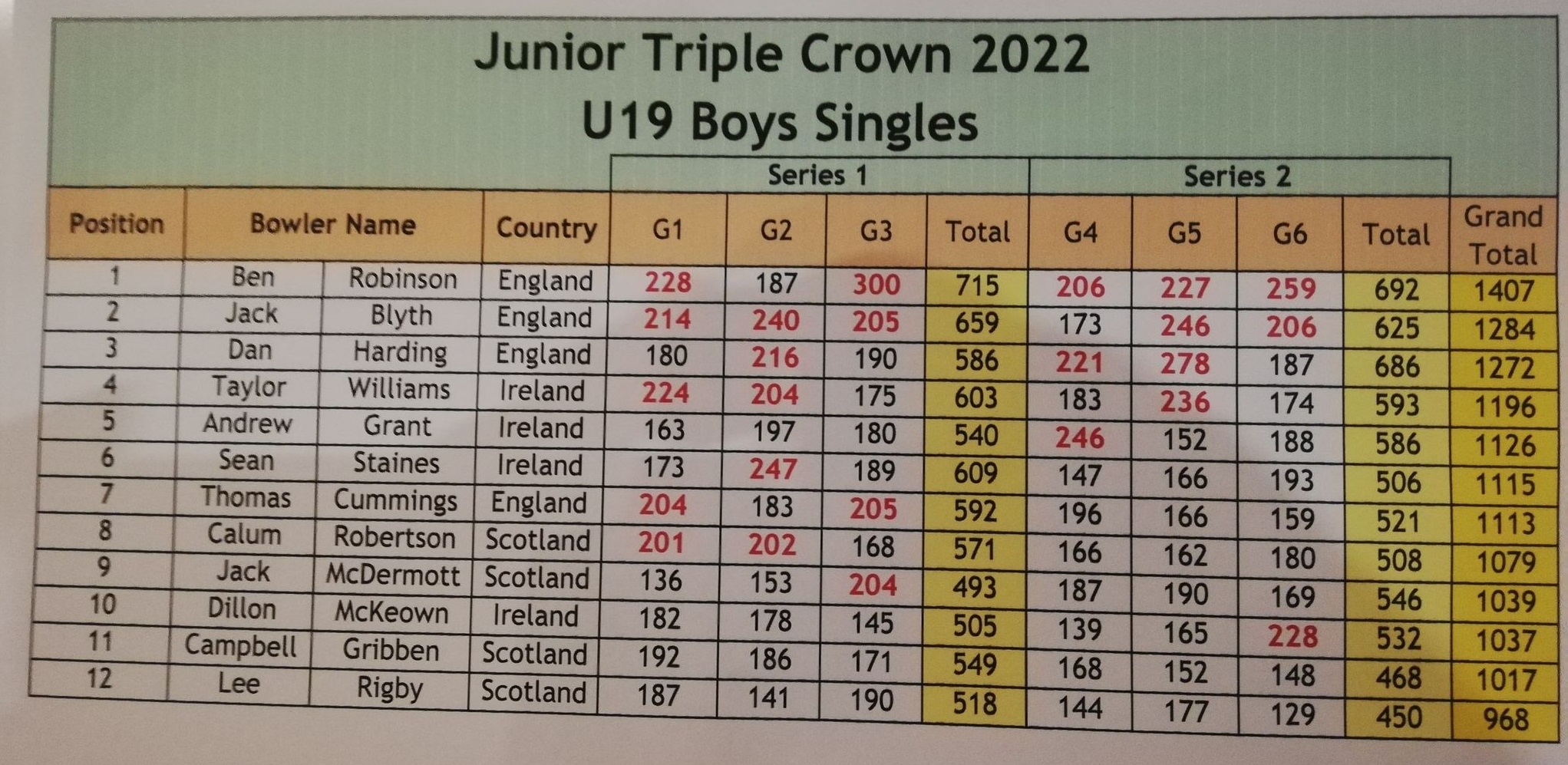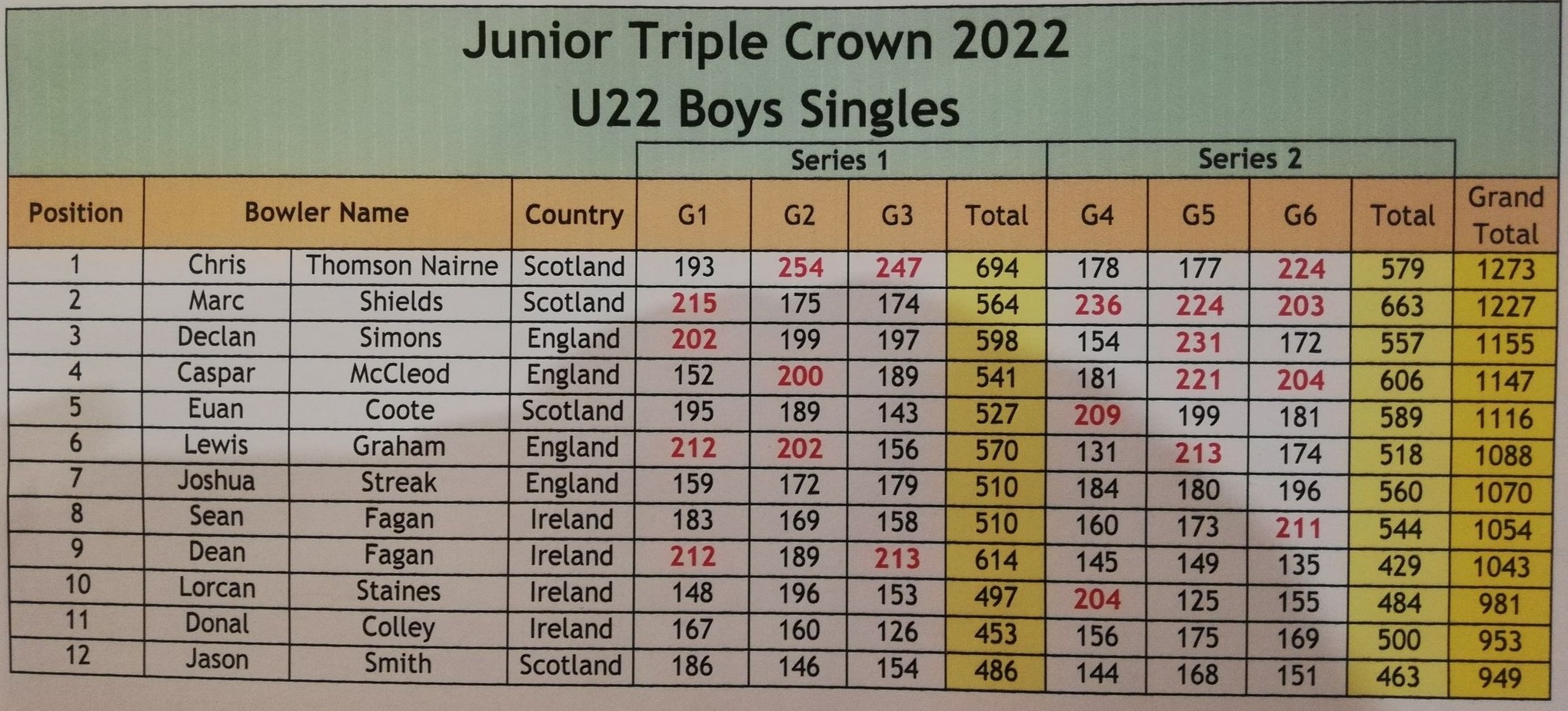 Girls Singles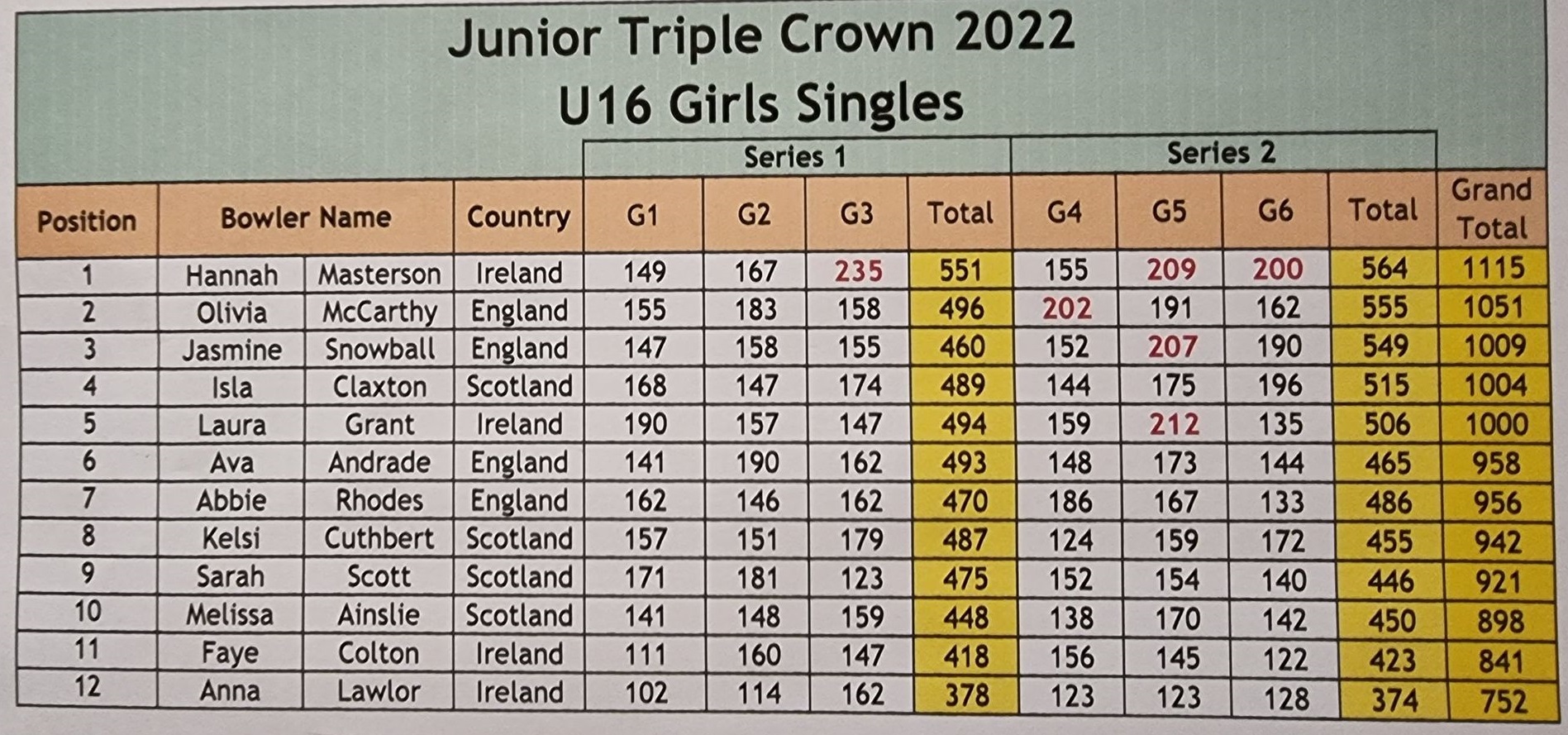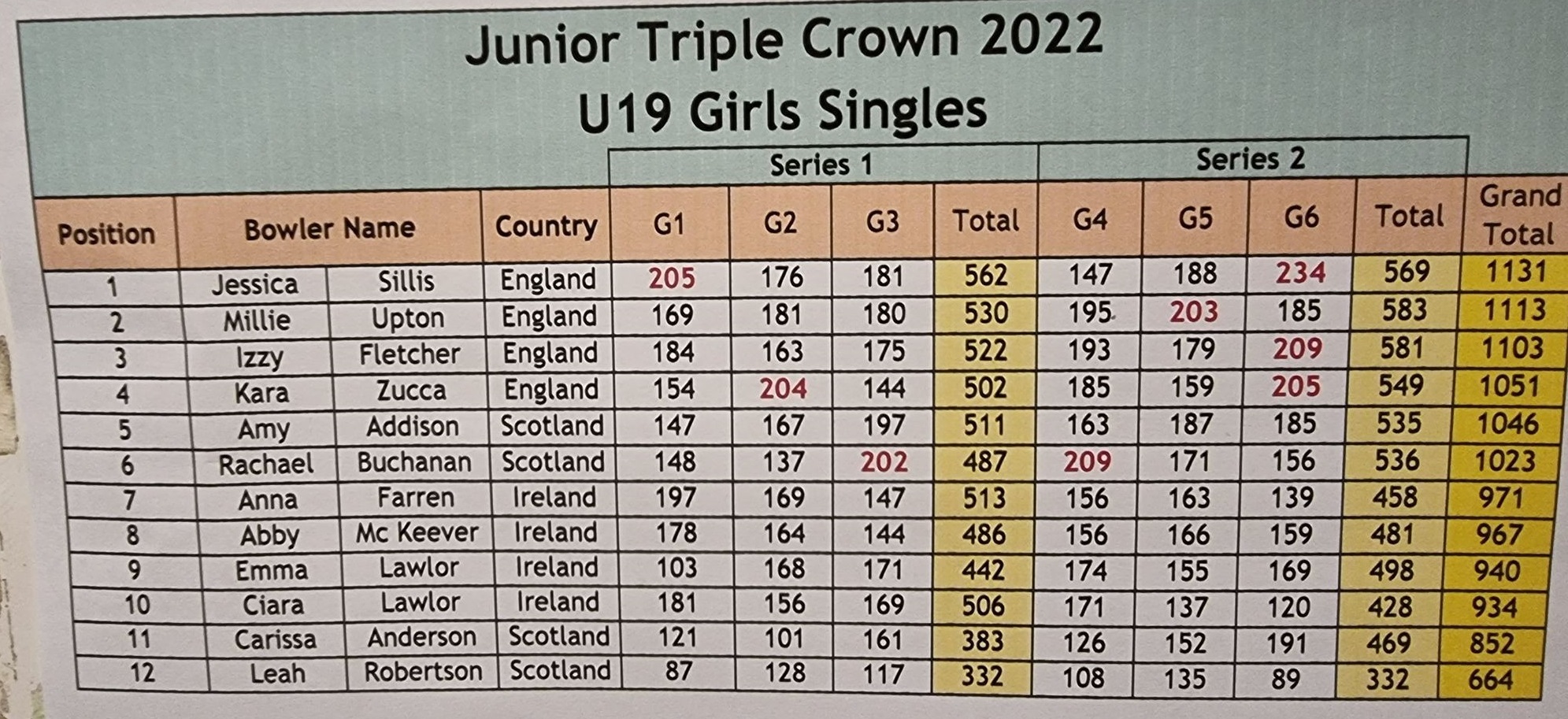 England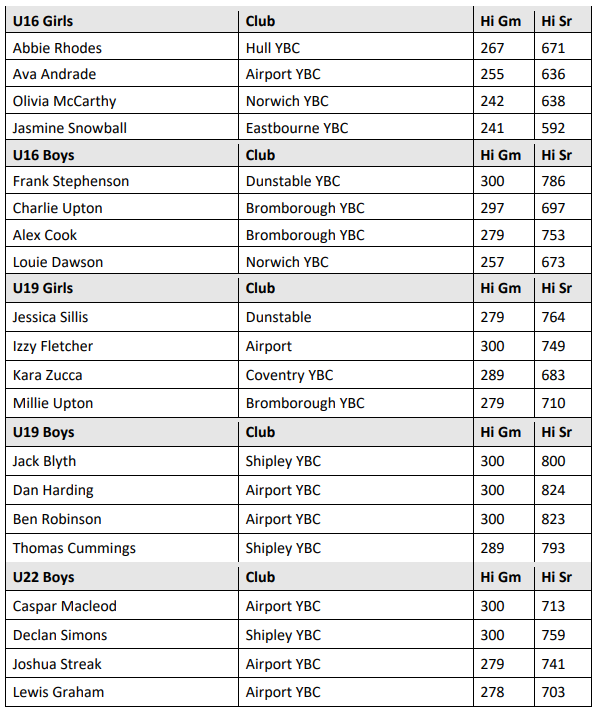 Ireland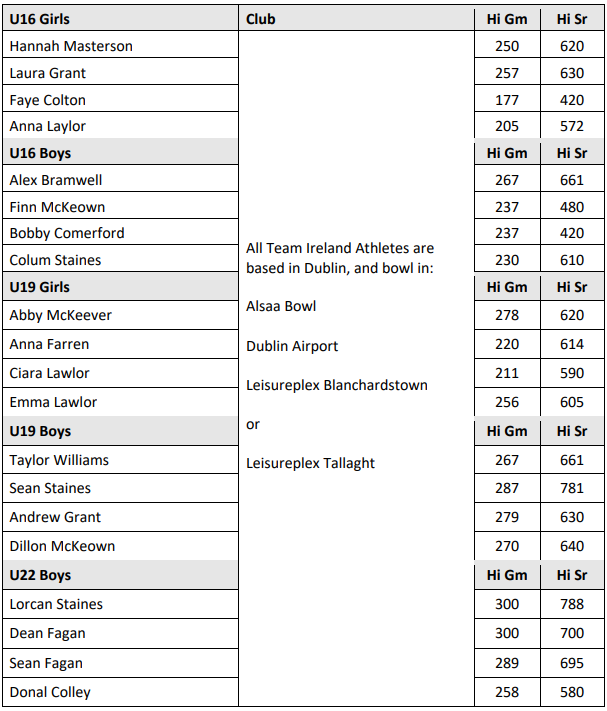 Scotland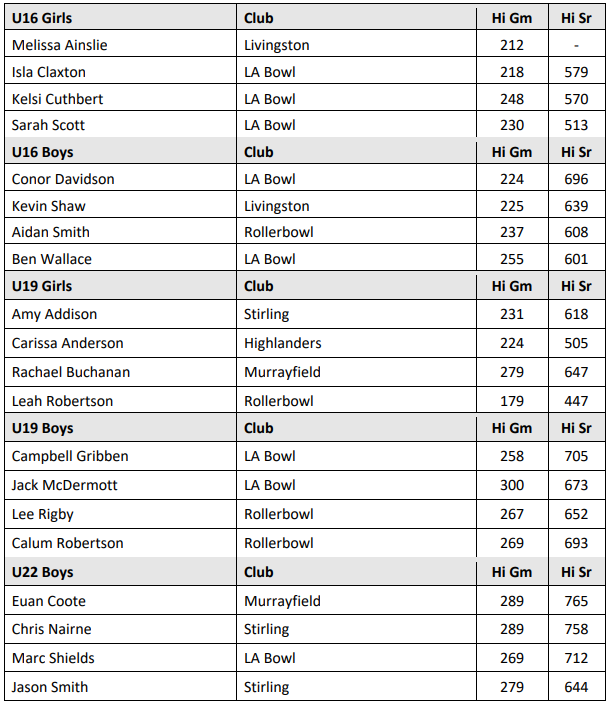 Schedule
Follow the event Via Team England Facebook here