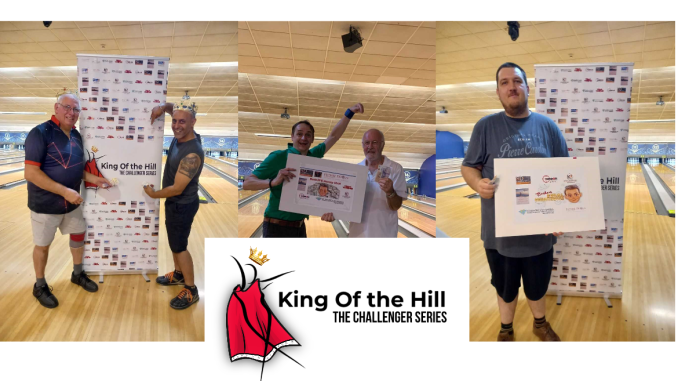 This is a new series of monthly events that I'm putting on through the summer at Gobowling Dunstable
A bit about these events – The idea is a friendly tournament that will give the bowlers a chance to bowl in an local event on a Kegel "challenge" pattern. I want to give bowlers a chance to bridge the gap between league/house pattern bowling and an elite "Sports Tournament". Thanks to our sponsors we are able to keep the price down so it will give you space to learn and grow as a Tournament bowler. I want bowlers to learn and test themselves but at the same time not feel too pressured by the bowling environment – And I hope this series of events will enable you to do that.
Scratch and handicap prize fund.
The pattern chosen for this event was the Kegel Challenge Tungsten Pattern.
The top 3 scores Scratch were
Basher Bonfield 1338 a 223 average
Jordan Hart 1217 a 204 average
Sukky Gill 1209 a 202 average
Thanks to the tournament manager securing some sponsorship for the event meant we threw in some extra prize money.
We had £10 high game for each of the high game
Game 1 – Jordan Hart 257
Game 2 – Basher Bonfield 265
Game 3 – Basher Bonfield 247
Game 4 – Darren Michael 257
Game 5 – Darren Michael 267
Game 6 – Darren Michael 244
The top 3 in handicap section were
Darren Michael 1333
Paul Button 1237
Coz Couch 1235
So before we got into the finals we had a little fun thing … the MONEY shot … a bowler Randomly drawn (using google random number generator) had 1 ball to get a strike – if they got all 10 they won themselves £30
First up was Ben "jesus" Needham, But not even jesus could turn a 6 count into a strike.
Up next was sponsor "travel with the smiths" Martin Smith… but it wasn't to be.
So we went to the hairy furbee Darren Michael – and despite just throwing in a 750 series he couldn't strike when it mattered. Jo Caine was next… he was more like Michael Caine… no strike.
Tristan Hinchliffe had a go, but NO Strike.
Lee Bradley had a go … but NO strike.
Up hobbled up 85 year old Gerry Wrathall – poor Gerry looking dazed and confused and not really sure what was going on went up there and STRUCK !!!
GAME OVER !! Gerry wins the £30 !!
Step ladder finals
Into Match 1
Handicap
Couch vs Button – both on the same sort of handicap. To be fair Coz Couch never stood a chance, as Paul Button had the game of his life with a 227 scratch and 273 with handicap and Coz was soundly beaten
Scratch
Jordan the Hit man Hart vs DJ Sukky Gill.. hit man couldn't hit a single pin and three opens inside 5 frames really handed the win to Sukky 202 vs 145
Before the final we had the "final countdown" – again a bowler randomly selected would get 2 minutes to knock down as many skittle as they could… and them pins would be turned into £'s. The first bowler google selected had left early !!! the next number out belonged to Jonathan Keating – a seven spare, then a 5-1 frame meant is was looking like a mean return.. but then a strike and a 8 count gave Jonathan a £34 return.
Title Matches
Handicap
Paul Button vs Darren Michael – on paper Darren should be easily reeling in the 46 pins head start Paul had due to his handicap advantage. But Darren wasn't looking very convincing. But he strung 3 in a row in frames 8,9 and 10 and it gave him a chance,,, but then a 5 split reared its ugly head and Paul took the title was a 190-185 win.
Scratch
Not a classic – Sukky was clean and basher had 2 open frames and that was difference – Basher losing a title match for the 3rd time ! – 212-192 to Sukky.
Sponsors were
SD Carpentry Ltd – https://www.facebook.com/sdcarpentryltd
Travel with the Smiths – https://www.facebook.com/travelwiththesmiths
S&T Autos – http://sandtautos.net/
Sundon Model Shop – https://www.facebook.com/sundonmodelshop
KPeach Floor and Wall Tilling – https://www.facebook.com/kpeach.wallandfloortiling
Future Design and Engineering – http://www.future-design.co.uk/
I'm working on confirming the date for the next event, but this might be the final event of this particular series. Keep an eye on the event facebook page https://www.facebook.com/groups/1123770395141402
We also streamed the event and you can find the video on my twitch channel https://www.twitch.tv/basherback2back
Download and view full results Here