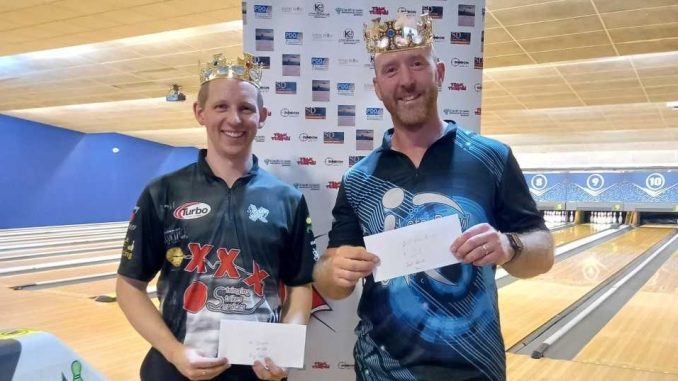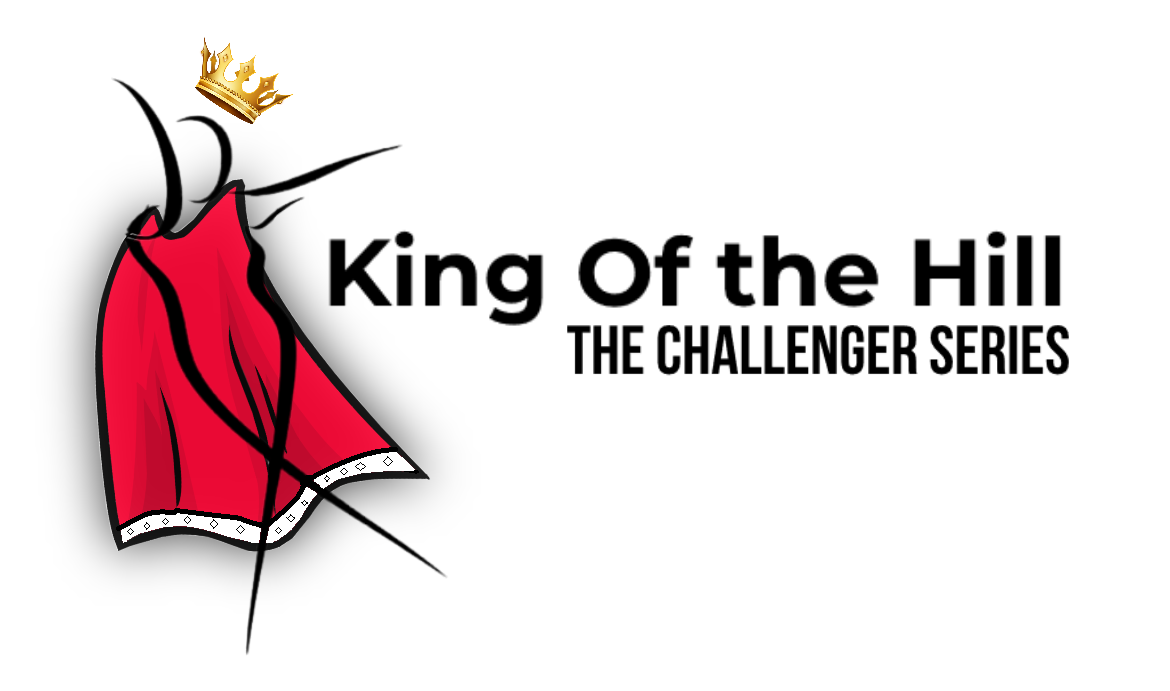 This is a new series of monthly events that I'm putting on through the summer at Gobowling Dunstable
A bit about these events – The idea is a friendly tournament that will give the bowlers a chance to bowl in an local event on a Kegel "challenge" pattern. I want to give bowlers a chance to bridge the gap between league/house pattern bowling and an elite "Sports Tournament". Thanks to our sponsors we are able to keep the price down so it will give you space to learn and grow as a Tournament bowler. I want bowlers to learn and test themselves but at the same time not feel too pressured by the bowling environment – And I hope this series of events will enable you to do that.
Scratch and handicap prize fund.
The pattern chosen for this event was the Kegel Challenge Chromium Pattern.
The top 3 scores Scratch were
Reece Parker 1228 a 204 average
Basher Bonfield 1287 a 214.5 average
Ray Teece 1305 a 217.5 average
Thanks to the tournament manager securing some sponsorship for the event meant we threw in some extra prize money. We had £10 high game for each of the high game
Game 1 – Blake Smith 225
Game 2 – Ray Teece 267
Game 3 – Jo Green 252
Game 4 – Dan Birch 257
Game 5 – Jordan Hart 245
Game 6 – Dan Bonfield 269
The top 3 in handicap section were
Steve Giddens 1279
Dan Birch 1320
Alfie Humphrey 1436
So before we got into the finals we had a little fun thing … the MONEY shot … a bowler Randomly drawn (using google random number generator) had 1 ball to get a strike – if they got all 10 they won themselves £30
First up was Sukky Gill – normally striking for sukky wouldn't have been a problem, but off the back of bad block of 6, Sukky was spent and it was an 8 count
Next up was Jordan Hart – Ploughed it through the nose for a 7-10 split.
Then we had Coz Couch – but with every one watching and Basher heckling she threw a nervous looking 6 count
Then Ray Teece's number came up and after being top qualifier there was no way he was missing – flush in the pocket all 10 in the pit and £30 in his back burner.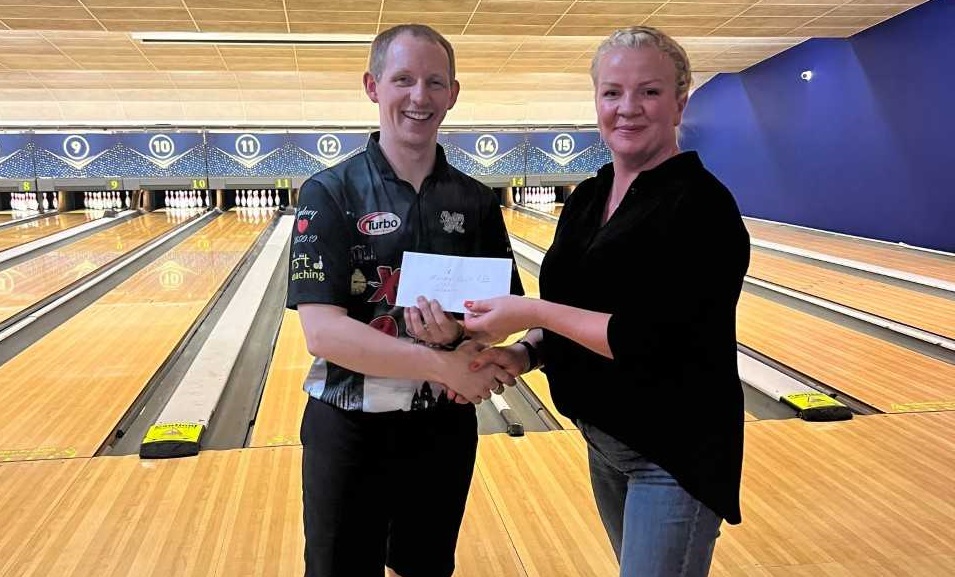 Step ladder finals
Into Match 1
Handicap
Giddens vs Birch – Giddens opened the first 2 frames whereas Birch started with 4 in the row. It was an uphill battle for Giddens after that, and at his age he only does downhill… Birch running out an easy winner 241 vs 172
Scratch
Basher vs Parker – Basher getting tapped, and Parker striking strikes. Basher's chances ending with a cruel 8-10 in the pocket – not nice for a left hander ! Parker winning easily 241-184Before the final we had the "final countdown" – again a bowler randomly selected would get 2 minutes to knock down as many skittle as they could… and them pins would be turned into £'s. The first bowler google selected had left early !!! the next number out belonged to Martin Smith – it didn't look good with he opened with a 6 miss, then a 9 / then out of no where Martin went two handed ! got a strike and 9 count for a decent £35 return.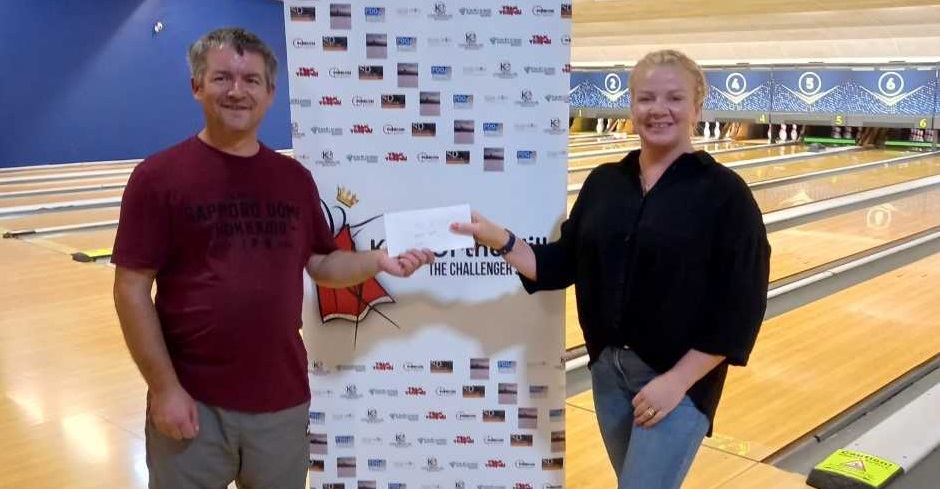 Title Matches
Handicap
YBC bowler Alfie Humphrey vs Dan Birch. Probably the first time young Alfie has played a step ladder and have the pressure of everyone watching. But he bowled great. The Match had 2 key moment – a fantastic 7 spit spare from Dan. Then in the 10th frame he needed to convert the 10 pin win the match – that's a pressure shot right there. Dan spared and won the match 239-233
Scratch
Not the best of games – Reece ran out of steam. But Ray wasn't purring has he had all day. An open by Ray in frame 4th gave Reece a sniff.. but he couldn't take it. And Ray ran out the victor 197-155
Sponsors were
SD Carpentry Ltd
Travel with the Smiths
S&T Autos
Sundon Model Shop
KPeach Floor and Wall Tilling
Future Design and Engineering
The next event is on 21st August – entry will be open soon and the will posted in the event group page https://www.facebook.com/groups/1123770395141402
We also streamed the event and you can find the video on my twitch channel https://www.twitch.tv/basherback2back
Results