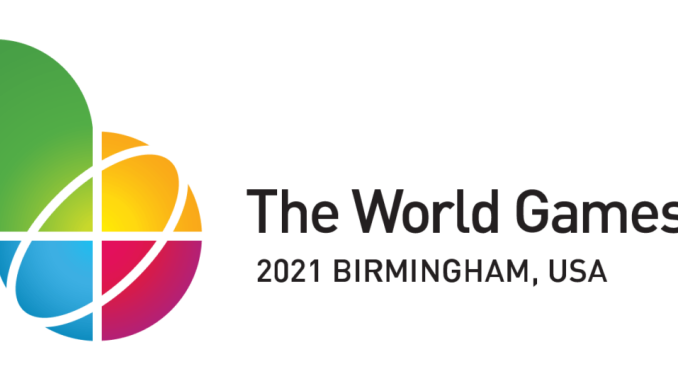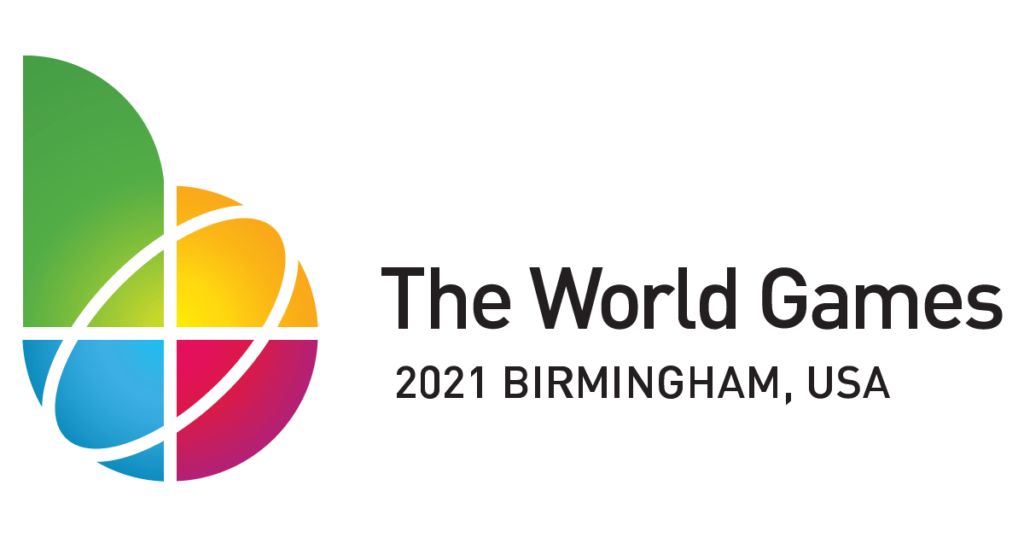 The World Games take center stage July 7 – 17, 2022, in the Birmingham–Jefferson Convention Complex (BJCC) with bowling taking place July 8 – 11.
The World Games is an international sports event held every four years, in the year following each Summer Olympic Games. Staged over 11 days.
The Games represents the pinnacle of competition for 3,600 of the world's best athletes in 30+ unique, multi-disciplinary sports.
QubicaAMF have installed 8 full lanes of its latest EDGE String technology in the BJCC for this event.
For the first time in the history of the sport, string bowling technology will be featured in one of the most important bowling competitions in the world.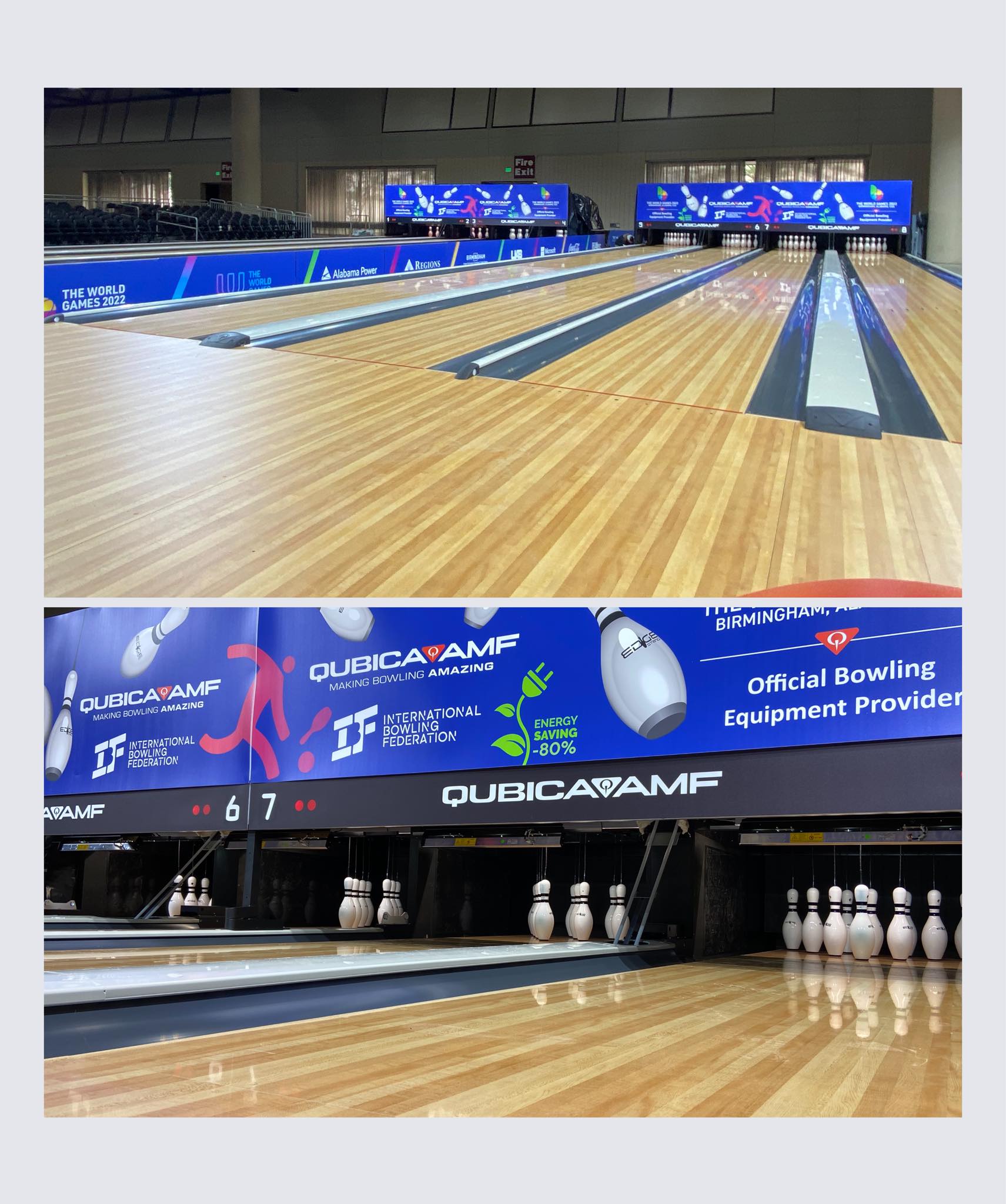 Find out more details here for TV broadcasting in your country:
Or watch the Live Streaming
Watch other sports here
Countries competing
Men
Australia, Canada, China, Colombia, Costa Rica, Czech Republic, Denmark, France, Italy, Germany, Korea, Kuwait, Malaysia, Puerto Rico, South Africa, USA
Women
Australia, Aruba, Chinese Taipai, Colombia, Denmark, France, Germany, Korea, Kuwait, Malaysia, Mexico, Puerto Rico, Singapore, South Africa, Sweden, USA
Reports
Men's Singles
The competition was underway on Friday and starting with the Men. Wins in the first round for Colombia's Andres Gomez, defeating Frenchman Valentin Saulnier 2-1, Malaysia's Timmy Tan winning 2-1 against South Africa's Jivi Sewchuran. Italy's Salvatore Polizzotto winning 2-0 against Kuwait's Mostafa Almousawi and Canada's Darren Alexander beating China's Wang Hongbo 2-0.
The next block saw wins for Aussie Sam Cooley 2-1 verses Costa Rica's Jonaykel Conejo and USA's Trent Mitchell taking out Costa Rica's Edgar Burgos 2-1. Korea's Donghuk Park beat Germany's Pascal Winternheimer 2-1 and Dane Jesper Agerbo beating the Czech Republic's Jan Macek 2-1. Wins also for China's Du Jianchau verses Denmark's Dan Ostergaard-Poulsen 2-0 and Italy's Pierpaolo De Filippi beating Frenchman Gaetan Mouveroux 2-0.
The final block saw wins for Jaroslav Lorenc (CZE), Rafiq Ismail (MAS), Alec Kiplinger (USA) and Graham Fach (CAN).
Round of 16
The Mens singles was back on Sunday with the round of 16 and a 2-0 win for Malaysia's Timmy Tan against Colombia's Andres Gomez as Canadian Darren Alexander was taken to three games by Italian Salvatore Polizzotto 2-1. Former World Cup champion Sam Cooley from Australia taking out American Trent Mitchell 2-0 and Korean Donghyuk Park beating Denmark's Jesper Agerbo in three games 2-1. China advanced as Du Jianchao defeated Italian Pierpaolo De Filippi 2-0 and another close match saw Czech Jaroslav Lorenc squeeze through 2-1 against Colombia's Jaime Gonzalez. Finally Canada's Graham Fach was through by beating American Alec Kiplinger 2-0 and Malaysian Rafiq Ismail advancing by beating Korean Donghyeon Kim 2-0.
Quarter Finals
Eight down to just four and pressure on to stay in the event for all. Czech Jaroslav Lorenc through in two games against China's Du Jianchao but all three of the other matches going to three games, Aussie Sam Cooley through 2-1 against Korean Donghyuk, Canadian Graham Fach beating Malaysia's Rafiq Ismail 2-1 and Canadian Darren Alexander adding to Malaysian woes taking out Timmy Tan 2-1.
Semi Finals
Australian Sam Cooley booked his place in the final by beating Canadian Darren Alexander 2-0, taking the first game 220-204 then the second 224-143.
The other semi final was a lot closer and went to three games as Canadian Graham Fach took a close first game against the Czech Republic's Jaroslav Lorenc 236-227. The Czech bouncing back in game two to level the match 247-177. The last game a close fought win for Jaroslav Lorenc in the end taking the last game 238-218.
Final
It would mean a lot to both finalists to add this Gold to their CV and especially Sam Cooley of Australia who also won the Bowling World Cup. Czech Jaroslav Lorenc staked his claim early on by taking the first game 258-244 but Aussie Cooley was not about to roll over and took the second game 266-202. Game three to decide Gold was much closer but the Australian holding his nerve to win 211-181.
The roll off for Bronze saw an all Canadian match with Darren Alexander against team mate Graham Fach. The match would sway one way then the next as Fach took the first game 226-190 then Alexander the second 220-167 but the flow swayed back to Fach in game three to win the medal 225-203.
Womens Singles
Later in the day the Women took to the lanes and wins for Taishaye Naranjio (PUR), Solene Goron (FRA), Shannon O'Keefe (USA), Rebekah Commane (AUS), Sujin Yang (KOR), Jenny Wegner (SWE), Denese Blankenzee (NED), Juliana Franco (COL), Cajsa Wegner (SWE), Janin Ributh (GER), Cherie Tan (SGP), Kamilah Dammers (ARU), Pamela Perez (PUR) Rebekah Martin (AUS), Clara Guerrero (COL) and Li Jane Sin (MAS).
Round of 16
France were cheering in the Women's singles last 16 as Solene Goron advanced by beating Puerto Rico's Taishaye Naranjo 2-0 and American joy as favourite Shannon O'Keefe took out Aussie Rebekah Commane 2-0. Another favourite Sweden's Jenny Wegner beating KOrean Sujin Yang 2-0 and The Netherlands Denise Blankenzee advancing past Colombia's Juliana Franco 2-0. Also through was Germany's Janin Ribguth against Sweden's Cajsa Wegner 2-0 and yet other favourite still going was Singapore's Cherie Tan 2-0 against Aruba's Kamilah Dammers 2-0. Also through Aussie Rebekah Martin 2-0 against Puerto Rico's Pamela Perez and last but by no means least the one and only Clara Guerrero from Colombia in a tough tie adavcing past Malaysia's Li Jane Sin.
Quarter Finals
Three of the top four favourites made it through in the quarterfinals as American Shannon O'Keefe took out Frenchwoman Solene Goron in a close 2-1 win as Sweden's Jenny Wegner squeezed past The Netherlands Denise Blankenzie 2-1 and Clara Guerrero of Colombia breezing past Aussie Rebekah Martin 2-0. Out though went Singapore's Cherie Tan in three games to Germany's Janin Ribguth.
Semi Finals
Two time World Cup champion Clara Guerrero was through but onlly after three games. Clara taking the first 201-181 then German Janin Rigbuth fighting back to take game two 215-180. Then a close final game saw the Colombian through 224-205.
The other semi made history as Sweden's Jenny Wegner rolled a perfect game on string taking the first game as Shannon O'Keefe could only watch with a 229. Game two it turned around and the American winning 225-174. The final game going to the final frames and Joy for USA and dispair for Sweden as Shannon O'Keefe advanced 218-203.
Final
Two of the early favourites in the final and both with a wealth of experience and titles over the years and a chance to add a first World title on String machines. American Shannon O'Keefe clear in her intentions early on by smashing in a 279 to take game one as Clara Guerrero replied with 194. Game two a lot closer and a fightback from the Colombian to level the match 216-205. One game from Gold and another close fought game saw Shannon O'Keefe add World Games Gold to a World Cup win and multiple PWBA titles in a glittering career.
The Bronze match saw two European nations chasing the last medal and Sweden's Jenny Wegner taking the advantage in the first game with a fine 268 with German Janin Ribguth with 172. The closest of games saw the German level the match by just three pins in an epic 248-245 win. Game three saw the experience of Wegner see her through to Bronze with a final game of 230 as Ributh hit 206.
Men's Doubles
2-0 wins for Australia vs Colombia, China vs France, Korea vs Germany, Canada vs Costa Rica, Korea vs USA and Canada vs Kuwait. Closer matches saw Denmark squeeze past China 2-1, Puerto Rico beating Australia 2-1, Kuwait sending out South Africa 2-1, Puerto Rico beating The Czech Republic 2-1. Finally USA beat Malaysia 2-1 and Denmark beat Italy 2-1.
Quarter Finals
Two matches over in two games saw Korea beat the USA and Canada beat Kuwait but the other two going the distance and wins for Puerto Rico against Australia and Denmark against China both going to 2-1.
Semifinals
Denmark and Canada both advance to the final in 2-1 wins, The Danes taking out Puerto Rico and Canadians beating Korea.
Final
What a day for the Danish and worthy of the Great Danes tag as Jesper Agerboo and Dan Ostergaard-Poulsen copied the women and claimed gold over two games against Canada's Darren Alexander and Graham Fach. 204-187 and 212-180.
The Bronze match saw Korea win over three games against Puerto Rico. Edgar Burgos and David Marquez taking the first game but Donghyeon Kim and Donghyuk Park taking the next two games for the medal.
Women's Doubles
The Women were first up on Saturday for the doubles event and wins for The USA vs Sweden 2-0, Australia beating Aruba 2-0 as Mexico defeated South Africa 2-0. Colombia took out Chinese Taipei 2-0. A closer match saw The Netherlands beat France 2-1 as Malaysia beat Puerto Rico 2-0, Korea sending out Singapore 2-0, Denmark beating Germany 2-0 and USA defeating Australia 2-0, Finally Colombia took out Mexico 2-0, Malaysia beat The Netherlands 2-0 and Denmark sending Korea out 2-0.
Quarter Finals
All 2-0 wins in the quarter finals as the USA brushed past Australia, Colombia took out Mexico, Malaysia adavnced against The Netherlands and Denmark beat Korea to make up the final four.
Semifinals
Denmark took just two games to advance to the fianl against Malaysia but the USA were taken to three games by Colombia to book their place in the final.
Final
It was not to be the highest scoring of finals but certainly exciting as the match went one way then the next as Denmark's Mika Guldbaek and Mai Ginge Jensen took the first game 199-184 but American's Julia Bond and Shannon O'Keefe back in the match in game two winning 226-182. The final game going to Denmark 226-177 and Gold for Guldbaek and Jensen.
The match for Bronze saw some bigger scores but a quicker outcome as Malaysia's Natasha Roslan and Li Jane Sin fired 235 to Colombia's 204 in game one. Juliana Franco and Clara Guerrero fought back in game two but held off by a strong Malaysian duo in a close 247-237 win.
Results
Results will appear on the official website during the event here
Here is the Streaming link and online scoring link
Schedule