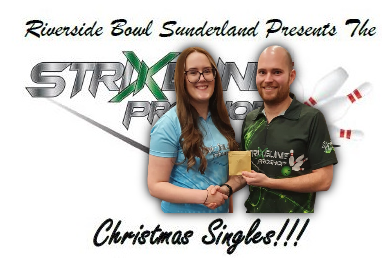 Amy Teal wins the 2021 Strikeline Christmas Singles tournament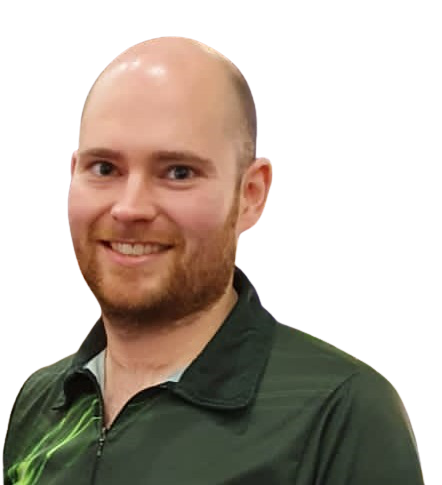 by Andrew Robson
First of all thanks to all 50 bowlers who entered the tournament. Unfortunately we lost approximately 10 players in the week leading up to the event for various reasons, but it was still a great day and a great turn out.
Special thanks to those of you who travelled from outside the local area to support our event this was greatly appreciated too!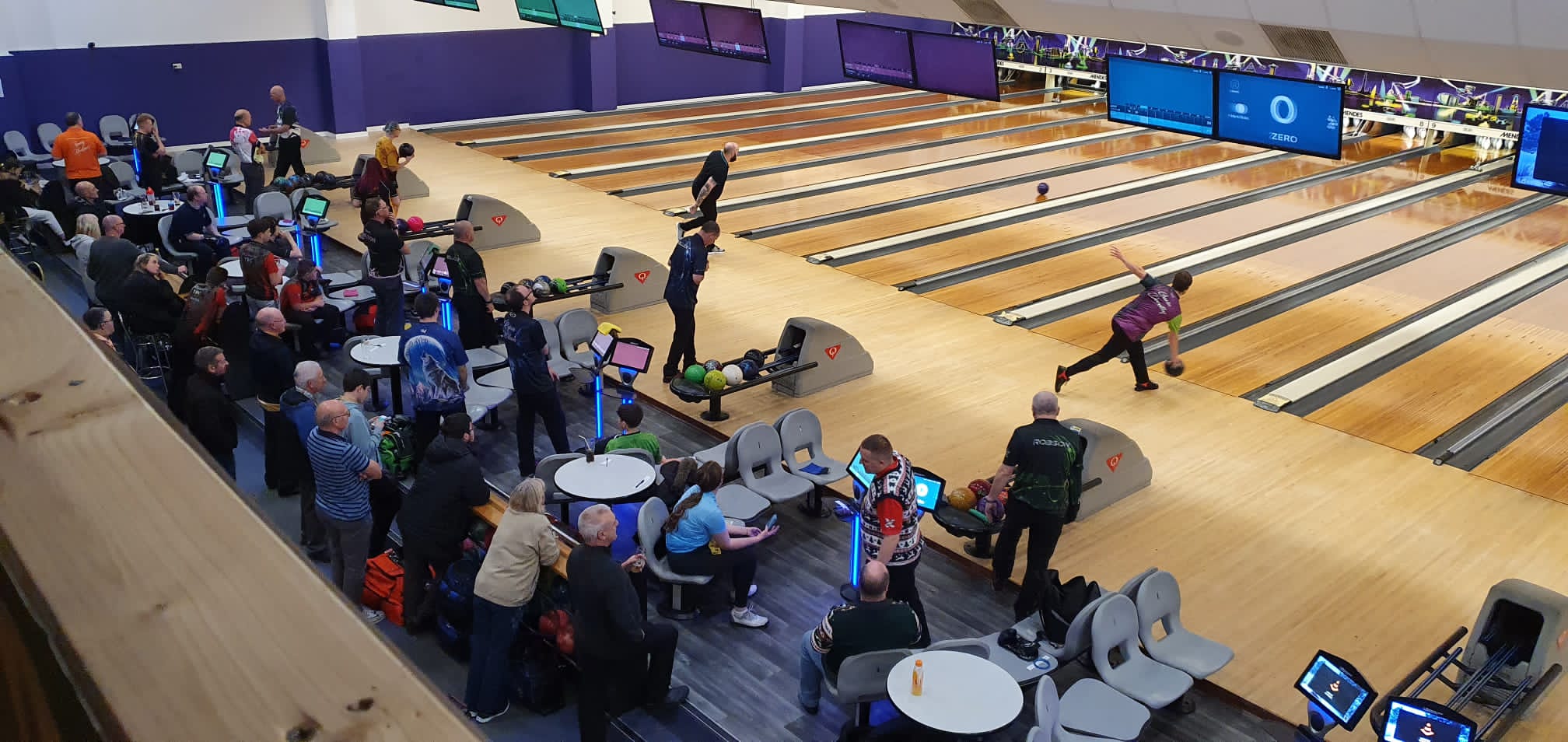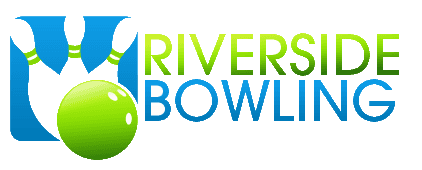 Thanks to Riverside Bowl Sunderland and all of the staff, they allowed us to have the full centre for the day, and the tournament could not have ran any smoother!
Riverside Bowl also sponsored a High Scratch Game prize which was tied by Jack Butler and Anthony Robson with a game of 256.
All results from Qualifying, Top 20, Quarter Finals, Semi Finals and the Final are below.
Congratulations to our prize winners:
Quarter Finalists:
Nathan Halliday
Ben Marston
Jayne Olsen
Anthony Robson
Semi Finalists
Cara Pleasance
Ryan Wilson
Finalist
Les Taylor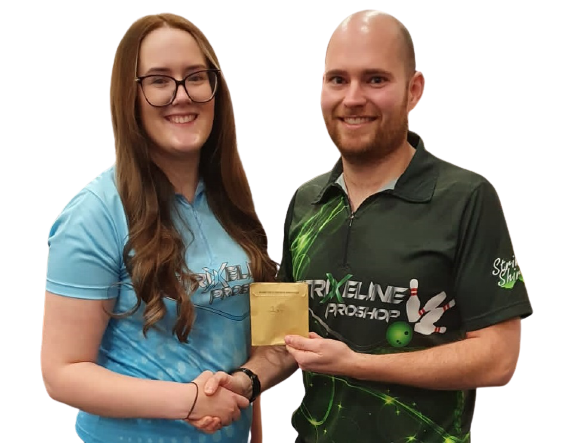 And this year's Strikeline Christmas Winner Amy Teal!
I'd like to take this opportunity to wish all of you a very Merry Christmas and a Happy New Year. The Pro Shop will close at 7.30pm on Thursday the 23rd of December and re-open on Thursday the 6th of January at 5pm.
| | | | | | | | |
| --- | --- | --- | --- | --- | --- | --- | --- |
| FINAL | | | | | | | |
| Position | Name | Average | Handicap | Game 1 | Game 2 | Scr Total | Handicap Total |
| 1 | Amy Teal | 175 | 38 | 237 | 171 | 408 | 484 |
| 2 | Les Taylor | 164 | 46 | 150 | 205 | 355 | 447 |
| | | | | | | | |
| --- | --- | --- | --- | --- | --- | --- | --- |
| Round 4 | | | | | | | |
| Position | Name | Average | Handicap | Game 1 | Game 2 | Scr Total | Handicap Total |
| 1 | Amy Teal | 175 | 38 | 190 | 238 | 428 | 504 |
| 4 | Ryan Wilson | 185 | 30 | 195 | 181 | 376 | 436 |
| | | | | | | | |
| 2 | Cara Pleasance | 141 | 63 | 180 | 148 | 328 | 454 |
| 3 | Les Taylor | 164 | 46 | 227 | 182 | 409 | 501 |
| | | | | | | | |
| --- | --- | --- | --- | --- | --- | --- | --- |
| Round 3 | | | | | | | |
| Position | Name | Average | Handicap | Game 1 | Game 2 | Scr Total | Handicap Total |
| 1 | Nathan Halliday | 194 | 23 | 246 | 199 | 445 | 491 |
| 8 | Amy Teal | 175 | 38 | 244 | 204 | 448 | 524 |
| | | | | | | | |
| 2 | Ben Marston | 157 | 51 | 138 | 167 | 305 | 407 |
| 7 | Cara Pleasance | 141 | 63 | 206 | 193 | 399 | 525 |
| | | | | | | | |
| 3 | Les Taylor | 164 | 46 | 170 | 204 | 374 | 466 |
| 6 | Anthony Robson | 192 | 25 | 201 | 177 | 378 | 428 |
| | | | | | | | |
| 4 | Jayne Olsen | 134 | 68 | 126 | 147 | 273 | 409 |
| 5 | Ryan Wilson | 185 | 30 | 276 | 168 | 444 | 504 |
| | | | | | | | |
| | | | | | | | |
| | | | | | | | | | | |
| --- | --- | --- | --- | --- | --- | --- | --- | --- | --- | --- |
| Round 2 | | | | | | | | | | |
| Position | Name | Average | Handicap | Game 1 | Game 2 | Game 3 | Scr Total | HCP Total | 4 Game Hcp Total | Overall Total |
| 1 | Nathan Halliday (Re-entry) | 194 | 23 | 259 | 240 | 206 | 705 | 774 | 996 | 1770 |
| 2 | Ben Marston (Re-entry) | 157 | 51 | 174 | 212 | 189 | 575 | 728 | 945 | 1673 |
| 3 | Les Taylor | 164 | 46 | 172 | 229 | 203 | 604 | 742 | 930 | 1672 |
| 4 | Jayne Olsen | 134 | 68 | 186 | 169 | 165 | 520 | 724 | 907 | 1631 |
| 5 | Ryan Wilson | 185 | 30 | 213 | 203 | 210 | 626 | 716 | 910 | 1626 |
| 6 | Anthony Robson | 192 | 25 | 187 | 193 | 188 | 568 | 643 | 973 | 1616 |
| 7 | Cara Pleasance | 141 | 63 | 160 | 183 | 160 | 503 | 692 | 924 | 1616 |
| 8 | Amy Teal | 175 | 38 | 212 | 149 | 201 | 562 | 676 | 933 | 1609 |
| 9 | Craig Wilson | 183 | 32 | 179 | 165 | 192 | 536 | 632 | 977 | 1609 |
| 10 | Connor Gray | 112 | 85 | 124 | 157 | 153 | 434 | 689 | 905 | 1594 |
| 11 | Brian Buchanan (Re-entry) | 162 | 47 | 148 | 159 | 212 | 519 | 660 | 922 | 1582 |
| 12 | Jonathan Halliday | 192 | 25 | 245 | 204 | 164 | 613 | 688 | 892 | 1580 |
| 13 | Steven Buchanan (Re-entry) | 163 | 47 | 189 | 132 | 205 | 526 | 667 | 902 | 1569 |
| 14 | Barry Walker | 207 | 14 | 170 | 203 | 228 | 601 | 643 | 922 | 1565 |
| 15 | Adam Rogan | 165 | 45 | 186 | 157 | 169 | 512 | 647 | 893 | 1540 |
| 16 | Gav Dorothy | 192 | 25 | 192 | 159 | 191 | 542 | 617 | 912 | 1529 |
| 17 | Lewis Graham | 187 | 29 | 200 | 145 | 206 | 551 | 638 | 884 | 1522 |
| 18 | Tony Holmes | 198 | 20 | 146 | 198 | 209 | 553 | 613 | 905 | 1518 |
| 19 | Connall Mair | 184 | 31 | 176 | 184 | 160 | 520 | 613 | 882 | 1495 |
| 20 | Craig Smith (Re-entry) | 185 | 30 | 202 | 135 | 142 | 479 | 569 | 887 | 1456 |
| | | | | | | | | | |
| --- | --- | --- | --- | --- | --- | --- | --- | --- | --- |
| Qualifier | | | | | | | | | |
| Position | Name | Average | Handicap | Game 1 | Game 2 | Game 3 | Game 4 | Scr Total | Handicap Total |
| 1 | Nathan Halliday (Re-entry) | 194 | 23 | 226 | 238 | 225 | 215 | 904 | 996 |
| 2 | Craig Wilson | 183 | 32 | 188 | 232 | 193 | 236 | 849 | 977 |
| 3 | Anthony Robson | 192 | 25 | 256 | 204 | 197 | 216 | 873 | 973 |
| 4 | Ben Marston (Re-entry) | 157 | 51 | 204 | 204 | 163 | 170 | 741 | 945 |
| 5 | Amy Teal | 175 | 38 | 180 | 170 | 219 | 212 | 781 | 933 |
| 6 | Les Taylor | 164 | 46 | 145 | 193 | 191 | 217 | 746 | 930 |
| 7 | Cara Pleasance | 141 | 63 | 178 | 158 | 163 | 173 | 672 | 924 |
| 8 | Barry Walker | 207 | 14 | 181 | 245 | 217 | 223 | 866 | 922 |
| 9 | Brian Buchanan (Re-entry) | 162 | 47 | 215 | 139 | 210 | 170 | 734 | 922 |
| 10 | Ben Marston | 157 | 51 | 173 | 180 | 202 | 161 | 716 | 920 |
| 11 | Gav Dorothy | 192 | 25 | 208 | 212 | 209 | 183 | 812 | 912 |
| 12 | Ryan Wilson | 185 | 30 | 194 | 211 | 193 | 192 | 790 | 910 |
| 13 | Jayne Olsen | 134 | 68 | 170 | 147 | 175 | 143 | 635 | 907 |
| 14 | Tony Holmes | 198 | 20 | 212 | 180 | 248 | 185 | 825 | 905 |
| 15 | Connor Gray | 112 | 85 | 175 | 136 | 117 | 137 | 565 | 905 |
| 16 | Steven Buchanan (Re-entry) | 163 | 47 | 210 | 155 | 211 | 138 | 714 | 902 |
| 17 | Adam Rogan | 165 | 45 | 168 | 172 | 173 | 200 | 713 | 893 |
| 18 | Jonathan Halliday | 192 | 25 | 208 | 202 | 212 | 170 | 792 | 892 |
| 19 | Steven Buchanan | 163 | 47 | 187 | 154 | 181 | 181 | 703 | 891 |
| 20 | Craig Smith (Re-entry) | 185 | 30 | 220 | 168 | 178 | 201 | 767 | 887 |
| 21 | Lewis Graham | 187 | 29 | 158 | 224 | 212 | 174 | 768 | 884 |
| 22 | Connall Mair | 184 | 31 | 174 | 196 | 175 | 213 | 758 | 882 |
| 23 | Peter Buckle | 182 | 32 | 194 | 171 | 189 | 200 | 754 | 882 |
| 24 | Jack Butler | 197 | 21 | 166 | 256 | 174 | 191 | 787 | 871 |
| 25 | Brian Buchanan | 162 | 47 | 151 | 179 | 199 | 144 | 673 | 861 |
| 26 | Blake Smith | 160 | 49 | 131 | 169 | 171 | 194 | 665 | 861 |
| 27 | Johnathan Malloy (Re-entry) | 157 | 51 | 151 | 171 | 156 | 177 | 655 | 859 |
| 28 | Johnathan Malloy | 157 | 51 | 149 | 162 | 154 | 188 | 653 | 857 |
| 29 | Kirstie Allison | 143 | 62 | 145 | 148 | 167 | 147 | 607 | 855 |
| 30 | Kristofer Todd (Re-entry) | 184 | 31 | 135 | 213 | 189 | 191 | 728 | 852 |
| 31 | Anya Malloy | 138 | 65 | 135 | 152 | 144 | 160 | 591 | 851 |
| 32 | Andrew Robson | 218 | 5 | 202 | 215 | 210 | 203 | 830 | 850 |
| 33 | Callum Hall (Re-entry) | 204 | 16 | 220 | 184 | 181 | 201 | 786 | 850 |
| 34 | Ryan Fraser | 108 | 88 | 113 | 133 | 149 | 101 | 496 | 848 |
| 35 | Nathan Halliday | 194 | 23 | 213 | 191 | 170 | 181 | 755 | 847 |
| 36 | Lewis Purvis | 175 | 38 | 199 | 147 | 192 | 154 | 692 | 844 |
| 37 | Grant Taylor | 207 | 14 | 190 | 169 | 227 | 198 | 784 | 840 |
| 38 | Nathan Green | 150 | 56 | 166 | 158 | 167 | 124 | 615 | 839 |
| 39 | Garry Baird | 200 | 19 | 179 | 191 | 188 | 202 | 760 | 836 |
| 40 | Grant Taylor (Re-entry) | 207 | 14 | 177 | 142 | 213 | 243 | 775 | 831 |
| 41 | Craig Smith | 185 | 30 | 170 | 181 | 180 | 178 | 709 | 829 |
| 42 | John Cassidy (Re-entry) | 180 | 34 | 179 | 174 | 166 | 170 | 689 | 825 |
| 43 | Matty Clayton (Re-entry) | 222 | 2 | 211 | 203 | 238 | 162 | 814 | 822 |
| 44 | Adam Shrubb | 206 | 14 | 235 | 138 | 189 | 201 | 763 | 819 |
| 45 | Kris Todd | 184 | 31 | 207 | 158 | 162 | 165 | 692 | 816 |
| 46 | Anneliese Malloy | 120 | 79 | 119 | 141 | 114 | 126 | 500 | 816 |
| 47 | John Cassidy | 180 | 34 | 178 | 146 | 184 | 169 | 677 | 813 |
| 48 | Jayden Gray | 95 | 98 | 109 | 89 | 120 | 101 | 419 | 811 |
| 49 | Luke Warren | 184 | 31 | 164 | 170 | 172 | 178 | 684 | 808 |
| 50 | Hannah Crowe | 132 | 70 | 133 | 132 | 93 | 168 | 526 | 806 |
| 51 | Mick Ince | 171 | 41 | 157 | 157 | 164 | 156 | 634 | 798 |
| 52 | John Armstrong | 156 | 52 | 144 | 136 | 165 | 144 | 589 | 797 |
| 53 | Piotr Legowski | 149 | 57 | 164 | 139 | 131 | 134 | 568 | 796 |
| 54 | Matty Clayton | 223 | 2 | 230 | 185 | 193 | 179 | 787 | 795 |
| 55 | Oliver Wilson | 113.5 | 84 | 139 | 89 | 142 | 88 | 458 | 794 |
| 56 | Callum Hall | 204 | 16 | 186 | 166 | 196 | 178 | 726 | 790 |
| 57 | Alan Ruddick | 90 | 101 | 76 | 109 | 96 | 103 | 384 | 788 |
| 58 | Les Taylor (Re-entry) | 164 | 46 | 169 | 134 | 137 | 162 | 602 | 786 |
| 59 | Christopher Crowe | 190 | 26 | 170 | 199 | 156 | 151 | 676 | 780 |
| 60 | Kevin Postil | 173 | 39 | 122 | 197 | 147 | 157 | 623 | 779 |
| 61 | Lee Jefferson | 192 | 25 | 162 | 167 | 172 | 174 | 675 | 775 |
| 62 | Kurtis Wong | 180 | 34 | 231 | DNF | DNF | DNF | 231 | 367 |