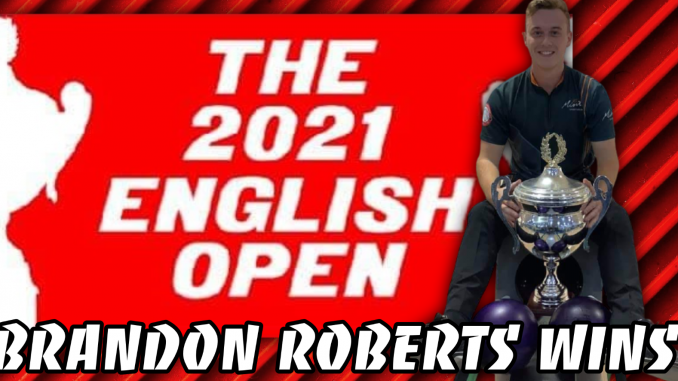 Stroud Bowl, 15-17th October 2021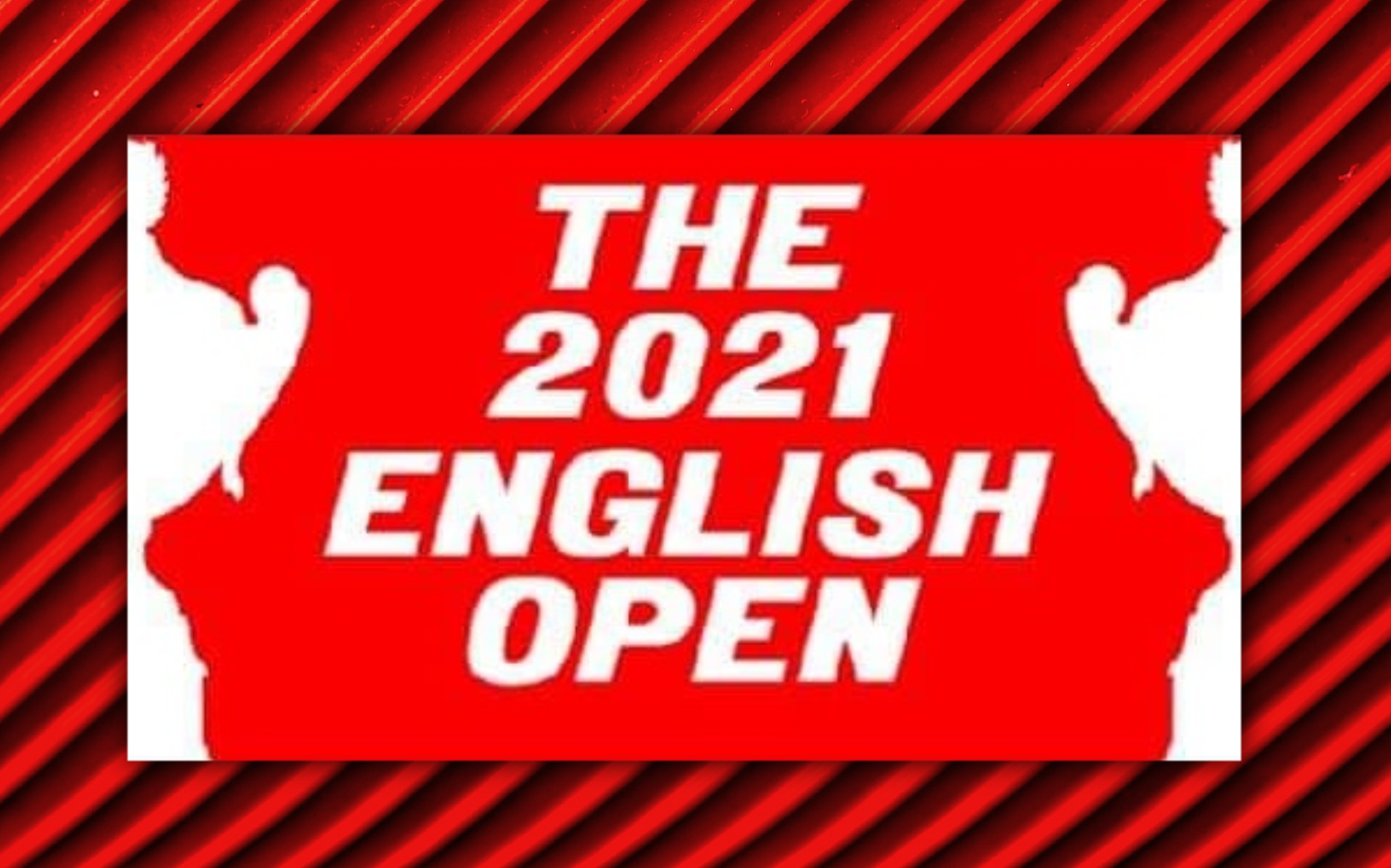 Here we are again at the very welcoming newly refurbished Stroud Bowl for the English Open 2021….. I may even say at the moment, the Home of English Bowling, well I think so and many others do also. A lovely new bar area, Bar 300 – try the new Madri Lager…. Very very easy to drink!  A new kitchen menu tastes great, new seating area, fresh decoration and refurbished toilets look great.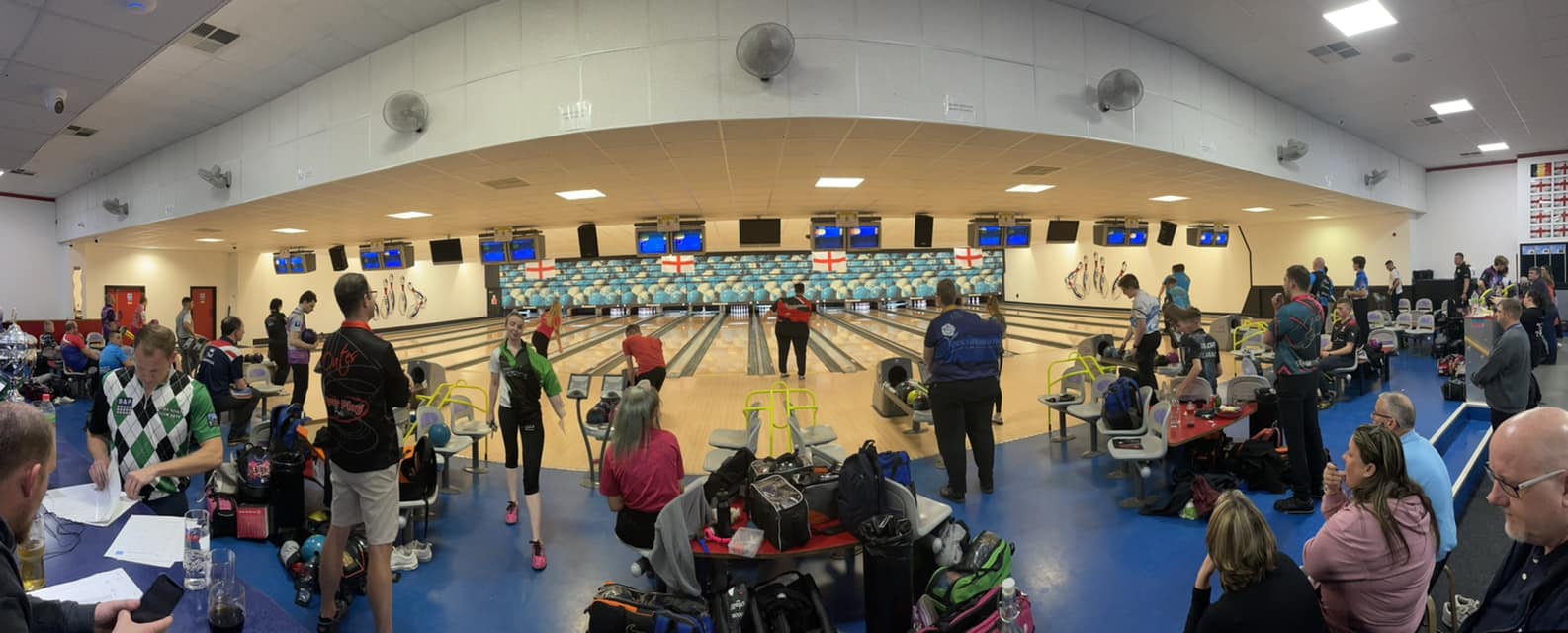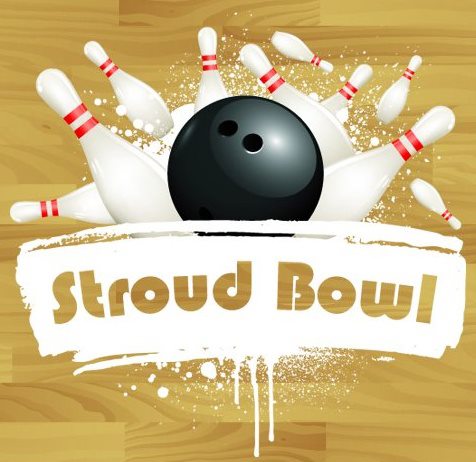 The bowling staff at Stroud really do make the effort to give a personal feel to all, especially needed for us as it's a 3 day event! Little tip….. The Full English Breakfast is an absolute winner… also… The Chicken and Bacon sandwich with Fries and salad really hits the spot, especially as the bacon is crispy!!! Could have eaten a few more, easily!! Stroud its self has had a fair bit of investment and the shopping area under the bowl has been very nicely refurbished to offer some great new shops, a street food market area and lets not forget about the new look car park!
After a short break due to the pandemic, we decided on a short , sharp format that would keep the interest alive through the weekend and most importantly we wouldn't feel to broken after 2/3 days of bowling! The Top 4 after qualifying would go directly in to the Sunday match play part of the event, missing an earlier start and letting the 28 other players fight it out to join them in the last 16!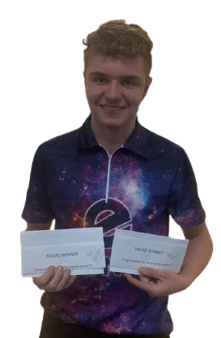 Ben Jammin on Day one
Friday afternoon started well with players from England, Wales , Ireland and Scotland all taking to the lanes to see what was in store. With 4 squads played we saw a new face arrive on the top spot as Ben Robinson fired a very punchy 1456 for a 132 pin buffer from the Welsh Wizard James Footner in 2nd shotting 1324. Englishman Liam Fitzpatrick took 3rd with 1298 and rounding out the top 4 was Irelands 2 hander Taylor Williams with 1293. Scotland's Steven Gill shot a 715 in his first block so he was one to watch out for the following morning when he would finish off his qualifying block!
Saturday Buzz

Saturday 9am and the buzz was back in the bowl. With plenty of squads left to play and more players turning up minute by minute you could just sense it was going to be a great event. English Open previous winners, Paul Moor and Steve Thornton were in the mix alongside a few of England's finest youth players and younger talent. Squad by squad positions changing and players re-entering to try and beat their pervious scores, some did…..and some kept trying!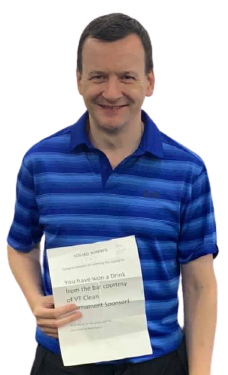 Paul Moor opened up with an incredible 815 showing us all, there is a reason why he has won so much over the years, rounding his 6 game total to 1467 to steal the top spot from young Ben Robinson by 11 pins. An on form Brandon Roberts had a bit of an awful start on the Friday evening, but I think he got some seriously needed advice from his better half as he came back and shot an even bigger 1473 to knock Paul Moor in to second place and Ben Robinson to 3rd , rounding out the top 4 was yet another top youth player Jay Goodwin with 1409, narrowly pushing Austin Taylor to 5th and Jack Sanders to 6th with 1403 and 1402. These were the top 4 placings that went straight in to the finals round 2 – match play.
Scotland's Steven Gill carried his 715 forward but only added a 655 and breezed in to the top 32 with a 1370.  Whilst the bowling was going on, there was a crowd gathering in "Bar 300" all watching and cheering on Team Europe at Coventry in the Weber Cup as they were on a comeback against the mighty USA.  Standing at the reception desk with live bowling going on in front of and behind me was a real treat…… scoresheets coming in thick and fast, squads updating as quick as possible all whilst Europe were fighting back with Captain Dom Barrett, Stu Williams and New recruit Richie Teece all doing superb and showing the USA we wanted that cup back here!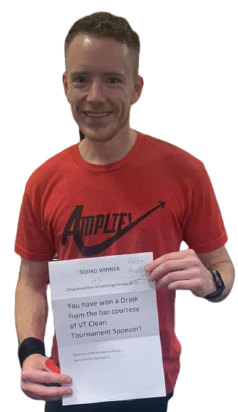 Every squad played the cut number , top 32 , would seem to be rising….. it was all getting a bit serious now and one big game could change things….. Suddenly all attention was turned to lanes 5 & 6 and event sponsor Garry Sykes had a good string of strikes coming along……. 8 ….. 9……. 10 …….. all buried deep in the 1-3 pocket….. shot 11…… strike… Garry stepped up for his final 12th shot, never having a 300 before but being as close as possible… ( 299s ) …… could he finally break the deadlock? As he threw the ball , it looked absolutely spot on….. as soon as it hit, the sound of a full pocket hit does not lie……. Strike… 10 pins fully in the pit, no mistaking there!!! Garry finally has his 300 and Im sure, its well over due……. Also will have his name on the Stroud wall of fame soon to!!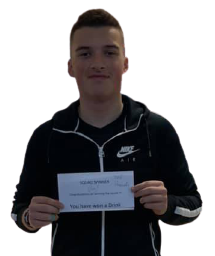 The last squad of the day still was to run, a few of the players needed a decent set to make it….. 3 games was all that stood between them and either an early exit or a return journey in the morning. Two Dan's made sure they had the return journey, Dan Balsom and Dan Harding finally found the pins needed to make the cut!
And EUROPE beat the USA to win the Weber Cup in a dramatic final team game!!!!
The cut for the finals fell to Shipley's Declan Simons on 1288, while the top 4 didn't change and stayed with Jay Goodwin on 1409. Unfortunately no ladies made the cut, which is unusual, but as we had a few extra sponsored prizes, a separate ladies bonus prize fund softened the blow , so congrats to Lorna Scott being top female, Vicki Harman in 2nd and Natasja Ailes for 3rd.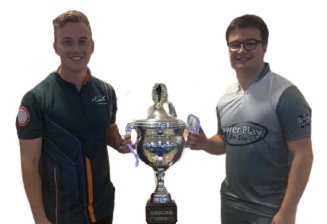 Finals day
Finals day…. Started with a lovely smoked bacon and sausage bap , a cappuccino and some very athletic stretches ….. for some… or some paracetamol for others !
28 players playing 4 games all fighting it out to be in the top 12 to then join the other 4 in the match play round after. A quieter more serious atmosphere this morning while the bowling was going on. 50% of the qualifying score was carried over so it was a game of keeping your head and trying to improve by as much as you could.  Jack Sanders led the was shooting a 940 ( 1641 ) and the top 12 was rounded out by a young talent, George Jagger with 1513.
Match play time : Round of 16                               
Brandon Roberts Vs George Jagger
Liam Fitzpatrick Vs Austin Taylor
Jason Agate Vs Callum Simons
Ben Robinson Vs Steve Gill
Paul Moor Vs James Fitzpatrick
Jay Goodwin Vs Jamie Bottomley
Jack Sanders Vs Rob Thurlby
Dan Harding Vs Elliot Crosby
Round of 8
Brandon Roberts Vs Austin Taylor
Jason Agate Vs Steven Gill
Paul Moor Vs Elliot Crosby
Jack Sanders Vs Jay Goodwin.
Round of 4 
Brandon Roberts Vs Steve Gill
Paul Moor Vs Jay Goodwin
Final
Brandon Roberts V Jay Goodwin    –    Brandon Roberts Wins and takes home the £1000 top prize!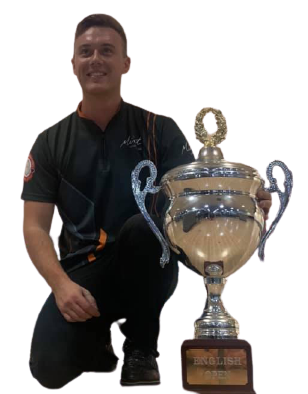 I believe this final is the youngest ever English Open final as it was ages 21 Vs 24 ……  Two absolutely fantastic talents that have come through the ranks and are regular money winners on the ESBT , showcasing their talents for us all to see more and more now!
It was noticed that the top 4 players were all using the same ball in the later stages of the event,  Purple Hammer Urethane… it did look like a " who threw it better " event but in the end, the righties had it this time!!
A great tournament back, to bowl in, be part of and to run… the atmosphere all weekend was a buzz.
A massive thank you to all the players and players parents, supporters and the bowl staff for a great weekend of eating, drinking,  socialising, oh and bowling. It really is good to be back!!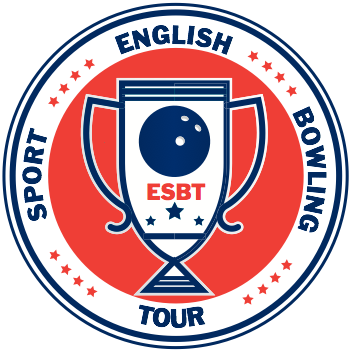 Quick footnote ……..
ESBT schedule to be out soon, were just finalising a few little bits to make the 2022 tour as good as we can so keep an eye out!
---
Results
Final
Brandon Roberts V Jay Goodwin
Round of 4
Brandon Roberts Vs Steve Gill
Paul Moor Vs Jay Goodwin
Round of 8
Brandon Roberts Vs Austin Taylor
Jason Agate Vs Steven Gill
Paul Moor Vs Elliot Crosby
Jack Sanders Vs Jay Goodwin.
Round of 16
Brandon Roberts Vs George Jagger
Liam Fitzpatrick Vs Austin Taylor
Jason Agate Vs Callum Simons
Ben Robinson Vs Steve Gill
Paul Moor Vs James Fitzpatrick
Jay Goodwin Vs Jamie Bottomley
Jack Sanders Vs Rob Thurlby
Dan Harding Vs Elliot Crosby
Final step 1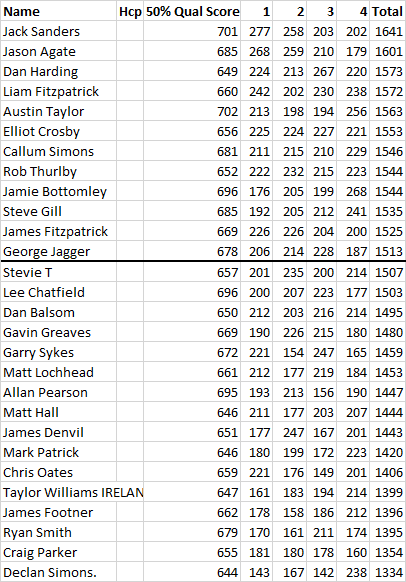 Qualifying