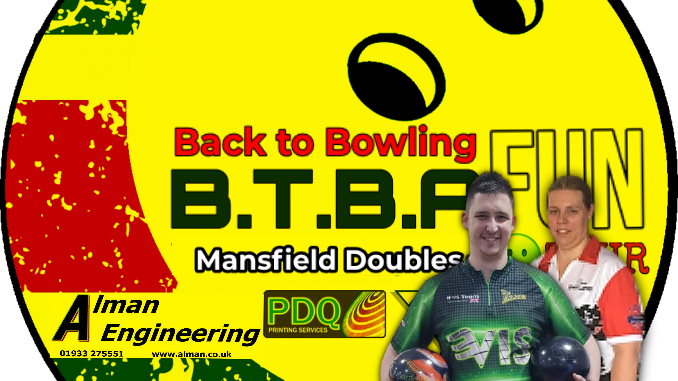 The 3rd in the Series of  BTBA back to bowling events was held at Mansfield, and stepping up to the role of tournament manager for this event was Allan Pearson and Sam Watson.
The event was re-entry doubles with squads on Saturday and Sunday and there were 3 divisions based on the teams combined average.
Start with division C – for teams with a combined average of 329 or less. This division was won by GASH (Grant Burfoot and Ash Hawkins) with a team total of 1038.
Division B – for teams with a combined average of 330-389. In 2nd on 1287 were the Monarchs (Gary Leaphard and Stuart Rushton), but the winners with a score of 1303 was the CrossPins team (Pete Sampson and Tom Devy)
Division A – is for the top twirlers and teams that have a combined average of 390 or more. In 2rd place were Ballistic Bowling (Gavin Greaves and Pete Stevenson) with a score of 1457, a 242 average. But the winners were Robbo's Pro Shop (Louise Parker and Glen Robson) who shot 1475, a 245 average
All aboard the showboat …. Well done to Nathan Burrows on shotting his first sanctioned 300 and also to Jack Blyth for hitting a 300. A couple of 299's from Welsh International James Footner and Yorkshire dame Katie Jowsey
Tournament manager also ran scratch pots, and this was won by Jack Byth with a 791, with Nathan Burrows with 753 and in 3rd was Gavin Greaves with 748
Individually Jack Blyth, Gav Greaves and Pete Stevenson all averaged over 230, and Dan Harding, Dan Davies, Adam Shrubb and the shimmery tanned Rob Thurlby all averaged over 220.
There were two Raffles being run to raise money for the local YBC – a YBC parent Liz Feek won the Radical Sizzle donated by sponsors BowlingVision and the local association also raffled off anther ball they had acquired and that was won by Dee Parker.
Another great tournament that saw 87 teams enter, and 62 different bowlers.  As always thanks to the sponsors BowlingVision, PDQ, Striking Shirts, KC Components and Alman Engineering.
Thanks to you for bowling and of course to Mansfield bowl for hosting and to Sam and Allan for manging the event.
The 4th tournament in the BTBA's series of Back to bowling events is on the 7th November at Dereham. It's another re-entry doubles. We currently have space in the first the and last squad and you can enter via the online entry form here https://btba.org.uk/btba-doubles-dereham-2021/
Division A
Team Name
Game 1
Game 2
Game 3
Total
Winners
1
Robbo's Pro Shop (squad c)
461
534
480
1475
£220
2
ballistic bowling (h)
521
422
514
1457
£120
3
Ballistic Bowling (squad e)
471
469
516
1456
4
Clear the deck 3
464
460
425
1349
£80
5
clear the deck 4
464
451
433
1348
£60
6
Pin Monkeys
488
384
474
1346
£50
7
Pocket Pounders (Squad G)
486
442
405
1333
£35
8
Clear the deck 2
446
446
440
1332
£35
9
adam shrubb
441
471
418
1330
10
Bashers Young Guns Fully Loaded (squad a)
447
461
407
1315
11
Northern Tenpin (squad b)
430
491
391
1312
12
Ballistic Bowling (squad G)
455
454
401
1310
13
Northern Tenpin (squad a)
427
445
428
1300
14
Paddy mc Footner (squad c)
444
389
463
1296
15
PowerPlay Online (squad g)
447
433
414
1294
16
Yorkshire 1
357
482
453
1292
17
Gray/Robson
383
438
469
1290
18
Bashers Young Guns Fully Loaded (squad C)
446
414
418
1278
19
Paddy mc Footner (squad d)
472
435
368
1275
20
Bashers Young Guns Fully Loaded (Squad d)
405
465
401
1271
21
Yorkshire 2
462
435
371
1268
22
PowerPlay Online (squad e)
381
479
401
1261
23
PowerPlay 4
395
439
427
1261
24
Parker/Ellis
427
399
433
1259
25
Robbo's Pro Shop (squad G)
344
386
522
1252
26
Ellis / Robson
375
403
470
1248
27
Bashers Young Guns Fully Loaded (squad B)
426
426
376
1228
28
Team Censored (squad f)
438
384
400
1222
29
Northern Tenpin (squad c)
473
392
356
1221
30
Shipley Rockets (squad c)
363
477
380
1220
31
Pocket Pounders (Squad f)
332
407
471
1210
32
Paul Wilkinson and Adam Cairns
406
448
353
1207
33
PowerPlay 1
346
377
472
1195
34
Northern Tenpin (squad d)
371
427
393
1191
35
Case Mates Pentagon
357
404
420
1181
36
Pin Monkeys 2
407
379
393
1179
37
Parker/Gray
340
437
394
1171
38
PowerPlay Online (Squad f)
401
416
352
1169
39
Shipley Rockets
377
373
413
1163
40
PowerPlay 5
414
367
379
1160
41
Gary Christopher
344
421
381
1146
42
Team Censored (squad e)
406
402
335
1143
43
Craig Parker (squad f)
392
377
373
1142
44
Pocket pounders (h)
370
343
418
1131
45
Kettering's Finest
381
376
355
1112
Division B
Team Name
Game 1
Game 2
Game 3
Total
winners
1
Cross Pins
464
401
428
1303
£180
2
Monarchs ( squad d)
477
383
427
1287
£100
3
Monarchs (squad C)
405
410
461
1276
4
Cross Pins (squad G)
436
422
387
1245
5
Team Chillie (squad B)
397
417
430
1244
£60
6
Monarchs (Squad A)
467
376
383
1226
7
Case Mates Hexagon
405
378
433
1216
£50
8
Case Mates Triangle
398
373
411
1182
£40
9
Shots and giggles (h)
359
429
394
1182
10
Craig Parker (Squad e)
388
413
379
1180
11
Gary Christopher (squad c)
434
370
373
1177
12
Team Chillie (squad c)
298
430
420
1148
13
PowerPlay 2
373
425
350
1148
14
Monarchs (Squad B)
388
357
381
1126
15
PowerPlay 3
361
335
427
1123
16
PowerPlay 6
373
392
357
1122
17
Shots and Giggles
451
319
347
1117
18
Monarchs (Squad e )
337
422
355
1114
19
Team Chillie (squad D)
377
313
425
1110
20
Grich
329
277
391
1107
21
Gary Christopher (squad d)
319
373
403
1095
22
Parker/Hewitt
287
362
404
1053
23
Monarchs (squad G)
365
372
305
1042
24
Case Mates Decohedron
364
358
316
1038
25
X Generation
338
314
380
1032
26
2d arrow assassains
290
351
387
1028
27
Case Mates Infinity
318
327
358
1003
28
Gary Christopher
328
335
331
994
29
Chesterfield Chaos
256
342
396
994
30
Grich
313
327
347
987
31
Case Mates Square
312
305
291
908
32
Case Mates Septahedron
283
291
294
868
Division C
Team Name
Game 1
Game 2
Game 3
Total
Winners
1
Gash
354
363
321
1038
£100
2
Case Mates Octagon
330
309
362
1001
£50
3
Case Mates Dodecahedron
333
307
361
1001
4
Double Trouble (squad c)
306
379
296
981
5
Double Trouble
306
326
291
923
6
shipley youngbloods
292
322
270
884
7
A+J Pin Monkeys Part 1 (squad G)
279
275
319
873
8
Young Guns
314
268
277
859
9
gash
309
319
289
817
10
A+J Pin Monkeys Part 1 (squad F)
250
272
264
786
Scratch Pot
Bowlers Name
Game1
Game 2
Game 3
Total
Winners
Jack Blyth
300
232
259
791
£140
Nathan Burrows
236
300
217
753
£75
Gavin Greaves
245
234
269
748
£40
Pete Stevenson
276
230
236
742
£25
Gavin Greaves
245
192
278
715
£15
Dan Harding
269
237
204
710
£10
Dan Harding
249
267
193
709
Pete Stevenson
226
235
247
708
Mark Patrick
245
213
248
706
Daniel Davies
228
244
221
693
Jack Blyth
256
217
231
686
Rob Thurlby
224
249
212
685
Jack Blyth
160
267
256
683
James Footner
246
212
225
683
Katie Jowsey
204
235
244
683
Adam Shrubb
237
247
193
677
Daniel Davies
191
237
247
675
Daniel Davies
227
213
232
672
George Jagger
200
249
221
670
Paul Wilkinson
195
237
236
668
Dan Harding
232
207
224
663
Gavin Greaves
237
219
210
663
Adam Shrubb
246
234
182
662
Craig Ellis
213
213
235
661
Craig Ellis
226
232
202
660
Craig Parker
225
191
243
659
Adam Cairns
255
209
193
657
Rob Thurlby
233
231
189
653
Rob Thurlby
202
248
202
652
Katie Jowsey
168
182
299
649
Pete Stevenson
218
235
191
647
Adam Cairns
208
255
179
642
Sukky Gill
178
208
245
631
Katie Jowsey
242
195
193
630
Callam Hall
193
218
211
622
Dan Harding
232
211
174
617
Joshua Streak
194
215
174
611
George Jagger
197
215
197
609
Liam Fitzpatrick
223
184
202
609
Mark Patrick
173
258
177
608
Liam Fitzpatrick
148
248
212
608
Garry Cooper
191
212
204
607
Jack Blyth
198
194
214
606
Nathan Burrows
226
222
154
602
George Jagger
192
179
226
597
Criag Ellis
227
178
184
589
Sturart Rushton
186
225
170
581
Reece Parker Smith
154
199
226
579
Gary Christopher
182
207
188
577
James Footner
215
195
167
577
Craig Parker
162
214
193
569
Paul Wilkinson
198
193
174
565
Nathan Burrows
161
211
187
559
Craig Parker
212
174
162
548
Sturart Rushton
209
164
162
535
Luke Warren
166
164
204
534
Les Keates
180
173
171
524
Liam Fitzpatrick
199
168
150
517
Gary Christopher
166
156
163
485
Luke Warren
130
156
190
476
Kristopher Todd
172
147
151
470

Mansfield final averages
| | | | |
| --- | --- | --- | --- |
| Bowlers Name | Series Total | count | Average |
| Ash Hawkins | 998 | 6 | 166.33 |
| Brian Hallam | 1316 | 9 | 146.22 |
| Craig Ellis | 1910 | 9 | 212.22 |
| Damian Gray | 1671 | 9 | 185.67 |
| Dave Conner | 1537 | 9 | 170.78 |
| David Griffiths | 384 | 3 | 128 |
| Dee Parker | 1604 | 9 | 178.22 |
| Garry Cooper | 2417 | 12 | 201.42 |
| Gary Christopher | 2420 | 12 | 201.67 |
| Glenn Robson | 3900 | 18 | 216.67 |
| Grant Burfoot | 1994 | 12 | 166.17 |
| Jayden Hartley | 814 | 6 | 135.67 |
| Jerald Villegas | 367 | 3 | 122.33 |
| John Lawless | 1005 | 6 | 167.5 |
| Joshua Streak | 1788 | 9 | 198.67 |
| Kevin Hunter | 1732 | 9 | 192.44 |
| Les Keates | 1851 | 9 | 205.67 |
| Louise Parker | 1929 | 9 | 214.33 |
| Luke Warren | 1010 | 6 | 168.33 |
| Mark Patrick | 1314 | 6 | 219 |
| Nathan Burrows | 2607 | 12 | 217.25 |
| Paul Hewitt | 2020 | 12 | 168.33 |
| Peter Sampson | 1263 | 6 | 210.5 |
| Stuart Rushton | 3666 | 18 | 203.67 |
| Summer Dodson | 383 | 3 | 127.67 |
| Thomas Elwell | 498 | 3 | 166 |
| Tom Devy | 1285 | 6 | 214.17 |
| Tom Maddock | 1535 | 9 | 170.56 |