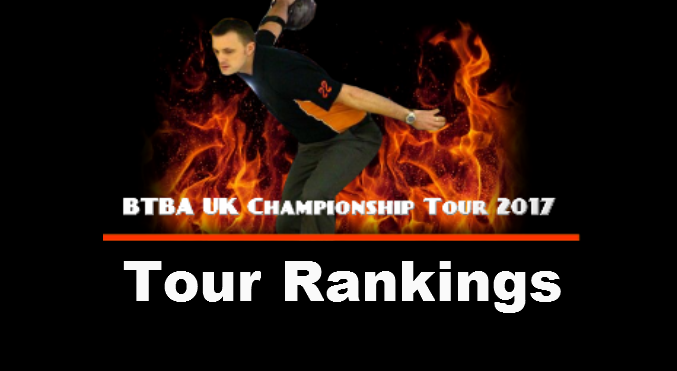 Tour pot for the men stands at £2,535 which means with 4 tournaments to go 1st place will receive £850, 2nd will receive £515 and 3rd £386
The ladies tour pot stands at £695 so 1st place at the moment is £243
Bowlers have to play a minimum of 6 tour events to qualify for a end of season ranking cash prize.
The next event is August 5th & 6th Shipley Handicap Doubles. Squad 2 is all ready full.
And today it was announced that the individual highest scratch total after the qualifying round will win ANY Track ball from their current range including the new Kinetic Ruby.
Men
| | | | | | | | | | | | |
| --- | --- | --- | --- | --- | --- | --- | --- | --- | --- | --- | --- |
| Pos.  | Name | G |  Ave | Nat | Nun | Lancs | Airport | Brewer | Shrop | Total | Events |
| 1 | Craig Barrett | 33 | 214 | 83 | 88 | 0 | 91 | 91 | 100 | 453 | 5 |
| 2 | James Tidd | 27 | 220 | 86 | 120 | 89 | 0 | 0 | 94 | 389 | 4 |
| 3 | Craig Ellis | 33 | 197 | 39 | 81 | 0 | 77 | 76 | 90 | 363 | 5 |
| 4 | Kieron Patel | 33 | 198 | 47 | 59 | 76 | 90 | 90 | 0 | 362 | 5 |
| 5 | Daniel Bonfield | 33 | 196 | 0 | 78 | 0 | 83 | 86 | 85 | 332 | 5 |
| 6 | Ben Bizley | 33 | 191 | 12 | 67 | 0 | 72 | 86 | 82 | 319 | 5 |
| 7 | Adam Cairns | 21 | 227 | 91 | 95 | 0 | 120 | 0 | 0 | 306 | 3 |
| 8 | Philip Manning | 27 | 207 | 36 | 90 | 88 | 84 | 0 | 0 | 298 | 4 |
| 9 | Glen Richardson | 27 | 199 | 33 | 62 | 0 | 93 | 0 | 91 | 279 | 4 |
| 10 | Jonny Whittaker | 27 | 199 | 15 | 84 | 84 | 0 | 0 | 95 | 278 | 4 |
| 11 | Leon Devlin | 21 | 224 | 95 | 100 | 0 | 81 | 0 | 0 | 276 | 3 |
| 12 | Gav Greaves | 18 | 211 | 0 | 110 | 79 | 86 | 0 | 0 | 275 | 3 |
| 13 | Scott Gilbert | 32 | 185 | 0 | 41 | 0 | 64 | 79 | 83 | 267 | 5 |
| 14 | Callum Westwood | 21 | 214 | 64 | 87 | 0 | 95 | 0 | 0 | 246 | 3 |
| 15 | Matt Fruen | 27 | 199 | 0 | 76 | 0 | 76 | 89 | 0 | 241 | 4 |
| 16 | Darren Michael | 27 | 196 | 0 | 83 | 0 | 75 | 80 | 0 | 238 | 4 |
| 17 | Martin Townshend | 26 | 199 | 0 | 0 | 93 | 55 | 77 | 0 | 225 | 4 |
| 18 | Dylan Maciuk | 27 | 197 | 0 | 55 | 0 | 80 | 88 | 0 | 223 | 4 |
| 19 | Daniel Davies | 12 | 222 | 0 | 0 | 100 | 0 | 0 | 120 | 220 | 2 |
| 20 | Thomas Walster-Prince | 18 | 194 | 0 | 58 | 0 | 73 | 88 | 0 | 219 | 3 |
| 21 | Jason O'Dell | 21 | 202 | 87 | 74 | 0 | 52 | 0 | 0 | 213 | 3 |
| 22 | Peter Stevenson | 15 | 227 | 92 | 0 | 120 | 0 | 0 | 0 | 212 | 2 |
| 23 | Damian Gray | 12 | 223 | 0 | 92 | 0 | 110 | 0 | 0 | 202 | 2 |
| 24 | Sam Rose | 12 | 229 | 0 | 93 | 0 | 0 | 100 | 0 | 193 | 2 |
| 25 | Daniel Benzie | 21 | 207 | 16 | 86 | 0 | 89 | 0 | 0 | 191 | 3 |
| 26 | Neil Highgate | 21 | 205 | 0 | 91 | 0 | 94 | 0 | 0 | 185 | 3 |
| 27 | Dan Birch | 27 | 180 | 0 | 60 | 0 | 44 | 75 | 0 | 179 | 4 |
| 28 | Jay Anonuevo | 18 | 177 | 0 | 48 | 0 | 54 | 74 | 0 | 176 | 3 |
| 29 | Mark Roberts | 21 | 201 | 0 | 74 | 0 | 93 | 0 | 0 | 167 | 3 |
| 30 | Glen Bailey | 15 | 216 | 59 | 0 | 0 | 100 | 0 | 0 | 159 | 2 |
| 31 | James McMinn | 15 | 213 | 85 | 0 | 0 | 74 | 0 | 0 | 159 | 2 |
| 32 | Steve Giddens | 21 | 178 | 0 | 0 | 0 | 0 | 72 | 86 | 158 | 3 |
| 33 | Paul Williams | 12 | 185 | 0 | 70 | 0 | 0 | 0 | 87 | 157 | 2 |
| 34 | David Passmore | 12 | 199 | 0 | 0 | 0 | 59 | 92 | 0 | 151 | 2 |
| 35 | Connor Mudge | 15 | 196 | 76 | 0 | 74 | 0 | 0 | 0 | 150 | 2 |
| 36 | Jonathan Langridge | 21 | 196 | 0 | 70 | 0 | 78 | 0 | 0 | 148 | 3 |
| 37 | Mike Southwell | 15 | 206 | 60 | 82 | 0 | 0 | 0 | 0 | 142 | 2 |
| 38 | Alex Lee | 12 | 193 | 0 | 72 | 0 | 69 | 0 | 0 | 141 | 2 |
| 39 | Selwyn Morgan | 15 | 206 | 53 | 0 | 0 | 0 | 87 | 0 | 140 | 2 |
| 40 | Darren Hallam | 18 | 192 | 0 | 51 | 0 | 88 | 0 | 0 | 139 | 3 |
| 41 | Michael Rich | 21 | 185 | 0 | 71 | 0 | 63 | 0 | 0 | 134 | 3 |
| 42 | Daniel Wenner | 15 | 205 | 39 | 85 | 0 | 0 | 0 | 0 | 124 | 2 |
| 43 | Andrew Robson | 9 | 251 | 120 | 0 | 0 | 0 | 0 | 0 | 120 | 1 |
| 44 | Chris Oates | 6 | 249 | 0 | 0 | 0 | 0 | 120 | 0 | 120 | 1 |
| 45 | James Winter | 21 | 181 | 0 | 53 | 0 | 66 | 0 | 0 | 119 | 3 |
| 46 | Chris Collins | 12 | 182 | 0 | 57 | 0 | 61 | 0 | 0 | 118 | 2 |
| 47 | Paul Marks | 12 | 181 | 0 | 68 | 0 | 50 | 0 | 0 | 118 | 2 |
| 48 | Darren Ellis | 12 | 180 | 0 | 61 | 0 | 57 | 0 | 0 | 118 | 2 |
| 49 | Darren Hall | 12 | 166 | 0 | 0 | 0 | 49 | 68 | 0 | 117 | 2 |
| 50 | James Mitchell | 12 | 154 | 0 | 38 | 0 | 0 | 0 | 79 | 117 | 2 |
| 51 | Brian Marks | 9 | 238 | 110 | 0 | 0 | 0 | 0 | 0 | 110 | 1 |
| 52 | Matt Chamberlain | 6 | 242 | 0 | 0 | 0 | 0 | 110 | 0 | 110 | 1 |
| 53 | Mark Smith | 6 | 228 | 0 | 0 | 110 | 0 | 0 | 0 | 110 | 1 |
| 54 | COLIN LAING | 6 | 200 | 0 | 0 | 0 | 0 | 0 | 110 | 110 | 1 |
| 55 | Dean Keeble | 12 | 176 | 0 | 56 | 0 | 51 | 0 | 0 | 107 | 2 |
| 56 | Gavin Cox | 9 | 233 | 100 | 0 | 0 | 0 | 0 | 0 | 100 | 1 |
| 57 | Sam De'Athe | 12 | 169 | 0 | 54 | 0 | 45 | 0 | 0 | 99 | 2 |
| 58 | Billy Warnes | 15 | 194 | 40 | 0 | 0 | 56 | 0 | 0 | 96 | 2 |
| 59 | Matt Ayles | 6 | 221 | 0 | 0 | 0 | 0 | 95 | 0 | 95 | 1 |
| 60 | Sam Griffield | 6 | 218 | 0 | 0 | 95 | 0 | 0 | 0 | 95 | 1 |
| 61 | Kevin Brockman | 15 | 201 | 0 | 94 | 0 | 0 | 0 | 0 | 94 | 2 |
| 62 | Robert Cater | 9 | 227 | 94 | 0 | 0 | 0 | 0 | 0 | 94 | 1 |
| 63 | Kev Pilley | 6 | 217 | 0 | 0 | 0 | 0 | 94 | 0 | 94 | 1 |
| 64 | Trevor Lamprell | 6 | 216 | 0 | 0 | 94 | 0 | 0 | 0 | 94 | 1 |
| 65 | Dave Whiffin | 9 | 227 | 93 | 0 | 0 | 0 | 0 | 0 | 93 | 1 |
| 66 | Ryan Castro | 6 | 213 | 0 | 0 | 0 | 0 | 93 | 0 | 93 | 1 |
| 67 | Lee Burrows | 6 | 195 | 0 | 0 | 0 | 0 | 0 | 93 | 93 | 1 |
| 68 | Carl Taylor | 6 | 212 | 0 | 0 | 92 | 0 | 0 | 0 | 92 | 1 |
| 69 | Ian Duff | 6 | 191 | 0 | 0 | 0 | 0 | 0 | 92 | 92 | 1 |
| 70 | Daniel Mohammed | 6 | 210 | 0 | 0 | 91 | 0 | 0 | 0 | 91 | 1 |
| 71 | Rhys Bean | 9 | 225 | 90 | 0 | 0 | 0 | 0 | 0 | 90 | 1 |
| 72 | Dave Heyward | 9 | 225 | 90 | 0 | 0 | 0 | 0 | 0 | 90 | 1 |
| 73 | Barry O'Reilly | 6 | 207 | 0 | 0 | 90 | 0 | 0 | 0 | 90 | 1 |
| 74 | Andy Lessey | 6 | 212 | 0 | 89 | 0 | 0 | 0 | 0 | 89 | 1 |
| 75 | James Wheeler | 6 | 187 | 0 | 0 | 0 | 0 | 0 | 89 | 89 | 1 |
| 76 | Ed Kingham | 9 | 225 | 88 | 0 | 0 | 0 | 0 | 0 | 88 | 1 |
| 77 | Darren Milner | 6 | 180 | 0 | 0 | 0 | 0 | 0 | 88 | 88 | 1 |
| 78 | Kirk Taylor | 6 | 216 | 0 | 0 | 0 | 87 | 0 | 0 | 87 | 1 |
| 79 | Jack Smith | 6 | 195 | 0 | 0 | 87 | 0 | 0 | 0 | 87 | 1 |
| 80 | Andy Cough | 6 | 194 | 0 | 0 | 86 | 0 | 0 | 0 | 86 | 1 |
| 81 | Gareth Greaves | 6 | 214 | 0 | 0 | 0 | 85 | 0 | 0 | 85 | 1 |
| 82 | Russell Shear | 6 | 199 | 0 | 0 | 0 | 0 | 85 | 0 | 85 | 1 |
| 83 | Paul Turner | 6 | 192 | 0 | 0 | 85 | 0 | 0 | 0 | 85 | 1 |
| 84 | Glen Robson | 9 | 223 | 84 | 0 | 0 | 0 | 0 | 0 | 84 | 1 |
| 85 | Josh Harvey | 6 | 198 | 0 | 0 | 0 | 0 | 84 | 0 | 84 | 1 |
| 86 | Lloyd Cooper | 6 | 174 | 0 | 0 | 0 | 0 | 0 | 84 | 84 | 1 |
| 87 | David Yeates | 6 | 212 | 0 | 0 | 0 | 83 | 0 | 0 | 83 | 1 |
| 88 | Jack Sanders | 6 | 198 | 0 | 0 | 0 | 0 | 83 | 0 | 83 | 1 |
| 89 | Jamie Dolan | 6 | 190 | 0 | 0 | 83 | 0 | 0 | 0 | 83 | 1 |
| 90 | John Wells | 9 | 219 | 82 | 0 | 0 | 0 | 0 | 0 | 82 | 1 |
| 91 | Dom Buckley | 6 | 195 | 0 | 0 | 0 | 0 | 82 | 0 | 82 | 1 |
| 92 | David Broomfield | 6 | 190 | 0 | 0 | 82 | 0 | 0 | 0 | 82 | 1 |
| 93 | Mo Singleton | 15 | 189 | 0 | 0 | 81 | 0 | 0 | 0 | 81 | 2 |
| 94 | Curtis Berry | 9 | 218 | 81 | 0 | 0 | 0 | 0 | 0 | 81 | 1 |
| 95 | Adam Pete Philipson | 6 | 192 | 0 | 0 | 0 | 0 | 81 | 0 | 81 | 1 |
| 96 | Adrian French | 6 | 163 | 0 | 0 | 0 | 0 | 0 | 81 | 81 | 1 |
| 97 | Alex Deverill | 18 | 159 | 0 | 39 | 0 | 41 | 0 | 0 | 80 | 3 |
| 98 | Mark Loughborough | 9 | 218 | 80 | 0 | 0 | 0 | 0 | 0 | 80 | 1 |
| 99 | Jeff White | 6 | 200 | 0 | 80 | 0 | 0 | 0 | 0 | 80 | 1 |
| 100 | Steve Ostiadel | 6 | 189 | 0 | 0 | 80 | 0 | 0 | 0 | 80 | 1 |
| 101 | Rob Spinks-Chilman | 6 | 158 | 0 | 0 | 0 | 0 | 0 | 80 | 80 | 1 |
| 102 | Elliot Crispe | 9 | 216 | 79 | 0 | 0 | 0 | 0 | 0 | 79 | 1 |
| 103 | Adam Lewis | 6 | 208 | 0 | 0 | 0 | 79 | 0 | 0 | 79 | 1 |
| 104 | Freddie Banham | 6 | 200 | 0 | 79 | 0 | 0 | 0 | 0 | 79 | 1 |
| 105 | Gordon Humphries | 9 | 215 | 78 | 0 | 0 | 0 | 0 | 0 | 78 | 1 |
| 106 | Chris West | 6 | 187 | 0 | 0 | 0 | 0 | 78 | 0 | 78 | 1 |
| 107 | Paul Newton | 6 | 181 | 0 | 0 | 78 | 0 | 0 | 0 | 78 | 1 |
| 108 | Andrew Evans | 6 | 147 | 0 | 0 | 0 | 0 | 0 | 78 | 78 | 1 |
| 109 | Pete Baldwin | 9 | 213 | 77 | 0 | 0 | 0 | 0 | 0 | 77 | 1 |
| 110 | Dan Balsom | 6 | 197 | 0 | 77 | 0 | 0 | 0 | 0 | 77 | 1 |
| 111 | Mike  McCartney | 6 | 180 | 0 | 0 | 77 | 0 | 0 | 0 | 77 | 1 |
| 112 | James Watson | 6 | 137 | 0 | 0 | 0 | 0 | 0 | 77 | 77 | 1 |
| 113 | Matt Hall | 9 | 213 | 76 | 0 | 0 | 0 | 0 | 0 | 76 | 1 |
| 114 | Jason Farrall | 6 | 130 | 0 | 0 | 0 | 0 | 0 | 76 | 76 | 1 |
| 115 | Graeme Craker | 15 | 188 | 0 | 75 | 0 | 0 | 0 | 0 | 75 | 2 |
| 116 | Nads Mohammed | 6 | 176 | 0 | 0 | 75 | 0 | 0 | 0 | 75 | 1 |
| 117 | Luke Harris | 6 | 124 | 0 | 0 | 0 | 0 | 0 | 75 | 75 | 1 |
| 118 | Stephen Wells | 9 | 212 | 74 | 0 | 0 | 0 | 0 | 0 | 74 | 1 |
| 119 | Richard Craven | 9 | 163 | 0 | 0 | 74 | 0 | 0 | 0 | 74 | 2 |
| 120 | Mark Coles | 9 | 211 | 73 | 0 | 0 | 0 | 0 | 0 | 73 | 1 |
| 121 | Andy Hutchings | 6 | 180 | 0 | 0 | 0 | 0 | 73 | 0 | 73 | 1 |
| 122 | Thomas Redman | 9 | 211 | 72 | 0 | 0 | 0 | 0 | 0 | 72 | 1 |
| 123 | Neville Robinson | 6 | 154 | 0 | 0 | 72 | 0 | 0 | 0 | 72 | 1 |
| 124 | Gav Edwards | 9 | 211 | 71 | 0 | 0 | 0 | 0 | 0 | 71 | 1 |
| 125 | Graeme Cracker | 6 | 194 | 0 | 0 | 0 | 71 | 0 | 0 | 71 | 1 |
| 126 | Dean Rowland | 6 | 176 | 0 | 0 | 0 | 0 | 71 | 0 | 71 | 1 |
| 127 | Brian Hallam | 15 | 178 | 0 | 0 | 0 | 70 | 0 | 0 | 70 | 2 |
| 128 | Adam Purnell | 9 | 210 | 70 | 0 | 0 | 0 | 0 | 0 | 70 | 1 |
| 129 | Tom Laidlow | 6 | 172 | 0 | 0 | 0 | 0 | 70 | 0 | 70 | 1 |
| 130 | Xander Penny | 15 | 172 | 0 | 0 | 0 | 0 | 69 | 0 | 69 | 2 |
| 131 | Tim Ives | 9 | 210 | 69 | 0 | 0 | 0 | 0 | 0 | 69 | 1 |
| 132 | Lee Pennock | 9 | 210 | 69 | 0 | 0 | 0 | 0 | 0 | 69 | 1 |
| 133 | John Chew | 6 | 191 | 0 | 0 | 0 | 68 | 0 | 0 | 68 | 1 |
| 134 | Andrew Hall | 9 | 209 | 67 | 0 | 0 | 0 | 0 | 0 | 67 | 1 |
| 135 | Paul Moor | 9 | 209 | 67 | 0 | 0 | 0 | 0 | 0 | 67 | 1 |
| 136 | Danny Lalley | 6 | 189 | 0 | 0 | 0 | 67 | 0 | 0 | 67 | 1 |
| 137 | Alan Brown | 6 | 157 | 0 | 0 | 0 | 0 | 67 | 0 | 67 | 1 |
| 138 | Ben Edwards | 15 | 175 | 0 | 0 | 0 | 0 | 66 | 0 | 66 | 2 |
| 139 | Mark Hodds | 6 | 189 | 0 | 66 | 0 | 0 | 0 | 0 | 66 | 1 |
| 140 | Bob Strong | 9 | 209 | 65 | 0 | 0 | 0 | 0 | 0 | 65 | 1 |
| 141 | Pete McDonald | 6 | 188 | 0 | 0 | 0 | 65 | 0 | 0 | 65 | 1 |
| 142 | Andy Childs | 6 | 185 | 0 | 65 | 0 | 0 | 0 | 0 | 65 | 1 |
| 143 | Paul Cunningham | 9 | 209 | 64 | 0 | 0 | 0 | 0 | 0 | 64 | 1 |
| 144 | Ross Law | 9 | 209 | 64 | 0 | 0 | 0 | 0 | 0 | 64 | 1 |
| 145 | Kevin Haw | 6 | 184 | 0 | 64 | 0 | 0 | 0 | 0 | 64 | 1 |
| 146 | Tony Woollard | 6 | 186 | 0 | 0 | 0 | 63 | 0 | 0 | 63 | 1 |
| 147 | Reece Parker | 6 | 182 | 0 | 63 | 0 | 0 | 0 | 0 | 63 | 1 |
| 148 | James Larkin | 15 | 180 | 0 | 0 | 0 | 61 | 0 | 0 | 61 | 2 |
| 149 | Alan Hutchison | 9 | 208 | 61 | 0 | 0 | 0 | 0 | 0 | 61 | 1 |
| 150 | Mathew Proctor | 9 | 208 | 59 | 0 | 0 | 0 | 0 | 0 | 59 | 1 |
| 151 | Jamie Kingston | 6 | 184 | 0 | 0 | 0 | 58 | 0 | 0 | 58 | 1 |
| 152 | Chris Skudder | 9 | 208 | 57 | 0 | 0 | 0 | 0 | 0 | 57 | 1 |
| 153 | Jim Allan | 9 | 207 | 56 | 0 | 0 | 0 | 0 | 0 | 56 | 1 |
| 154 | Bryan Roberts | 9 | 206 | 55 | 0 | 0 | 0 | 0 | 0 | 55 | 1 |
| 155 | Lee Miller | 9 | 206 | 54 | 0 | 0 | 0 | 0 | 0 | 54 | 1 |
| 156 | Dave Conner | 15 | 179 | 0 | 0 | 0 | 53 | 0 | 0 | 53 | 2 |
| 157 | Jon Herbert | 9 | 206 | 52 | 0 | 0 | 0 | 0 | 0 | 52 | 1 |
| 158 | Chris Smith | 9 | 206 | 52 | 0 | 0 | 0 | 0 | 0 | 52 | 1 |
| 159 | David Dugmore | 6 | 175 | 0 | 52 | 0 | 0 | 0 | 0 | 52 | 1 |
| 160 | Mike Smith | 9 | 206 | 50 | 0 | 0 | 0 | 0 | 0 | 50 | 1 |
| 161 | Matthew Kokolski | 6 | 173 | 0 | 50 | 0 | 0 | 0 | 0 | 50 | 1 |
| 162 | James Lessey | 12 | 169 | 0 | 49 | 0 | 0 | 0 | 0 | 49 | 2 |
| 163 | James Conolly | 9 | 205 | 49 | 0 | 0 | 0 | 0 | 0 | 49 | 1 |
| 164 | Carley Warnes | 9 | 205 | 48 | 0 | 0 | 0 | 0 | 0 | 48 | 1 |
| 165 | Kian Mistry | 6 | 165 | 0 | 0 | 0 | 48 | 0 | 0 | 48 | 1 |
| 166 | Tom Bridges | 15 | 164 | 0 | 47 | 0 | 0 | 0 | 0 | 47 | 2 |
| 167 | Charlie Woollard | 6 | 164 | 0 | 0 | 0 | 47 | 0 | 0 | 47 | 1 |
| 168 | Stuart Starter | 6 | 164 | 0 | 0 | 0 | 47 | 0 | 0 | 47 | 1 |
| 169 | Kiran Akehurst | 15 | 184 | 0 | 46 | 0 | 0 | 0 | 0 | 46 | 2 |
| 170 | James McDonagh | 9 | 205 | 46 | 0 | 0 | 0 | 0 | 0 | 46 | 1 |
| 171 | Kim Johnson | 9 | 204 | 45 | 0 | 0 | 0 | 0 | 0 | 45 | 1 |
| 172 | Charlie Baldwin | 6 | 169 | 0 | 45 | 0 | 0 | 0 | 0 | 45 | 1 |
| 173 | Graham Whitten | 9 | 204 | 44 | 0 | 0 | 0 | 0 | 0 | 44 | 1 |
| 174 | Tim Hughes | 6 | 169 | 0 | 44 | 0 | 0 | 0 | 0 | 44 | 1 |
| 175 | Trevor Gibbs | 9 | 204 | 43 | 0 | 0 | 0 | 0 | 0 | 43 | 1 |
| 176 | Sukky Gill | 6 | 168 | 0 | 43 | 0 | 0 | 0 | 0 | 43 | 1 |
| 177 | Paul Woodjetts | 6 | 157 | 0 | 0 | 0 | 43 | 0 | 0 | 43 | 1 |
| 178 | Matt Trotman | 15 | 181 | 0 | 42 | 0 | 0 | 0 | 0 | 42 | 2 |
| 179 | Chris Harris | 9 | 204 | 42 | 0 | 0 | 0 | 0 | 0 | 42 | 1 |
| 180 | Adam Michaels | 9 | 204 | 42 | 0 | 0 | 0 | 0 | 0 | 42 | 1 |
| 181 | Joshua Plewis | 6 | 155 | 0 | 0 | 0 | 42 | 0 | 0 | 42 | 1 |
| 182 | Ryan Cooper | 6 | 157 | 0 | 40 | 0 | 0 | 0 | 0 | 40 | 1 |
| 183 | Brandon Figg | 6 | 151 | 0 | 0 | 0 | 40 | 0 | 0 | 40 | 1 |
| 184 | Ketan Suchak | 9 | 203 | 39 | 0 | 0 | 0 | 0 | 0 | 39 | 1 |
| 185 | Robert Bruce | 9 | 202 | 35 | 0 | 0 | 0 | 0 | 0 | 35 | 1 |
| 186 | Oliver Spindley | 9 | 202 | 34 | 0 | 0 | 0 | 0 | 0 | 34 | 1 |
| 187 | Alex McCarthy | 9 | 202 | 32 | 0 | 0 | 0 | 0 | 0 | 32 | 1 |
| 188 | Matty Clayton | 9 | 202 | 31 | 0 | 0 | 0 | 0 | 0 | 31 | 1 |
| 189 | Joe Cooper | 9 | 201 | 29 | 0 | 0 | 0 | 0 | 0 | 29 | 1 |
| 190 | Aiden Wright | 9 | 201 | 29 | 0 | 0 | 0 | 0 | 0 | 29 | 1 |
| 191 | Andy Yeoman | 9 | 201 | 27 | 0 | 0 | 0 | 0 | 0 | 27 | 1 |
| 192 | Ron Griffin | 9 | 201 | 26 | 0 | 0 | 0 | 0 | 0 | 26 | 1 |
| 193 | Mickey Nock | 9 | 201 | 26 | 0 | 0 | 0 | 0 | 0 | 26 | 1 |
| 194 | Scott Spalding | 9 | 201 | 26 | 0 | 0 | 0 | 0 | 0 | 26 | 1 |
| 195 | Stewart Brydon | 9 | 200 | 23 | 0 | 0 | 0 | 0 | 0 | 23 | 1 |
| 196 | Chris Quilter | 9 | 200 | 22 | 0 | 0 | 0 | 0 | 0 | 22 | 1 |
| 197 | Adam Shrubb | 9 | 200 | 22 | 0 | 0 | 0 | 0 | 0 | 22 | 1 |
| 198 | Jon Naylor | 9 | 200 | 20 | 0 | 0 | 0 | 0 | 0 | 20 | 1 |
| 199 | Phil Punter | 9 | 200 | 20 | 0 | 0 | 0 | 0 | 0 | 20 | 1 |
| 200 | Simon Wooden | 9 | 200 | 18 | 0 | 0 | 0 | 0 | 0 | 18 | 1 |
| 201 | Allan Park | 9 | 199 | 17 | 0 | 0 | 0 | 0 | 0 | 17 | 1 |
| 202 | Chris Maddock | 9 | 199 | 14 | 0 | 0 | 0 | 0 | 0 | 14 | 1 |
| 203 | Ben Punter | 9 | 199 | 14 | 0 | 0 | 0 | 0 | 0 | 14 | 1 |
| 204 | Robert Crosbie | 9 | 198 | 11 | 0 | 0 | 0 | 0 | 0 | 11 | 1 |
| 205 | Paul Morris | 9 | 198 | 11 | 0 | 0 | 0 | 0 | 0 | 11 | 1 |
| 206 | Steve Bose | 9 | 198 | 9 | 0 | 0 | 0 | 0 | 0 | 9 | 1 |
| 207 | Steve Williams | 9 | 198 | 8 | 0 | 0 | 0 | 0 | 0 | 8 | 1 |
| 208 | Alistair MacPherson | 9 | 197 | 7 | 0 | 0 | 0 | 0 | 0 | 7 | 1 |
| 209 | Callum Simons | 9 | 197 | 6 | 0 | 0 | 0 | 0 | 0 | 6 | 1 |
| 210 | Kev Whiting | 9 | 197 | 5 | 0 | 0 | 0 | 0 | 0 | 5 | 1 |
| 211 | Martin Clements | 9 | 197 | 4 | 0 | 0 | 0 | 0 | 0 | 4 | 1 |
| 212 | Andy Tapping | 9 | 196 | 3 | 0 | 0 | 0 | 0 | 0 | 3 | 1 |
| 213 | Doug Sinclair | 9 | 196 | 2 | 0 | 0 | 0 | 0 | 0 | 2 | 1 |
| 214 | Eddie Broom | 9 | 196 | 1 | 0 | 0 | 0 | 0 | 0 | 1 | 1 |
| 215 | Mike Sykes | 9 | 196 | 1 | 0 | 0 | 0 | 0 | 0 | 1 | 1 |
| 216 | Sam Briant | 9 | 195 | 0 | 0 | 0 | 0 | 0 | 0 | 0 | 1 |
| 217 | Suren Johanssen | 9 | 195 | 0 | 0 | 0 | 0 | 0 | 0 | 0 | 1 |
| 218 | Ben Green | 9 | 195 | 0 | 0 | 0 | 0 | 0 | 0 | 0 | 1 |
| 219 | Mark Thompson | 9 | 195 | 0 | 0 | 0 | 0 | 0 | 0 | 0 | 1 |
| 220 | Vilsteren Van | 9 | 195 | 0 | 0 | 0 | 0 | 0 | 0 | 0 | 1 |
| 221 | Chris Herbert | 9 | 194 | 0 | 0 | 0 | 0 | 0 | 0 | 0 | 1 |
| 222 | Josh Lelliott | 9 | 194 | 0 | 0 | 0 | 0 | 0 | 0 | 0 | 1 |
| 223 | Alex Pates | 9 | 194 | 0 | 0 | 0 | 0 | 0 | 0 | 0 | 1 |
| 224 | Luke Mallett | 9 | 194 | 0 | 0 | 0 | 0 | 0 | 0 | 0 | 1 |
| 225 | Mark Wills | 9 | 194 | 0 | 0 | 0 | 0 | 0 | 0 | 0 | 1 |
| 226 | Ken Burton | 9 | 193 | 0 | 0 | 0 | 0 | 0 | 0 | 0 | 1 |
| 227 | Steve Utting | 9 | 193 | 0 | 0 | 0 | 0 | 0 | 0 | 0 | 1 |
| 228 | Nathan Halliday | 9 | 192 | 0 | 0 | 0 | 0 | 0 | 0 | 0 | 1 |
| 229 | Callum Carter | 9 | 192 | 0 | 0 | 0 | 0 | 0 | 0 | 0 | 1 |
| 230 | Adam Leefe | 9 | 192 | 0 | 0 | 0 | 0 | 0 | 0 | 0 | 1 |
| 231 | Andy Sinclair | 9 | 192 | 0 | 0 | 0 | 0 | 0 | 0 | 0 | 1 |
| 232 | Bradley Redfearn | 9 | 191 | 0 | 0 | 0 | 0 | 0 | 0 | 0 | 1 |
| 233 | Mark Icke | 9 | 191 | 0 | 0 | 0 | 0 | 0 | 0 | 0 | 1 |
| 234 | Alan Keddie | 9 | 191 | 0 | 0 | 0 | 0 | 0 | 0 | 0 | 1 |
| 235 | Les Keates | 9 | 191 | 0 | 0 | 0 | 0 | 0 | 0 | 0 | 1 |
| 236 | Robert Packman | 9 | 191 | 0 | 0 | 0 | 0 | 0 | 0 | 0 | 1 |
| 237 | Richard Stevens | 9 | 190 | 0 | 0 | 0 | 0 | 0 | 0 | 0 | 1 |
| 238 | Robbie Bowden | 9 | 190 | 0 | 0 | 0 | 0 | 0 | 0 | 0 | 1 |
| 239 | Matt Farman | 9 | 190 | 0 | 0 | 0 | 0 | 0 | 0 | 0 | 1 |
| 240 | Robert Clark | 9 | 190 | 0 | 0 | 0 | 0 | 0 | 0 | 0 | 1 |
| 241 | Jack Winter | 9 | 190 | 0 | 0 | 0 | 0 | 0 | 0 | 0 | 1 |
| 242 | Barry Walker | 9 | 189 | 0 | 0 | 0 | 0 | 0 | 0 | 0 | 1 |
| 243 | Alex Castle | 9 | 188 | 0 | 0 | 0 | 0 | 0 | 0 | 0 | 1 |
| 244 | Bob Ockelford | 9 | 187 | 0 | 0 | 0 | 0 | 0 | 0 | 0 | 1 |
| 245 | Jai Buller | 9 | 187 | 0 | 0 | 0 | 0 | 0 | 0 | 0 | 1 |
| 246 | Bailey Roff | 9 | 187 | 0 | 0 | 0 | 0 | 0 | 0 | 0 | 1 |
| 247 | Stewart Mathews | 9 | 187 | 0 | 0 | 0 | 0 | 0 | 0 | 0 | 1 |
| 248 | Michael Carter | 9 | 186 | 0 | 0 | 0 | 0 | 0 | 0 | 0 | 1 |
| 249 | Gary Baker | 9 | 185 | 0 | 0 | 0 | 0 | 0 | 0 | 0 | 1 |
| 250 | Tony Lee | 9 | 185 | 0 | 0 | 0 | 0 | 0 | 0 | 0 | 1 |
| 251 | Paul Maddock | 9 | 185 | 0 | 0 | 0 | 0 | 0 | 0 | 0 | 1 |
| 252 | Terry Webb | 9 | 185 | 0 | 0 | 0 | 0 | 0 | 0 | 0 | 1 |
| 253 | Steve Bruce | 9 | 184 | 0 | 0 | 0 | 0 | 0 | 0 | 0 | 1 |
| 254 | Kevin Reed | 9 | 184 | 0 | 0 | 0 | 0 | 0 | 0 | 0 | 1 |
| 255 | Geoff Brown | 9 | 184 | 0 | 0 | 0 | 0 | 0 | 0 | 0 | 1 |
| 256 | David Reed | 9 | 183 | 0 | 0 | 0 | 0 | 0 | 0 | 0 | 1 |
| 257 | Dan Whiteley | 9 | 183 | 0 | 0 | 0 | 0 | 0 | 0 | 0 | 1 |
| 258 | Paul Wilkinson | 9 | 183 | 0 | 0 | 0 | 0 | 0 | 0 | 0 | 1 |
| 259 | Martin Norwell | 9 | 182 | 0 | 0 | 0 | 0 | 0 | 0 | 0 | 1 |
| 260 | Adam Kirby | 9 | 182 | 0 | 0 | 0 | 0 | 0 | 0 | 0 | 1 |
| 261 | Stuart Leader | 9 | 181 | 0 | 0 | 0 | 0 | 0 | 0 | 0 | 1 |
| 262 | Mike Harris | 9 | 181 | 0 | 0 | 0 | 0 | 0 | 0 | 0 | 1 |
| 263 | Alan Wills | 9 | 181 | 0 | 0 | 0 | 0 | 0 | 0 | 0 | 1 |
| 264 | Chris Taaffe | 9 | 180 | 0 | 0 | 0 | 0 | 0 | 0 | 0 | 1 |
| 265 | Ben Marfleet | 9 | 180 | 0 | 0 | 0 | 0 | 0 | 0 | 0 | 1 |
| 266 | Mick Welborn | 9 | 180 | 0 | 0 | 0 | 0 | 0 | 0 | 0 | 1 |
| 267 | Ryan Dougherty | 9 | 180 | 0 | 0 | 0 | 0 | 0 | 0 | 0 | 1 |
| 268 | Dave Grainger | 9 | 179 | 0 | 0 | 0 | 0 | 0 | 0 | 0 | 1 |
| 269 | Steve Wildman | 9 | 179 | 0 | 0 | 0 | 0 | 0 | 0 | 0 | 1 |
| 270 | Jack Plampin | 9 | 179 | 0 | 0 | 0 | 0 | 0 | 0 | 0 | 1 |
| 271 | John Strettle | 9 | 179 | 0 | 0 | 0 | 0 | 0 | 0 | 0 | 1 |
| 272 | Robert Abbott | 9 | 178 | 0 | 0 | 0 | 0 | 0 | 0 | 0 | 1 |
| 273 | Mark Winter | 9 | 178 | 0 | 0 | 0 | 0 | 0 | 0 | 0 | 1 |
| 274 | Ian Kennedy | 9 | 178 | 0 | 0 | 0 | 0 | 0 | 0 | 0 | 1 |
| 275 | Graham Stewart | 9 | 178 | 0 | 0 | 0 | 0 | 0 | 0 | 0 | 1 |
| 276 | Pat Gregory | 9 | 178 | 0 | 0 | 0 | 0 | 0 | 0 | 0 | 1 |
| 277 | Martin Webster | 9 | 178 | 0 | 0 | 0 | 0 | 0 | 0 | 0 | 1 |
| 278 | Matt Richmond | 9 | 178 | 0 | 0 | 0 | 0 | 0 | 0 | 0 | 1 |
| 279 | Paul Nelligan | 9 | 177 | 0 | 0 | 0 | 0 | 0 | 0 | 0 | 1 |
| 280 | Josh Greengrass | 9 | 176 | 0 | 0 | 0 | 0 | 0 | 0 | 0 | 1 |
| 281 | Ian Brown | 9 | 174 | 0 | 0 | 0 | 0 | 0 | 0 | 0 | 1 |
| 282 | Dave Greig | 9 | 173 | 0 | 0 | 0 | 0 | 0 | 0 | 0 | 1 |
| 283 | Richy Phillips | 9 | 172 | 0 | 0 | 0 | 0 | 0 | 0 | 0 | 1 |
| 284 | Anthony Robson | 9 | 172 | 0 | 0 | 0 | 0 | 0 | 0 | 0 | 1 |
| 285 | Lewis Graham | 9 | 171 | 0 | 0 | 0 | 0 | 0 | 0 | 0 | 1 |
| 286 | Michael Didur | 9 | 171 | 0 | 0 | 0 | 0 | 0 | 0 | 0 | 1 |
| 287 | Malcolm Faulkner | 9 | 171 | 0 | 0 | 0 | 0 | 0 | 0 | 0 | 1 |
| 288 | Lewis Woods | 9 | 169 | 0 | 0 | 0 | 0 | 0 | 0 | 0 | 1 |
| 289 | Iain Alexander | 9 | 168 | 0 | 0 | 0 | 0 | 0 | 0 | 0 | 1 |
| 290 | John Lawless | 9 | 167 | 0 | 0 | 0 | 0 | 0 | 0 | 0 | 1 |
| 291 | Aaron Clark | 9 | 164 | 0 | 0 | 0 | 0 | 0 | 0 | 0 | 1 |
| 292 | Edward Sharman | 9 | 164 | 0 | 0 | 0 | 0 | 0 | 0 | 0 | 1 |
| 293 | Geoff Balwin | 9 | 163 | 0 | 0 | 0 | 0 | 0 | 0 | 0 | 1 |
| 294 | Charlie Cook | 9 | 163 | 0 | 0 | 0 | 0 | 0 | 0 | 0 | 1 |
| 295 | Keith Lawrence | 9 | 160 | 0 | 0 | 0 | 0 | 0 | 0 | 0 | 1 |
| 296 | Harry Bardell | 9 | 158 | 0 | 0 | 0 | 0 | 0 | 0 | 0 | 1 |
| 297 | Matt James | 9 | 157 | 0 | 0 | 0 | 0 | 0 | 0 | 0 | 1 |
| 298 | Jack Blyth | 9 | 155 | 0 | 0 | 0 | 0 | 0 | 0 | 0 | 1 |
| 299 | Luke Evenett | 9 | 154 | 0 | 0 | 0 | 0 | 0 | 0 | 0 | 1 |
| 300 | Pete Skan | 9 | 146 | 0 | 0 | 0 | 0 | 0 | 0 | 0 | 1 |
| 301 | Adrian Devey | 6 | 216 | 0 | 0 | 0 | 0 | 0 | 0 | 0 | 1 |
| 302 | Daren Knightsbridge | 6 | 195 | 0 | 0 | 0 | 0 | 0 | 0 | 0 | 1 |
| 303 | Paul Barber | 6 | 194 | 0 | 0 | 0 | 0 | 0 | 0 | 0 | 1 |
| 304 | Andy Roberts | 6 | 171 | 0 | 0 | 0 | 0 | 0 | 0 | 0 | 1 |
| 305 | Chris Anderson | 6 | 151 | 0 | 0 | 0 | 0 | 0 | 0 | 0 | 1 |
| 306 | Les Jarvis | 6 | 149 | 0 | 0 | 0 | 0 | 0 | 0 | 0 | 1 |
| 307 | Chris Deverill | 6 | 136 | 0 | 0 | 0 | 0 | 0 | 0 | 0 | 1 |
Women
| | | | | | | | | | | | |
| --- | --- | --- | --- | --- | --- | --- | --- | --- | --- | --- | --- |
| Pos.  | Name | G | Ave | Nat | Nun | Lanc | Airport | Brewer | Shrop | Total | Events |
| 1 | Louise Parker | 33 | 185 | 95 | 92 | 95 | 93 | 0 | 110 | 485 | 5 |
| 2 | Samantha Hannan | 27 | 216 | 100 | 120 | 0 | 120 | 120 | 0 | 460 | 4 |
| 3 | Sarah Hood | 27 | 189 | 77 | 94 | 0 | 0 | 110 | 120 | 401 | 4 |
| 4 | Laura Marcham | 21 | 200 | 82 | 95 | 0 | 110 | 0 | 0 | 287 | 3 |
| 5 | Nicky Donowski | 21 | 193 | 81 | 110 | 0 | 92 | 0 | 0 | 283 | 3 |
| 6 | Nikki Stam | 18 | 151 | 0 | 90 | 94 | 89 | 0 | 0 | 273 | 3 |
| 7 | Franchesca Plewis | 21 | 195 | 70 | 100 | 0 | 100 | 0 | 0 | 270 | 3 |
| 8 | Kayla Knight | 15 | 190 | 80 | 0 | 110 | 0 | 0 | 0 | 190 | 2 |
| 9 | Kerry Sirrell | 12 | 130 | 0 | 89 | 0 | 0 | 0 | 93 | 182 | 2 |
| 10 | Sam Collins | 12 | 146 | 0 | 91 | 0 | 88 | 0 | 0 | 179 | 2 |
| 11 | Lynn Squibb | 15 | 179 | 64 | 0 | 0 | 0 | 95 | 0 | 159 | 2 |
| 12 | Nicole Ashby | 15 | 176 | 61 | 0 | 0 | 0 | 94 | 0 | 155 | 2 |
| 13 | Vicki Harman | 15 | 180 | 60 | 93 | 0 | 0 | 0 | 0 | 153 | 2 |
| 14 | Jade Connor | 15 | 170 | 49 | 0 | 0 | 91 | 0 | 0 | 140 | 2 |
| 15 | Laura Ivory | 9 | 232 | 120 | 0 | 0 | 0 | 0 | 0 | 120 | 1 |
| 16 | Jenny Turnbull | 6 | 203 | 0 | 0 | 120 | 0 | 0 | 0 | 120 | 1 |
| 17 | Irina Timosenkova | 9 | 211 | 110 | 0 | 0 | 0 | 0 | 0 | 110 | 1 |
| 18 | Kim Head | 6 | 200 | 0 | 0 | 0 | 0 | 100 | 0 | 100 | 1 |
| 19 | Chelsey Dolan | 6 | 185 | 0 | 0 | 100 | 0 | 0 | 0 | 100 | 1 |
| 20 | Hazel Adams | 6 | 167 | 0 | 0 | 0 | 0 | 0 | 100 | 100 | 1 |
| 21 | Jess Davidson | 6 | 206 | 0 | 0 | 0 | 95 | 0 | 0 | 95 | 1 |
| 22 | Laura Evans | 6 | 159 | 0 | 0 | 0 | 0 | 0 | 95 | 95 | 1 |
| 23 | Caroline Cunningham | 9 | 203 | 94 | 0 | 0 | 0 | 0 | 0 | 94 | 1 |
| 24 | Cara Pleasance | 6 | 190 | 0 | 0 | 0 | 94 | 0 | 0 | 94 | 1 |
| 25 | June Johnson | 6 | 137 | 0 | 0 | 0 | 0 | 0 | 94 | 94 | 1 |
| 26 | Kimberley Oakley | 9 | 203 | 93 | 0 | 0 | 0 | 0 | 0 | 93 | 1 |
| 27 | Carol Barter | 6 | 144 | 0 | 0 | 93 | 0 | 0 | 0 | 93 | 1 |
| 28 | Cherise Denham | 9 | 202 | 92 | 0 | 0 | 0 | 0 | 0 | 92 | 1 |
| 29 | Louisa Turner | 6 | 114 | 0 | 0 | 0 | 0 | 0 | 92 | 92 | 1 |
| 30 | Diane Johnson | 9 | 202 | 91 | 0 | 0 | 0 | 0 | 0 | 91 | 1 |
| 31 | Sarah Jeeves | 6 | 101 | 0 | 0 | 0 | 0 | 0 | 91 | 91 | 1 |
| 32 | Sophie Thompson | 9 | 200 | 90 | 0 | 0 | 0 | 0 | 0 | 90 | 1 |
| 33 | Jo Cundy | 9 | 200 | 90 | 0 | 0 | 0 | 0 | 0 | 90 | 1 |
| 34 | Cheryl Schofield | 6 | 167 | 0 | 0 | 0 | 90 | 0 | 0 | 90 | 1 |
| 35 | Becky Daly | 9 | 199 | 88 | 0 | 0 | 0 | 0 | 0 | 88 | 1 |
| 36 | Camille Duay | 6 | 112 | 0 | 88 | 0 | 0 | 0 | 0 | 88 | 1 |
| 37 | Stephanie Tilson | 9 | 199 | 87 | 0 | 0 | 0 | 0 | 0 | 87 | 1 |
| 38 | Angie Brown | 9 | 196 | 86 | 0 | 0 | 0 | 0 | 0 | 86 | 1 |
| 39 | Kylie Skinner | 9 | 196 | 86 | 0 | 0 | 0 | 0 | 0 | 86 | 1 |
| 40 | Caz Johncock | 9 | 193 | 84 | 0 | 0 | 0 | 0 | 0 | 84 | 1 |
| 41 | Kt Finnigan | 9 | 193 | 83 | 0 | 0 | 0 | 0 | 0 | 83 | 1 |
| 42 | Tiffany Leefe | 9 | 190 | 79 | 0 | 0 | 0 | 0 | 0 | 79 | 1 |
| 43 | Katie Tagg | 9 | 190 | 79 | 0 | 0 | 0 | 0 | 0 | 79 | 1 |
| 44 | Kirstie Allison | 9 | 188 | 76 | 0 | 0 | 0 | 0 | 0 | 76 | 1 |
| 45 | Liz Griffin | 9 | 188 | 76 | 0 | 0 | 0 | 0 | 0 | 76 | 1 |
| 46 | Catherine Wills | 9 | 187 | 74 | 0 | 0 | 0 | 0 | 0 | 74 | 1 |
| 47 | Lucy Williams | 9 | 187 | 73 | 0 | 0 | 0 | 0 | 0 | 73 | 1 |
| 48 | Chelsie Williams | 9 | 186 | 72 | 0 | 0 | 0 | 0 | 0 | 72 | 1 |
| 49 | Laura Brockwell | 9 | 185 | 71 | 0 | 0 | 0 | 0 | 0 | 71 | 1 |
| 50 | Gaye McCully | 9 | 182 | 69 | 0 | 0 | 0 | 0 | 0 | 69 | 1 |
| 51 | Sandra Boswell | 9 | 179 | 69 | 0 | 0 | 0 | 0 | 0 | 69 | 1 |
| 52 | Olivia Cogley | 9 | 179 | 67 | 0 | 0 | 0 | 0 | 0 | 67 | 1 |
| 53 | Hannah Ailes | 9 | 178 | 67 | 0 | 0 | 0 | 0 | 0 | 67 | 1 |
| 54 | Sam Woodworth | 9 | 176 | 65 | 0 | 0 | 0 | 0 | 0 | 65 | 1 |
| 55 | Rhian Dobinson | 9 | 175 | 64 | 0 | 0 | 0 | 0 | 0 | 64 | 1 |
| 56 | Amy Sedgwick | 9 | 175 | 64 | 0 | 0 | 0 | 0 | 0 | 64 | 1 |
| 57 | Katie Watson | 9 | 174 | 59 | 0 | 0 | 0 | 0 | 0 | 59 | 1 |
| 58 | Emily Gale | 9 | 174 | 59 | 0 | 0 | 0 | 0 | 0 | 59 | 1 |
| 59 | Leah Tickner | 9 | 174 | 57 | 0 | 0 | 0 | 0 | 0 | 57 | 1 |
| 60 | Beth Coley | 9 | 173 | 56 | 0 | 0 | 0 | 0 | 0 | 56 | 1 |
| 61 | Rachel Hodds | 9 | 173 | 56 | 0 | 0 | 0 | 0 | 0 | 56 | 1 |
| 62 | Julie Johanssen | 9 | 171 | 54 | 0 | 0 | 0 | 0 | 0 | 54 | 1 |
| 63 | Maria Gilderoy | 9 | 171 | 53 | 0 | 0 | 0 | 0 | 0 | 53 | 1 |
| 64 | Tricia Lloyd | 9 | 170 | 52 | 0 | 0 | 0 | 0 | 0 | 52 | 1 |
| 65 | Jenny Grace | 9 | 170 | 52 | 0 | 0 | 0 | 0 | 0 | 52 | 1 |
| 66 | Janet Didur | 9 | 169 | 50 | 0 | 0 | 0 | 0 | 0 | 50 | 1 |
| 67 | Jan Steiner | 9 | 165 | 48 | 0 | 0 | 0 | 0 | 0 | 48 | 1 |
| 68 | Carole Orange | 9 | 163 | 47 | 0 | 0 | 0 | 0 | 0 | 47 | 1 |
| 69 | Teresa McCarthy | 9 | 162 | 46 | 0 | 0 | 0 | 0 | 0 | 46 | 1 |
| 70 | Jackie Relph | 9 | 154 | 45 | 0 | 0 | 0 | 0 | 0 | 45 | 1 |
| 71 | Louise Finnie | 9 | 151 | 44 | 0 | 0 | 0 | 0 | 0 | 44 | 1 |
| 72 | Victoria Pickles | 9 | 150 | 43 | 0 | 0 | 0 | 0 | 0 | 43 | 1 |
| 73 | Charlotte Williams | 9 | 150 | 42 | 0 | 0 | 0 | 0 | 0 | 42 | 1 |
| 74 | Elle McCarthy | 9 | 145 | 42 | 0 | 0 | 0 | 0 | 0 | 42 | 1 |
| 75 | Catherine Lawless | 9 | 138 | 40 | 0 | 0 | 0 | 0 | 0 | 40 | 1 |
| 76 | Abbie Bakeer | 9 | 137 | 39 | 0 | 0 | 0 | 0 | 0 | 39 | 1 |
| 77 | Mollie Tweddell | 9 | 136 | 39 | 0 | 0 | 0 | 0 | 0 | 39 | 1 |
| 78 | Kirstie Fruen | 6 | 198 | 39 | 0 | 0 | 0 | 0 | 0 | 39 | 1 |
| 79 | Julie Bridges | 6 | 149 | 36 | 0 | 0 | 0 | 0 | 0 | 36 | 1 |