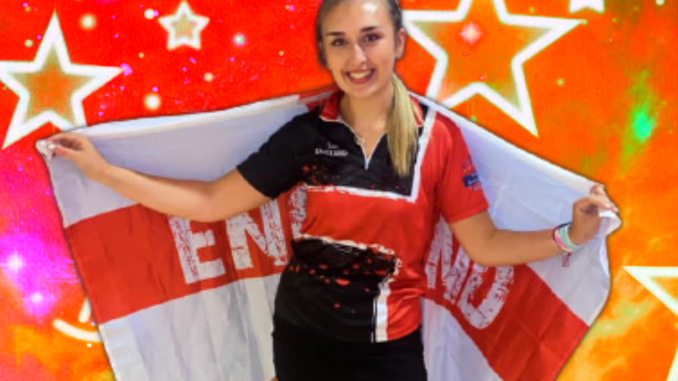 England have been blessed with many female champions over the years, It's a fact that English Women have won more medals than the men in International play. So after almost two years of no competition it was great to see Team England claiming a Gold in their first event since covid hit the World.
Back from the USA for the Summer, England's Issy Allen joined up with team mates Nicole Ediker, Sonny Rowland and Joshua Streak to compete in the first ETBF European Youth Live Tournament. The England players battled against nations in Europe in two game knock out matches with Issy rolling over a 240 average on the day to claim yet another European medal as she begins to race up the UK Tenpin Hall of fame rankings.
We caught up with Issy a few days later for a quick chat.
That was some bowling Issy, big average, big games and a big win at the end.
Yes! It was a great day.
The way you competed online was very different to what we are used to as bowlers, did it feel as intense?
Yes, it still felt intense. We decided to score a little different to how other countries were playing on TenPinCam. As we are usually not on our phones while we compete anyway, we had the boys (Josh and Sonny) fill in our scores and we avoided looking and knowing our opponents scores. This really helped us because we weren't constantly tied up, watching each frame. Doing this, made it a little more intense but allowed us to focus on our ourselves.
It was a favoured lane pattern so always had the potential for big scores. Did this add pressure, knowing you should score well?
No it didn't add any pressure. Whatever is put out on the lane is what we are against, not the opponent. It's just about executing great shots, having belief and being 100% committed every shot, and then everything will come together.
Great to see Team England back in a tournament, how did it feel to have the national shirt on again and playing in something very different?
Wearing England on my back always means a huge amount to me. It felt good to wear it again, after nearly two years since the World Cup. Even though it was a different event to what I had ever bowled in, it's still great representing your country no matter what event it is.
Back from USA for the summer and a difficult pandemic year but successful year for you. Is the USA dream everything you thought it would be so far?
It's everything I thought about and more. The life is so different out there, and I am so glad I made the decision to move there.
Not too many tournaments to play now in 2021 in the UK while you are home. Is it a time to relax with family or are you eager to be on the lanes?
Yes, this was the only tournament I was able to bowl. I have been really enjoying time at home with my family, and it's great that I can spend three months at home throughout the summer. I have had a relaxing time, but I have also still been practicing.
What goals do you have for your next year stateside?
The main goal for next season is to win the NCAA National Championship and Intercollegiate Team Champinships with the girls. We have such a tight bond with each other and there is nothing stopping us.