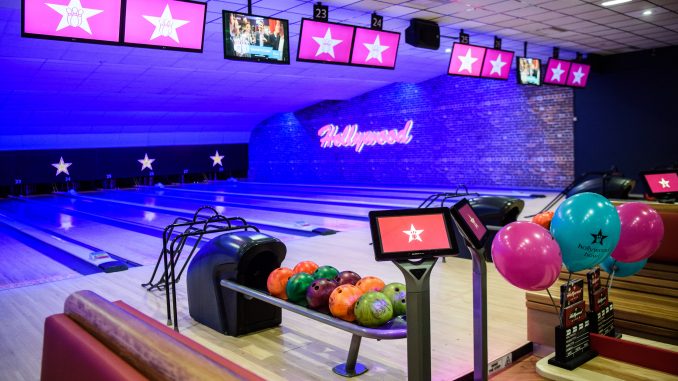 Hollywood Bowl Watford Woodside has benefited from a total refurbishment, becoming an enhanced 'latest generation' centre
Hollywood Bowl Group, one of the leading leisure operators in the UK, has completed a major £350,000 refurbishment of its popular Watford Woodside venue befitting its Los Angeles namesake, to coincide with the centre celebrating its 25th anniversary.
Steve Burns, CEO of Hollywood Bowl Group said: "Our refurbished Watford Woodside centre has been significantly improved to enhance the customer experience, and we're delighted to have received some excellent feedback.
"As one of the UK's leading family leisure brands, we're completely committed to creating great value entertainment venues for all to enjoy – as well as showing customers across the country that the fun doesn't have to stop at the lanes. From cutting-edge scoring technology and newly enhanced music, lighting and furnishings, right through to delicious American-style dining and the latest amusement games, our refurbished Watford Woodside centre is a great example of a latest generation Hollywood Bowl."
The 27-lane centre has been fully re-designed and now features plush new furnishings, iconic American décor and five exclusive and newly renovated VIP lanes.
With a brand-new Hollywood Diner, the centre has upgraded its food and drink offerings to include American classics with the likes of gourmet burgers, including a vegan burger, hotdogs, delicious freshly made shakes, and signature desserts which all now feature on the fresh menu, as well as speciality house cocktails served from a new American-style bar.
In addition, the centre's amusement area has been completely revamped and now boasts industry-leading games such as Space Invaders, Mario Kart, Superbikes 3, Halo and Nerf. There is also the opportunity to 'Play for Prizes', where visitors can win tickets on their favourite games and exchange them for an exciting range of prizes.
For a limited time, the amusement area also features a Rodent Rage Virtual Reality machine, allowing customers to play as rodents, racing through a park.

About Hollywood Bowl
Hollywood Bowl is part of the Hollywood Bowl Group, the UK's leading ten-pin bowling business with 60 centres operating under the Hollywood Bowl and AMF Bowling brands.
Specialising in modern, high-quality bowling centres, Hollywood Bowl has built a reputation for delivering outstanding family entertainment in venues that, due to their unique nature, are also aspirational leisure destinations for young adults and perfect for corporate parties and events.
Hollywood Bowl has modernised the customer bowling experience. Centres offer state-of-the-art booking and scoring systems, premium American diners, licensed bars, Costa Coffee outlets and exclusive pre-bookable VIP lanes.
The company employs 2,000 team members, 100 of whom are based at its support centre in Hemel Hempstead. Customers can save money by booking ahead and online at hollywoodbowl.co.uk