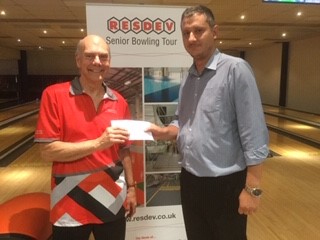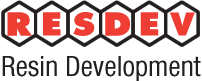 RES DEV Senior Tour 2019
Stop 4 — Lincoln Bowl
Sunday 7th July 2019
By Alan Turner
A different format from tournament manager, Jack Smith for The Lincoln RES DEV Senior Singles. There were two squads giving a total entry of 48 bowlers in round one.
The format was a 50% cut each round so the top 24 moved forward to round two after playing 6 games in round one. Ron Oldfield was round one leader with 1366. (1306 scratch). Followed by Yorkshire team mate Gary Barlow 1325 (1295) and long time doubles partner Nev Robinson 1306 (1246).
In joint 4th place and having travelled down from Scotland was Andy Gillespie 1300 (1270) and Lincolnshire's Kevin Lamb 1300 (1240) who was last weeks winner at Mansfield. Another local bowler, Gary Christopher, 1297, playing with no bonuses was in 6th, closely followed by Mick Ince 1292 (1202) The cut for 24th place fell at 1214 (1154) Trevor Green.
ROUND TWO was a 3 game block with scores carried forward. First round leader, Ron Oldfield (2010) stretched his lead to 70 pins with Nev Robinson (1940) moving into 2nd place. Gary Christopher (1936) was in 3rd place. Leading lady, in 4th,  at this stage was Helen Caton, (1925) The next 3 places were all within 5 pins. Andy Gillespie, & Les Taylor (1922) & Gary Barlow 1920. The top 12 cut was 1876, Mo Singleton.
ROUND THREE was another 3 games with another 50% cut, and all scores carried forward again and the top 6 going into the Final 3 games. Ron Oldfield maintained his lead and moved into the final with 2663. Helen Caton (2612) was 2nd. Andy Gillespie (2610) 3rd, Jan Hodge (2598) was 4th. Frosty, Michael Halliwell (2597) and Les Taylor(2579) both made the top six for the first time in the day.
The FINAL — With only 84 pins between all 6 finalists and three games to play this was for anyone to win or lose, especially as 6th placed Les Taylor was on 20 pins a game bonus compared to Ron's 10 pins per game, which effectively  meant the 84 pin gap had reduced to 54 pins before a ball was bowled.
Les was on fire with a first game of 246 scratch to Ron's 217. This put Les into 2nd place only 25 pins behind the long time leader. The question was, could he keep this performance level or would he drop off. Les answered this with a repeat game of 247 scratch which moved him into a lead of 58 pins as Ron had his lowest game of the day, 176. Suddenly Les Taylor was leading a Senior tournament with one game to go for the first time.
Could Les hold himself together or would Ron Oldfield with 99 Senior wins behind him, apply the pressure and regain the lead and win his 100th title. Andy Gillespie (3246) with only 5 pins per game bonus maintained his form which was just enough to hold off Jan Hodge (3245) who received 25 pins per game. Only one pin in it. Frosty Halliiwell (3227) was 5th and Helen Caton (3199) 6th struggling in the first two games, recovered with a 212 last game, but this was too little, too late.
Meanwhile all the excitement for the crowd watching the Final was, as you would expect, at the top of the pile. All Les had to do was stay clean and the title would be his unless Ron could put in a big game. Too many 10 pin leaves all day had slowed Ron and many others down, and this would eventually cost Ron, as Les stays clean for the first 6 frames until he missed a single pin. Ron needed a run of strikes to snatch back the lead. He made a double in the 7th & 8th frames to close the gap.
Another single pin leave for both of them in the ninth frame left Ron only 11 pins adrift. Les held himself together and spared a ten pin in the ninth then left a four pin in the tenth. Meanwhile Ron needing 3 strikes to win got the first one then flushed the pocket again, only to leave that pesky 10 pin yet again. The title was now in Les's hands to win. A miss would mean a tie and a spare would be a win. Les Taylor made the spare and struck with the bonus shot to win his first ever title by 11 pins.
The next RES DEV tournament will be at Chesterfield Bowl on Sunday 28th July.
Results
Round 4
| | | | | | | | | |
| --- | --- | --- | --- | --- | --- | --- | --- | --- |
| | NAME | C/FWD | BONUS | 1 | 2 | 3 | BONUS X 3 | TOTAL |
| 1 | LES TAYLOR | 2579 | 20 | 246 | 247 | 170 | 60 | 3302 |
| 2 | RON OLDFIELD | 2663 | 10 | 217 | 176 | 205 | 30 | 3291 |
| 3 | ANDY GILLESPIE | 2610 | 5 | 192 | 205 | 224 | 15 | 3246 |
| 4 | JAN HODGE | 2598 | 25 | 183 | 165 | 224 | 75 | 3245 |
| 5 | MIKE HALLIWELL | 2597 | 10 | 212 | 204 | 184 | 30 | 3227 |
| 6 | HELEN CATON | 2612 | 20 | 171 | 144 | 212 | 60 | 3199 |
Round 3
| | | | | | | | | |
| --- | --- | --- | --- | --- | --- | --- | --- | --- |
| | NAME | C/FWD | BONUS | 1 | 2 | 3 | BONUS X3 | TOTAL |
| 1 | RON OLDFIELD | 2010 | 10 | 227 | 203 | 193 | 30 | 2663 |
| 2 | HELEN CATON | 1925 | 20 | 221 | 185 | 221 | 60 | 2612 |
| 3 | ANDY GILLESPIE | 1922 | 5 | 230 | 205 | 238 | 15 | 2610 |
| 4 | JAN HODGE | 1907 | 25 | 192 | 224 | 200 | 75 | 2598 |
| 5 | MIKE HALLIWELL | 1913 | 10 | 214 | 234 | 206 | 30 | 2597 |
| 6 | LES TAYLOR | 1922 | 20 | 181 | 200 | 216 | 60 | 2579 |
| 7 | NEV ROBINSON | 1940 | 10 | 182 | 166 | 233 | 30 | 2551 |
| 8 | MO SINGLETON | 1876 | 15 | 247 | 191 | 187 | 45 | 2546 |
| 9 | ALAN KEDDIE | 1884 | 5 | 236 | 203 | 195 | 15 | 2533 |
| 10 | GARY BARLOW | 1920 | 5 | 216 | 173 | 196 | 15 | 2520 |
| 11 | GARY CHRISTOPHER | 1936 | 0 | 192 | 167 | 214 | 0 | 2509 |
| 12 | MARTIN GREEN | 1902 | 10 | 191 | 171 | 207 | 30 | 2501 |
Round 2
| | | | | | | | | |
| --- | --- | --- | --- | --- | --- | --- | --- | --- |
| | NAME | C/FWD | BONUS | 1 | 2 | 3 | BONUS X 3 | TOTAL |
| 1 | RON OLDFIELD | 1366 | 10 | 194 | 235 | 185 | 30 | 2010 |
| 2 | NEV ROBINSON | 1306 | 10 | 216 | 208 | 180 | 30 | 1940 |
| 3 | GARY CHRISTOPHER | 1297 | 0 | 213 | 236 | 190 | 0 | 1936 |
| 4 | HELEN CATON | 1256 | 20 | 219 | 204 | 186 | 60 | 1925 |
| 5 | ANDY GILLESPIE | 1300 | 5 | 204 | 183 | 220 | 15 | 1922 |
| 6 | LES TAYLOR | 1234 | 20 | 221 | 185 | 222 | 60 | 1922 |
| 7 | GARY BARLOW | 1325 | 5 | 222 | 169 | 189 | 15 | 1920 |
| 8 | MIKE HALLIWELL | 1270 | 10 | 225 | 184 | 204 | 30 | 1913 |
| 9 | JAN HODGE | 1252 | 25 | 225 | 199 | 156 | 75 | 1907 |
| 10 | MARTIN GREEN | 1230 | 10 | 216 | 201 | 225 | 30 | 1902 |
| 11 | ALAN KEDDIE | 1270 | 5 | 183 | 211 | 205 | 15 | 1884 |
| 12 | MO SINGLETON | 1239 | 15 | 196 | 203 | 193 | 45 | 1876 |
| 13 | FRANK LINDSAY | 1267 | 10 | 202 | 184 | 192 | 30 | 1875 |
| 14 | KEVIN LAMB | 1300 | 10 | 143 | 202 | 195 | 30 | 1870 |
| 15 | GAYE MCCULLY | 1220 | 15 | 223 | 205 | 172 | 45 | 1865 |
| 16 | TREVOR LAMPRELL | 1242 | 10 | 186 | 233 | 170 | 30 | 1861 |
| 17 | DAVE RAWDING | 1256 | 10 | 235 | 191 | 144 | 30 | 1856 |
| 18 | GEOFF BROWN | 1229 | 5 | 192 | 207 | 213 | 15 | 1856 |
| 19 | MICK INCE | 1292 | 15 | 156 | 202 | 149 | 45 | 1844 |
| 20 | IAN BUCKLAND | 1270 | 10 | 196 | 179 | 155 | 30 | 1830 |
| 21 | BRIAN SEMPERS | 1272 | 15 | 134 | 172 | 202 | 45 | 1825 |
| 22 | LES GRANT | 1256 | 15 | 146 | 199 | 178 | 45 | 1824 |
| 23 | MALCOLM MYATT | 1222 | 10 | 178 | 174 | 158 | 30 | 1762 |
| 24 | TREVOR GREEN | 1214 | 10 | 180 | 188 | 138 | 30 | 1750 |
Qualifying
| | | | | | | | | | | | |
| --- | --- | --- | --- | --- | --- | --- | --- | --- | --- | --- | --- |
| | NAME | BONUS | 1 | 2 | 3 | 4 | 5 | 6 | SCR TOTAL | BONUS X6 | TOTAL |
| 1 | RON OLDFIELD | 10 | 209 | 269 | 198 | 234 | 196 | 200 | 1306 | 60 | 1366 |
| 2 | GARY BARLOW | 5 | 227 | 205 | 211 | 180 | 232 | 240 | 1295 | 30 | 1325 |
| 3 | NEV ROBINSON | 10 | 234 | 184 | 180 | 224 | 211 | 213 | 1246 | 60 | 1306 |
| 4 | ANDY GILLESPIE | 5 | 225 | 186 | 223 | 234 | 210 | 192 | 1270 | 30 | 1300 |
| 5 | KEVIN LAMB | 10 | 169 | 226 | 189 | 225 | 217 | 214 | 1240 | 60 | 1300 |
| 6 | GARY CHRISTOPHER | 0 | 247 | 181 | 177 | 233 | 236 | 223 | 1297 | 0 | 1297 |
| 7 | MICK INCE | 15 | 219 | 149 | 191 | 225 | 237 | 181 | 1202 | 90 | 1292 |
| 8 | BRIAN SEMPERS | 15 | 175 | 229 | 168 | 162 | 248 | 200 | 1182 | 90 | 1272 |
| 9 | MIKE HALLIWELL | 10 | 193 | 233 | 223 | 196 | 157 | 208 | 1210 | 60 | 1270 |
| 10 | IAN BUCKLAND | 10 | 173 | 214 | 197 | 227 | 175 | 224 | 1210 | 60 | 1270 |
| 11 | ALAN KEDDIE | 5 | 190 | 229 | 183 | 206 | 214 | 218 | 1240 | 30 | 1270 |
| 12 | FRANK LINDSAY | 10 | 205 | 229 | 194 | 165 | 210 | 204 | 1207 | 60 | 1267 |
| 13 | LES GRANT | 15 | 174 | 206 | 208 | 184 | 213 | 181 | 1166 | 90 | 1256 |
| 14 | HELEN CATON | 20 | 203 | 191 | 169 | 136 | 221 | 216 | 1136 | 120 | 1256 |
| 15 | DAVE RAWDING | 10 | 237 | 174 | 167 | 180 | 217 | 221 | 1196 | 60 | 1256 |
| 16 | JAN HODGE | 25 | 215 | 146 | 172 | 187 | 190 | 192 | 1102 | 150 | 1252 |
| 17 | TREVOR LAMPRELL | 10 | 245 | 214 | 190 | 191 | 183 | 159 | 1182 | 60 | 1242 |
| 18 | MO SINGLETON | 15 | 200 | 182 | 215 | 183 | 141 | 228 | 1149 | 90 | 1239 |
| 19 | LES TAYLOR | 20 | 195 | 172 | 226 | 170 | 166 | 185 | 1114 | 120 | 1234 |
| 20 | MARTIN GREEN | 10 | 162 | 147 | 202 | 213 | 212 | 234 | 1170 | 60 | 1230 |
| 21 | GEOFF BROWN | 5 | 205 | 205 | 259 | 159 | 167 | 204 | 1199 | 30 | 1229 |
| 22 | MALCOLM MYATT | 10 | 195 | 214 | 204 | 195 | 202 | 152 | 1162 | 60 | 1222 |
| 23 | GAYE MCCULLY | 15 | 193 | 159 | 189 | 182 | 169 | 238 | 1130 | 90 | 1220 |
| 24 | TREVOR GREEN | 10 | 258 | 177 | 181 | 163 | 187 | 188 | 1154 | 60 | 1214 |
| 25 | MARK FULLBROOK | 10 | 214 | 167 | 258 | 186 | 170 | 158 | 1153 | 60 | 1213 |
| 26 | ANDY CLOUGH | 10 | 215 | 134 | 177 | 233 | 223 | 171 | 1153 | 60 | 1213 |
| 27 | JOHN LAWLESS | 10 | 200 | 182 | 183 | 218 | 172 | 192 | 1147 | 60 | 1207 |
| 28 | KEITH BOWEN | 5 | 202 | 204 | 178 | 198 | 208 | 185 | 1175 | 30 | 1205 |
| 29 | DAVE BIRDSALL | 15 | 163 | 199 | 177 | 140 | 209 | 214 | 1102 | 90 | 1192 |
| 30 | KEITH HODGE | 15 | 166 | 179 | 153 | 223 | 198 | 178 | 1097 | 90 | 1187 |
| 31 | PAT BYRNE | 15 | 196 | 133 | 162 | 235 | 180 | 188 | 1094 | 90 | 1184 |
| 32 | AL JENKINS | 10 | 238 | 212 | 137 | 194 | 158 | 182 | 1121 | 60 | 1181 |
| 33 | JOHN STRETTLE | 15 | 189 | 198 | 180 | 158 | 195 | 171 | 1091 | 90 | 1181 |
| 34 | DOUG SINCLAIR | 20 | 156 | 187 | 190 | 165 | 157 | 183 | 1038 | 120 | 1158 |
| 35 | STEVE COATES | 10 | 233 | 168 | 169 | 169 | 186 | 169 | 1094 | 60 | 1154 |
| 36 | MARTIN BISHOP | 5 | 194 | 166 | 201 | 186 | 170 | 203 | 1120 | 30 | 1150 |
| 37 | BARRY WALKER | 5 | 136 | 196 | 218 | 222 | 175 | 168 | 1115 | 30 | 1145 |
| 38 | JOHN BROADHURST | 20 | 151 | 191 | 223 | 150 | 176 | 133 | 1024 | 120 | 1144 |
| 39 | DAVE BROOMFIELD | 5 | 201 | 205 | 200 | 145 | 150 | 211 | 1112 | 30 | 1142 |
| 40 | AL TURNER | 15 | 140 | 187 | 179 | 196 | 165 | 176 | 1043 | 90 | 1133 |
| 41 | STEVE LAYCOCK | 10 | 153 | 143 | 170 | 196 | 182 | 211 | 1055 | 60 | 1115 |
| 42 | PHILLIP IVES | 15 | 133 | 171 | 138 | 192 | 208 | 176 | 1018 | 90 | 1108 |
| 43 | SIMON HAIGH | 0 | 154 | 224 | 159 | 182 | 201 | 187 | 1107 | 0 | 1107 |
| 44 | CAROLE ORANGE | 20 | 203 | 151 | 139 | 159 | 152 | 183 | 987 | 120 | 1107 |
| 45 | IAN KENNEDY | 15 | 187 | 139 | 170 | 181 | 158 | 167 | 1002 | 90 | 1092 |
| 46 | LOUISE GILLESPIE | 20 | 148 | 147 | 124 | 180 | 146 | 177 | 922 | 120 | 1042 |
| 47 | SIMON HOGG | 10 | 178 | 170 | 164 | 129 | 156 | 166 | 963 | 60 | 1023 |
| 48 | STUART ENGLAND | 5 | 161 | 158 | 192 | 108 | 197 | 164 | 980 | 30 | 1010 |