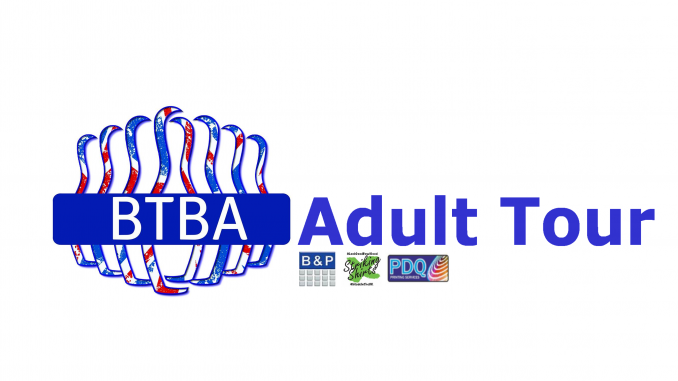 The BTBA Tour Stop at Worthing was a mixed trios event, where every team had to have at least one female bowler. It's a busy time in the bowling calendar with 4 tournaments all scheduled for the same weekend, so organisers were pleased with the 20 teams (60 bowlers) that played this event.
The format was a simple one – every team bowls 7 games and the team with the most pins knocked over wins. There was a scratch and handicap prize fund.
5 teams played on the Saturday, and after a slow start to the season Rob Thurlby finally burst into action throwing a block that included a 290, 280 and 279 games for a 1719 total (245 average). Also in Rob's team was local hero Lisa John who finished as top lady after day one on a 211 average and Liam Fitzpatrick who averaged 199. Their team total of 4594 saw them sitting comfortably in the lead from the RBS Pro Shop Team ( Rob Bruce, Lynne Walker and James Denvil )
On to the Sunday were 15 teams hit the lanes. The strongest team in field consisted of Chris Oates, the 2018 Tour Champion Hayley Russell and Jack Sanders, and they put a great block together which saw them finish just 60 pins short of Saturday's leaders "we heart basher" but they were top of the handicap section.  2nd in the scratch section were Three Way Action – Basher Bonfield, Damian Gray and Louise Parker, 2nd in the handicap section were Stroud Squad – Kim and Diane Johnson and Gary Baker. 3rd in the scratch section were RBS ProShop and 3rd in the Handicap were BlopinSwing – Jenny Swift, Cliff Dew and Bob Ockleford.
Rankings points were being played for, and in the Men's no one got close to the sort of numbers that Turlby hit on the Saturday with 2nd placed James Denvil averaging  21 pins less a game. In the ladies Hayley Russell sneaked ahead of Lisa John with Louise Parker in 3rd. Senior rankings were also awarded at this tournament. In the men's Cliff Dew shot 1454 a 207 average to take max points, and in the ladies it was once again Kimbley Oakley who took max points with 1375 a 196 average.
Rob Thurlby also won £50 bonus for high game with handicap with a 294 donated by our sponsor PDQ Printing Services.
A good event in a centre that made the bowlers feel very welcome. Thanks to our sponsors B&P Fabrications Leicester, Striking Shirts​ and Alison Blyth​ at PDQ Printing Services your support is invaluable and very much appreciated.
A brilliant TOUR tournament, organised by Will Line at the Sussex Association, who used the event to raise some money. It also got 20 ladies out playing a tournament, some for the first time in a long while. We hope to see them back at a tour event in the future.
The next event on the tour is a biggy – its a MAJOR ranking event. It's the English QubicaAMF Bowling World Cup​ qualifier. A tournament with a big prize fund and the winner getting a chance to represent England out in Indonesia in the Qubica AMF world Cup – enter the tournament here https://form.jotformeu.com/91476499258374
Results
Download and view scores here