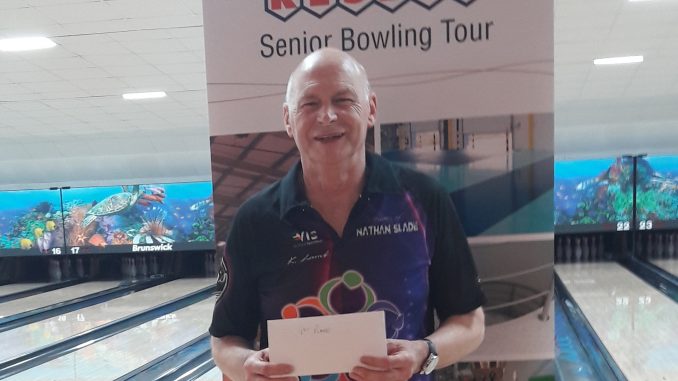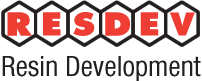 By Al Turner
The 3rd stop on the RES DEV Senior Tour Was  held at the Mansfield Bowl on Sunday 30th June 2019.
There were 47 entries with ladies receiving an additional 10 bonus pins per game.
The format for this event was  a 6 game qualifying round with 2 squads followed by a cut to the top twelve.
These bowlers were split into 2 x 6 round robins.
On to the round robins :-
Round robin B was dominated by Jan Hodge, 1237 who won 4 of her 5 games and drew game 3 against Ian McDonald.
2nd place was always between Trevor Lamprell 1124 who held that position until game 5 when his 221 game was not enough to hold off Keith Hodge 1128 whose 254 was the high game in Round robin A.
In positions 4, 5 & 6 were Dave Broomfield, Ian McDonald and John Broadhurst.
Round robin A
Kevin Lamb won all his 5 games and after a slow start with 189 kicked into overdrive with games of 232, 268, 203 & 256 to give him a total of 1298 which was 135 pins in front of Nev Robinson 1163 in 2nd place.
Mark S Smith's 1137 kept him 3rd with 4th place Helen Caton, 5th Trevor Green and 6th Carole Orange filling the lower places.
Final Round
The 2 round robin winners played to decide the 2019 Mansfield RES DEV Senior Champion.
Jan Hodge began with the first 5 strikes against Kevin Lamb who began slowly with a split in frame 2 then from frame 6 stepped up a gear to make 226 (216 scratch) to trail Jan 233 (208 scratch) by only 7 pins.
In game 2 Kevin stepped up 2 more gears with 266 (256 scratch) which was too good for Jan's 199.
Kevin deserved to win with an excellent 2 game 502 series against Jan's 452.
Keith Hodge took 3rd place with 445 against Nev Robinson's 380, who finished 4th.
5th place a close thing with Trevor Lamprell 375 against Mark S Smith 6th with 370.
The lower places were filled by :-
7th Dave Broomfield, 8th Helen Caton, 9th Trevor Green, 10th Ian McDonald, 11th Carol Orange and 12th, place John Broadhurst.
The RES DEV Senior Tour moves on to Lincoln next week
Results
Finals
| | | | | | | |
| --- | --- | --- | --- | --- | --- | --- |
| NAME | BONUS | 1 | 2 | BONUS X 2 | TOTAL | |
| JAN HODGE | 25 | 208 | 199 | 50 | 457 | 2nd |
| KEVIN LAMB | 10 | 216 | 266 | 20 | 502 | 1st |
| | | | | | | |
| NEV ROBINSON | 10 | 186 | 174 | 20 | 380 | 4th |
| KEITH HODGE | 15 | 213 | 202 | 30 | 445 | 3rd |
| | | | | | | |
| TREVOR LAMPRELL | 10 | 179 | 176 | 20 | 375 | 5th |
| MARK S SMITH | 5 | 188 | 172 | 10 | 370 | 6th |
| | | | | | | |
| HELEN CATON | 20 | 162 | 329 | 20 | 349 | 8th |
| DAVE BROOMFIELD | 5 | 229 | 236 | 10 | 475 | 7th |
| | | | | | | |
| TREVOR GREEN | 10 | 245 | 176 | 20 | 441 | 9th |
| IAN MCDONALD | 20 | 150 | 165 | 40 | 355 | 10th |
| | | | | | | |
| CAROLE ORANGE | 20 | 144 | 163 | 40 | 347 | 11th |
| JOHN BROADHURST | 20 | 164 | 299 | 40 | 339 | 12th |
Round 2
| | | | | | | | | | | | | | |
| --- | --- | --- | --- | --- | --- | --- | --- | --- | --- | --- | --- | --- | --- |
| | NAME | BONUS | 1 | BONUS + W/L | 2 | BONUS + W/L | 3 | BONUS + W/L | 4 | BONUS + W/L | 5 | BONUS + W/L | TOTAL |
| | JAN HODGE | 25 | 218 | 30 | 219 | 30 | 222 | 15 | 218 | 30 | 225 | 30 | 1237 |
| | KEITH HODGE | 15 | 193 | 0 | 162 | 0 | 251 | 30 | 211 | 0 | 251 | 30 | 1128 |
| | TREVOR LAMPRELL | 10 | 190 | 30 | 223 | 30 | 190 | 0 | 210 | 30 | 221 | 0 | 1124 |
| | DAVE BROOMFIELD | 5 | 192 | 0 | 176 | 0 | 193 | 30 | 229 | 30 | 247 | 0 | 1097 |
| | IAN MCDONALD | 20 | 189 | 0 | 173 | 30 | 222 | 15 | 200 | 0 | 212 | 15 | 1056 |
| | JOHN BROADHURST | 20 | 220 | 30 | 145 | 0 | 176 | 0 | 154 | 0 | 212 | 15 | 952 |
Round 1
| | | | | | | | | | | | | |
| --- | --- | --- | --- | --- | --- | --- | --- | --- | --- | --- | --- | --- |
| NAME | BONUS | 1 | BONUS + W/L | 2 | BONUS + W/L | 3 | BONUS + W/L | 4 | BONUS + W/L | 5 | BONUS + W/L | TOTAL |
| KEVIN LAMB | 10 | 189 | 30 | 232 | 30 | 268 | 30 | 203 | 30 | 256 | 30 | 1298 |
| NEV ROBINSON | 10 | 201 | 0 | 202 | 15 | 204 | 30 | 257 | 30 | 224 | 0 | 1163 |
| MARK S SMITH | 5 | 221 | 30 | 202 | 15 | 211 | 0 | 209 | 30 | 219 | 0 | 1137 |
| HELEN CATON | 20 | 210 | 30 | 215 | 0 | 196 | 30 | 171 | 0 | 222 | 30 | 1104 |
| TREVOR GREEN | 10 | 184 | 0 | 208 | 30 | 174 | 0 | 221 | 0 | 253 | 30 | 1100 |
| CAROLE ORANGE | 20 | 208 | 0 | 177 | 0 | 179 | 0 | 174 | 0 | 214 | 0 | 952 |
| | | | | | | | | | | | | |
Qualifying      
| | | | | | | | | | | | |
| --- | --- | --- | --- | --- | --- | --- | --- | --- | --- | --- | --- |
| | NAME | BONUS | 1 | 2 | 3 | 4 | 5 | 6 | SCR TOTAL | BONUS X6 | TOTAL |
| 1 | TREVOR GREEN | 10 | 246 | 194 | 232 | 222 | 203 | 201 | 1298 | 60 | 1358 |
| 2 | JAN HODGE | 25 | 247 | 210 | 191 | 187 | 191 | 178 | 1204 | 150 | 1354 |
| 3 | MARK S SMITH | 5 | 224 | 243 | 195 | 235 | 189 | 223 | 1309 | 30 | 1339 |
| 4 | KEITH HODGE | 15 | 212 | 244 | 171 | 197 | 193 | 232 | 1249 | 90 | 1339 |
| 5 | HELEN CATON | 20 | 235 | 178 | 210 | 208 | 213 | 170 | 1214 | 120 | 1334 |
| 6 | DAVE BROOMFIELD | 5 | 209 | 224 | 247 | 175 | 214 | 225 | 1294 | 30 | 1324 |
| 7 | CAROLE ORANGE | 20 | 210 | 176 | 224 | 220 | 184 | 178 | 1192 | 120 | 1312 |
| 8 | IAN MCDONALD | 20 | 162 | 172 | 242 | 213 | 197 | 202 | 1188 | 120 | 1308 |
| 9 | KEVIN LAMB | 10 | 247 | 216 | 185 | 179 | 179 | 233 | 1239 | 60 | 1299 |
| 10 | JOHN BROADHURST | 20 | 194 | 179 | 216 | 215 | 203 | 165 | 1172 | 120 | 1292 |
| 11 | NEV ROBINSON | 10 | 258 | 213 | 196 | 194 | 206 | 165 | 1232 | 60 | 1292 |
| 12 | TREVOR LAMPRELL | 10 | 204 | 190 | 269 | 189 | 202 | 167 | 1221 | 60 | 1281 |
| 13 | PAUL MADDOCK | 10 | 192 | 217 | 163 | 178 | 232 | 234 | 1216 | 60 | 1276 |
| 14 | MICK INCE | 15 | 171 | 243 | 190 | 154 | 224 | 203 | 1185 | 90 | 1275 |
| 15 | MIKE HALLIWELL | 10 | 215 | 236 | 218 | 174 | 146 | 224 | 1213 | 60 | 1273 |
| 16 | JOHN LAWLESS | 10 | 200 | 195 | 202 | 234 | 200 | 178 | 1209 | 60 | 1269 |
| 17 | GARY CHRISTOPHER | 0 | 216 | 207 | 163 | 183 | 216 | 280 | 1265 | 0 | 1265 |
| 18 | ANDY YEOMANS | 10 | 194 | 233 | 180 | 202 | 182 | 210 | 1201 | 60 | 1261 |
| 19 | AL TURNER | 15 | 161 | 203 | 179 | 233 | 233 | 159 | 1168 | 90 | 1258 |
| 20 | MARK FULLBROOK | 10 | 235 | 166 | 188 | 212 | 179 | 214 | 1194 | 60 | 1254 |
| 21 | AL JENKINS | 10 | 221 | 225 | 197 | 174 | 207 | 165 | 1189 | 60 | 1249 |
| 22 | RON OLDFIELD | 10 | 171 | 227 | 170 | 208 | 182 | 224 | 1182 | 60 | 1242 |
| 23 | FRANK LINDSAY | 10 | 193 | 186 | 206 | 183 | 190 | 213 | 1171 | 60 | 1231 |
| 24 | LES GRANT | 15 | 180 | 142 | 218 | 195 | 192 | 203 | 1130 | 90 | 1220 |
| 25 | MARTIN BISHOP | 5 | 214 | 190 | 203 | 171 | 203 | 206 | 1187 | 30 | 1217 |
| 26 | BARRY WALKER | 5 | 201 | 190 | 182 | 182 | 208 | 222 | 1185 | 30 | 1215 |
| 27 | MARTIN GREEN | 10 | 220 | 165 | 215 | 169 | 202 | 181 | 1152 | 60 | 1212 |
| 28 | CARL TAYLOR | 5 | 197 | 196 | 172 | 175 | 211 | 222 | 1173 | 30 | 1203 |
| 29 | DAVE RAWDING | 10 | 236 | 149 | 213 | 192 | 167 | 180 | 1137 | 60 | 1197 |
| 30 | GARY BARLOW | 5 | 216 | 194 | 193 | 217 | 191 | 148 | 1159 | 30 | 1189 |
| 31 | LES TAYLOR | 20 | 197 | 131 | 202 | 159 | 180 | 200 | 1069 | 120 | 1189 |
| 32 | STEVE COATES | 10 | 193 | 191 | 169 | 172 | 142 | 254 | 1121 | 60 | 1181 |
| 33 | BRIAN SEMPERS | 15 | 193 | 214 | 177 | 170 | 166 | 169 | 1089 | 90 | 1179 |
| 34 | DOUG SINCLAIR | 20 | 181 | 175 | 161 | 182 | 166 | 188 | 1053 | 120 | 1173 |
| 35 | PAT BYRNE | 15 | 176 | 191 | 178 | 161 | 165 | 208 | 1079 | 90 | 1169 |
| 36 | KEITH BOWEN | 5 | 191 | 155 | 226 | 225 | 160 | 181 | 1138 | 30 | 1168 |
| 37 | SIMON HAIGH | 0 | 204 | 149 | 212 | 187 | 214 | 190 | 1156 | 0 | 1156 |
| 38 | JOHN STRETTLE | 15 | 182 | 191 | 184 | 180 | 167 | 160 | 1064 | 90 | 1154 |
| 39 | DAVE BIRDSALL | 15 | 139 | 179 | 180 | 203 | 194 | 166 | 1061 | 90 | 1151 |
| 40 | PAULINE MCDONALD | 30 | 168 | 141 | 161 | 170 | 162 | 167 | 969 | 180 | 1149 |
| 41 | IAN KENNEDY | 15 | 197 | 189 | 171 | 158 | 163 | 176 | 1054 | 90 | 1144 |
| 42 | DAVE NORTH | 10 | 214 | 158 | 190 | 182 | 166 | 171 | 1081 | 60 | 1141 |
| 43 | IAN BUCKLAND | 10 | 210 | 138 | 181 | 163 | 168 | 163 | 1023 | 60 | 1083 |
| 44 | MARGRIT TAYLOR | 20 | 175 | 166 | 177 | 137 | 148 | 151 | 954 | 120 | 1074 |
| 45 | MO SINGLETON | 15 | 149 | 149 | 189 | 141 | 172 | 172 | 972 | 90 | 1062 |
| 46 | PAUL NEWTON | 20 | 190 | 170 | 154 | 162 | 0 | 0 | 676 | 120 | 796 |
| 47 | RUTH RATHBONE | 20 | 208 | 122 | 150 | 137 | 0 | 0 | 617 | 120 | 737 |