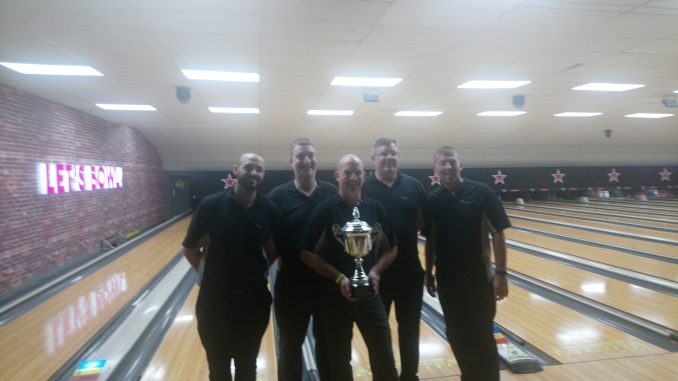 This past Sunday the 19th August saw 19 x 5 person teams attend the 2nd Annual Peterborough County Challenge at the recently refurbished and rebranded Hollywood Bowl Peterborough. Entries were up from last years 13 entries and the 20th lane was filled by pacers. It was a fantastic turn out with a mixture of counties all fielding teams in the event. The event was supported by numerous companies with raffle prize donations, they were as follows,
BGL Group
Bowling Vision
CBS Power Tools
Switch Electrical Wholesalers
Turkey Time Bowling Supplies
Whirlpool Hotpoint Factory Outlet
Petes Pro Shop
On to the bowling, last years champions Buckinghamshire Adults?! returned with 1 aim to retain their title that they won last year. They got off to a great start with 1103 just short of Cambs 1 1109 but it didn't stop after 1 game for Bucks Adults?! they carried on into game 2 with 1105 and with a game of 1000 in game 3 they took a strong lead into lunch time. In the individual standing Donna Ellis came flying out the blocks in game 1 with 290, taking her up to 300 with her ladies bonus and this proved enough to win the High Game prize of £25 for the day. Game 2 saw Carl Hamilton score highest with 269, closely followed by his Staffordshire team mate Tom Walster-Prince with 262. The high game in game 3 was Craig Farrar of Nottinghamshire with 258.
Into the afternoon and Bucks Adults?! continued with 1034 only being beaten by Nottinghamshire who had 1081, with Craig Farrar high man for the game again this time with 257. Game 5 and Bucks Adults?! were pulling away with a good lead now and the scoring pace had started to slow down top of the next game was Cambs 2 with 995. followed by Northants Men for were trying to make a push into the final prize money position of 4th. Mark Coles of Cambridgeshire was high in game 5 with 257. In to the last game and Bucks were well ahead and looked like retaining their title. 2nd place were Staffordshire 1, 3rd were Cambs 1, 4th Nottinghamshire, 5th Lincolnshire and 6th Northants Men. The last game saw a few changes in the final standings in the cash positions. Bucks Adults came out winners after placing 2nd in the last game with 989, Cambs 1 managed to move up to 2nd by coming 3rd in the last game jumping Staffordshire 1 who struggled with a 861. Northants Men continued there push for a cash position, with a big last game of 1084 jumping from 6th to 4th. Craig Ellis was high in game 6 with 266. Although not being high in any game other than the 1st Donna Ellis managed to win High average for the day with 229.5 scratch and 239.5 with Bonus winning another £25 for this.
Final Placings
1st £205 Bucks Adults?!
2nd £160 Cambs 1
3rd £130 Staffordshire 1
4th £95 Northants Men
Results