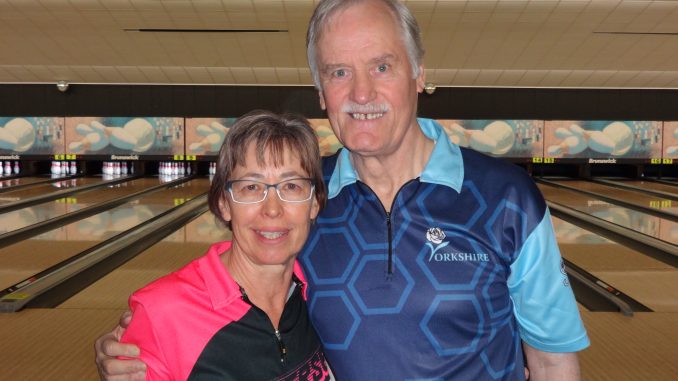 Cristal Bowling, Wittelsheim, France
Every year, the top competitors from the ISBT series of tournaments are invited to participate in the Master's Final. There is no entry fee to participate, the prize fund of over €9000 is generated from the tournaments run during the year. For the 2017 year, the tournament was held during the Track Alsace Senior Open at Cristal Bowling in Wittelsheim, France, and the top 32 men and 12 women from the previous year's rankings were invited.
All players played a four game qualifying block, then the top 5 ladies and top 15 men would go forward to a further 4 game final block.
In the men's qualifying round, Roger Pieter's from Belgium was top with 950 including age bonus, ahead of Helmut Ulber from Germany and Christer Danielsson from Sweden. The cut for the final was 853, going to Uwe Tscharke from Germany.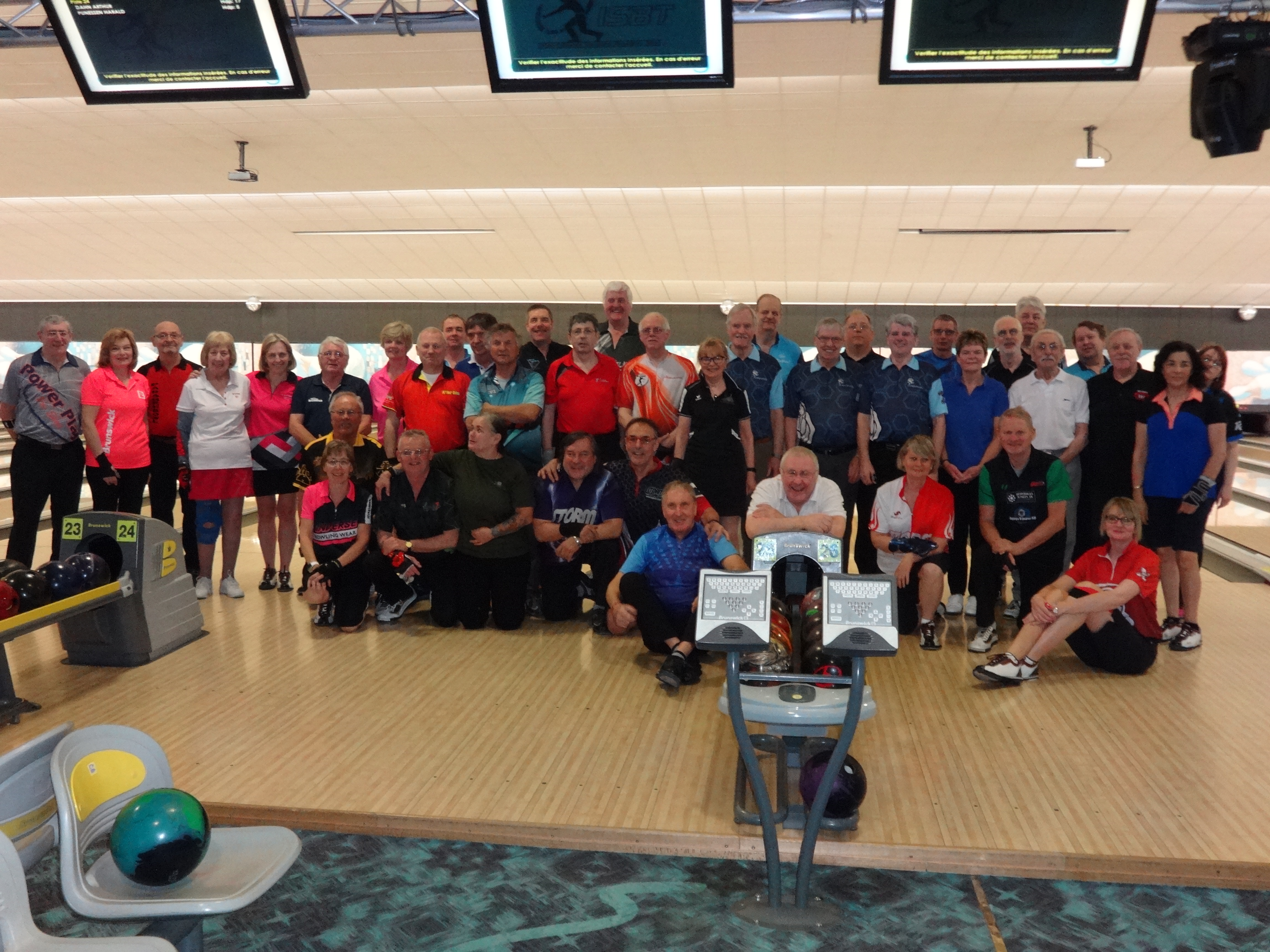 In the ladies' section, Martina Beckel from Germany was top with 814, ahead of Kimberley Oakley from England and Bianca Volkl-Brandt from Germany. The top five was completed by Liliane Vintens from Belgium, and Claribel Muis from the Netherlands.
In the men's final round, several players were vying for the overall lead, and first of the leaders to finish was Ron Oldfield from England, posting a score of 949. Both Roger Pieters and Hermann Wimmer from Germany still had an opportunity to take the win by making the last few strikes, but neither succeeded, leaving Ron Oldfield as the 2017 Masters' champion, now with 4 ISBT Masters titles, ahead of Roger Pieters and Hermann Wimmer.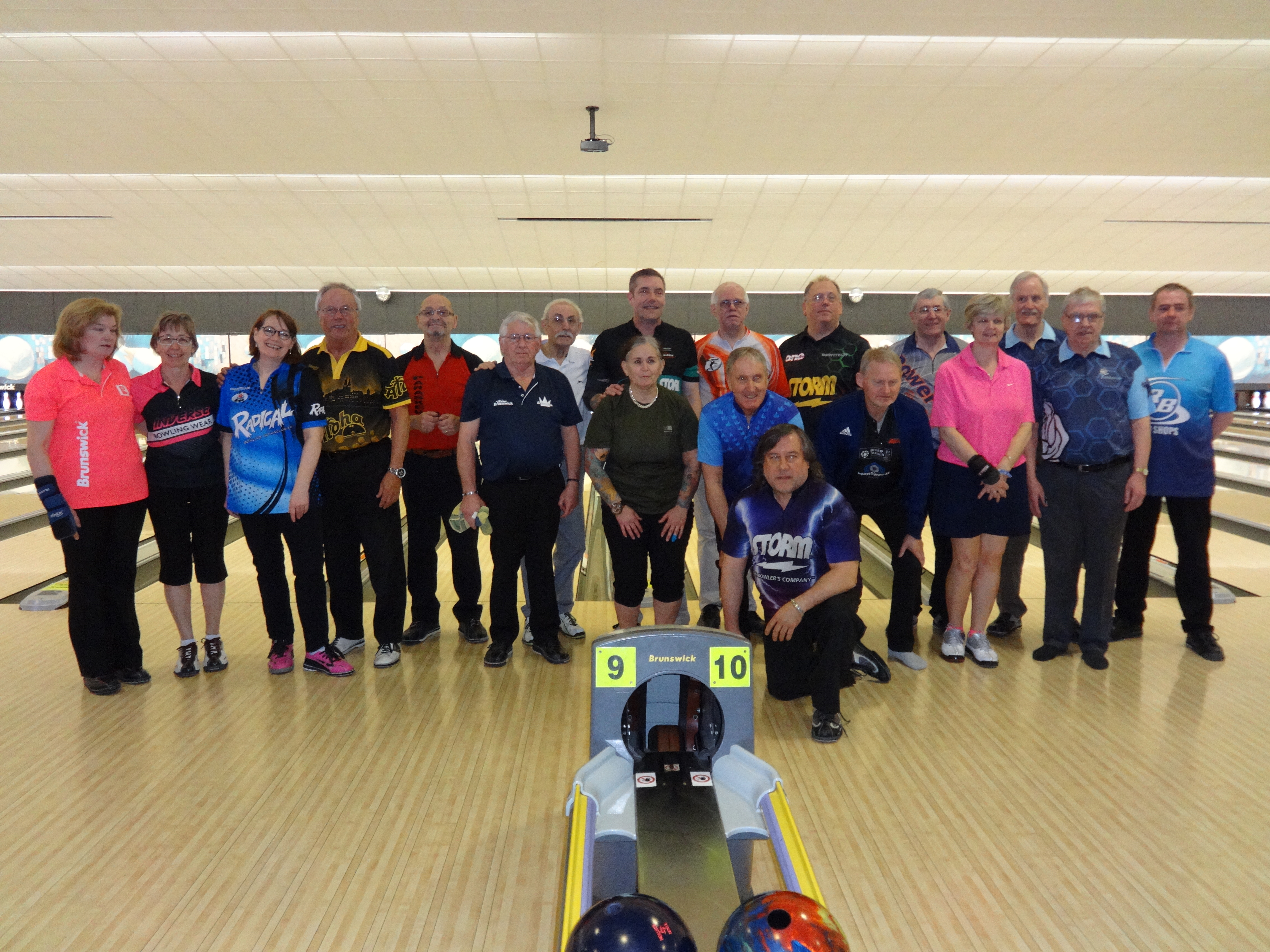 In the ladies's section, Bianca Volkl-Brandt had a healthy lead going into the final game, but playing on the low-scoring lanes 3 and 4 she struggled, and was overtaken by good games from Martina Beckel and Liliane Vintens, with Martina Beckel taking her third ISBT Masters title, and Liliane Vintens finishing second.
Details of all ISBT tournaments can be found on the website at www.isbtbowlingtour.eu
Ladies
Final
Pos
Name
 
Age Bonus
Scratch
Total
Bonus
Total
Average
1
Martina Beckel
DE
9
816
36
852
204.0
2
Liliane Vintens
BE
11
781
44
825
195.3
3
Bianca Volkl-Brandt
DE
3
795
12
807
198.8
4
Kimberley Oakley
UK
5
752
20
772
188.0
5
Claribel Muis
NL
10
653
40
693
163.3
Round 1
Pos
Name
 
Age Bonus
Scratch
Total
Bonus
Total
Average
1
Martina Beckel
DE
9
814
36
850
203.5
2
Kimberley Oakley
UK
5
818
20
838
204.5
3
Bianca Volkl-Brandt
DE
3
820
12
832
205.0
4
Liliane Vintens
BE
11
777
44
821
194.3
5
Claribel Muis
NL
10
754
40
794
188.5
6
Lynne Walker
UK
1
779
4
783
194.8
7
Linda Pray
UK
16
719
64
783
179.8
8
Danielle Guigon
FR
11
723
44
767
180.8
9
Uschi Diekhoff
DE
17
684
68
752
171.0
10
Angie Brown
UK
10
703
40
743
175.8
11
Nadia Goron
FR
10
673
40
713
168.3
12
Ruth Stander
UK
34
549
136
685
137.3
Men
Final
Pos
Name
 
Age Bonus
Scratch
Total
Bonus
Total
Average
1
Ron Oldfield
UK
27
841
108
949
210.3
2
Roger Pieters
BE
19
869
76
945
217.3
3
Hermann Wimmer
DE
25
836
100
936
209.0
4
Valentin Fatu
RO
6
904
24
928
226.0
5
Giorgio Desimio
BE
18
827
72
899
206.8
6
Helmut Ulber
DE
19
813
76
889
203.3
7
Frank Stander
UK
38
726
152
878
181.5
8
Christer Danielsson
SE
13
824
52
876
206.0
9
Steven Jeeves
UK
5
847
20
867
211.8
10
Alan Keddie
UK
7
834
28
862
208.5
11
Andre Geelen
BE
22
774
88
862
193.5
12
Lol Ellis
UK
18
789
72
861
197.3
13
Dominique de Nolf
BE
12
803
48
851
200.8
14
Alan Jenkins
UK
27
706
108
814
176.5
15
Uwe Tscharke
DE
6
755
24
779
188.8
Round 1
Pos
Name
 
Age Bonus
Scratch
Total
Bonus
Total
Average
1
Roger Pieters
BE
19
874
76
950
218.5
2
Helmut Ulber
DE
19
852
76
928
213.0
3
Christer Danielsson
SE
13
871
52
923
217.8
4
Andre Geelen
BE
22
830
88
918
207.5
5
Valentin Fatu
RO
6
884
24
908
221.0
6
Ron Oldfield
UK
27
800
108
908
200.0
7
Giorgio Desimio
BE
18
826
72
898
206.5
8
Frank Stander
UK
38
745
152
897
186.3
9
Alan Jenkins
UK
27
786
108
894
196.5
10
Steven Jeeves
UK
5
857
20
877
214.3
11
Lol Ellis
UK
18
803
72
875
200.8
12
Alan Keddie
UK
7
844
28
872
211.0
13
Hermann Wimmer
DE
25
763
100
863
190.8
14
Dominique de Nolf
BE
12
813
48
861
203.3
15
Uwe Tscharke
DE
6
829
24
853
207.3
16
Auke Broekhuizen
NL
7
825
28
853
206.3
17
Robert Vallons
BE
12
803
48
851
200.8
18
Michel Ligier
FR
13
793
52
845
198.3
19
Les Grant
UK
24
747
96
843
186.8
20
Pierre Prou
FR
19
761
76
837
190.3
21
Mike Halliwell
UK
11
784
44
828
196.0
22
Steve Coates
UK
7
797
28
825
199.3
23
Mick Ince
UK
18
746
72
818
186.5
24
Jeff Taylor
UK
10
770
40
810
192.5
25
Doug Sinclair
UK
23
715
92
807
178.8
26
Ekkehard Oette
DE
23
714
92
806
178.5
27
Arthur Dahn
DE
17
736
68
804
184.0
28
Harald Punessen
DE
5
778
20
798
194.5
29
Ian Buckland
UK
13
725
52
777
181.3
30
Frank Lindsay
UK
18
689
72
761
172.3