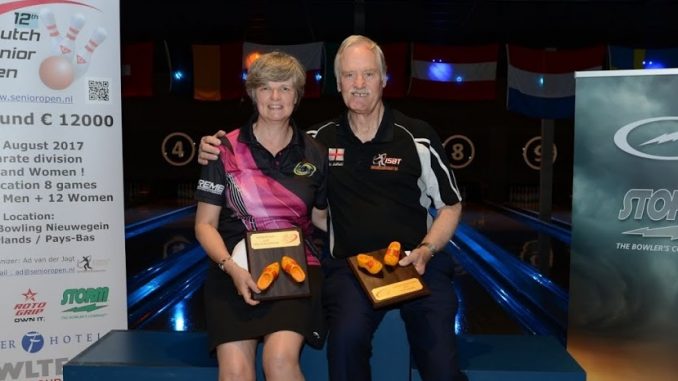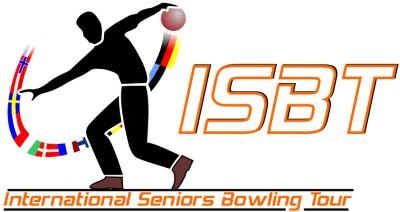 ISBT Tour 2016 Stop 6
Bowling Nieuwegein, Netherlands
2rd to 6th August 2017
By Tony Brown
The sixth stop on the 2017 ISBT tour was a return to the newly refurbished 16 lane centre in Nieuwegein, Netherlands, for the Dutch Senior Open. The Dutch Senior Open always attracts a large number of entries, and is always well supported by local bowlers. With 125 men and 34 women taking part, this was the best supported tournament so far on the 2017 tour.
The format for the tournament was a single qualifying block of 8 games, with unlimited re-entries. For those not able to qualify through the main leaderboard, there were additional opportunities through Turbo games and Scratch scores. Age bonus started at age 51 (1 pin per game), then increased a pin for every additional year of age with no limit. As with all ISBT events, there was a separate division for ladies.
The two squads on Wednesday were led by Henk Wijker (Netherlands) with 1882, and Valentin Fatu (Romania) on 1814. In the ladies section, there were a number of scores just under par, led by Netherlands bowlers Nel Tel and Farida Pascoal-Blom both with 1599.
Thursday's two squads saw the top score extended significantly by Christer Danielsson (Sweden) with 1947, ahead of Raimund Patterman's 1887 (Austria). Still no lady had reached the 1600 mark, with Paula Visser (Netherlands) being top over the two squads with 1583. The highlight of the day was a super 300 game from Steve Wright (England), his first in many years of bowling.
There were three qualifying squads on Friday, last year's winner Steven Jeeves (England) took the first with 1771, while in the third squad Eric Koning (Netherlands) was top with 1946, Top lady over the day was Martina Beckel (Germany), who finally broke par for the ladies with 1604.
The final qualifying day also had three qualifying squads, and in the first, Christer Danielsson extended his lead at the top with an impressive 2028 block. In the second squad, Hermann Wimmer (Germany) got into the top places with 1957, while Angie Brown (England) was the second lady to be over par, with 1634. The final qualifying squad saw Ron Oldfield (England) lead with 1916, while Liliane Vintens (Belgium) posted a huge block of 1732 to leap to the top of the qualification list.
After completion of qualifying, Christer Danielsson was top with 2028, ahead of Hermann Wimmer, Eric Koning, and Lol Ellis (England). These four would all miss the quarter final round. The cut for the finals fell at Maartin in 't Veld (Netherlands) with 1736. In the ladies' section, Liliane Vintens was top, followed by Angie Brown and Martina Beckel
Very early on Sunday morning, men qualifiers 5 to 31, plus the three Turbo and two Scratch qualifiers bowled four games, with only the top 16 progressing to the semi-final. This was easily led won by Ron van den Bogaard (Netherlands) with 1064, ahead of Roger Pieters (Belgium).
The semi-finals for both the men and ladies followed on, and Hermann Wimmer led the way with 973, ahead of Steve Carnell (England) and Eric Koning. Only eight men would make the final round, and in eighth place was Ron Oldfield with 865, just three pins ahead of Mike Halliwell (England). In the ladies' section, Kimberley Oakley (England) finished top with a narrow lead over Nel Tel (Netherlands). Again only the top eight bowlers would make the final, Paula Visser just sneaking in by a single pin from Farida Pascoal-Blom.
Both finals were played in round-robin format, with 30 pins for a win, and 50% of the pinfall from the previous round being carried through. After 4 games, Ron Oldfield had climbed from eighth to first, and now had a 6 pin lead over Christer Danielsson. After six games, Hermann Wimmer was now in the lead, with a 34 pin lead over Ron Oldfield. With 30 pins for a win there was still everything to play for, neither Oldfield nor Wimmer could find the win they wanted, but Oldfield's better last game resulted him becoming champion by 30 pins ahead of Hermann Wimmer and Christer Danielsson in third place.
In the ladies' final Kimberley Oakley won her first five matches to establish a significant lead, some 50 pins ahead of Nel Tel, with Liliane Vintens back in a distant third, 125 pins behind. However, Oakley couldn't find wins in her last two matches, and her lead over the others diminished significantly, but she held on to take the overall win by just 3 pins from Liliane Vintens, with Nel Tel in third place.
The next stop on the tour is the Senior Open Dream Bowl Palace, which will be held at the Dream Bowl in Munich, Germany. The tournament has an earlier date this year to run just before the Senior World Championships, the 5th to 13th August. Full details are available at the ISBT web site, http://www.isbtbowlingtour.eu/
Photos
Results
Men
Final
Name

 

Age Bonus

Carried




Forward

Game 1

Game 2

Game 3

Game 4

Game 5

Game 6

Game 7

Scratch




Total

Bonus

Win Bonus

Total

Average

Ron Oldfield

ENG

26

432

219

239

190

262

223

210

242

1585

182

150

2349

226.4

Hermann Wimmer

GER

24

486

231

168

200

246

222

268

180

1515

168

150

2319

216.4

Christer Danielsson

SWE

12

453

249

202

244

244

178

214

277

1608

84

120

2265

229.7

Steve Carnall

ENG

11

473

182

202

202

168

181

253

289

1477

77

90

2117

211.0

Eric Koning

NED

1

471

248

237

158

223

244

245

182

1537

7

90

2105

219.6

Steven Jeeves

ENG

4

440

246

206

238

187

215

193

217

1502

28

60

2030

214.6

Ron van den Bogaard

NED

5

461

199

239

198

223

219

199

186

1463

35

60

2019

209.0

Jack Edelaar

NED

3

439

190

184

206

205

192

221

202

1400

21

120

1980

200.0
Semi Finals
Pos

Name

 

Age Bonus

Game 1

Game 2

Game 3

Game 4

Scratch




Total

Total

Average

1

Hermann Wimmer

DE

24

191

260

202

224

877

973

219.3

2

Steve Carnall

UK

11

247

244

207

204

902

946

225.5

3

Eric Koning

NL

1

208

246

258

227

939

943

234.8

4

Ron van den Bogaard

NL

5

164

235

256

247

902

922

225.5

5

Christer Danielsson

SE

12

288

193

146

231

858

906

214.5

6

Steven Jeeves

UK

4

257

235

156

216

864

880

216.0

7

Jack Edelaar

NL

3

162

224

213

267

866

878

216.5

8

Ron Oldfield

UK

26

205

192

180

184

761

865

190.3

9

Mike Halliwell

UK

10

212

188

184

238

822

862

205.5

10

Alan Keddie

UK

6

226

171

224

207

828

852

207.0

11

Ulf Lonngren

SE

21

200

210

224

128

762

846

190.5

12

Paul Cosgrove

UK

0

193

191

248

197

829

829

207.3

13

Roger Pieters

BE

18

195

182

187

190

754

826

188.5

14

Henk Wijker

NL

16

171

184

210

191

756

820

189.0

15

Ton Plummen

NL

10

191

198

196

193

778

818

194.5

16

Maarten in 't Veld

NL

19

183

176

185

198

742

818

185.5

17

Lol Ellis

UK

17

194

207

165

179

745

813

186.3

18

Ralph Hughes

UK

8

233

150

231

163

777

809

194.3

19

Markku Puurunen

FI

9

219

179

205

152

755

791

188.8

20

Rinaldo Ineichen

CH

10

152

161

186

161

660

700

165.0
Quarter finals
Pos

Name

 

Age Bonus

Game 1

Game 2

Game 3

Game 4

Scratch




Total

Total

Average

1

Ron van den Bogaard

NL

5

266

263

235

280

1044

1064

261.0

2

Roger Pieters

BE

18

182

220

234

259

895

967

223.8

3

Maarten in 't Veld

NL

19

226

177

224

215

842

918

210.5

4

Ton Plummen

NL

10

214

243

210

211

878

918

219.5

5

Ron Oldfield

UK

26

179

214

210

199

802

906

200.5

6

Paul Cosgrove

UK

0

184

254

237

223

898

898

224.5

7

Mike Halliwell

UK

10

220

187

236

213

856

896

214.0

8

Markku Puurunen

FI

9

254

214

181

209

858

894

214.5

9

Rinaldo Ineichen

CH

10

210

210

229

205

854

894

213.5

10

Steve Carnall

UK

11

255

192

226

170

843

887

210.8

11

Henk Wijker

NL

16

206

181

222

214

823

887

205.8

12

Ulf Lonngren

SE

21

169

223

184

225

801

885

200.3

13

Alan Keddie

UK

6

216

195

220

227

858

882

214.5

14

Steven Jeeves

UK

4

181

223

226

233

863

879

215.8

15

Ralph Hughes

UK

8

201

168

249

228

846

878

211.5

16

Jack Edelaar

NL

3

175

197

204

289

865

877

216.3

17

Keith Hodge

UK

19

199

245

191

158

793

869

198.3

18

Mo Singleton

UK

23

193

213

179

186

771

863

192.8

19

Dominique De Nolf

FR

11

207

223

185

201

816

860

204.0

20

Valentin Fatu

RO

5

190

223

182

229

824

844

206.0

21

Harold Punessen

DE

4

208

181

182

257

828

844

207.0

22

Ivan Sabo

DE

8

201

216

218

173

808

840

202.0

23

Jeff Taylor

UK

9

193

157

236

215

801

837

200.3

24

Dominque Wallet

BE

2

154

190

225

245

814

822

203.5

25

John Bosch

NL

13

204

189

169

205

767

819

191.8

26

Andre Geelen

BE

21

190

209

153

170

722

806

180.5

27

Martin Snelting

NL

3

202

220

149

221

792

804

198.0

28

Gino di Giorno

NL

13

181

169

200

185

735

787

183.8

29

Giorgio Desimio

BE

17

138

180

174

210

702

770

175.5

30

Steve Wright

UK

17

142

151

215

192

700

768

175.0

31

Raimund Patterman

AT

16

194

158

167

175

694

758

173.5

32

Mick Ince

UK

17

172

172

189

153

686

754

171.5
Qualifying
Pos

Name

 

Age Bonus

Game 1

Game 2

Game 3

Game 4

Game 5

Game 6

Game 7

Game 8

Scratch




Total

Total

Average

1

Christer Danielsson

SE

12

248

219

279

236

237

224

277

212

1932

2028

241.5

2

Hermann Wimmer

DE

24

190

257

222

194

245

247

217

193

1765

1957

220.6

3

Eric Koning

NL

1

197

227

227

289

289

226

249

234

1938

1946

242.3

4

Lol Ellis

UK

17

257

245

214

244

235

228

190

194

1807

1943

225.9

5

Mo Singleton

UK

23

205

257

249

214

215

248

180

189

1757

1941

219.6

6

Ron Oldfield

UK

26

180

172

200

248

247

196

237

228

1708

1916

213.5

7

Roger Pieters

BE

18

247

195

212

225

215

221

212

235

1762

1906

220.3

8

Raimund Patterman

AT

16

177

216

259

215

277

178

194

243

1759

1887

219.9

9

Henk Wijker

NL

16

181

208

231

224

212

276

231

191

1754

1882

219.3

10

Alan Keddie

UK

6

180

224

277

239

257

242

185

213

1817

1865

227.1

11

Steve Wright

UK

17

211

179

157

214

161

300

216

257

1695

1831

211.9

12

Ulf Lonngren

SE

21

168

243

205

189

180

182

259

223

1649

1817

206.1

13

Valentin Fatu

RO

5

218

212

234

233

235

197

245

200

1774

1814

221.8

14

Harold Punessen

DE

4

206

224

245

226

245

179

214

236

1775

1807

221.9

15

Andre Geelen

BE

21

178

210

230

244

166

183

235

182

1628

1796

203.5

16

John Bosch

NL

13

237

258

186

184

195

189

227

213

1689

1793

211.1

16

Keith Hodge

UK

19

166

180

264

196

201

256

166

212

1641

1793

205.1

18

Ton Plummen

NL

10

178

204

257

214

159

216

223

258

1709

1789

213.6

19

Giorgio Desimio

BE

17

234

258

208

245

166

175

193

171

1650

1786

206.3

20

Steven Jeeves

UK

4

246

234

279

221

186

216

182

183

1747

1779

218.4

21

Mike Halliwell

UK

10

257

170

223

222

193

180

267

185

1697

1777

212.1

22

Martin Snelting

NL

3

200

229

195

230

275

266

158

199

1752

1776

219.0

23

Jeff Taylor

UK

9

134

191

232

188

253

229

193

278

1698

1770

212.3

24

Rinaldo Ineichen

CH

10

225

217

233

199

210

230

181

191

1686

1766

210.8

25

Gino di Giorno

NL

13

200

183

216

189

215

276

172

205

1656

1760

207.0

26

Paul Cosgrove

UK

0

174

202

243

224

172

287

207

247

1756

1756

219.5

27

Steve Carnall

UK

11

204

188

189

212

215

225

224

204

1661

1749

207.6

28

Dominque Wallet

BE

2

276

199

201

177

235

200

198

246

1732

1748

216.5

29

Dominique De Nolf

FR

11

224

276

239

216

190

159

166

189

1659

1747

207.4

30

Markku Puurunen

FI

9

176

213

174

223

212

227

213

232

1670

1742

208.8

31

Maarten in 't Veld

NL

19

188

189

256

214

184

180

202

171

1584

1736

198.0

32

Helmut Ulber

DE

18

217

190

202

234

155

162

191

234

1585

1729

198.1

33

Ron van den Bogaard

NL

5

213

216

187

222

224

231

211

180

1684

1724

210.5

34

Frank Stander

UK

37

166

159

188

185

153

205

177

194

1427

1723

178.4

34

Henry van Steenis

NL

10

245

199

236

213

174

190

183

203

1643

1723

205.4

36

Alan Jenkins

UK

26

196

184

169

189

175

184

197

217

1511

1719

188.9

37

Jan de Bruijn

NL

16

225

236

208

181

164

170

237

169

1590

1718

198.8

38

Werner Laun

DE

16

165

213

179

230

224

172

203

202

1588

1716

198.5

39

Jack Edelaar

NL

3

196

214

176

210

206

245

213

227

1687

1711

210.9

40

Philippe van Vaerenbe

BE

4

187

193

180

212

257

196

194

259

1678

1710

209.8

41

Arthur Dahn

DE

16

225

188

200

220

146

178

243

178

1578

1706

197.3

42

Dan Ahlquist

SE

17

223

195

235

184

198

189

168

172

1564

1700

195.5

42

Zdenek Havlicek

CZ

21

179

231

178

191

190

199

216

148

1532

1700

191.5

44

Paul Lamon

BE

13

138

242

189

225

178

254

182

169

1577

1681

197.1

45

Ian Buckland

UK

12

203

205

230

187

209

191

157

202

1584

1680

198.0

45

Les Grant

UK

23

152

224

158

171

157

193

221

220

1496

1680

187.0

47

Suren Johanssen

UK

4

202

220

190

166

236

243

209

175

1641

1673

205.1

48

Kalle Gaiser

DE

23

152

171

178

168

178

210

234

189

1480

1664

185.0

49

Dirk Jan Vosselman

NL

20

148

190

172

208

197

210

198

178

1501

1661

187.6

50

Martin den Blanken

NL

16

199

185

215

188

133

210

226

169

1525

1653

190.6

51

Robert Vallons

BE

11

179

148

192

211

186

232

181

234

1563

1651

195.4

52

Auke Broekhuizen

NL

6

193

207

156

230

192

246

157

221

1602

1650

200.3

53

Francois Apers

BE

30

194

193

178

149

162

180

171

177

1404

1644

175.5

54

Peter Broekmans

NL

2

181

193

223

203

164

237

213

213

1627

1643

203.4

55

Steve Coates

UK

6

185

245

176

235

213

193

177

170

1594

1642

199.3

55

Theo Hopmans

NL

19

200

188

200

204

159

197

185

157

1490

1642

186.3

57

Paul Le Louarn

JE

16

148

179

183

160

181

217

193

247

1508

1636

188.5

58

Peter van den Oever

NL

6

207

181

214

214

151

210

220

187

1584

1632

198.0

59

Jurgen Laermans

BE

2

211

237

180

205

180

202

193

204

1612

1628

201.5

60

Frank Lindsay

UK

17

180

233

199

196

163

182

134

203

1490

1626

186.3

61

Geir Anseth

NO

22

221

175

151

180

183

167

181

189

1447

1623

180.9

61

Ruud Stauttener

NL

20

168

247

146

238

194

159

149

162

1463

1623

182.9

63

Peter van Koningshove

NL

26

169

187

147

187

159

203

171

191

1414

1622

176.8

64

Norbert Rondelez

BE

9

217

222

224

232

125

188

156

183

1547

1619

193.4

65

Mick Ince

UK

17

135

210

199

252

173

157

196

158

1480

1616

185.0

66

Fred Tel

NL

28

176

137

177

172

181

206

180

159

1388

1612

173.5

67

Ekkehard Oette

DE

22

220

148

201

133

173

173

170

215

1433

1609

179.1

68

Jean-Philippe Rossire

CH

15

223

194

169

143

191

175

179

211

1485

1605

185.6

68

Ken Wray

UK

21

156

161

205

166

204

155

178

212

1437

1605

179.6

70

Jan de Jong

NL

8

142

178

210

196

211

212

206

184

1539

1603

192.4

70

Tini van Dorst

NL

16

168

187

189

162

181

183

160

245

1475

1603

184.4

72

Arno Hummelink

NL

19

154

217

186

180

160

160

190

201

1448

1600

181.0

72

Pierre Prou

FR

18

195

135

167

192

169

203

212

183

1456

1600

182.0

74

Etienne Couvent

BE

11

165

236

190

158

172

237

164

189

1511

1599

188.9

75

Greg Jerome

UK

11

162

182

156

177

205

191

203

232

1508

1596

188.5

76

Ben Penninkhof

NL

20

161

158

169

216

204

170

155

202

1435

1595

179.4

76

Ralph Hughes

UK

8

139

167

125

267

212

247

197

177

1531

1595

191.4

78

Antonio del Rosario

NL

29

170

160

167

165

157

179

162

202

1362

1594

170.3

79

Miroslav Chylo

DE

22

157

211

169

176

164

162

212

166

1417

1593

177.1

79

Rene Gooyers

NL

13

171

251

179

222

163

159

167

177

1489

1593

186.1

81

Wilfried Riesmeier

DE

23

176

178

180

130

172

171

200

198

1405

1589

175.6

82

Bogdan Gula

PL

8

215

220

155

196

193

180

171

193

1523

1587

190.4

83

Andre Beers

NL

8

207

182

184

191

224

182

144

202

1516

1580

189.5

84

Ivan Sabo

DE

8

184

180

203

202

268

126

208

144

1515

1579

189.4

85

Gunnar Trouillard

BE

8

210

129

182

256

231

150

148

206

1512

1576

189.0

86

Leen van Haaften

NL

14

148

173

156

245

220

211

190

119

1462

1574

182.8

87

Bruno Schmitt

FR

11

193

197

162

206

188

211

152

175

1484

1572

185.5

87

Jan Passies

NL

11

170

216

172

181

175

213

205

152

1484

1572

185.5

89

Martin Spoelstra

NL

6

203

202

184

171

171

190

178

223

1522

1570

190.3

90

Hans Peters

NL

12

182

209

161

191

175

226

169

160

1473

1569

184.1

91

Yves de la Fontaine

BE

3

196

175

214

212

192

157

163

235

1544

1568

193.0

92

Douglas Sinclair

UK

22

170

147

185

147

161

193

226

160

1389

1565

173.6

93

Paul Newton

UK

20

180

212

170

200

134

164

176

166

1402

1562

175.3

94

John de Vries

NL

16

206

170

179

190

169

180

183

154

1431

1559

178.9

94

Stephan Verheijen

NL

6

167

199

178

203

174

183

165

242

1511

1559

188.9

96

Dave Goodwin

UK

17

165

192

157

159

166

209

148

224

1420

1556

177.5

97

Karel van Dijk

NL

14

211

180

197

153

166

196

163

173

1439

1551

179.9

98

Cris van Hoogstraten

NL

8

210

217

178

196

182

159

184

157

1483

1547

185.4

99

Michael Pray

UK

18

155

159

201

214

148

157

168

199

1401

1545

175.1

100

Herbert Thebelt

NL

15

183

192

179

174

152

177

152

215

1424

1544

178.0

100

Lex Beauchampet

NL

16

168

232

181

137

159

184

195

160

1416

1544

177.0

102

Luciano Casagrande

BE

2

198

126

190

194

221

262

169

164

1524

1540

190.5

103

Marcel van der Pot

NL

16

210

160

153

144

188

187

190

175

1407

1535

175.9

104

Kevin Reed

UK

8

173

188

180

179

222

196

142

190

1470

1534

183.8

105

Jan Boelens

NL

34

173

159

177

171

138

123

161

159

1261

1533

157.6

106

Walter Kindschuh

DE

13

168

203

181

174

172

143

158

223

1422

1526

177.8

107

Pieter de Bruijn

NL

14

151

163

168

200

189

185

181

173

1410

1522

176.3

108

Ronald Chandra

NL

22

184

184

158

149

198

185

128

156

1342

1518

167.8

109

Arend Schokker

NL

12

142

216

177

147

199

177

138

221

1417

1513

177.1

110

Klaus Hoffmann

DE

24

197

156

121

197

144

175

151

162

1303

1495

162.9

111

Michel Ligier

FR

12

204

186

176

170

153

170

150

180

1389

1485

173.6

112

Guus Cramer

NL

9

179

158

163

200

196

191

179

136

1402

1474

175.3

113

Willem Nolting

NL

13

171

170

180

187

155

179

149

172

1363

1467

170.4

114

Hans Bakker

NL

18

179

170

213

140

125

172

126

193

1318

1462

164.8

115

Clinton Forster

US

9

148

176

197

182

152

158

167

201

1381

1453

172.6

116

Ehsan Alizade

NL

6

133

156

203

140

215

206

169

182

1404

1452

175.5

117

Fred Beumer

NL

19

187

187

161

127

125

180

180

146

1293

1445

161.6

118

Ton van der Velden

NL

25

159

146

146

140

152

155

140

171

1209

1409

151.1

119

Tom Gulman

US

19

146

175

155

156

160

193

129

141

1255

1407

156.9

120

Jan van der Heide

NL

12

157

133

172

174

153

174

179

165

1307

1403

163.4

121

Bjarne Elsborg

DK

12

140

151

128

171

175

189

194

142

1290

1386

161.3

122

Reginald van IJzendoo

NL

14

139

127

169

175

177

164

161

149

1261

1373

157.6

123

Ronald Koot

NL

6

195

107

167

152

142

196

136

155

1250

1298

156.3

124

Dirk van der Kooij

NL

6

137

179

132

119

134

214

182

139

1236

1284

154.5

125

Cor Brouwer

NL

3

160

171

164

160

149

111

134

107

1156

1180

144.5
Ladies
Final
Pos

Name

 

Age Bonus

Carried




Forward

Game 1

Game 2

Game 3

Game 4

Game 5

Game 6

Game 7

Scratch




Total

Bonus

Win Bonus

Total

Average

1

Kimberley Oakley

ENG

4

419

200

236

202

194

179

202

191

1404

28

150

2001

200.6

2

Liliane Vintens

BEL

10

394

211

161

192

226

151

199

244

1384

70

150

1998

197.7

3

Nel Tel

NED

23

416

153

171

180

195

200

161

199

1259

161

150

1986

179.9

4

Jan Hodge

ENG

12

374

194

146

154

178

217

219

205

1313

84

120

1891

187.6

5

Martina Beckel

GER

8

409

183

183

158

164

162

196

209

1255

56

90

1810

179.3

6

Paula Visser

NED

1

365

223

169

192

193

211

145

196

1329

7

90

1791

189.9

7

Inge Hazeleger

NED

3

387

215

175

176

149

188

146

173

1222

21

90

1720

174.6

8

Kirsten van der Kooij

NED

2

373

176

160

132

155

156

203

132

1114

14

0

1501

159.1
Semi Final
Pos

Name

 

Age Bonus

Game 1

Game 2

Game 3

Game 4

Scratch




Total

Total

Average

1

Kimberley Oakley

UK

4

169

265

168

221

823

839

205.8

2

Nel Tel

NL

23

168

170

191

212

741

833

185,25

3

Martina Beckel

DE

8

204

185

185

213

787

819

196,75

4

Liliane Vintens

BE

10

244

150

177

178

749

789

187,25

5

Inge Hazeleger

NL

3

234

177

179

173

763

775

190,75

6

Jan Hodge

UK

12

163

211

158

168

700

748

175,00

7

Kirsten van der Kooij

NL

2

152

181

192

213

738

746

184,50

8

Paula Visser

NL

1

172

178

205

172

727

731

181,75

9

Farida Pascoal-Blom

NL

22

153

167

144

178

642

730

160,50

10

Angie Brown

UK

9

150

184

159

191

684

720

171,00

11

Gabi Brandes

DE

2

199

207

171

129

706

714

176,50

12

Gisela Insinger

DE

24

159

145

164

145

613

709

153,25
Qualifying
Pos

 

 

Age Bonus

Game 1

Game 2

Game 3

Game 4

Game 5

Game 6

Game 7

Game 8

Scratch




Total

Total

Average

1

Liliane Vintens

BE

10

192

223

216

189

221

224

215

172

1652

1732

206.5

2

Angie Brown

UK

9

177

237

181

236

157

205

191

178

1562

1634

195.3

3

Martina Beckel

DE

8

169

197

173

231

194

189

219

168

1540

1604

192.5

4

Farida Pascoal-Blom

NL

22

159

238

171

156

181

203

178

137

1423

1599

177.9

4

Nel Tel

NL

23

181

168

144

153

183

205

212

169

1415

1599

176.9

6

Kimberley Oakley

UK

4

241

170

189

188

215

186

224

146

1559

1591

194.9

7

Inge Hazeleger

NL

3

191

155

224

233

156

183

223

200

1565

1589

195.6

8

Paula Visser

NL

1

181

192

161

237

237

220

170

177

1575

1583

196.9

9

Kirsten van der Kooij

NL

2

209

202

213

167

153

194

223

205

1566

1582

195.8

10

Marianne Pelz

DE

16

152

200

192

177

174

189

197

168

1449

1577

181.1

11

Daniele Guigon

FR

10

183

168

185

186

159

206

209

192

1488

1568

186.0

12

Maria Carola

BE

6

179

179

166

205

212

213

160

203

1517

1565

189.6

13

Gabi Brandes

DE

2

205

211

213

211

161

175

179

192

1547

1563

193.4

14

Gisela Insinger

DE

24

181

218

169

162

172

154

177

137

1370

1562

171.3

15

Bea Cramer

NL

11

170

194

204

177

159

138

216

203

1461

1549

182.6

16

Wilma Di Giorno

NL

6

204

215

146

175

190

186

208

163

1487

1535

185.9

17

Jan Hodge

UK

12

201

245

190

191

141

148

149

171

1436

1532

179.5

18

Yvonne Randell

IE

25

160

169

142

180

141

158

171

190

1311

1511

163.9

19

Christine Sabo

DE

7

139

211

203

149

169

206

186

171

1434

1490

179.3

20

Linda Pray

UK

15

168

162

158

153

173

202

146

169

1331

1451

166.4

21

Ruth Stander

UK

33

185

122

124

131

177

161

131

150

1181

1445

147.6

22

Alice Muller

NL

31

169

158

136

148

123

181

164

114

1193

1441

149.1

22

Nellie Smits

NL

26

166

114

157

183

132

178

149

154

1233

1441

154.1

24

Julie Johanssen

UK

8

194

149

143

150

179

188

177

164

1344

1408

168.0

25

Lynne Walker

UK

0

155

154

181

178

190

181

177

190

1406

1406

175.8

26

Andrea Homan-Zorge

NL

2

174

136

202

192

159

201

176

135

1375

1391

171.9

27

Marja van Dijk

NL

6

123

192

166

165

160

177

156

195

1334

1382

166.8

27

Sara van der Rhee

NL

11

158

145

154

163

139

166

201

168

1294

1382

161.8

29

Anna Yang

NL

8

173

156

131

190

167

162

181

146

1306

1370

163.3

30

Claribel Muis

NL

9

197

134

179

136

154

174

157

138

1269

1341

158.6

31

Roelie Langeloo

NL

11

160

137

155

125

163

151

147

157

1195

1283

149.4

31

Yolanda Schouten

NL

5

173

164

118

153

143

161

201

130

1243

1283

155.4

33

Maxxi Bartz

DE

3

159

122

159

130

158

179

148

200

1255

1279

156.9

34

Sharon Le Louarn

JE

6

140

144

151

181

150

153

141

121

1181

1229

147.6